Welcome to the pop culture fix, which contains — believe it or not — relevant news in the area of "pop culture."
---
+ President Barack Obama, the light of my life, has announced the 21 recipients of the 2016 Presidential Medal of Freedom, "the Nation's highest civilian honor, presented to individuals who have made especially meritorious contributions to the security or national interests of the United States, to world peace, or to cultural or other significant public or private endeavors." Obama has given out more of these than any other president. He just loves freedom!
One of the recipients this year is Our Lady of the Lesbian Lakes, Ellen DeGeneres.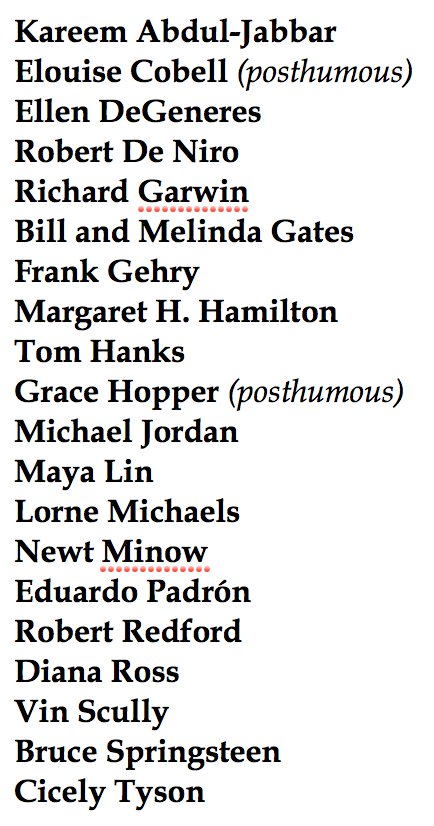 Ellen is the second living out lesbian to receive a Presidential Medal of Freedom. The first out lesbian to receive the Medal of Freedom was tennis player Billie Jean King in 2009. That same year, Obama gave a posthumous medal to activist Harvey Milk. In 2013, Sally Ride's surviving partner Tam O'Shaughnessy accepted the award on behalf of her wife, who died in 2012 and whose lesbianism was revealed via obituary. Bayard Rusin's partner Walter Neagle accepted the Medal that year on behalf of the late Civil Rights activist.
+ MTV writer Teo Bugbee took issue with Black Mirror's "San Junipero" episode, which depicted a multi-generational love story between two adorable ladies with strong fashion choices. Bugbee felt it was "a patronizing whitewash of the reality of queer life, an empty fantasy." (Others were opposed to Black Mirror's treatment of disability, some arguing that the episode replaced "bury your gays" with "bury your disabled.") But, after the election, Teo Bugbee reconsidered her perspective of the episode:
Where the goodwill of "San Junipero" read to me just a week ago as a clueless attempt from allies to imagine queer futures without understanding queer histories, in a post-Trump world, I don't have the extra energy to fight with those who would wish me well. Faced with even the most dubious of queer utopias, my heart and my body will not turn away from the chance to rest.
I have a feeling this is a feeling a lot of us have been feeling and will continue to feel…
+ Out Magazine has a look at two of this season" must-see queer documentaries, Mariela Castro's March: Cuba's Sexual Revolution and The Trans List, which features Janet Mock, Miss Major Griffin-Gracy, and Amos Mac.
+ At the Comics Come Home fundraiser in Boston, Wanda Sykes was booed after making some anti-Trump remarks, to which she accurately replied, "Fuck you, motherfucker, fuck all of y'all. How can you say he's not racist?"
+ Shameless, now in its seventh season, "tackles queerness from multiple angles and adds some much-needed nuance."
+ The Clexa Project has released a trailer for their documentary!
+ Hungry, a documentary following queer female chefs, premieres this Saturday on Logo and looks pretty cool.
+ Apparently everybody is hiding away from election sadness by re-watching the live-action Beauty in the Beast trailer. Unclear on why it's not enough for y'all to just re-watch Kate McKinnon play "Hallelujah" until you've cried on so many forms of public transportation that you're considering canoeing yourself into the middle of the ocean and howling for the goddesses to retrieve you from this hellmouth.
+ Lesbian transgender YouTube star Gigi Gorgeous has released a video honoring Transgender Awareness Week.
+ Exhibiting the voices of Queer Incarcerated Artists With Tatiana Von Furstengberg
+ Lauren Jauregui of Fifth Harmony kissed a girl and Perez Hilton saw it and he liked it and put it on his website. Apparently her fans RUSHED TO HER "DEFENSE," saying the kiss was merely "playful."
+ The Ghost in the Shell trailer features a lesbian kiss and also "is filled with a curious racial subtext" suggesting that filmmakers were undaunted by the outcry against the film's whitewashing of a Japanese manga adaptation starring Scarlett Johansson. Also that lesbian kiss is male gazey, so.
+ "If Meg does come out of the closet on Family Guy, we probably won't get to see it for a while."