feature image via Morgan Cline
Helloooooo white people! Oh wow did our white friends and family fuck some shit up this year or WHAT. If you're one of the thousands of queers heading home next week for a holiday that's guaranteed to be jam packed with [racist] Trump-supporting motherfuckers, you've probably got a lot on your mind.
What kind of unbearable hell will I be walking into?
Is my one cool/normal aunt coming?
How will I survive endless hours of what is sure to be the most obnoxious, racist, xenophobic, misguided, misogynistic, patriarchal victory lap this country has ever known??
I'll tell you how: you're gonna fuck some shit up yourself!
We touched on this in yesterday's podcast and today I'm elaborating. It's unlikely that you'll change minds in one heated Thanksgiving afternoon, but you will act. You're going to study your facts and read up on the art of rhetorical persuasion, practice your to-the-point responses, learn those breathing exercises, steel your fucking gaze, and let no racist/xenophobic/misogynistic/otherwise bullshit remark go unanswered. Maybe your family isn't the type to discuss politics during the holidays? Hahahahahaha they are now! Maybe you've been used to laying low, smiling at all the right times, making that Jim-Halpert-eye-contact with all the right people, excusing yourself when your brother-in-law starts talking about "black-on-black crime" because what's the point of trying to correct them or change their minds? Not this year, my friend. Not this year and not any year to come.
This won't apply to all of you of course. Some of you have been checking every bullshit remark coming out of every other white person's face since forever. GOOD. Keep it up and leave some tips in the comments. Some of you aren't in positions to challenge the hateful people in your lives because it's physically dangerous to do so. We understand. Your activism will look different. But for a grand lot of you, this cognitive dissonance has been your normal. I know because it's also been mine. I enjoy digging into difficult discussions with people who I know are willing to listen and learn. I'll gladly rake an acquaintance or total stranger over the coals. It's the friendlies that I run away from — the ones who never asked for clarification or guidance; the ones who happily let me marry their daughter in their backyard; the ones who taught my children how cabins are built; the ones we only see once or twice a year.
So very much has been written this past week about what white people have to do to carry the weight of moving a country toward an inclusive, anti-racist future. You've read it because I've linked you to it. You'll read it again because it's right. Brittani Nichols helped me put my frustration and fury into focus with her threads on Twitter, and I recommend you check them out and examine your role in shaping the future.
I'm sorry to say you're gonna have to try anyway. And you're gonna fail. A lot. But this is the work there is to be done.

— Brittani Nichols (@BisHilarious) November 10, 2016
Even if right now all you feel comfortable saying is, "That's fucking weird, dude." SAY THAT.

— Brittani Nichols (@BisHilarious) November 12, 2016

Read both threads in their entirety here and here.
Don't think of this in terms of boxes you get to tick off and then you're done. You're never done! If your family all voted for Hillary, or you've already been engaging with that racist cousin on Facebook, you're still not done. This Thanksgiving, you need to tell everyone within earshot that 200+ hate crimes in one week is not normal. In a few months you'll need to talk about how a Muslim registry is not normal. This requires your ongoing attention and action. You have to speak up!
But maybe you're wondering How do I even start that conversation??
Friend, have you considered potentially confrontational clothing and accessories?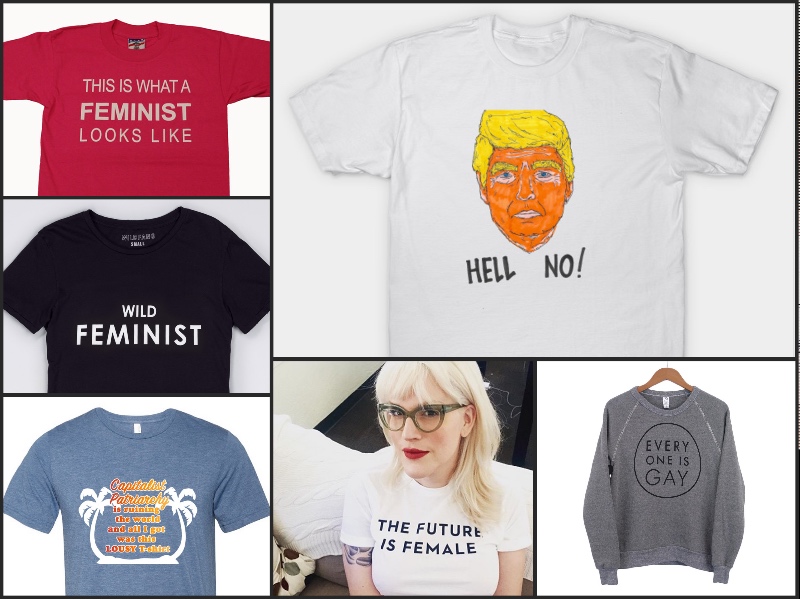 Hell No!: Proceeds donated to the ACLU and Planned Parenthood! Hell yes!
Everyone Is Gay Logo Sweatshirt
The Future Is Female: 25% of proceeds goes to Planned Parenthood.
Capitalist Patriarchy: $5 from every sale is donated to Sacred Stone Spirit Camp.
This Is What A Feminist Looks Like
Don't have time to wait for a delivery? Make your own confrontational shirt with 3″ Letter Stencils and Sharpie Fabric Markers.
---
Hillary and Dump Trump / Queer / Consent Calvary / Male Tears / Black Lives Matter
---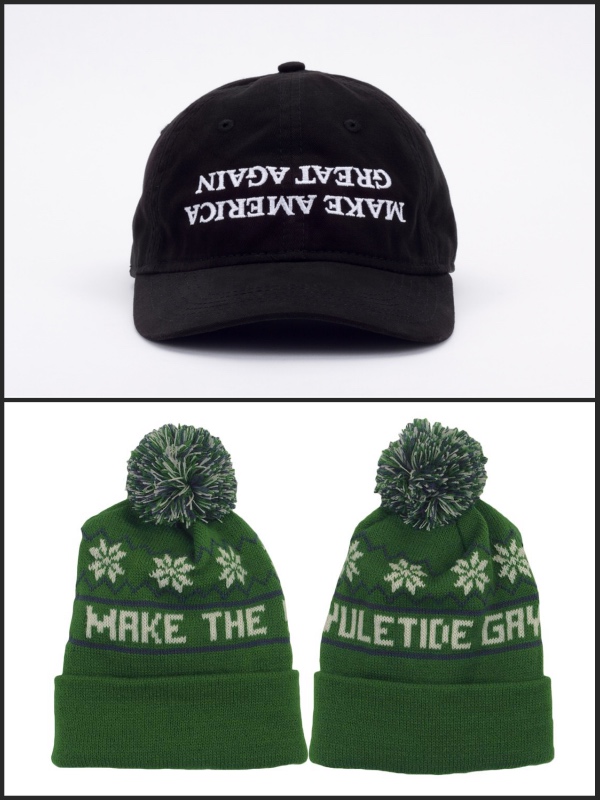 Trumpside Down: I'm not sure your family will pick up on the subtlety to be honest.
Make the Yuletide Gay: Other options include "Make the Yuletide Bi" and "Make the Yuletide Trans" and "Make the Yuletide They" so there's truly something for everyone!
---
What are you thankful for this year? Probably the donations you made to the Standing Rock Sioux Tribe, the Sacred Stone Legal Defense Fund, the ACLU, Planned Parenthood, and Campaign Zero.
This doesn't stop at Thanksgiving and it doesn't stop at your family and friends. Do not let this man and his presidency and the hateful rhetoric that put him in office become normalized. Resist complacency and comfort. The fact that you even have the option to slip into either of those modes is proof of your privilege. Use that privilege to get shit done.