In my office there are 11 images of Hillary Clinton. One cover of Ms., one staff-produced image from Ms., two New York paper covers from the day she became the nominee, a birthday card made to look like a personally signed photo of her, a printed out image an intern left for me with a note, a photo of her I got at the California campaign launch, a book with her face on it, a tiny image of her poking out on the banner across a different issue of Ms. , a pennant with an illustration of her on it, a coaster that's actually a printout of a Texts From Hillary meme forever cemented to porcelain. None of this includes her ephemera: a campaign sign, a campaign sticker, a campaign pin.
I didn't realize how overwrought my tiny little space had become until I got back after the election and walked in, eyes still wet from crying, and looked out. It was overwhelming, honestly, kind of terrifying. I felt like I was wading into the dreams I couldn't remember anymore, things so big and bright that the darkness had eclipsed them. On my desk there was an issue of TIME with Donald Trump on the cover. The contrast between the home I had built and the one I'd been made to live in was so stark I wept.
What I faced in the days after the election was a crisis of cause. My friends called me and texted me to tell me they were considering abandoning their fights, and I picked up the pieces I could find of their vision for the world on the ground between us and encouraged them to keep marching. People in my life who had never considered themselves activists came to me looking for redemption, as if apologizing to me was the singular way in which they could make peace with what happened, and I told them to never say sorry, that it was never too late to start rabble-rousing and fighting. But all along, I was struggling, too — struggling to find motive, to find reason, to find a purpose. I was embarking on the darkest week of my life. I was adrift. I felt alone. I felt guilty and regretful. I felt like I had failed.
I lost heart.
President Hillary Rodham Clinton. That was my rallying cry. It was the name I had assigned to my heart when feminism lit it on fire. It was the image that hung over the mantle of my movement-building. It was my cause. Underneath everything else, there was one fight that shook me to my core, that rebuilt me over and over again when I burned out or fell down and picked me back up. President Hillary Rodham Clinton.
When Hillary Clinton lost the election, I didn't know how to believe anymore. I couldn't see the path forward. But then she lit it for me. I looked back and realized her vision was my vision and that it was one that could carry every woman on its shoulders. I remembered how I felt watching her rise and realized she wouldn't want me to sink down, to slide onto my side, to weep in the street. If fighting for her to emerge in white and claim the presidency can no longer be my rallying cry, she will be my rallying cry. Everything she is. Everything she stands for. Everything she was supposed to be, and do, and mean. Finding those things, fighting for those things, figuring out what those things look and feel like — that can be my rallying cry.
In 2008, I watched Hillary Clinton lose and it made me a feminist. In 2016, I watched her fight harder than I ever thought any single one of us could fight and it filled me with light and love and then rage and pain. In 2016, I watched her lose some but I also watched her win some. In 2016, I remembered why she was my one and only, my ultralight beam, my hero, my idol. In 2016, I built three walls for her. I'm not tearing any of them down.
Our future is uncertain. Here's what isn't: We will fight on. And as I march and scream and weep and breathe and work and work and work and work for what's right, I will carry these memories with me. Forever.
---
Every Single Time "Fight Song" Played
I don't remember the first time it happened but I remember they cut to Hillary's rally, and "Fight Song" was playing when she walked offstage. I remember it made me cry. I remember it made sense. This was Hillary Clinton's fight, one more time, and we were her warriors. This was her taking back her life one more time and showing us she was alright. This was her being strong. I don't really care if nobody else believes 'cause I've still got a lot of fight left in me.
Watching Women and Girls See Themselves in Someone Who Almost Became President
This will never stop being important. This will never not matter. This will never not move me.
I will never forget how it felt to watch women and girls become exhilarated and emotional and brave and excited and a little less alone because of this woman's brave attempt to be first. I will never stop drawing courage and inspiration from the path she clawed her way past just so we could see the potential we all had to change the world.
This will never stop making me cry, so look at these pictures while I get a tissue.
When She Hugged This Crying Girl Because She's Not An Evil Robot
Repeat After Me: Hillary Clinton actually cares about people.
A lot of folks saw the kind of work Hillary did — embedding herself in different communities and having conversations with people across the country — as "pandering." She's a soulless robot, after all, just trying to win an election so she can feel powerful. Right? Except that's never what was happening. She was listening and asking questions because that's what real public service looks like.
The Time We Took a Selfie Together But She Didn't Actually Get Me In the Frame
I went to a Hillary Clinton rally, looked my hero dead in the eyes, handed her my shitty Android phone, and left the rest up to fate. Unfortunately, "fate" was a blonde woman I'm pretty sure had been hitting on me the entire time pushing me out of the frame of my own selfie with Hillary Clinton. I hope her bath mat is damp every day for no understandable or preventable reason.
The Night Every Single Primary State Went to a Woman
I'll never forget how this felt.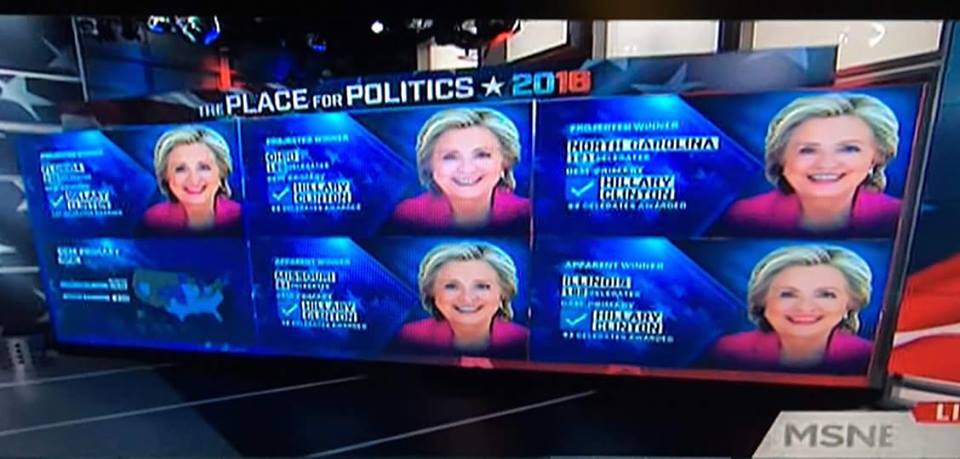 The Time I Crashed the Best Democratic National Convention of All Time
Hillary Clinton's DNC was one for the ages. It was uplifting, moving, diverse and historic. It was everything. It's honestly hard to pick a favorite moment: Barack Obama? Cory Booker? Michelle Obama? Watching Bernie Sanders look like he wanted to cry? Sarah McBride? Bill Clinton? It was all amazing. It was all perfect.
It was the Fucking Best.
ME TOO. pic.twitter.com/gWNEzEqm8Z

— Jenna Lowenstein (@just_jenna) July 28, 2016
I will hold the 2016 Democratic National Convention in my heart for a few reasons, but one of them is definitely that I got to be there, using wi-fi in Panera Breads and running through the rain to get to feminist events and smoking cigarettes outside of the Politico HUB where all the staffers and media folks hung out and drank canned wine after-hours while the event wrapped up. I even live-tweeted it when I wasn't busy spending my entire per diem on espresso!
carmen does the #demconvention: just got escorted out of a staff meeting because i started yelling about how i want more espresso

— carmen rios 🚬👑🦄 (@carmenriosss) July 24, 2016
The Video That Was Too Feminist for the DNC
Never forget. Always remember. This fight goes back over a century, and it will need to live on for centuries more. Women in politics make a difference, and Hillary — despite the outcome — has forever cemented her place in this nation's history and in our movement's history.
Watching a Man Weep for His Wife Because She's Living Her Dreams for Five Entire Days
There was a lot, as I said, to enjoy about the DNC. My favorite part, though, was watching a former President of the United States, watching a white man, watching Bill Motherfucking Clinton, weep openly every single day of the DNC out of pride and respect and awe for his wife.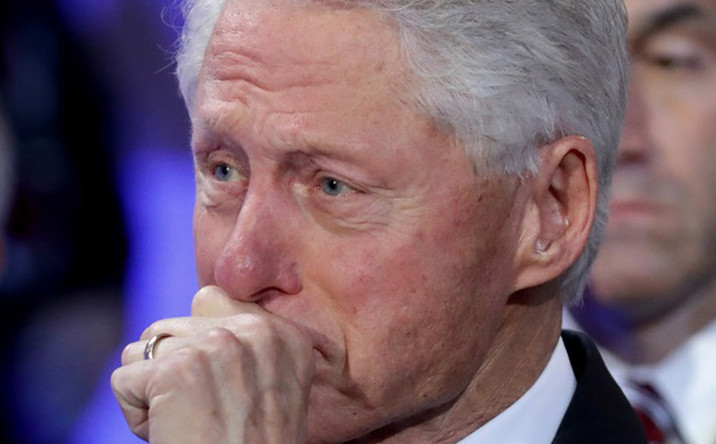 Her Convention Speech
Of course. Because fuck glass ceilings. Because fuck being first. Because fuck, I'm crying again. And because of how good it feels, still, today, to wait for the end and watch her exhale.
Watching Her Giggle at the Debates
I love watching Hillary Clinton debate men. She's brilliant, and the forum of a debate gives her the space she needs — and wants — to showcase her depth of knowledge and incredible intellect. And the best part? Watching Hillary Clinton debate anyone means you're watching Hillary Clinton have the time of her fucking life.
When Donald Trump says he has a "winning temperament." #debatenight pic.twitter.com/ElQ7aG2vxu

— Hillary Clinton (@HillaryClinton) September 27, 2016
The Time She Listed Her Accomplishments for Donald Trump and I Literally Almost Fainted But Was Too Aroused to Do So
Remember when Donald Trump, living and breathing example of a Mediocre White Man, said time and again that Hillary Clinton had done "nothing," or had "no idea" what she was talking about? I do! It made me homicidal! But the best part was when he dared to say so at the debates — and she took him the fuck to town. May we all remember this, and may we all do this the next time a man questions our authority and expertise about the things we know and do better than they do.
This Meme
Y'all creative as hell #DebateNight pic.twitter.com/wzLdP1oKM6

— JaysonTatUmaThurMannieFresh (@SnottieDrippen) September 27, 2016
Watching Men Endlessly Praise a Women
Hillary Clinton's campaign put my favorite act of feminist praxis into work constantly: Enlisting men to lavish praise on a woman they had to admit, in many ways, was someone they simply were not.
Here's Bill making me cry:
Here's Cory Booker giving me life:
"Sometimes the man in the arena, it ain't a man. It is a woman." —@CoryBooker pic.twitter.com/OasacjNNAe

— Hillary Clinton (@HillaryClinton) October 8, 2016
Here's Tim Kaine thinking about how much he loves Hillary Clinton on the darkest day in recent history:
Her Speech at the Children's Defense Fund
I watched this on my kitchen steps with my roommate. We were crying. The entire speech is beautiful, but Hillary's reflection on her mother's childhood gutted me:
I think about her every day and sometimes I think about her on that train. I wish I could walk down the aisle and find the little wooden seat where she sat, holding tight to her younger sister, all alone and terrified. She doesn't yet know how much more she will have to face and even suffer. She doesn't yet know she will find the strength to escape that suffering. That's still years off. Her whole future is unknown, as it is for all of us, as she stares out at the vast country moving past her. And I dream of going up to her and sitting next to her and taking her in my arms and saying: "Look, look at me and listen. You will survive. You will have a family of your own, three children. And as hard as it might be to imagine, your daughter will grow up to be a United States Senator, represent our country as Secretary of State and win more than 62 million votes for President of the United States."
Everything We Saw and Witnessed
We were here. We were here. We were here. And for one and a half years, we came together to demand progress. We came together and celebrated diversity. We were here. We still are. I hold that in my heart every single day.
…And Everything She Was and Is
It's for you, Hillary. Always was. Always will be.