Tonight we saw the first debate since the revelation of 2005 recordings of Donald Trump talking to Billy Bush in which he describes routinely sexually assaulting women — which was apparently what many public figures and GOP leaders needed to withdraw their support of him, after being cool with his plans to deport Muslims, rampant anti-Mexican and Latinx sentiment, and supremely racist anti-Black rhetoric including claiming that the Central Park Five, who have been proven innocent, are in fact guilty. Anyway! In most respects, this debate was exactly what you imagined and feared it might be. As he paced maniacally about the stage, Trump straight up lied about easily confirmable facts, like telling Anderson Cooper "No I didn't," when Cooper asked if he had done the things he bragged about doing to Billy Bush, or like claiming he never said to "check out" an alleged sex tape of Alicia Machado's when he literally tweeted that verbatim.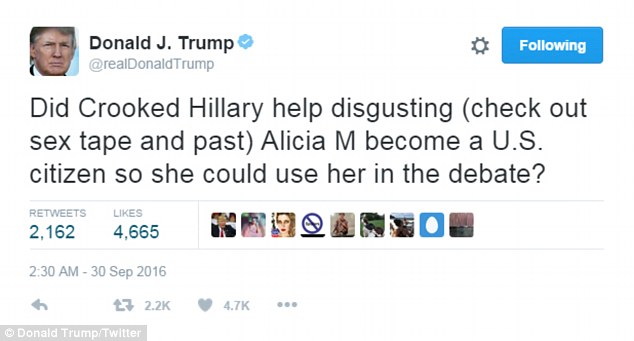 He also bragged about how many twitter followers he has, implied that he would want to devote resources toward a nuclear arms race with Russia and Iran, kept invoking Bernie Sanders' implied support, told a Muslim voter that "there's a problem" and it's "radical Islamic terrorists," and told a Black voter who had asked merely about whether Trump would be a president for all Americans that he would address "inner city violence" and "murder," apparently imagining those were the only issues that mattered to him. Fueling rumors that VP candidate Mike Pence is trying to jump ship, Trump answered a question about how his views differ from Pence's on Syria by saying "I haven't talked to him" about it. Confusingly, Trump both claimed that he hadn't avoided paying taxes for almost 20 years, but also wanted us to know that IF HE DID, it was Hillary's fault for not personally overhauling the tax code as a lone US Senator.
For Hillary Clinton's part, she stayed on message with a theme of supporting diversity in America, with more concrete proposals for what she'd do to reform the Affordable Care Act and Syria than her opponent, who interrupted her frequently and accused the debate moderators of giving her more time to answer questions. Trump had attempted to shake Hillary by publicly affiliating himself with women who had accused Bill Clinton of sexual assault, but if he was hoping it would overshadow his own scandal or throw Hillary off, he seems to have been mistaken. Although many issues central to Hillary's campaign weren't brought up by moderators or questions, from parental leave to climate change, she was reserved and balanced where Trump was flustered and petulant; in terms of temperament, it was a low bar, but one she certainly cleared.
Speaking of temperament, perhaps one of the more notable aspects of the debate was the shift in moderation. Both Martha Raddatz and Anderson Cooper were more dogged and demanding of candidates than moderators we've seen so far this cycle, with frequent exhortations for Trump to actually answer the question when he tried to deflect or misdirect. Cooper admirably pushed Trump to explicitly tell the American public whether he'd committed sexual assault as he bragged on tape, bringing the question up over and over again until Trump was forced to address it directly — saying "No, I didn't," but not being able to elaborate or back that up.
And of course the true stars of the debate, as always, were our loyal readers, who brilliantly shared their thoughts and their debate despair with us. Thank you! Take care of yourselves until next time!
Donald Trump has been prowling around this stage like those hyenas from The Lion King for 90 entire minutes. #ASdebate

— Heather Hogan (@theheatherhogan) October 10, 2016
https://twitter.com/b_houle/status/785308955262189568
"She's a fighter and she doesn't quit." Hmm. Might you say that she has STAMINA? #ASdebate #debate

— KaeLyn (Indoor Cat) Rich (@KaeLynRich) October 10, 2016
Judges beautifully reviewed by just about everybody. On Judge Yelp. You wouldn't believe how beautiful these reviews are. #ASdebate #debate

— sarah dufrau (@dufrau) October 10, 2016
https://twitter.com/BBpapichulo/status/785304034920001536
Man how long is this episode? #debate #ASdebate

— Andrea Gomez (@FoxyMaverick) October 10, 2016
"I will give.. economics to the inner city" – Donald Trump. actual quote #ASDebate

— Sadie Edwards (@sadie_shescrazy) October 10, 2016
I am pre-spinning in my grave at the level of his ignorance. #debates #debates2016 #asdebate

— melaniedyoung (@melaniedyoung) October 10, 2016
https://twitter.com/grrreen/status/785298686859292672
Donald makes me chew my anxiety pills like they're Flintstones vitamins #ThreeAtATime #ASDebate

— Shannon Kerr (@KerrtainCall) October 10, 2016
He's like "Shhhh, shhh, look at the money. You like money? I'll get you money babies" #debate #ASdebate

— Andrea Gomez (@FoxyMaverick) October 10, 2016
Trump to Hillary: Why didn't you stop me from being a reprehensible person?!

WHAT IS HAPPENING. #debate #ASdebate

— Samantha (@baretoed) October 10, 2016
somewhere bernie sanders is whispering "keep my name out of your mouth" to a tv #ASdebate

— Rachel (@danascullyirl) October 10, 2016
"and it's very complex. the tax code is the most tremendously complex material, nobody had a smarter time reading that than me." #asdebate

— riese (@autowin) October 10, 2016
Is Trump the author of My Immortal?

— Jenn (@Jennirrific) October 10, 2016
Who else spotted the purple haired lesbian getting a hug from Hillary? #ASdebate

— Emma Sams (@emmasams1) October 10, 2016
Man blames woman for not keeping him out of trouble. That's a new one 😒 #debate #ASDebate

— Jenny (@TVtrashJen) October 10, 2016
"NO ONE HAS MORE RESPECT FOR WOMEN THAN ME!!!"#ASdebate pic.twitter.com/f6PxbwhlTv

— Cuntcake🧁💦 (@cxntcraft) October 10, 2016
Poor Trump, he has to pee so bad! #Debates #ASdebate

— Adrienne (@legacymermaid) October 10, 2016
Every time trump says #Obama he looks at Hillary. Does he know that she is not Barack Obama??? #Debates2016 #asdebate

— Marlena R. (@mrod527) October 10, 2016
It sounds like he's reading off a talk radio BINGO card #ASdebate

— Jes (@doxiepowder) October 10, 2016
I'm voting for the devil. #ASdebate

— ▽ cee ▽ (@ceeweb) October 10, 2016
https://twitter.com/BBpapichulo/status/785287254977552385
I REALLY need him to stop calling me "THE African-Americans" because ARE YOU KIDDING ME?

— shonda rhimes (@shondarhimes) October 10, 2016