When it's so hot outside that your face is melting off your face, you're probably not thinking about jackets. But just wait until nightfall on the West Coast, mid-afternoon in an aggressively air-conditioned Whole Foods or a surprisingly temperate house-party and you'll wish you had just a little something to put over your little something. Luckily for tomboy femmes, fans of '80s/'90s sportswear, athleisure divas and people who want to dress like Hayley Kiyoko, lightweight sporty spice jackets are everywhere and officially trendy enough to count as actual coats. It's a real jacket renaissance people, and we've got to count our blessings.
---
Track Jackets
This tomboy classic has never been cooler, especially with queer icons Hayley Kiyoko and Kehlani consistently sporting their own track jackets all over town. Most track jackets are made of relatively heavy fabric, but here are some lighter options ready to be tied around your waist or worn upon your body.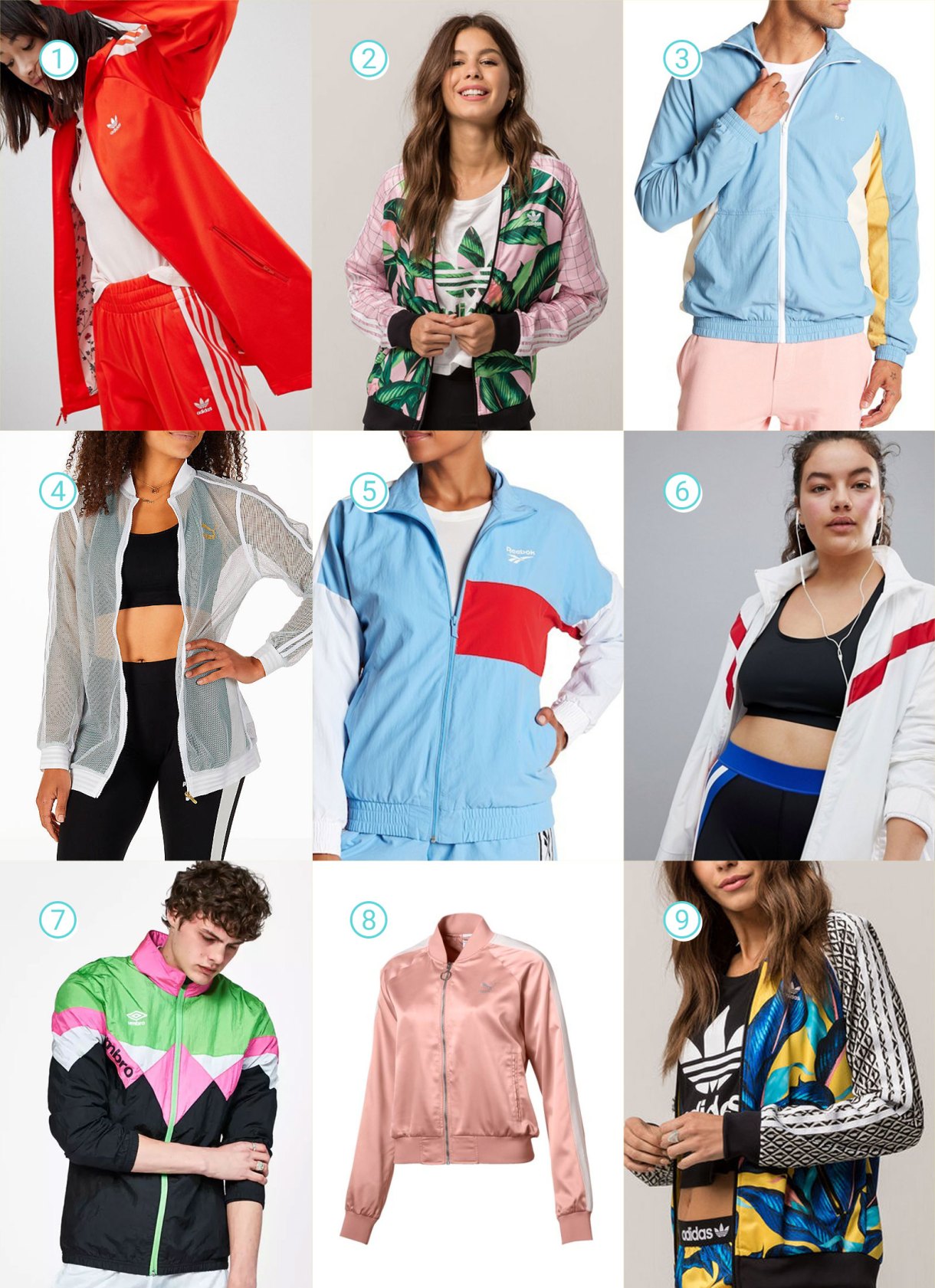 1 / adidas Originals Adidas Originals Track Jacket In Red And Pink ($50)
2 / ADIDAS SST Womens Track Jacket ($74.99)
3 / Barney Cools B Quick Track Jacket ($54.97)
4 / Women's Puma Exposed Mesh Fashion T7 Track Jacket ($54.99)
5 / Reebok Lightweight Vector Jacket ($42.97)
6 / South Beach Plus Track Jacket ($32)
7 / Umbro Crinkle Retro Track Jacket ($56.69)
8 / En Pointe Satin t7 Women's Jacket ($49.99)
9 / Adidas SST Women's Track Jacket ($75)
---
Coach's Jackets
Originally designed as lightweight waterproof layers for football coaches to wear on the sidelines of their American sportsball games, coach's jackets got picked up by streetwear brands in the '90s and became popular attire for hip-hop groups like Public Enemy and N.W.A. Good news: the '90s are back and everybody's got a coach's jacket now, so now even you (yes, you!) can be the Eric Taylor and/or lesbian gym teacher of your dreams! Generally longline, made out of lightweight nylon, and traditionally topped off by a shirt collar and snap buttons, the modern coach's jacket might add a twist — like a hood! — and can be found at every price point. Here are some cheaper ones.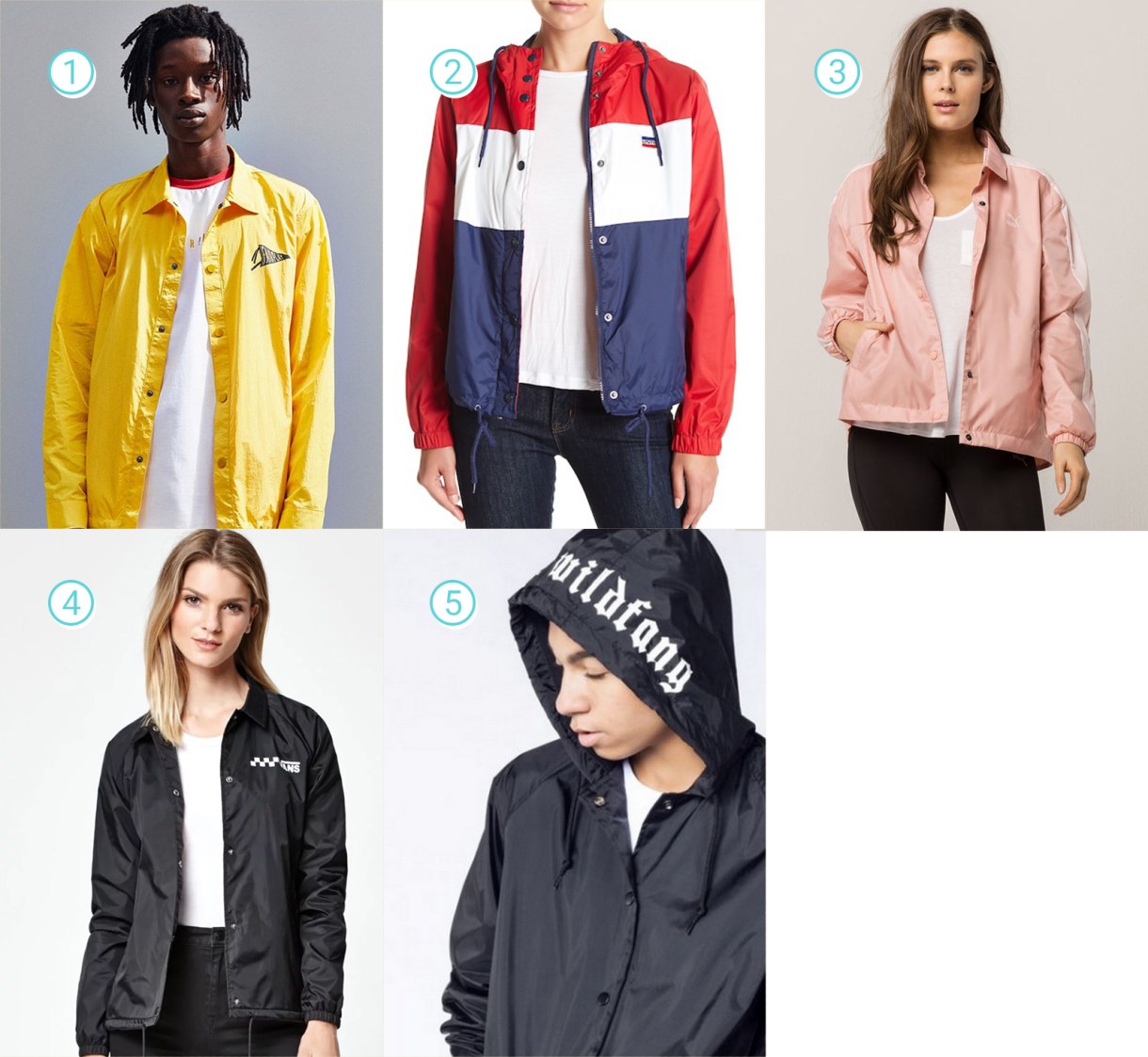 1 / FairPlay Rider Coach Jacket ($69)
2 / Levi's Retro Hooded Coaches Jacket ($59.97
3 / PUMA Classic Logo T7 Women's Coach Jacket ($24.98)
4 / Van's Thanks Coach Jacket ($44.99)
5 / Wildfang Hooded Trench ($52.80)
---
Windbreakers
Another '90s staple, windbreakers are COOL, cooler than the really outdated Outkast reference I resisted making just then, but now am telling you about anyhow. There's been mad reissues of old-school sportswear classics as well as throwbacks that'll make you wanna get back into mall-walking. They're ultra-light and, at least in theory, resist wind chill and low-key rain.
1 / Columbia Plus-Size Flash Forward Windbreaker ($49.99)
2 /  Verdusa Women's Hooded Color Block Drawstring Sports Windbreaker Jacket ($16.99)
3 / Full Tilt Windbreaker ($34.99)
4 / Jack & Jones Core Lightweight Hooded Jacket ($70)
5 / Petite Color Block Windbreaker Jacket ($50)
6 / Nike Hooded Windrunner ($70)
7 / Topshop Rainbow striped windbreaker jacket ($75)
8 / Pony Plus-Size Cropped Windbreaker Jacket ($34.90)
9 / Reclaimed Vintage Revived Windbreaker With Sleeve Print ($39.50)
---
Anoraks
These pull-over jackets usually sport drawstrings, half-zippers, and front pockets for you to carry a baby kangaroo in. The Herschel Jacket (#3) packs itself right into its own pocket, making it ideal for travel.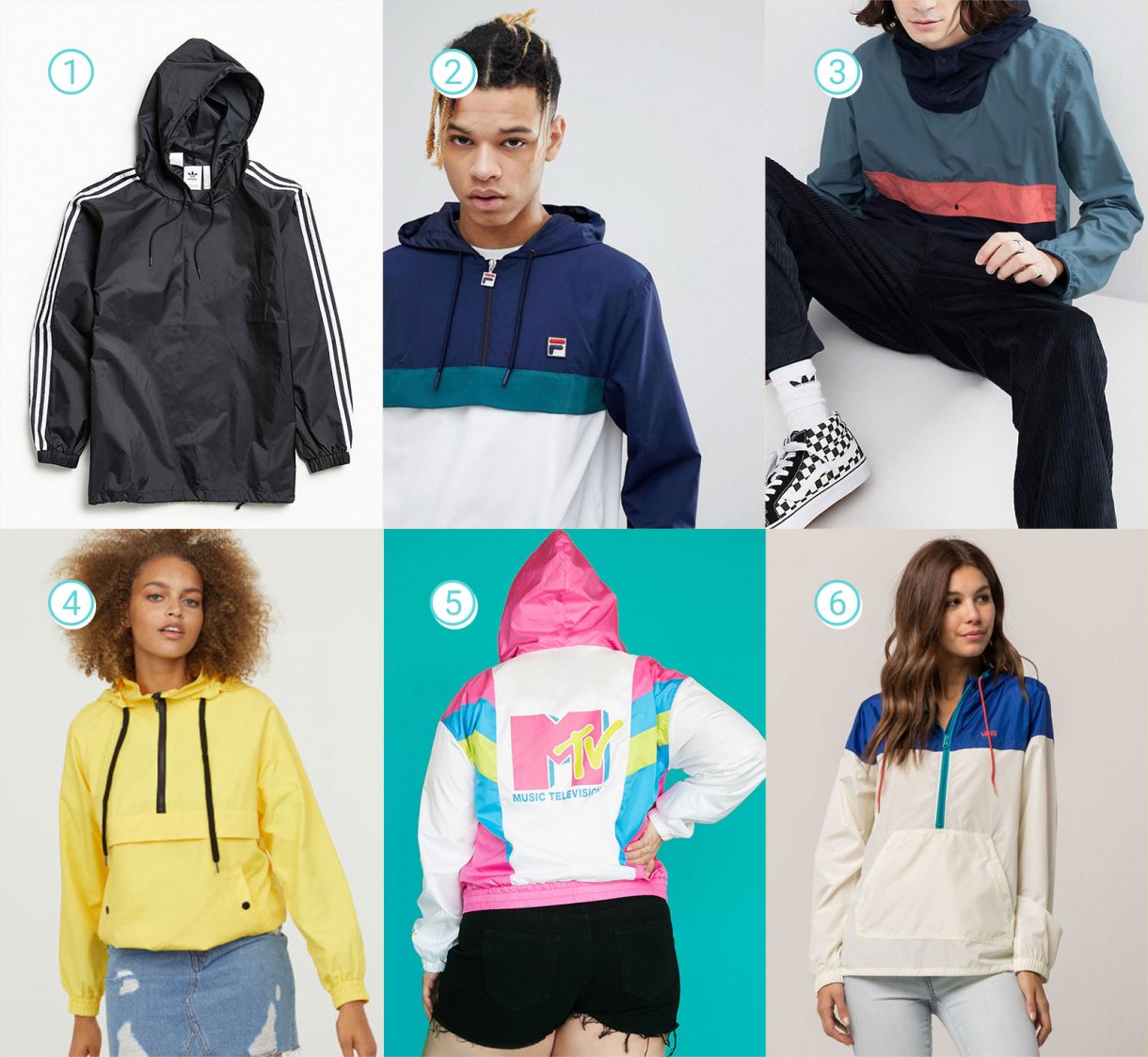 1 / adidas Anorak Jacket ($69)
2 / Fila Vintage Overhead Jacket With Small Logo In White ($53)
3 / Herschel Supply Co. Color-Blocked Hooded Anorak Jacket ($41.99)
4 / Hooded Anorak ($29.99)
5 / Plus Size MTV Colorblock Anorak ($42.90)
6 / Vans Ranger Anorak Jacket ($68.99)