Happy Sunday Funday, neatly organized coffee table books! My SoulCycle instructor this week just went ahead and played Eminem in class and honestly, who the fuck does that? And thus, I come bearing a whole lot of good gay news and warm fuzzy links to make everything better and facilitate my own emotional healing and thus yours as well. Enjoy!
7 Lesbian Couples Who Changed the World
I watched Love, Actually this week and thought about what my signs would say. No, that's a lie, I've thought about this before. Just so everyone knows, they say: To me, you are v wonderful / And my Leo heart will love you until the world really has burned down / Let's start a revolution / Get in the fucking car.
Anyway, these seven lesbian couples changed the world and we will, too. Just saying.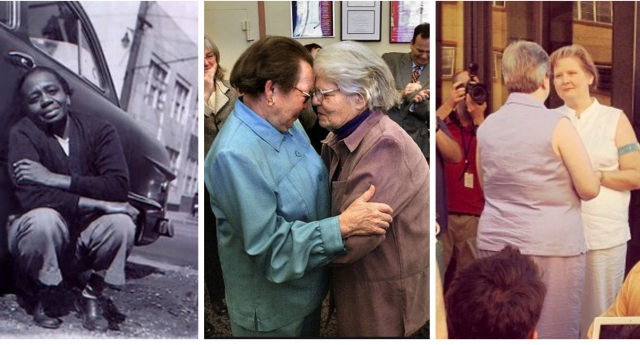 Daily Reminder: McCrory is Still Losing
Latest counts out of the North Carolina gubernatorial election continue to show that not every anti-LGBT piece of human garbage can con their way into a seat of power!
Kristin Chenoweth Has No Time for Your Anti-Gay Bullshit
When Kristin Chenoweth was asked about LGBT rights in the time of Trump at a press conference, she went off. Bless it.
The Hairspray Live! star and religious ally preached acceptance of the LGBT community at a recent press junket for the NBC production, after The Advocate asked whether she felt a newfound responsibility to these fans in the wake of Donald Trump's election and the recent surge of hate crimes.

"It's interesting being a person — not to get weird — but a person of faith, a woman in show business in the 21st century," said Chenoweth, a Tony Award-winning actress known for roles in Broadway's Wicked and TV's Pushing Daisies and GCB.

"God is love, and it seems like the opposite of that happens a lot, instead of acceptance and love… Not tolerance — acceptance, that's my message," she said…

"Hopefully, we evolve, and we become better for it," she said.
Mike Pence's Neighbors Don't Like His Homphobia, Either
Mike Pence is moving to DC and the neighborhood isn't too happy about the new homophobe on the block. Laneia linked to this story earlier this week but I wanna make sure your eyeballs see it because y'all.
A Victory, For Now
The future of LGBT rights in America is uncertain. But today, we can celebrate that Congress killed legislation that would've allowed federal contractors to fire LGBT people by striking the discriminatory Russell Amendment from the National Defense Authorization Act. That'll be fun until Trump is president!
Thanksgiving at the Ali Forney Center Was More Lit Than Previously Reported
I thought it was badass that Madonna showed up at the Ali Forney Center for Thanksgiving. Then I found out it was even more badass because Lady Gaga came thru the next day.
I spent a beautiful morning w/ 🏳️‍🌈 youth @AliForneyCenter the largest drop-in center in the 🌎. I brought 🎁& led them in a group meditation pic.twitter.com/ZinvWkcKqJ

— Lady Gaga (@ladygaga) November 26, 2016
"I'm here today not because I had to excruciatingly pull time out of my schedule to come be here," Gaga said at the center, according to I Heart Radio. "I'm here because I want to be here. And I'm here because I want this to affect other people around the world and to remind them that when they are kind, it not only makes the other person feel good, but it makes me feel good too."