Once upon a time (October 9th-13th, to be specific) in a land far far atop a mountain two hours outside of sunny Los Angeles, approximately 275 queer humans gathered for four days and four nights of revelry, carnivalia, intellectual stimulation, dance parties and deep sea bonding. They called it A-Camp 4.0, and it was beautiful! This is the fourth of four fantastic recaps which serve to ease our collective separation anxiety, give you a behind-the-scenes look at how your A-Camp soysage is made, enable us to wax nostalgic over times gone by and provide prospective campers with a brilliant glimpse into the A-Camp Experience.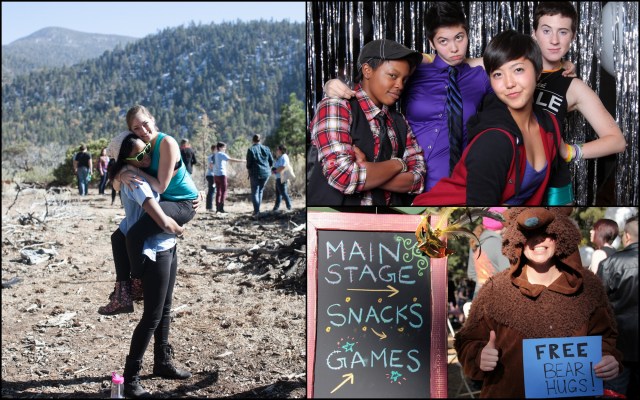 A-Camp was the genesis of an idea Riese had at 3AM in July 2010: the concept was to take the spirit of the website into three glorious dimensions by renting a summer camp in the off-season and jam-packing a long weekend with panels, workshops, discussions, crafts, sports, entertainment, parties and so much more! We gave the idea a spin with an abbreviated, smaller edition of A-Camp in April 2012, followed by full-size full-length camps in September 2012 and May 2013, all hosted by everybody's favorite dynamic duo, Julie Goldman and Brandy Howard. Which brings us to October 2013, the Little Camp That Could!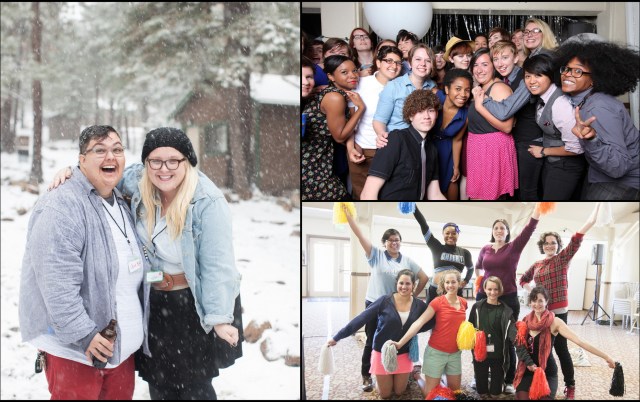 This fall's camp was unforgettable and fucking awesome. Our amazing team was complemented by talented Special Guests including comedienne DeAnne Smith, new media superstar Hannah Hart, Me & My Bois collaborators Lex Kennedy and Emotions the P.O.E.T., rock star Somer Bingham and songstress and actress Haviland Stillwell. Our camp staff included Autostraddle.com team members, A-Camp Tumblr Inventress Emily Gigler and Autostraddle Calendar Girls Miss October 2014 Kai, Miss February 2014 Chloe and Miss June 2013 Dani.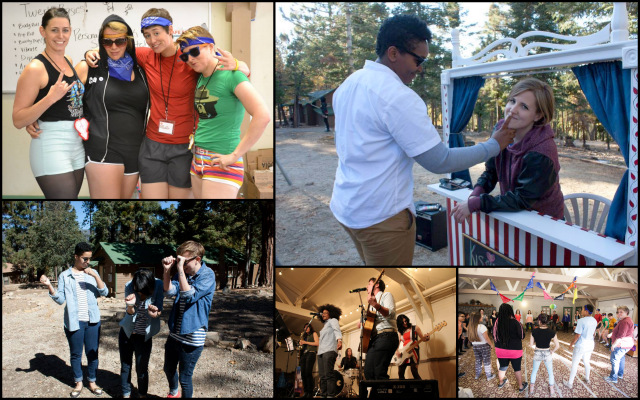 Lez do this thing.
---
A-Camp October 2013 Recamp #4: Day Four
all photography by robin roemer unless otherwise indicated
Saturday, October 12th: Day Four of A-Camp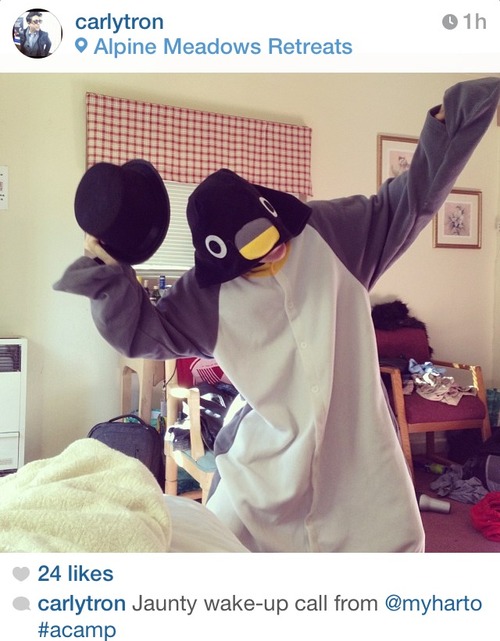 Robin, A-Camp Co-Director & Photographer: Obviously the PJ Breakfast is my favorite breakfast. I was always that girl in college in my pjs at breakfast, and sometimes dinner too. Carly and I brought our onesies which feel like wearing a huge fleece blanket. Nothing is better than putting on a fleece onesie with a hood on a chilly morning. For those of you who asked, you can buy them here, or if you happen to live in NY, check out the Bryant Park holiday market where we scored these bad boys for about $30 less than the listed prices.
Sophia, Holograms Counselor: Saturday I got a cold. Like, Friday I knew it was there, saying to me in my head that I needed sleep and hot things to drink, but Saturday it was starting to kick me in the throat with all the tenderness of a young calf. I don't remember what I did at all during the day.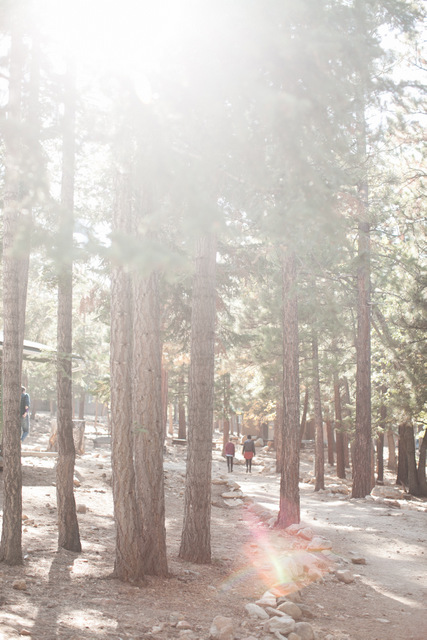 Saturday Morning Activities

Yoga (Dani O) // CAMP Talks (Carly, Grace, Hannah, Lex, Megan & Campers!) // Out in the Cuntry (Bren, Kaylah & Mey) // Vanessa's S'Mores & Straddlers (Vanessa) // Ask a Therapist (Donna & Sarah Evan) // Tinderhearts (Marni)
New Media & The Future of Entertainment: Q& A With Hannah Hart (Hannah Hart) // UCB: Upright Campers Brigade (Brittani & Lane) // Well That's F*cking Pretty: Mooncatchers! (Laneia) // Lez Talk About Sex(ual Health) (Lizz) // Words With Friends: Limerick/Wordplay Workshop (Carolyn & Cara)
Carly, Special Programming Director & Contributor: The idea for CAMP Talks (CAMP doesn't officially stand for anything, I just like making it all caps) sort of happened simultaneously in several different people's brains and then it all came together. Specifically: Grace, Cee, Meredydd, Alex and me. I think we all felt like there were so many cool, talented people with interesting jobs or hobbies or passions and we wanted to know more. So we put our heads together and came up with CAMP Talks (but probably it would stand for Creating Awesome and Meaningful Presentations). Campers got to submit ideas ahead of time and then we chose our favorite proposals to come and present.
Robin: Camp Talks was such a great idea!!! It was so great seeing all the random and interesting things our campers had to share. What a bunch of cool geniuses.
Stef, The Gossip Counselor & Music Editor: Camp Talks were brilliant! My little Gossip baby Anna got up and taught everyone how to make terrariums, Monique from the Blackhearts explained renegade US history (painting sex workers from the Wild West as early feminist icons), and Hannah Hart gave a really great talk about the five languages of love. I'm terrified of public speaking, personally, so I applaud everybody who got up there and shared their wisdom; I hope we do a lot more camp talks in the future.
Crystal, Hearthrobs Counselor & HR Director/Writer: Camp Talks was a real highlight. All the campers who spoke were so articulate and informed and interesting, I could have sat there listening to them for the rest of the day.
Laneia, Runaways Counselor & Executive Editor: Hey, ask me what I really wish I hadn't missed. FCKING CAMP TALKS. I don't even remember what I was doing during this — probably processing my feelings about glass beads or something? Can't believe I let myself miss Camp Talks.
Carly: I have to say, it was awesome. The only complaint I had was that it should take up two blocks, not one.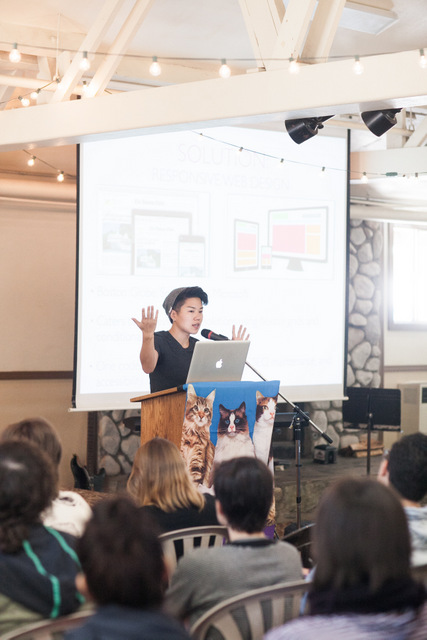 Vanessa, Blackhearts Counselor & Community Editor: Okay, the Powers That Be let me host an activity that was literally centered around eating s'mores and hanging out, called S'Mores and Straddlers. Do I have the best life or do I have the best life?! Last camp I set aside a few blocks where I just hung out outside Wolf Lodge and encouraged campers to stop by and fill out applications to appear in my Straddler On The Street column, but I ended up having a lot of downtime and then some made rushes of people, and some campers forgot about it and some people said they'd stop by but then never did. It was okay, and I did get a lot of submissions, but I was convinced there was a better way. I feel confident in saying I Have Found The Better Way. This time around, Adam built me a fire right after breakfast on Saturday morning, Stef dropped off her vegan s'more materials, Megan brought me the regular s'more materials, and I set out a pile of Straddler Submission Forms on a picnic table.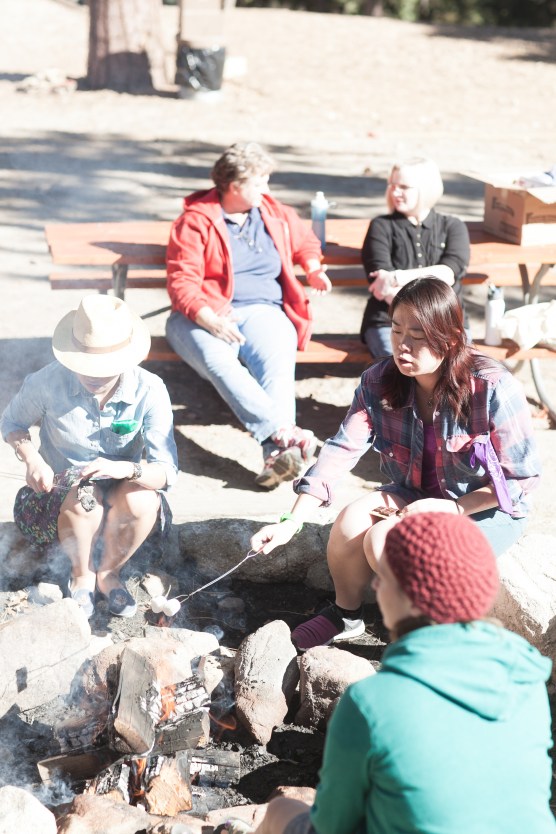 Vanessa: Then I waited and hoped a few people would show up. WELL GUESS WHAT, SO MANY MORE THAN A FEW PEOPLE SHOWED UP! About 40 campers came by to hang out, fill out my submission forms, meet new friends, and eat s'mores. It was amazing. I got to speak with so many campers I'd never met before, which is truly always my favorite part of camp, and I think everyone had a really lovely time. I got 40 new submission forms, which means when I combine those with the submissions I got at last camp I owe about 100 of you emails so we can set up a time to do an interview and get your face onto Autostraddle dot com. The only thing I'd do differently next camp is request even more s'more supplies, because we eventually ran out because so many people showed up. I wasn't even mad that I smelled like fire at the end.
Marni, A-Camp Co-Director & Contributor: The Tinderhearts workshop had been postponed because of the snowfall, so I was super excited when people still turned up for it on the last morning even though there were other things scheduled. We learned how to make firestarters, talked about the different elements of a fire and different approaches to firebuilding, and even talked about starting fires in the rain. I think I'm going to keep doing it at future camps and expand it into a whole "A-Camp Survival Skills" series.
Carly: Hannah Hart & Sarah Weichel talking about New Media was awesome and fun and informative.
Lizz, Flashdance Counselor & Fashion Editor: My Safer-Sex Talk is always one of my favorite parts of A-Camp. It's such a great combination of education and fun.
Stef: I showed up late for Lizz's sexual health talk and it seemed really informative, but everybody was already participating in an activity so instead I went outside and started writing weird notes for all my campers – i.e., "Hey girl, I'm watching you learn about dildo blowjobs right now."
Lizz: This time I had a really big showing! You guys all really wanted to talk about safe sex! We talked about the stigma around STIs, talked about the mechanism of infection transmission and went over practical (and sexy) ways to have safer sex! We also went though a big pile of sex toys and talk about which are safe and which are not. That big pile of sex toys is always a hit.
Laneia: Ok so, a couple of months prior to camp, we're asked to submit workshop/activity/panel ideas. I really like to have a passion project — last camp it was Period Panel aka Bloody Hell, and this time it was Well That's F*cking Pretty: Moon Catchers. This craft meant a lot to me because it was born 10 years ago when I was coping with my grandmother's death, which I know is a total downer for this post so I'm just gonna say that having a lodge full of these fascinating, beautiful queers doing this craft that was actually the closest thing to sitting inside my ribcage as a person could get, craft-wise, was so much. And I didn't tell them then but I'm telling them now: I can remember the first time I made these things — alone and crying and scared and pissed off and nothing good — and now I can sorta feel you there with me? And shit is f*cking pretty y'all. It's real pretty. Thank you.
Bren, Bangles Counselor & Editorial Assistant: I walked into Falcon Lodge randomly and Carolyn asked me if I was there for The Limerick Workshop. I wasn't, but hey, everyone loves a good limerick.
Carolyn, Amazons Counselor & NSFW Editor: In the Dirty Limerick Writing Workshop, Cara and I aimed to subvert gross dirty poetry written by straight dudes by writing awesome dirty poetry written by queers, and we absolutely succeeded.
Bren: I think Vanessa got roped in to leading the workshop as well because Cara. One camper was there and I made five. Five intrepid limerick writers. Five intrepid DIRTY limerick writers, because Carolyn does have to put her personal brand on all the things. And this may seem like a small group but it was perfect. PERFECT! Because there are 5 lines in a limerick and we could be sillier and less self-conscious than we might otherwise be in a larger group (or at least that's how I felt). We did kind of a round robin thing where we each pulled suggestive words out of a very dapper top hat, wrote the first line of a limerick and passed it clockwise to the next person, who wrote the next line, etc. By the time we each had a turn…viola…completed limericks. And they were super funny too! They didn't ALL turn out dirty mostly because I didn't know "gorilla in a washing machine" was a euphemism for oral sex. I thought it was a reference to just, ya know, a gorilla in a washing machine.
Cara, Nighthawks Counselor & Contributing Editor: Dani RDS and I kind of threw the Genderqueer Lunch together on the fly, but I was really psyched to hang out outside, eat animal crackers, and discuss genderqueer/genderfluid/alternative-gender identity and representation with a bunch of cool new friends. Oh, this is a good time to say — if you were at the meetup and wanted to talk more about anything, hit me up at cara [at] autostraddle.com. We didn't have much time and I want to hear more from you!
Carly: I love getting to have One-on-One-Mentoring Sessions. I don't know if anything I say is at all useful or insightful but hopefully the campers are getting as much out of this as I am!
Robin: One-on-one mentoring is always one of my favorite parts of A-Camp. The time I get to sit down and connect with just one new person makes me feel the most fulfilled. I love being able to share my knowledge of photography and talk about working as a photographer! It not only allows me to possibly help someone else, but I feel newly inspired by the experience.
Riese, Runaways Counselor & Editor-in-Chief/CEO: After lunch we took the whole camp photo, which I really enjoy because I like sitting in dirt and getting rocks up my butt. Just kidding. Usually it's a full-circle moment: remembering when we were at the fire pit on the first night, and now here we are together again, except this time we're not strangers, we're in love. But even though we couldn't do an opening campfire this time, it was amazing and so special to witness representatives from three generations of Runaways taking family photos after the group shot.
Robin: If you want to purchase a print of the group photo, you can do so here!
Liz C., Firestarters Counselor & Contributor: Walking back from the all-camp photo, I was talking with someone who had gone to my DIYke hardware jewelry workshop earlier in the week. She had made a particularly gorgeous hex-nut bracelet and was telling me about her plans to propose to her girlfriend. LIKE REALLY SOON GUYS!! AND GUESS WHAT?! Since her girlfriend isn't super into rings, she thought she would give her this bracelet instead. I died. No really, I'm a sucker for adorable couples, and DIY creativity so this was really too much for my little brain to handle. So happy for them!!
Kaylah, Rockford Peaches Counselor & Modtern: On the last day of camp I mastered the art of pigeonholing. It's not what you write, it's how inappropriately you write it. Well, that and being able to pull off the doe eyed look when you come clean and/or get busted. Works with camp crushes! 100% success rate!
---
Next: Saturday afternoon, what a lovely afternoon!
Pages: 1 2 3 4 5 6See entire article on one page