Saturday Afternoon Activities
Femmecraft – DIY Lingerie (Hansen & Lizz R.) // Queer People of Color Panel (Yvonne, Kaylah, Mey, Brittani, Carmen, Lex & Megan) // Hannah Hart Hike (Hannah Hart) //  Canoeing Trip to Jenks Lake (Marni) // Yes Ve Gan! (Liz C, Dani O, Rachel & Stef)
Sex Panel (Ali, Dani RDS, Riese, Taylor, Lizz R) // Wine & Typography (Alex & Geneva) Mystery Homo Theater 4000 (Brittani, Carly, Lane, DeAnne & Hannah) // Spice Up Your Life (Stef) // Dapper Hour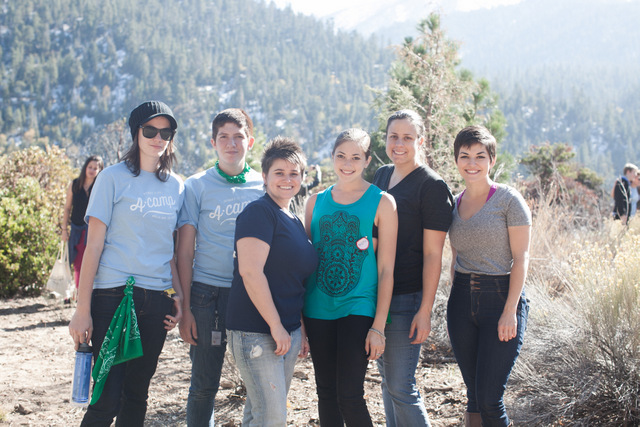 Robin: I was the tour guide on Hannah's hike and I had a ton of fun!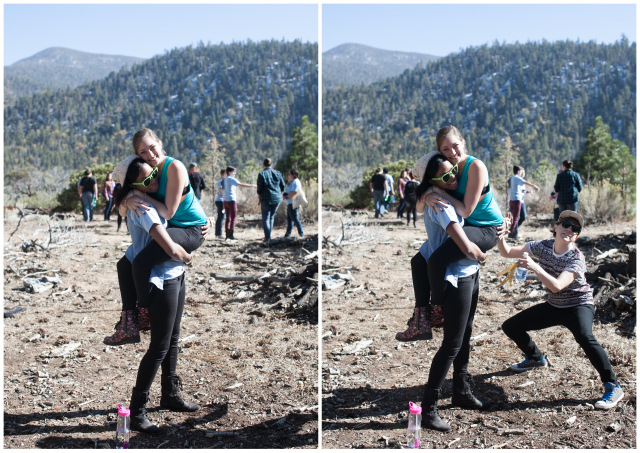 Robin: I was so excited we had such a great turnout because every camp I want EVERYONE to go to the amazing overlook where you can see mountains for miles. I'm not even sure Marni or Riese have been yet!! Carly hasn't gone either!! I'm not sure anyone knows just how close and easy this walk is you guys, you have to go check it out!!!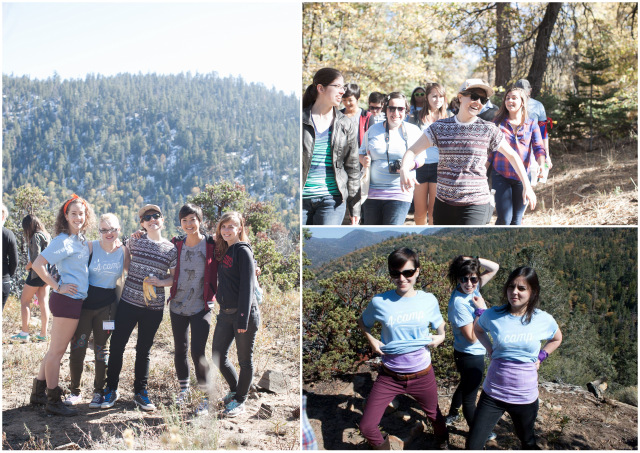 Robin: After we reached the overlook we took the long loop around to get back to camp, flagged with tape I had wrapped around trees as markers from last session. Hannah bounced around talking to fellow hikers. I love seeing Hannah in her element and I could see from her face that she was having a genuinely amazing time this session. I am so thankful she was able to come to camp and for her generous donation of a campership with travel!
Robin: At the end of the Hannah Hart Hike, we had an EPIC tug-of-war in which Team Robin kicked Team Hannah's butt.
Somer, The Gossip Counselor/Talent: On the last day of camp, Marni took us all Canoeing on nearby Jenks Lake.
Marni: I had wanted to do canoeing at all the previous camps and we FINALLY got our act together this time and headed to the lake.
Somer: Well, it was more of a pond. But it was still beautiful and peaceful, and a fun way to experience the mountain.
Laneia: CANOEING. ON A MOUNTAIN. MOUNTAIN CANOEING.
Megan, Program Support Coordinator: Laneia said we were going canoeing and my only thought was I can't canoe, I have a job to do. And even though it rhymed, it was sad. Basically I'm part of an underground support system that aims to make everything be in the right place at the right time, so I don't really have time to hang out in the woods and stare at the sky. But then Bren, because she is The Best Person Ever, hands down ever, said she could handle things on her own.
Laneia: AND WE WERE OFF. (Bren really is the Greatest Human. Look it up.)
Marni: It was a bit late in the season and a little chilly, but everyone had a great time and nobody fell in. I was even able to teach a few paddling techniques with the help of my trusty bowman Kip.
Somer: After teaching us to "J-stroke" and making sure we all had life vests, Admiral Marni took our small fleet of queer vessels around Jenks Pond.
Megan: It took a couple of minutes, but I finally semi-mastered the J-stroke — at least enough to get our canoe to the middle of the water and convince Laneia that we were not, in fact, going to crash into another canoe of campers.
Laneia: I think I only screamed like twice, and it was more of a squee anyway. I want to go to Jenks Lakepond every A-Camp. Write that down.
Somer: Even the city girls had fun.
Stef: For Yes Ve Gan, Liz Castle made everybody delicious snacks and put together a precious, ribbon-sealed cookbook of some of our favourite recipes. Liz Castle is a dream.
Brittani, Firestars Counselor & Sports Editor: I announced the movie selection for our Mystery Science Theater during lunch of that day to lots of positive feedback. We'd decided on Lost and Delirious and what a grand decision that turned out to be. Glossing over the fact that the movie file was corrupt and just skipped certain parts of scenes, we still had a great time. Hannah Hart, Carly, DeAnne Smith, and Lane joined me in interrupting that ridiculous piece of crap. One of the many highlights was during the sex scene, DeAnne moved her hand in front of the projector so that its shadow caressed various body parts while the actresses got it on. Her hand was Piper Perabo's and Jessica Pare's erotic third which has to be the highlight of all of their careers.
Carly: Grace said to me, "this is the thing you were born to do" and she was right. MHT4K was basically an extension of my living room, because I talk through all shows and movies all the time (sorry Robin).
Robin: Listening to Carly comment through movies is basically what I do every day of my real life so I decided to move on and let you guys enjoy the comedy. What an amazing comedy powerhouse of Brittani, Carly, DeAnne, Hannah and Lane!
Carly: The panel consisted of myself, DeAnne, Hannah, Lane and our fearless leader Brittani. We screened Lost and Delirious — arguably one of the worst films ever made — and just tore it apart. I think the best part was that somehow the video file was corrupt and would just like skip scenes mid-sentence. So awesome. If I could do that every single day I would be a happy lady.
DeAnne Smith, The Talent & Contributor: Carly especially, was killing it with her added commentary. I never want to watch a cheesy queer movie again, unless I can listen to hilarious asides and score a group hug at the end. (Thanks, guys, I needed that. The movie's end seemed to imply that if you're gay, you have two options: kill yourself or transform into a crow.)
Lane, Girltrash Counselor: Mocking Lost & Delirious with DeAnne Smith, Hannah Hart, Carly Usdin, and Brittani Nichols in a room full of incredible people who were just as confused by the plot as we were is something I wish I could do every single day and one day I will live in a world where that is a thing.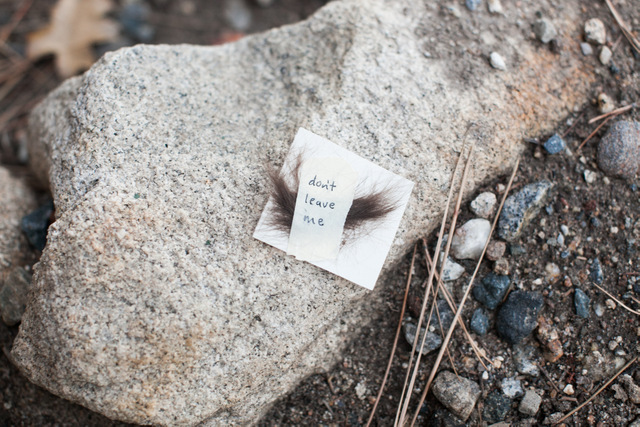 Stef: For my inaugural hot sauce tasting, Spice Up Your Life, I made a two-hour playlist of Spice Girls songs and collected a dozen hot sauces from all around the world. We sampled a pumpkin chipotle sauce and an Ethiopian berbere mixture, as well as sauces made from habaneros, scotch bonnets, ghost peppers, and even Trinidad Moruga Scorpion peppers (the hottest peppers in the world). I like to think of myself as a seasoned hot sauce veteran (pun intended), but I got a little bit teary-eyed after that one. Best of all, the incredible Cee Webster took two hours out of her own busy life and made us homemade naam prik pao (sans shrimp paste) from Thai chilis. It was so insanely delicious that most of the attendees sat around snacking on that and only that for most of the session.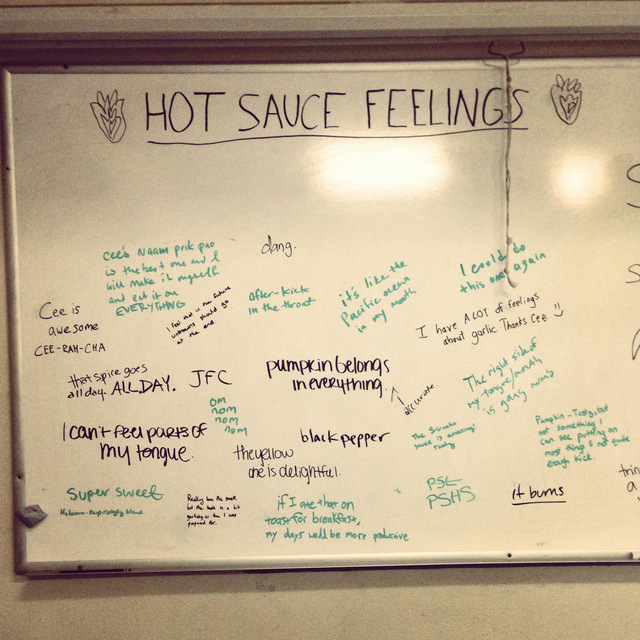 Carmen, Holograms Counselor & Contributing Editor: The wine tasting, which became Dapper Hour, provided me with two unexpected opportunities: a moment to sit back in a sea of beautiful humans and say nothing, and my first time ever appreciating a glass of red wine.
Riese: Alex and I had such a good time hanging out with the girls from Stand Tall Wine last winter after they contributed to our fundraising campaign, and so we hit them up to ask if they'd like to donate some of the only red wine in the world I actually enjoy, Genetic, to A-Camp, to drink during Dappy Hour. But because they're amazing fucking human beings, they were like, "We'll come down and do a tasting!" Reports suggest it was a riotous success.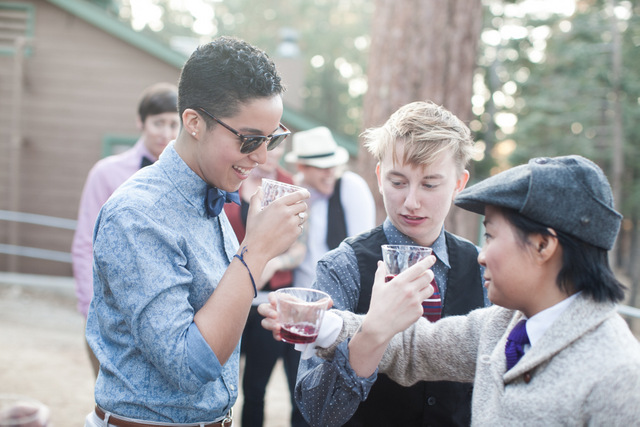 Hansen, Hearthrobs Counselor & DIY/Food Editor: During Dapper Hour, I walked into our staff cabin to find Carolyn teaching her camper, Maddie, and Cara how to tie someone's hands. Carolyn asked if they could practice on me, and the answer when Carolyn asks if she can tie you up is always yes. So Maddie and Cara took turns tying my hands up, which was hilarious, and then we put the ropes on them so they could feel it. Maddie's nose started running as her hands were tied, and I went into full-on nanny mode and offered to wipe it for her, so here's a mental image of Carolyn tightening ropes around Maddie's wrist while I hold her wine and wipe her nose. It was every bit as amazing of a moment as it sounds.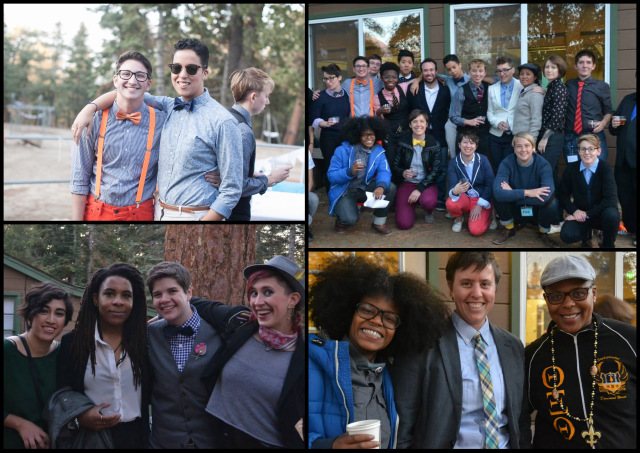 Kai, Wildcats Counselor & Calendar Girl: Marni was a bear. All of camp. She was a bear in the day. She was a bear in the night. She was actually THE bear that rummaged through the trash. Marni the bear, everyone.
Kaylah: My cabin dynamic was definitely shocking. One minute they are sitting in a circle entertained by coloring books, the next they're singing about fisting and having sex toy talk at dinner. You have to keep an eye for those Peaches! Less than 3 forever!
---
Next: The Banquet and The Proposal!
Pages: 1 2 3 4 5 6See entire article on one page