Long before Dana Sabin and Larisa Stephenson launched their own wine label in Northern California, they were just two girls playing for the North Shore Women's Rugby Club in Chicago, full of love and longing. Well, Dana, who is 5'1, was mostly full of her "fear of getting killed." That fear was obviously unrealized, but she did break her wrist, and luckily her teammate Larisa, a kinesiologist, was on-hand to deal with the injury. "That was my in," Larisa explains to us over glasses of Pinot Noir in the cellar at Sabina Vineyards.
From that fated union came not only a successful relationship but eventually a thriving business partnership: Stand Tall Wine Company, which uses Sabina Vineyards in Saint Helena for producing and bottling its first wine label, Genetic. We met Dana and Larisa at the estate in what is referred to as "winter" in less temperate climates to hear more about their new company and taste the goods.
The Little Wine History
Napa is, of course, best known for its vineyards, the first of which was opened in 1859 by John Patchett, a settler who'd been trained in Pennsylvania as a brewmaster and went West during the California Gold Rush. His winemaker, Charles Krug, would eventually establish the valley's first commercial winery north of St.Helena. By the end of the nineteenth century, over 140 wineries were thriving in Napa Valley, which all suffered a communal setback in the 1920s due to prohibition and an ill-timed phylloxera infestation. After World War II, the wine industry picked back up, with big-name wineries popping up throughout the area, and Robert Mondavi broke away from his family's Charles Krug estate to launch what is now the Valley's most famous vineyard. Today over four hundred wineries are currently operating in Napa County, and Napa Valley hosts more than 45,000 acres planted to grapes. It's a worldwide tourist attraction and a popular day or weekend trip for Northern Californians who like pretty scenery and drinking a lot. California accounts for almost 90% of America's total wine production.
But only 9.8 percent of California wineries are headed up by women, although it can seem like more because on the whole, the wines made by women are more highly acclaimed based on the ratio of female vs. male winemakers. So it isn't just being openly gay that make Dana and Larisa's enterprise unique, it's also their gender.
When Dana's job (she's a Social Worker) moved the couple out to Napa Valley from Chicago, they were surprised by the lack of LGBTQ community in the area, especially relative to the more visibile community in nearby Sonoma. "Moving to Napa from Chicago was a huge change," says Dana. "It's not just the few gays that are out here (we love you — come out!), it's that there's a lack of diversity, which is stifling in its own way." Dana and Larisa got involved with the Napa LGBTQ Project, which works to create a more visible, supported community through outreach to local populations and businesses as well as engaging directly with the youth and older adult population. This involvement coincided with their increasing interest in wine and wine-making, which was surely helped along by Dana's parents, Susan and David, owners of Sabina Vineyards in Saint Helena.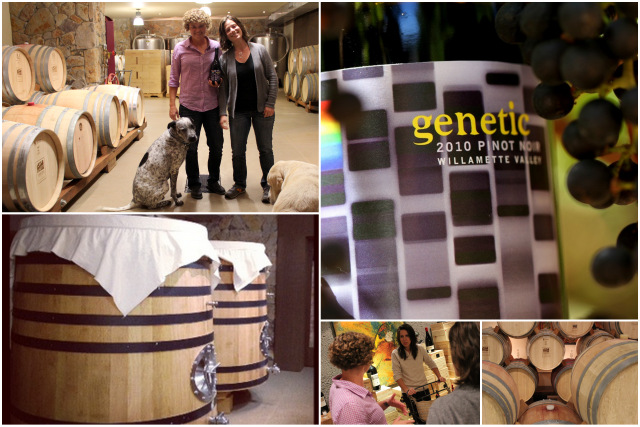 "I got interested in starting a wine company 'cause I wanted to create labels that support causes I believe in and 'stand tall' for," said Larisa. "I also felt like there was this niche market out there that was being neglected by the large wine companies."
"Larisa obviously had the passion to start this company and after many months of convincing, I realized she was right and this would be a great idea," says Dana. "She also would not return my iPhone until I agreed to join her on this endeavor."
A First for LGBTQ-Marketed Wine
As far as Dana and Larisa are aware, Genetic is the first LGBTQ wine label ever produced. (The second, Égalité, from Biagio Cru & Estate Wines, was released in January, and incorrectly touted as the first by news outlets which have since corrected themselves and mentioned Genetic). Genetic is a 2010 Pinot Noir from Willamette Valley, Oregon, and 1% of total sales go towards the Napa LGBTQ Project.  Dana and Larisa hope to donate a larger percentage of sales to LGBTQ causes as their label grows more successful. (We actually connected with them in the first place because of the generous donation they made to our fundraising campaign!) Right now both women still hold down full-time jobs and are pursuing the wine thing in their spare time, which comes with its own challenges, especially in an industry that tends to attract the already-wealthy.
It's always a challenge to combine business with pleasure, but lesbians have been undaunted by that warning for centuries, Dana and Larisa included. "We've definitely had a few more squabbles than we would have had if we weren't running a wine company," says Larisa. "However, we made the choice to open a wine company thinking about where we would like to be in the future as a family. At the end of the day, our relationship is stronger because we started this company."
It certainly seems that way — Dana and Larisa are delightful human beings and a super-cute couple and, despite not being a fan of red wine in general, I found Genetic precisely as intimidating as Dana and Larisa, which is to say: not at all. I love it. If I was a wine expert, I'd note its aromas of wild cherry, sour cherry, blackberry and plum or the "transcendant" ruby and maroon color and then add that it "exhibits all the character of the burgundy with the definite terroir of the Eola Hills in Willamette Valley Oregon.
"We're surrounded by Cabernet Sauvignon here in Napa Valley, and we wanted to do something different," Dana said of their decision to make a Pinot Noir.
It was a wise choice. I think we killed a bottle in less than an hour, and went home with extra bottles in tow, which pleased our dinner guests quite a bit: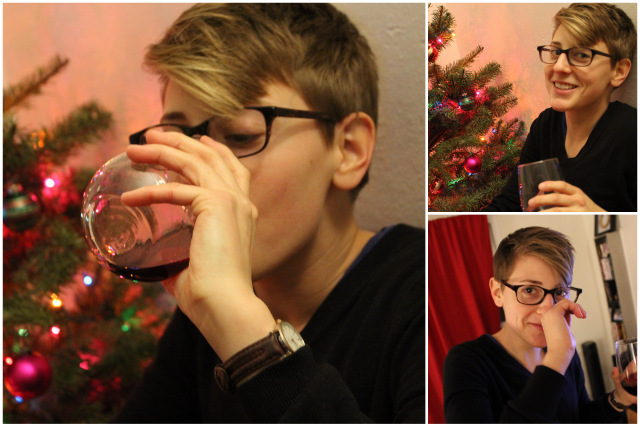 If you like good wine, lesbians and women-owned independent businesses, you can get your very own bottle of genetic at the Stand Tall website.