by Gabrielle, Gabby and Vanessa
The Dalloway is New York City's newest hotspot for girls who like girls in the heart of Soho. In the few months since its grand opening, it's gone from sparkly newcomer to nightlife staple, impressing lesbians and their trendy friends with its swanky vibe and amazing parties. Owned by attractive lesbians Amanda Leigh Dunn and Kim Stolz, The Dalloway is equal parts bar and restaurant, with something for everyone. Even homebodies (like us) can enjoy a quiet dining experience on the top level while party-goers mingle on the floor below.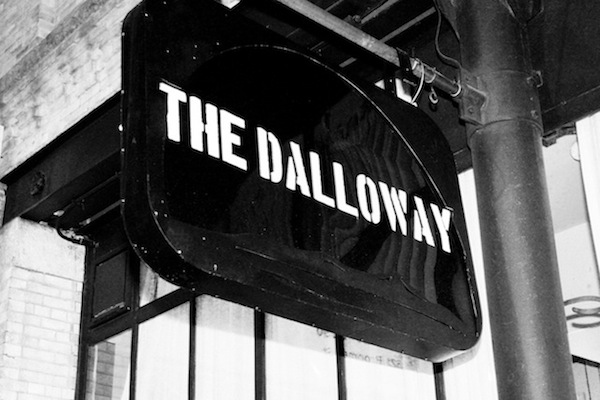 The name, which Kim thought of, is an ode to the closet that Virginia Woolf spent her life in. According to Amanda, The Dalloway's goal is to "create an environment so that no one ever has to feel that way and has a home." Despite this mission, if you're looking for rainbow flags, you won't find them here.  This is an establishment based on being subtle; it's a lesbian-implied space rather than a gay bar, which Amanda hopes means people will feel as comfortable bringing their parents here as bringing a hot date. "We don't want anyone to feel unwelcome," Amanda said, "and we don't want anyone to feel exploited."
The response so far has been overwhelmingly enthusiastic. Not only does The Dalloway fulfill a specific need in the community, but the food and the cocktails are actually really amazing. Amanda recommends trying their take on the Bloody Mary, called "The Clarissa and Mary," as well as "The Night and Day," which is ginger spiced rum. In terms of food, Amanda thinks that the hanger steak is to die for, and says she most frequently orders the brussels sprouts salad and the scallops. There are vegan and vegetarian options as well (we specifically asked for you).


So, clearly we were dying to find out for ourselves what the deal is over at this fancy new place. Read on to find out the highly informed and reputable opinions of Gabby, Gabrielle and Vanessa, otherwise known as a portion of Team Autostraddle NYC.
---
Gabby: If you were wondering where all the fancy dykes chill, it's The Dalloway. Straight up, no filter, on and off the rocks, The Dalloway is the spot. It's the spot that's better than you on it's worst day. Seriously. If you need a chaser, then go home. The Dalloway is the place for all of the lezbo, queermo, homofab people that watch The Real L Word and wish that was their life. It's full of expensively dressed, super scene happy, high fashion queers ready to drop $15 on a mixed drink and act like it's nothing. Cuz it is, fyi. Listen, I wanna hate just cuz it would be funny but this isn't hate, this is real talk. I'm not cool enough for The Dalloway.
Gabrielle: I was super excited to finally go to The Dalloway because I've been following their Instagram and Twitter accounts and drooling over the pictures of fashionable lesbians having the time of their lives. I wore galaxy tights, a high-waisted black mini skirt and gold collar tips. I tell you this because I would never wear that to any of the other queer bars in New York City; anything other than skinny jeans and some well-placed layers always makes me feel out of place at Metro or Ginger's or wherever. I'm pleased to report that not only was I not the most dressed up person there, but that I observed many women wearing stilettos WITH slouchy indoor hats—so really anyone could go either way with their outfit.
I went around 7pm with my friend Leah, and it was pretty empty when we got there, so I got to take a good look around. The decor is super classy and minimalist, and also pretty masculine; it's a no frills kind of joint, with leather details and a fireplace (!!). The lighting is also super dim, so that everyone looked gorgeous but also kind of blurry. By the time Vanessa, Gabby and Stef got there, several hours later, the place was packed and everyone was having a great time. I only ran into two people that I know, which is crazy because I feel like when I go to gay bars I recognize at least half of the people there. It's definitely a scene I'm not familiar with but it was nice to have a change of scenery while still surrounded by dykes.
Vanessa: Let me reiterate Gabrielle's point: The Dalloway is not Cubby or Metro. It doesn't scream "NYU Gender And Sexuality Studies Major That You Probably Slept With Freshman Year And Has Since Gone Vegan" so much as it screams "Power Dyke." Bette Porter would be so at home at the Dalloway. Do you know what I mean?
Gabby: Right, would I host an Autostraddle meet up there? Yes, but only if we could rent out the entire place. Would I tell you it's a good place for nerdy, socially awkward, Adventure Time loving queers to go socialize? Hell to the fuck no. It's a bar for people who want to be seen with other beautiful people. It's a pulsing nerve ready to make high profile connections. It's the place to take a sexy queer lady client and seal whatever deal needs sealing.
Vanessa: I did feel like I could bring both gay and straight friends and everyone would have a grand old time, which was refreshing and cool.
Gabrielle: Oh and also I caught a few glimpses of Amanda. I don't know if you know this but she's really pretty.
Vanessa: I did not see Amanda or Kim and honestly I was upset about it. But other than that I had fun! Everyone was nice and while it was definitely a little bit cliquey, what bar in New York City isn't? That's how I felt about the pricing, also. The price will definitely be a dealbreaker for some — there's no way around it, it is not cheap — but all nightlife in New York has a tendency to be expensive, and if that's not something you can afford (or want to spend money on) there are plenty of cheaper options. If money isn't a worry for you, I think you should know about the Dalloway.
Gabby: Establishments like The Dalloway add to the diversity of our queer community. I didn't notice any instances of drama or drunken hot messery. All the queers and dykes and fags seemed professional and well versed in the secret language of the NYC social scene. I wore a red baseball cap and no one gave a shit. I didn't get any side eye or experience any inter-dyke haterade. The bartenders were ultra sexy, like Aqua Girl sexy and the drinks were strong, tiny but strong, like a hard femme in the best way. There isn't much I can say about The Dalloway that isn't positive. If you want to be SEEN, go there and go there with some fly bitches to up your chances of getting snapped by the sweet photogs.
Gabrielle: The bottom line is that I'm looking forward to getting super dressed up again and bringing my girlfriend so that we can cuddle in a dark corner and drink things we can barely afford. I'm so glad that there's now an option for girls who like girls who want to be swanky while also staying in a lesbian-created space.
---
So there you have it: All Our Feelings About The Dalloway! But why take our (many) word(s) for it? If you're 21+ and in the neighborhood, check the place out for yourself! There's plenty to do, what with Singles Night on Tuesdays, A League Of Their Own Flip Cup Tournaments on Wednesdays and Girls Who Love Girls Who Love Girls Night on Thursdays. Also coming up this week is the Valentine's Day Lesbian Prom we told you about in our Valentine's Day Party Round Up (which — shockingly — takes place on Thursday, February 14th) and Lesbian Day on Friday, February 15th! It also looks like Midnight Brunch is now a thing, which means all Vanessa's hopes and dreams are coming true. For more details go to The Dalloway's Upcoming Events page on their website, and be sure to find them on Facebook, Twitter and Instagram, too — pretty girls, Real L Word cast member sightings and general debauchery guaranteed.