Hello beautiful, and welcome to How To Own It, where store-bought fashion meets DIY crafts. Each week I'll be exploring an aesthetic theme, showing you some of the best ways to wear it and how to make it for yourself.
Want to know how to own a look?
Email gabrielle@autostraddle.com or tweet to @Gabrielle_Korn.
Header by Rory Midhani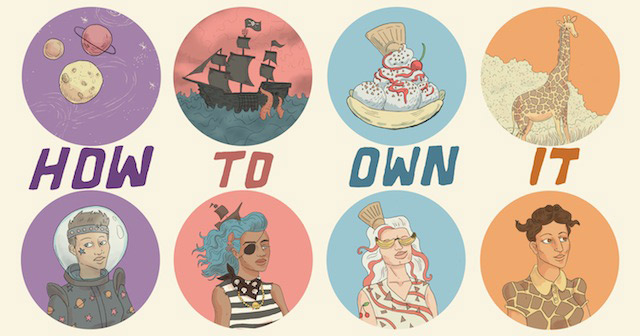 ---
Sometimes, it can be tricky to be a human with disparate passions. It's like having friends that aren't friends with each other. For example, clearly I'm kind of a fashion junky; meanwhile, secretly, I'm also a huge dork. Okay, maybe it's not so secret. The friends and family I share a Netflix account with can definitely see my taste preference row of "Sci-Fi & Fantasy Featuring a Strong Female Lead" (all the best things, obviously).
Basically I'm used to having things that cater to my interests be somewhat fractured. Like, Starbuck looks really good in her uniform and all, but I tend to look elsewhere for my style inspiration. However, this week, I've decided to explore how to combine those two seemingly incompatible interests — which is why I'm so excited to tell you about clothes that let you wear the cosmos, and also how to turn your own things into one of a kind intergalactic dreamscapes.
This is a trend that I first noticed over the summer, but personally, I find black and purple clothes with starry cosmic swirls much more suitable for winter. It's a great way to add some sparkle to the generally boring winter palette of dark colors, and pretty much all of it looks good with a (p)leather jacket. Since galactic print came out a few months ago, right now is a prime time to find it at consignment shops. I saw at least three different pairs of galaxy leggings at Beacon's Closet a couple of weekends ago, which doesn't mean they aren't in style anymore! It just means if you didn't want to pay a lot of money for the first wave of this trend, you no longer have to. I don't know about you, but I find that to be very good news.
Let's talk about some of the different ways you can wear this look.
Galactic Leggings
Honestly, I really haven't worn leggings in place of pants since my freshman year of college, but looking at these pictures, I feel compelled to do so right now. Cosmic leggings look super cute with shoes you might already have, like combat boots or oxford flats. I'd go with simple solid colors on top, like black, white, gray, or denim, either in the form of a basic cotton t-shirt or a button up, buttoned all the way up and worn with collar tips and/or a statement necklace. But mostly I'm excited about (p)leather outerwear + galactic leggings.
It's pretty easy to find these leggings online. Look at all the options!
Galaxies from the Femme-of-Center Universe
Most of the ready-made galactic attire I found is pretty feminine (which is why later on, we're going to figure out how to galactic-ize your own clothes, so keep reading): dresses, skirts, even bandeaux tops! Personally I find this to be the best news my closet has heard since Peter Pan collars became a thing. Also, as a femme who loves things that sparkle but isn't really inclined to be super sparkly myself, I love how galaxy prints allude to sparkle with all that lovely cosmic matter.
I would probably only wear one of these things at a time to avoid planetarium camouflage, but if that's what you're going for, I think that's amazing. Speaking of amazing, the bandeaux tops below would look really fantastic peeking out of one of those tank tops with extended armholes.
Accessories Made of Comet Trails
Do you love the way galactic prints look but feel ambivalent about wearing so damn much of it? I hear you, and luckily you don't have to. How about a scarf or a cute slouchy hat or a pocket square? Or some galaxy-inspired jewelry? I even found you a pair of underwear incase you only want it to be seen by your sweetheart (or your cat/dog/rat).
DIY Galaxies
There are as many tutorials online about how to do this as there are stars in the universe, and because I am obsessive and wanted you to love the first edition of my column, I watched/read all of them. Creating a galaxy pattern didn't seem all that hard to do, so I decided to go for it! This is what I did, and what you can do as well.
You will need:
+ a dark colored item of clothing (I used a black tank top but you should use whatever your heart tells you to)
+ bleach
+ an empty spray bottle
+ fabric paint or acrylic paint in purple, blue, red, white and yellow
+ sponges
+ an old toothbrush
1. Lay the shirt on some paper on the floor. In the spray bottle, make a mixture of half bleach and half water. Spray the shirt unevenly, creating areas of highly concentrated bleach where you want your cosmos to be. It will turn an orangey color pretty immediately, but will take some time to lighten, so don't go to crazy with the bleach. When I stopped spraying it looked like this: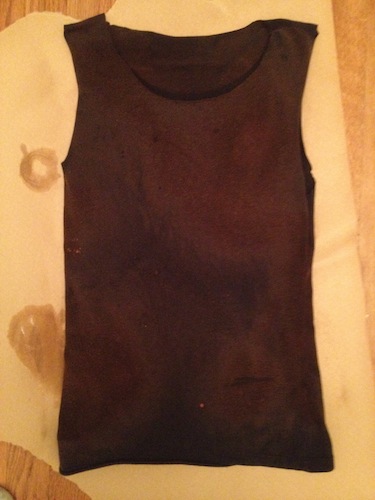 I left it to dry for an hour, then rinsed it in cold water and left it to dry again. Then I went to a Taking Back Sunday show with my girlfriend because we're from Long Island, and when I got back it looked like this: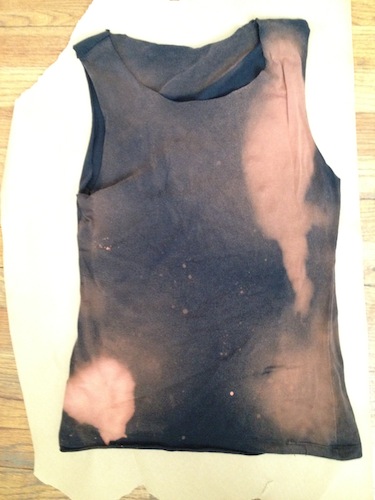 2. Water down some purple paint, and with a sponge, go around the bleach spots and fill in most of the black spots.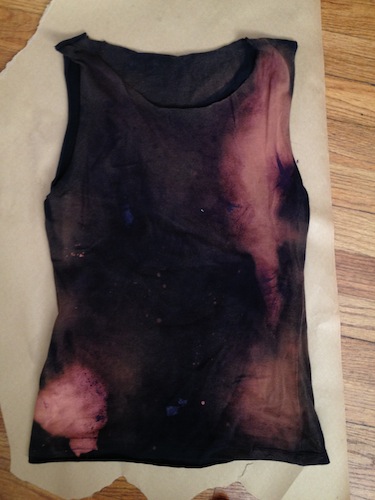 3. Using an additional sponge of watered down blue paint, go around the purple that's around the bleach spots. Then apply some blue to the center of the large purple/black areas.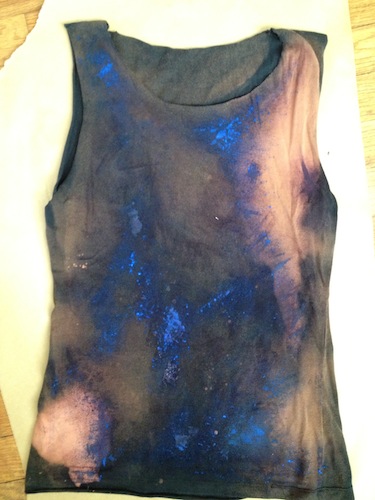 4. Use the red paint to blend the orange of the bleach spots into the blue and purple, which will give it some dimension. Then add some white paint to the center of the bleach spots so they stand out.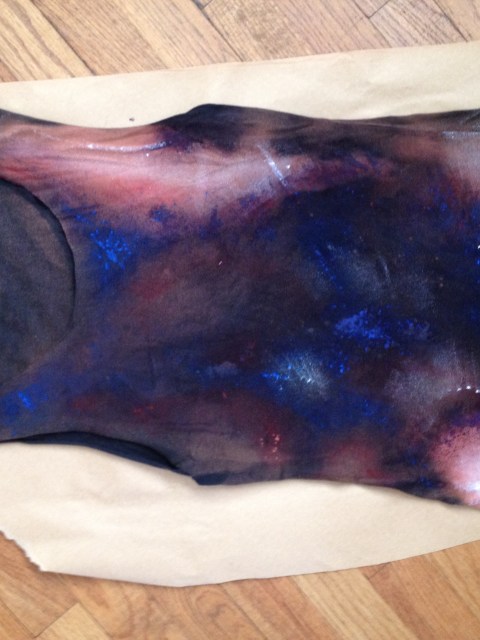 5. Now we are going to make the stars, which was super messy and involved some trial and error! Do as I did not, and practice this on something else first. Using an old toothbrush dipped in white paint, you're going to bend the bristles back so that it scatters white flecks. By holding the toothbrush at different angles, you'll be able to create different size stars, which is important for creating depth. Concentrate the flecks more in the darker areas. Then, using a sharp pencil dipped in white paint, create larger stars by making X shapes. I also added some dot-shaped stars using the tip of the pencil.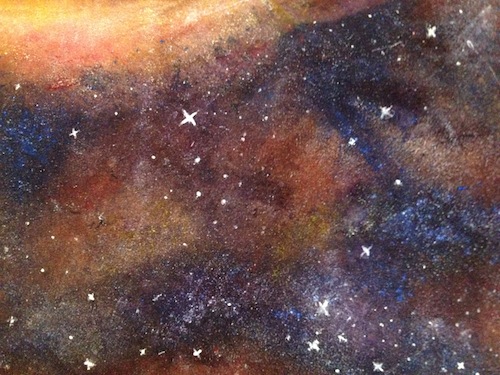 6. Take a step back and evaluate your feelings. I felt like the light parts didn't pop enough, so I added some yellow around the white, which turned out to be a good idea. Now go away and let it dry!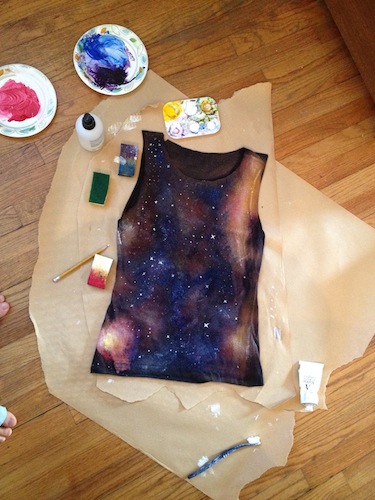 7. Have your girlfriend take a picture of you wearing it, and post it on the internet.