Welcome to the new DIYke Club! Some friends and I started a DIY/crafting group that gets together a couple of times a month. We try a fun drink recipe and do a craft we haven't made before. We're having a blast and thought you might want to get in on the action. Maybe you'll start your own local DIYke chapter? Let's all get liquored up and make things!
Header by Rory Midhani

---
As a grad student, 'free time' and 'spare cash' are about as common as magical unicorns. This makes it difficult to find enough time/money for all of the hanging out, hobbies, and drinking I'd like to do. While agonizing over the injustice of it all, I decided the only thing to do was eat popsicles and surround myself with as many rainbow things as possible. In the unlikely event that your life is lacking in either of these departments, I'm here to help. Pride should be year long after all, no matter what your liver and amount of REM sleep say.
Boozesicles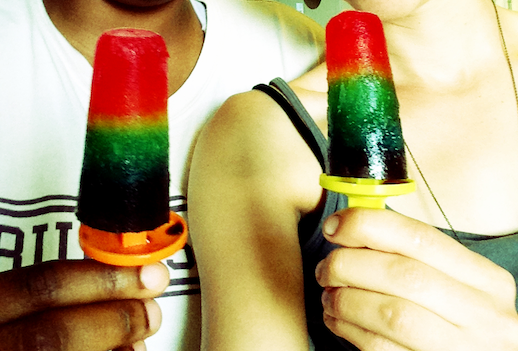 Supplies needed:
+Piña colada mix (or some other freezable, sweet alcohol mix)
+Food coloring
+Popsicle molds -or- Dixie cups, foil, and popsicle sticks
+Container with pour spout
Step 1:
Mix 1/6th of the drink mix with a couple drops red food dye in a container with a pour spout.
Step 2:
Pour this red mix evenly into your popsicle mold of choice.
Step 3:
Freeze this layer until solid. Repeat with orange, yellow, green, blue, and purple.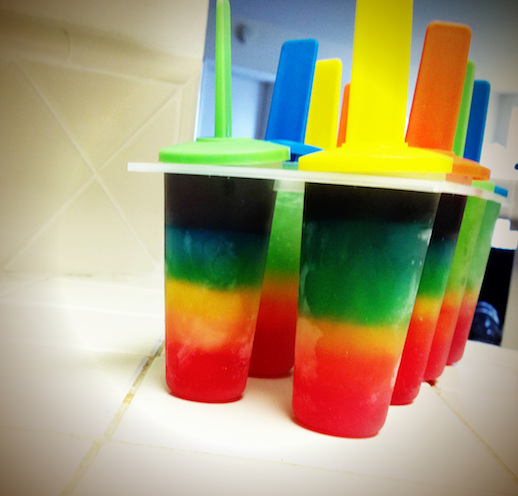 Notes:
Just in case you don't have all the colors of the rainbow, here is a color-mixing chart.
Candles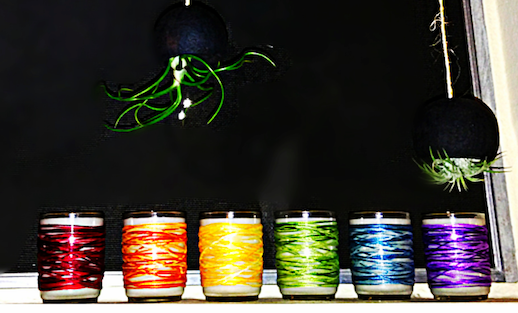 Supplies needed:
+ Glass votive holders (reuse old votive holders or purchase new ones)
+ Friendship bracelet string in red, orange, yellow, green, blue, and purple
+ Hot glue (or super glue)
Step 1:
Using a dot of hot glue, attach the string to the middle of the glass votive holder.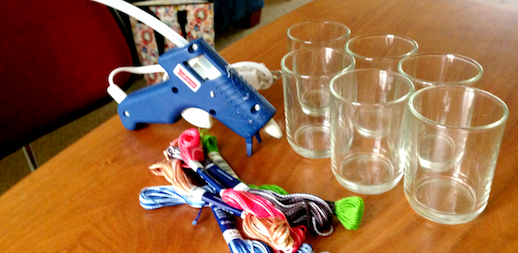 Step 2:
Wrap the string around the middle of the glass. The more haphazard your wrapping pattern is the more interesting the candle will looks when burning.
Step 3:
When you are satisfied with how it looks, glue the other end of the string to the glass with a dot of hot glue.
Supplies needed:
+1 lb soy wax flakes
+Pre-tabbed candlewicks
+Something to hold the wicks in place while the candles cool. (pins, bobby pins, tin foil, toothpicks, coffee straws and twisty ties, etc.)
+Two pots to make a double boiler -or- a pot and a candle making pitcher
+Essential fragrance oils (1 oz per pound of soy wax should do the trick unless you're using a stronger scent, I used lavender)
Step 1:
Glue the wick tab (metal base of the wick) to the center of the votive so the wick stands straight up.
Step 2:
Start melting your wax in the double boiler. When it is melted, stir in fragrance.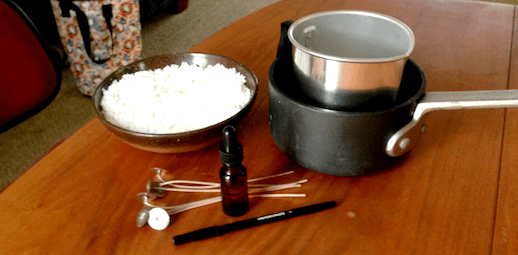 Step 3:
Stabilize the wick so it stays upright in the center of the candle as the wax cools.
Step 4:
Pour the wax into each of the glass votives.
Step 5:
Wait for the wax to cool. Once the candle has hardened, trim the wick to its desired length.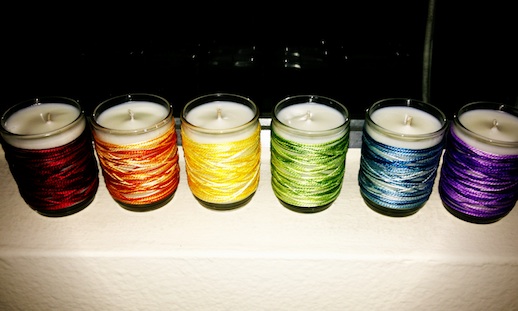 Notes:
–Choose a soy wax to best suit your needs. I used Ecosoya Advanced Soy Wax.
–Candle Science is a great resource for more technical candle making questions. You should also take the time to choose your wick. I used 6″ pre-tabbed HTP 52 wicks. Try to avoid zinc-cored wicks if possible as they can irritate the lungs while burning.
Now kick up your feet, enjoy your boozesicle, and watch the candles flicker in your amazing smelling room.
Got a drink or crafting idea you think we should try?