Welcome to Dear Queer Diary, a (new!) column about the joys (and occasionally, the pains) of journaling. We'll be cracking open our tiny notebooks and breaking out the rainbow-colored pens on the regular, so get ready to limber up your writing hands and document all your beautiful feelings!
Header by Rory Midhani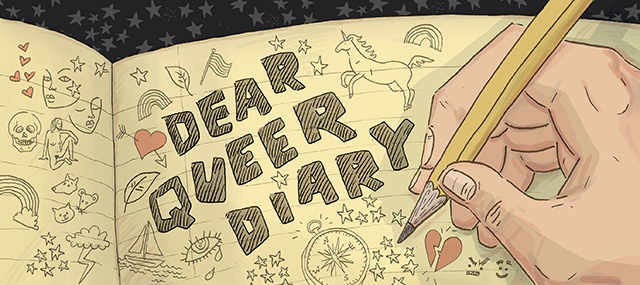 ---
My past diaries include a list of speech pieces from the 2007 National Forensics League Final of Dramatic Interpretation, a list of classes I considered taking my sophomore year in college, and the classic bucket list of things I would like to do in the next five (or maybe six?) years.
Apparently, I'm not the only list-happy journal-writer out there. My girlfriend's adorably curlicue-d childhood diary, which we exhumed on a recent trip to her parents' house, includes an enumeration of possible career paths, an inventory of roles she would like to play on Broadway, and a record of people she would like to meet.
The fact of the matter is that sometimes you are just too lazy to write in complete sentences. Those times, my dear queer diarists, are the perfect times for a list. Laziness should not be our only reason for list making, of course. Lists are useful: they help us categorize and prioritize information, and in the context of the diary, they offer a kind of shorthand when there isn't time to compose narrative accounts of every experience in our day. As Rachel suggested last week, lists might help us process and redirect our feelings of frustration, unhappiness, and anxiety. Besides, lists are fun! Writing a list in your journal is like playing Scattergories–without the long and possibly tense bouts of familial arguing.
There is some debate among the journalers of the world as to whether a to-do list belongs in the hallowed pages of one's diary. One of my diary-writing pals thinks such matters should be kept separate; her journal is a reflective space, elevated above the quotidian matter of what she needs to buy at the grocery.
For me, the occasional to-do list is inevitable—some of my first forays into journaling resulted from my mother's suggestion that I make a list of everything that I was so stressed out about in order to help me control my end-of-winter-break high school anxiety. On that list were things like "organize various backpacks and purses," "finish Native Son," and the mysterious, "send out knee sock reminder." Why was I reminding someone (or someones?) to wear knee socks? I no longer recall.
While I understand the philosophy behind separating to-dos from thoughts, feelings, dreams, and wishes, when I look back at my own lists of errands and homework assignments, I am always thankful for the opportunity to remember the minutiae of my day—knee-sock-related or otherwise. One list from my semester abroad begins "leisurely breakfast"; another one from December 13th, 2010 includes the bullet point "return head," in reference to a mannequin I borrowed for a slightly avant-garde production of Henry V. In my book (pun intended!), diary writing is all about preserving these little moments. No matter what the content of my journaled lists, there is always room for memory, desire, and meaning between carefully numbered items.
Here's your homework, Straddlers: find your journal. Scavenge a writing utensil from the hand-painted mug on your desk, or the depths of your masculine-of-center messenger bag, or the slightly dusty space between the couch cushions. Write the day or the date (if that's your style), and then make a list.
Among the topics you might contemplate are…
Top Potential Sperm Donors
Foods I Wish I Could Eat Every Day
Mid-Year Resolutions (see these famous resolution lists for inspiration)
Greatest Songs/Movies/Slam Poetry Performances of All Time
Humans I've Kissed
My Five Best Memories of College/Camp/My First Marriage
When I Grow Up, I Want To Be…
Books To Read This Year
Places I'd Like To Visit (e.g. A-Camp, Provincetown, the birthplace of Willa Cather)
You do you, my dear queer diarists, but I would highly recommend that you try doing you in list form. And I don't want to hear about all the work you have to do before your radical knitting circle tonight! If you had enough time to read this post, you have enough time to make a list. Your journal will thank you for it!
What's on your lists, friends? What's the most memorable/quirky/awesome list you have journaled in the past days/weeks/months/years/aeons?