Hello, fierce and fabulous Internet friends! I've worked from home so much this week that I don't know what the weather's like outside. What I'm saying is, I'm bringing you the stories we missed this week from bed and I'm wearing a sundress in February.
SURPRISE: Marc Rubio Listens to Bad Music
Marco Rubio, who incidentally voted against VAWA Tuesday, also has really dated and bad taste in what he thinks is 'trendy' music. In a piece by the National Journal, the GOP Senator and 2016 hopeful is posited as a "fresh" presence in the dying Republican party, with reason number one that he likes rap.
But here's the interview with GQ they're using for backup, in which he backs up that claim with, erm, an Eminem reference…
GQ: Your three favorite rap songs?
Marco Rubio: "Straight Outta Comptonwp_postsby N.W.A. "Killuminatiwp_postsby Tupac. Eminem's "Lose Yourself."…The only guy that speaks at any sort of depth is, in my mind, Eminem. He's a guy that does music that talks about the struggles of addiction and before that violence, with growing up in a broken family, not being a good enough father. So, you know that's what I enjoy about it. It's harder to listen to than ever before because I have a bunch of kids and you just can't put it on.
Yeah, okay. Your favorite rapper is the only famous white dude rapper who also happens to rap about beating and killing women? Two words, dude: More Drake.
Jennifer Lopez Gets The Go-Ahead on Gay Show
JLo's Lesbo Show finally has a home at ABC Family:
The Fosters, about a multi-ethnic family with foster and biological kids being raised by two moms, is being executive produced by the pop star. In addition to the LGBT-inclusive storyline, we're super excited about the stunning Sherri Saum as a leading (lesbian) lady!
"ABC Family is synonymous with ground-breaking storytelling and iconic characters,wp_postsMichael Riley, president of ABC Family, said in a statement. "[The Fosters] will bring the same depth, heart, close relationships that our viewers have come to expect and will pair nicely with our already established pop culture hits."
I Just Need A Place to Discuss Frank Ocean
Frank Ocean came, sang, and conquered the Grammys on Sunday in a blue suit that made me wish we were friends.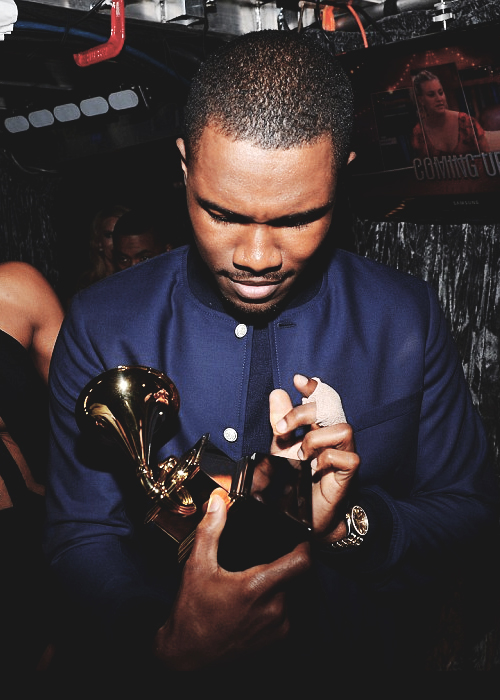 He also closed the show with a performance of "Forrest Gump," which I found pretty expectedly flawless. The six-time nominee and two-time winner will never stop filling my heart with happy gay rainbows.
https://www.youtube.com/watch?v=981AYa-i1rU
Big Tobacco Owns the Tea Party, Most American Souls
If the douchebags in the Tea Party think they invented irritable country dudes or racism, they've got some bad news on the way. Turns out the cat's out of the bag, and the Tea Party is just a side project for a bunch of corrupt tobacco giants and the billionaire Koch brothers:
A new academic study confirms that front groups with longstanding ties to the tobacco industry and the billionaire Koch brothers planned the formation of the Tea Party movement more than a decade before it exploded onto the U.S. political scene.
Far from a genuine grassroots uprising, this astroturf effort was curated by wealthy industrialists years in advance. Many of the anti-science operatives who defended cigarettes are currently deploying their tobacco-inspired playbook internationally to evade accountability for the fossil fuel industry's role in driving climate disruption.
One nation, under Marlboro.
This Week In Homophobia
+ A mayor in Ohio resigned after calling a gay man "a queer."
+ In Indiana, crazy uncool kids at a local high school are fighting for a "straight-only" prom.
+ In Orange County, LGBTQ Vietnamese groups were banned from marching in the annual Tet Parade. Or so everyone thought – since a bunch of protests and press conferences later, they showed up to protest. Notable figures from the local community were absent, as well as some LGBT-related and -supportive groups which were either barred entry or chose to step down from participating:
What we witnessed today, was a respectful demonstration of political courage and principle. The elected officials who chose to not participate in the Tet parade this year, did so on the principle of equality for all. When Santa Ana Councilman David Benavides told me on Friday that he was withdrawing his entry in the parade he said; "I canceled my participation in the Tet Parade and sent a message to the Chairman of the organizing committee that my decision was due to their discrimination against the LGBT community. It was the right thing to do."
[Special thanks to Alice Motes, resident supershero for this tip and sending along the photography!]
+ Republican Tennessee state Sen. Stacey has made horrible changes to the "Don't Say Gaywp_postsbill, which is already horrible in that it stops teachers from being able to acknowledge homosexuality at all and permisses the outing of gay students from K-8 grade. In an interview with TMZ, he bolstered his reputation as jerkface by comparing being gay to being on heroin:
TMZ: If they're going to engage in homosexual acts anyway, why not teach them how to protect themselves from [HIV]?

CAMPFIELD: You know, you could say the same thing about kids who are shooting heroin. We need to show them the best ways to shoot up. No, we don't. Why do we have to hypersexualize little children? Why can't we just let little kids be little kids for a while? Why do we have to have little kids be…?

TMZ: Do you believe in sex education period?

CAMPFIELD: …If you can show me where it works, great.
LGBT Health Matters
In Chicago, uptown queers are gaining a new resource: a gender identity clinic launching in Lurie. For those of us who live elsewhere, there's an LGBT Health journal on the way this fall.
The Pope Quitting Brings Out Topless Chicks
Ukrainian feminists are so overwhelmingly excited about the Pope leaving the Vatican that they took their clothes off.
The STUD Magazine
They don't call it "STUD" for nothin'.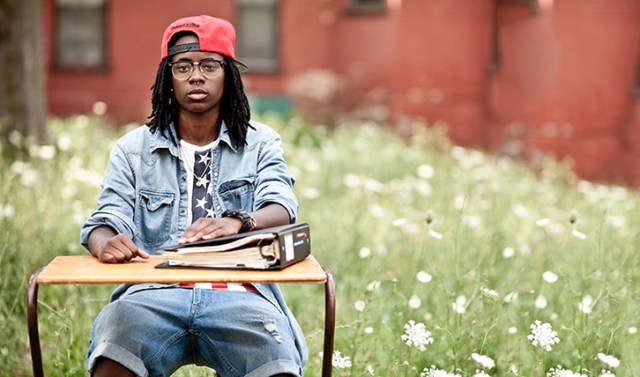 STUD is "an online based magazine founded in Toronto with an aim to redefine the term stud and introduce non-gender conforming people to mainstream media."
Sports: Not Just for Straight People Anymore
Curt Schilling, former pitcher for the Phillies, Diamondbacks, Red Sox, Orioles and Astros, posted his thoughts to Twitter this week on the 49er's big thing about gay players during the Superbowl last week:
I've never understood this 'issue' with gay players? Who cares? I know I played with some, their sexual orientation never had much to…To do with how they hit with RISP, or pitched in late and close situations, why the hell would what they do in the bedroom ever matter?
Meanwhile, Kobe Bryant Monday used Twitter to directly combat homophobia:
Just letting you know@PacSmoove @pookeo9 that using "your gay" as a way to put someone down ain't ok! #notcool delete that out ur vocab

— Kobe Bryant (@kobebryant) February 11, 2013
Workplace Discrimination Is A Bigger Thing If You're A Woman, Duh
Gay men and women alike are out at work in higher numbers than ever. But only some of us are feeling like it's been a good idea to come out at all:
Among the study's findings:

* A significant gender gap persists between gay men and women with respect to how their sexuality benefits them: Gay men are nearly twice as likely to consider their sexuality an asset in the workplace.

* Lesbians are more likely to face discrimination because of the "double jeopardywp_postsof gender and sexual orientation or gender identity – 74% say they encounter bias compared to 51% of gay men.

* Bias and discrimination are an issue within the gay community.  Gay and bisexual men are 114% more likely than women to report anti-gay discrimination.  Bisexual men and women are 59% less likely than lesbians and gay men to feel a part of the community.
Ellen Takes on The BSA
In which Ellen hits the nail right on the head and prompts the Boy Scouts of America to just give it up, already.
---
If you'd like to submit a tip for the AAA, send it to carmen [at] autostraddle [dot] com each week by 12 PM Tuesday EST. Tips for LGBTQ-related events, job postings, calls for submissions, and news from around the globe are encouraged.