My Grandma Betty made up all her own rules of kosher eating. Bacon: kosher. Ham: not kosher. Lobster: kosher. Crab: definitely not kosher. Passover was quite an event in my mom's entirely untraditional, 50s Jewish household. My mom told me horror stories of her mom keeping live gefilte fish in the bathtub, and nostalgically remembers eating roast every Friday night for shabbat, even though no prayers were ever said.
I never met my Grandma Betty, but she was a notably eccentric woman, and I consider myself lucky that her name lives on as part of mine. Betty came through Ellis Island when she was 6 years old, leaving eastern Europe less than a decade before the start of World War II. The spirit of Passover is acknowledging our ancestors, but even more so in acknowledging the value in tradition. 357 days a year I pay little tribute to my Jewish heritage; I don't go to temple or cook Shabbat dinner or know how to read Hebrew, but for 8 days I do my very best to follow my own mostly arbitrary and ever-changing rules of pesach. For a person whose diet is at least 78% pasta, even cutting out this one food presents a test of personal will, so I allow myself some leniency. But I think Betty would approve.
This year Passover presented an even greater challenge, since I recently moved to Switzerland, can't read any ingredients on any food item, and generally can't buy half of what I'd like to eat in the grocery store. I spent the first half of this Passover week traveling in the Netherlands, and so between the two countries I now present the official list of Weird Shit I Ate in Europe While Attempting to Keep Kosher for Passover.
1. Tomato soup
Four times in two days. One time I ordered it and it came with croutons so I just ate around them.
2. Coconut bread

3. A spinach salad that cost 15 euros
I had spent the morning exploring a new city, and twice tried to stop for lunch. The first time the only non-bread item turned out to be soup with bacon, which is out even by my rules, and I struck out a second time attempting to order something that roughly translated to "bowl of vegetables". By the time I found this spinach salad, it was 3 pm and all I had consumed that day was two shots of espresso (coffee is always kosher, I mean let's be reasonable). It was hands down the best spinach salad I've ever had.
4. Hard boiled eggs and roasted red pepper sauce on matzah
Eaten for breakfast three days in a row. The Swiss notion of breakfast is weird enough to begin with, and a lot of people just eat normal sandwiches for breakfast (which in my opinion is an abomination to breakfast), but my normal options of Muesli, toast, or oatmeal were all out so the unusual eggs/pepper combo seemed like a reasonable option. There's nothing like being the weirdo in the cafeteria carrying around a ziplock bag of matzah.
5. Matzah Pizza
The best Passover dish is obviously matzah pizza, which is like normal pizza except what it would taste like if you tried to bake it on top of a crumbling pile of crackers instead of dough. I usually love matzah pizza, but the first time I made it this year I somehow managed to use way too much sauce and so the matzah got all soggy, and soggy matzah might just be the worst way to eat matzah.
6. Something called Chocoladepasta
I only bought it because it combined "chocolatewp_postsand "pastawp_postsinto a single word so I had to. I couldn't read the ingredient list but I'm pretty sure it was kosher. I ate it on matzah, duh.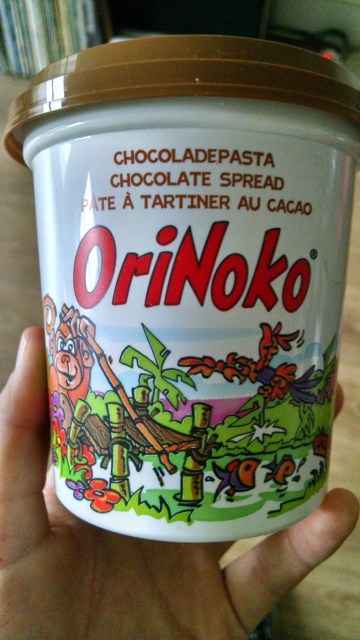 7. A single egg, made in a miniature pancake pan
This was probably the saddest meal of Passover, because who wants to eat just a plain fried egg? I love fried eggs, but they just need toast so badly. This was a tough breakfast.
8. Super nachos
This was my biggest slip up, and it happened about three hours after Passover started. I generally eat according to Ashkenazi tradition, which is supposed to mean no grains or seeds but I take to mean grains, except soy, and other things when I'm really desperate. What happened was that I landed in Amsterdam, and the first food offered to me was nachos, one of the greatest dishes ever to be served ever and which I have not eaten in 4 months since I was last in the US because nachos and components of nachos just do not exist in Switzerland. So my friend asked me if I wanted to order nachos and I said NO THANK YOU because I am strong, and I can last three whole hours without grains. Then I tried to order wings instead, and they were out of wings. There was only one logical choice, which was to eat the nachos: corn chips, beans and all. I decided to keep kosher for an extra three hours after sunset on the last night, because this is what my grandma would do.