Last June, DC Comics announced that they were starting over. Starting over at number 1. 52 all-new #1 issues will be released in September, complete with updated characters, costumes, and origins. An entire new universe, with old icons and a new concept.
And the new DC Comics universe, they promised, would be hella gay.
The Advocate recently interviewed DC Comics Co-Publisher Dan Didio on some of the new queer things, even the lesbians and Didio dished new details on the characters. Honestly, the best thing about all these new and reinvented DC Comics gay characters isn't just that they happened, but that they happened on purpose:
What we really wanted to do was show the diversity of our audience across the line of our books. Right now we have such a wide fan base and we wanted to create characters and stories that really reflected [that] fan base.
When the new #1's come out in September, they will include several LGBT characters – including some with their own titles! The Question is a lesbian, and Batwoman is a lesbian, and she's wearing the bat symbol to symbolize "a standard of diversity" for DC Comics. Voodoo, a new bisexual woman of color superhero, is also being introduced. And Apollo and Midnighter, two gay superheroes engaged in a relationship in DC's alternate Wildstorm line, are coming to the forefront as mainstream DC Comics characters. And they have what looks like the most beautiful relationship in comics:
Because they had an established relationship in the stories that were being told within the Wildstorm universe—and this is the first time they're being seen in the DC Universe—we wanted to build them from scratch and watch an emerging relationship between these two characters. So in this particular case, Apollo is much more out and much more comfortable with himself [while] Midnighter is naturally a little more repressed. You're going to see the two characters working side by side and showing the difficulties of working together, learning and growing as a team and then ultimately as a couple.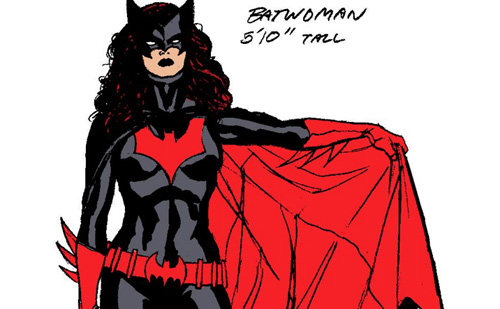 There are lady-loving-ladies in the DC Comics universe, and they're about to become even more fabulous in mere months. In fact, the DC focus on diversity may even extend to a gay teen superhero soon – as if Robin wasn't enough.
In the end, though, it's nice to have someone besides the Ambiguously Gay Duo: