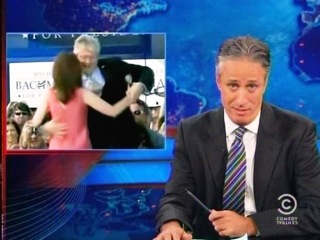 While we've talked about Michelle Bachmann's politics, her family's Christian counseling clinic, and her  glitter mishap, so far we've mostly shied away from what people are saying about her husband "seeming gay." Something about it seems mean-spirited and they's definitely some serious stereotyping going on.
On The Daily Show, Jon Stewart suggested that Marcus Bachmann might be gay because of how he danced; via twitter, Cher said he's "GAYGAYGAYGAYGAYGAYGAYGAY Without Style!"; and on his podcast last week, Dan Savage mocked his voice and said he had a gay accent.
While it seems absurd to accuse Savage of homophobia (although I can't say the same for biphobia, transphobia, or misogyny), there's definitely something misguided in the way this is going down. Clearly Savage, Cher, and Stewart are trying to out Bachmann as a hypocrite–a gay man who lives as a heterosexual and practices reparative therapy in his clinic. The problem is that those who believe reorientation is possible don't see that as hypocrisy, they see it as progress. Suggesting that Dr. Bachmann is gay is nothing but inflammatory drivel. It won't change minds or create any meaningful discussion — it appeals to the lowest common denominator and guarantees attention. Frankly, the idea that the Bachmanns have screwy beliefs about, well, anything is old news. Savage and co. are taking easy shots at Bachmann — while at the same time alienating the very people who need support — to make a point that's already been made over and over again. (To be fair, Jon Stewart is a comedian, making fun of the way people act and talk is more or less his job — but he's not alone on this bandwagon.)
On Real Time with Bill Maher, Savage managed to sneak in a substantive well-placed jab, "You can't pray away the gay, but you can torture a conflicted closet case to death, which is what they practice at clinics like Marcus Bachmann runs," but not without mentioning that that's "…when he's not flitting around."
Savage has never been quiet about his opinions. While I don't always see eye to eye with him, it's refreshing to see a gay person in the public eye who doesn't tread lightly. You can't argue that he doesn't understand the implications of his words; it's clear that he knows exactly what he's saying, he just doesn't always agree with you. In late June, the Sunday Times Magazine ran a profile on Savage that centered around his views on monogamy — namely that it's not necessary for a successful marriage. The article spurred not just debate among readers, but a full-on blog blitzkrieg between Savage and David Badash of The New Civil Rights Movement.
Citing a Christian Post article (sidenote: nice use of scare quotes, guys!) that points to Savage's beliefs about monogamy as a reason not to support marriage equality, Badash warned Savage that he should stop adding fuel to the conservative fire. Savage wrote back:
"I'm sorry about pissing you off by, you know, sharing my opinions and shit like that. But I'm not sorry about cranking up the haters. Yeah, the haters are worked up about Mark Oppenheimer's piece in The New York Times Magazine. Haters gonna hate, as the kids say (or were recently saying), but it's not like Maggie Gallagher is going to sign off on our full civil equality if we just behave.
We're fighting for equal rights, sistergirlfriend, not a very special right to a bullshit double standard. Gay people don't have to be on our best behaviors, as defined by you or Maggie or the Pope, to be entitled to our civil rights. They're called rights, David, and not treats or trophies, for a reason: we don't have to earn or win them. They're already ours, technically, even if they're not yet recognized."
Badash responded by saying he's got no problem with what Savage has to say, just that he's saying it right now. Though Savage didn't write back, he did defend his position on the Colbert Report. When Colbert, in character, accused him of being a gay person trying to "destroy marriage from the inside," he had a solid response:
"Gay people are forcing straight people to admit that they redefined marriage decades ago. Marriage used to be a gendered institution, it used to be a property transaction where a man took possession of another man's property, daughter became wife, and that's not what marriage is any more… Marriage when straight people do it is a union of two autonomous equals, and they get to then define the marriage" 
Can we get a little more of this and a little less of Bachmann nonsense, please? But I guess calm, reasonable discussion doesn't always pay the bills.
Though Badash believes that Savage lies on the radical fringe, Mark Oppenheimer, the author of the Times piece, makes a point of just how conservative he really is. Despite how Savage's statements about monogamy have been spun, he's not against it as a practice, only as the natural state of a marriage. He emphasizes once monogamy is removed as the default expectation, room for conversation opens up, promoting stronger marriages and stronger families. Removed from the context of his gay, non-monogamous marriage, his rhetoric isn't so different from that used by conservatives who push family values. Savage's old-fashionedness just might be what keeps him on top — and what irks me about him. It's problematic for people who don't fit into his retrofitted views. It makes suggestions about Dr. Bachmann look more like attacks on his inability to conform to male expectations than on his character.
I've got to admit that I understand both sides of the argument. On one hand, it makes sense to be quiet and play nice so that we don't make our fight harder than it has to be. On the other hand, it is really helpful to hide some of our beliefs if they're also progressive? While the debate is complicated, there's at least one thing we can agree on: we all want equality.