We will now take a break from our regularly scheduled programming of talking about what color v-neck Emily is wearing on Pretty Little Liars and/or whether Obama is wearing a purple tie today and therefore maybe more into the gays than he was yesterday to talk about something really important, namely Extreme Couponing.
I only watch two TV shows, and one of them is The X Files on Netflix and is way off the air so only barely counts as a TV show and so basically I just watch one TV show and it's Extreme Couponing.
[yframe url='https://www.youtube.com/watch?v=ZdSxnGn4XSU']
Extreme Couponers are people who spend between six and infinity hours a week clipping and organizing coupons, and then taking them to buy bulk amounts of foods at a 50-90% discount, usually developing huge stockpiles in the basement or closed-off rooms. (Some donate a percentage of their goods to charity, although it's really amazing that not ALL of them do, because they should.) They often bring their entire families to the store to carry the 6-7 shopping carts they accumulate, along with several binders full of coupons.
I have a lot of feelings about it. Riese also has a lot of feelings. Let me share.
 Riese: i have some feelings about extreme couponing
  mainly i can't stop thinking about it
  but it's not like i want to watch all the episodes, i just want the show to ask these people the questions   i desire answers to
  like about their psychology
 Rachel: I just want everything for free
  I want to know how to do it
 Riese: what are they gonna do with all the paper towels though
  like they keep acquiring more things
  do they use the things?
 Rachel: The paper towels I get
 Riese: the mustard though
 Rachel: but not like the mustard
 Riese: right
 Rachel: exactly
 Riese: i just kept thinking they could sell me the mustard
  for like 10 cents
  cause i feel like they have too much mustard
 Rachel: Yeah, and the guy with all the toothpaste
  he will die before he uses it all
 Riese: right and then what
 Rachel: but I would buy it!
Riese: and also do they have to get like 50 things of mustard in order to get them for free?
  also do they only eat processed foods? i'm worried for their children
 Rachel: I don't think so! I think its just like hoarding
 Riese: free hoarding
 Rachel: very organized hoarding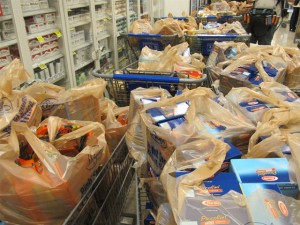 There are a lot of issues surrounding Extreme Couponing. Is it actually just hoarding? Do they ever eat vegetables? Why do I feel like I am a completely and in fact hyper-functional adult when watching Hoarders, but feel somehow pathetic for paying full price for frozen broccoli when watching Extreme Couponing? Why do they always seem to end up buying hot sauce? Is it me or do people like coupon for dog food when they don't even have pets or diapers when they don't have babies? Why is it not on Netflix, for the love of God? And most pressingly – what if it all had to stop?
According to
The Star Phoenix
, which is actually based out of Canada,
has some bad news for the world of Extreme Couponing. 
 Namely, major chains like Target, Walgreens and RiteAid are looking closely at their coupon policies, and trying to close some of the loopholes that allow extreme couponers to buy 60 sticks of deodorant for fifty cents.
In part because of the show and probably in part because of the seemingly endless economic depression, the numbers of "extreme couponers" are rising, enough so that companies have to take notice. The Star Phoenix credits those people with 70% of all couponing in the country in the last year.
Are companies feeling the economic crunch too? Enough so that they're going to "restrict, clarify or create rules to guard against potential abuse of the system?" Since the entire extreme couponing phenomenon is one step behind in Canada, the Canadian version of the show won't begin until next month, and Canadian retailers aren't quite as concerned (yet) with the issue of locking down coupon policies. Which just means that in this instance as in every other instance, Canada remains the unspoiled utopia of American values like "freedom from oppression," "peace and civility," and "getting stuff for free or very cheap."  If you move there now, you can secure access to discounted diapers and also beat the (potential) rush after the election! Or you can just watch the show, it's not on Netflix but it's on On Demand and probably free online, and also you could spend every episode looking up couponing blogs and keeping track of how many Extra Care Bucks you have on your CVS loyalty card, or maybe that's just me, hahaha! Really though. It might not last much longer. Don't let this magical moment in our cultural history pass you by.