We engage in a healthy amount of discussion about alternative lifestyle haircuts here at Autostraddle. And why would we not? One of the awesomest parts of being a lesbian is our rich history of mullets, faux-hawks and that asymmetrical buzz thing. Hair is big deal for lesbians. It's a key non-verbal communicator in the subtle sub-cultural coding of our particular community.
It's why when you first come out, you think you're supposed to cut it all off and then six months later, once comfortable with the whole "gay identity" thing, you either keep it or grow it back because you've finally figured out what works for you. It's why femmes get worried about not having their sexuality recognized out in the straight world. It's why girls who feel boyish can't wait to get rid of it as soon as they realize that they can. And then there's the rad contradictions of the long-haired butches and the short-haired femmes and everything in between. Whatever you decide on, the cuts seem to be meaningful – more than just hair.
So when I was in a funk and looking for a good haircut last month, I knew that the process would have to be unrushed and selective. When I try to have an edgy short haircut, somehow I always end up looking like a housewife or a news anchor. One time last September there was a period of excellent hair, because one side was buzzed off and the other side flipped in a cool way, but when my family discovered the pictures on Facebook, a gay panic ensued that left me with no choice but to grow it back out.
So I'd had this mullet situation, and I really liked it, but I'm a Greek girl with heavy hair and New York was getting hot and I needed help. Enter Soozeecuts.
I knew who she was because I am gay in New York City. A renaissance woman bouncing about the gay, food, and music scenes here, she's a DJ and an avid haircutter of all the lesbians I know (including our August calendar girl). I went to Soozee's awesome private salon where the walls are green and everyone leaves happy. I explained that I wanted a haircut that wouldn't make my family pass out but would look sufficiently gay, which, of course, led to the existential conversation about what is means for hair to look gay.
"I find that the gay haircuts that I do are kind of all similar. Very short, very edgy. Has a lot of kick. I have to say that's one of my most challenging tasks in doing haircuts because I do have a large gay clientele and I don't want to do the same haircut on every person that comes to me. But they all want the same thing." When she said this, I pictured a gay bar full of people walking around with the exact same spiky short haircut and getting mad over it and throwing beer bottles and stuff.
"So it makes me think outside the box, you know?" She's really successful at this, and considering I just handed my head over to her, I was excited to see what she's going to do to me. The abstractness of creating something that somehow emits "gay" is something that Soozee has mastered, and I'm kind of amazed by it.
The styling sensibility behind the abstractness is very clear. She is a big fan of texturing and layers. She likes the dimensions that are produced by variant lengths within one haircut.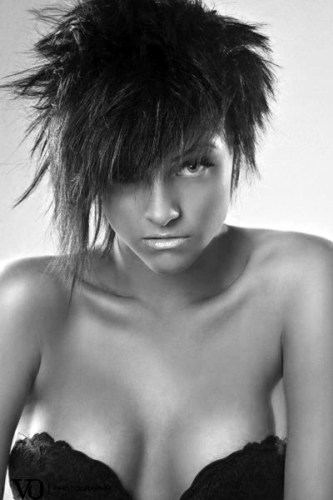 "We learned to create texture in school as one of several refining techniques, but I fell in love with it so much, it's become my core technique." She describes herself as a visual stylist, preferring to cut hair when it's dry so that she can accurately examine the transformation that her cutting is causing as it's happening.
"What I love about texture is that it creates movement." She tells me this as she's cutting away the heavy body of my short but thick hair and immediately I feel about five degrees cooler in the hot summer room.
When she was a kid, Soozee cut the hair of her sister's barbies and in middle school and gave her friends haircuts. She eventually attended Paul Mitchell in Los Angeles, but she never would've come to LA from Texas at all if it wasn't for her DJ career.  Soozee recalls: "I had at least two handfuls of guy DJ friends but when I approached them about it, they said 'You can't do it, it's too difficult, you're a girl." They were wrong, of course, and after succeeding in Texas, she visited California and decided immediately to move there.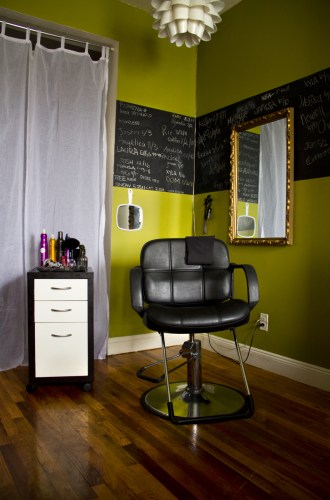 via xyla gata
There, Soozee received offers from a bunch of high-end salons that she declined, and by the time she graduated already had a sizable clientele entirely grown from word-of-mouth. Now, she cuts hair in New York but returns to LA almost every month to cut the hair of her still-existing West Coast clientele.
When I ask if she sees a difference between West Coast lesbian hair and East Coast, she surprises me by saying there's not much of one."Everyone basically wants the same thing," she says. "Short and edgy!" It is possible to have long hair and queer it up, though. "Tons of layers," she explains."Keeping it long, but layering it up a lot." I see how that could be, though none of us can figure out why. This is how she cuts her girlfriend's hair.
Besides being the sculptor of fabulous hair, she also has big plans in the ways of food. She's currently looking for a venue to house her monthly "Indulge" event, where she'll cook up a three- course prixefix vegetarian menu. The night will involve a screening of a carefully selected indie flick and a chance for Brooklyn artists to showcase work. This will take a lot of planning, but for somehow who balances three major creative passions, I sense she'll be just fine.
And I'm also feeling fine because my haircut is the best combination of dykey and girlie I could ever dream of. I feel confident — like I'm going to please my mom and be able to pick up girls all at once, the most incredible impossibility that Soozee has made a reality. She's given me the gift of fluidity and beyond the gay relevance of hair, it's just a darn good haircut. It's airy for the summer and frames my face in a way that I never knew was everything my cheekbones needed.

Earlier, Soozee mentioned, "After 7 years in this industry, I figured out that I'm not only a stylist but also a therapist and a day maker." She is exactly right. I had been in a slump with my heavy mullet thing. Suddenly, with this new great haircut, I felt excited — maniacally excited — for my summer, and started making resolutions before I could even get home to take my obligatory million photobooth pictures of myself.
Never underestimate the power of a genius haircut. Needless to say, it seems all too perfect that a person who is remarkable for her gypsy life of so many passions, is also the person who has the power to help people get really excited about themselves and their own lives.