It sure has been a decade! As far as the queer literary world goes, it's seen a lot of change! Mainstream publishing has become much more open to queer stories, especially perhaps in YA, and the drive and determination of indie and queer publishing projects has meant that less saleable work that is sometimes more resonant to our lives has been able to make it to our shelves. Queer memoir and nonfiction work has broken into the general zeitgeist outside of just coming out stories, and queer and trans poets have continued to challenge and transform poetry from the inside out. Please share everything I've missed here in the comments, especially in graphic novels and YA, genres I am tragically not very knowledgeable about! What have you read? What are you adding to your list? What have we not talked about enough? Let's get into it!
80 of the Best Queer, Lesbian and Bisexual Books of the Decade
Fiction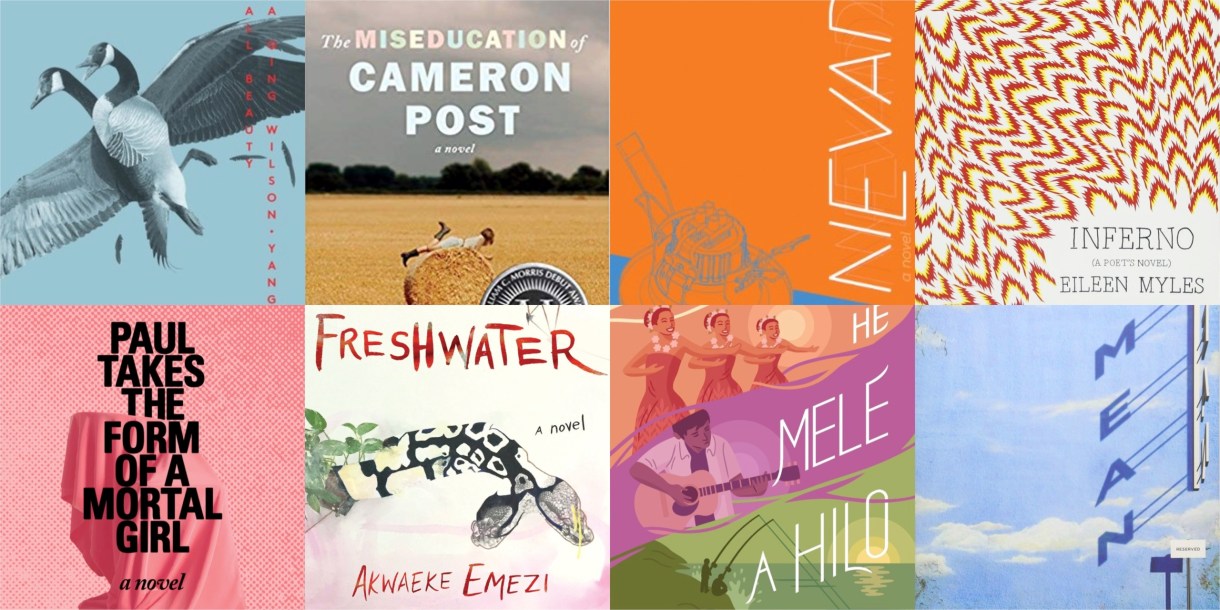 Huntress, Malinda Lo (2011)
Nature is out of balance in the human world. The sun hasn't shone in years, and crops are failing. Worse yet, strange and hostile creatures have begun to appear. The people's survival hangs in the balance.
To solve the crisis, the oracle stones are cast, and Kaede and Taisin, two seventeen-year-old girls, are picked to go on a dangerous and unheard-of journey to Tanlili, the city of the Fairy Queen. Taisin is a sage, thrumming with magic, and Kaede is of the earth, without a speck of the otherworldly. And yet the two girls' destinies are drawn together during the mission. As members of their party succumb to unearthly attacks and fairy tricks, the two come to rely on each other and even begin to fall in love. But the Kingdom needs only one huntress to save it, and what it takes could tear Kaede and Taisin apart forever.
Read our interview with Malinda Lo here!
At one time a wild young girl and a brilliant artist, Ava Delaney changes dramatically after a violent event that rocks her entire family. Once loved and respected in their community and in their church, they are ostracized by their neighbors, led by their church leader, and a seventeen-year feud between the Delaneys and the church ensues. Ava and her family are displaced from the community even as they continue to live within it, trapped inside their creaky, shadowy old house. When a mysterious woman arrives unexpectedly for a visit, her presence stirs up the past and ghosts and other restless things begin to emerge. And something is reignited in Ava: the indifferent woman she has become begins to give way to the wild girl, and the passionate artist, she used to be. But not without a struggle that threatens her well-being and, ultimately, her life.
Read our review of The Summer We Got Free here!
Nevada, Imogen Binnie (2013)
Nevada is the darkly comedic story of Maria Griffiths, a young trans woman living in New York City and trying to stay true to her punk values while working retail. When she finds out her girlfriend has lied to her, the world she thought she'd carefully built for herself begins to unravel, and Maria sets out on a journey that will most certainly change her forever.
The Miseducation of Cameron Post is a stunning and provocative literary debut that was named to numerous best of the year lists. When Cameron Post's parents die suddenly in a car crash, her shocking first thought is relief. Relief they'll never know that, hours earlier, she had been kissing a girl. But that relief doesn't last, and Cam is forced to move in with her conservative aunt Ruth and her well-intentioned but hopelessly old-fashioned grandmother. She knows that from this point on, her life will forever be different. Survival in Miles City, Montana, means blending in and leaving well enough alone, and Cam becomes an expert at both. Then Coley Talor moves to town. Beautiful, pickup-driving Coley is a perfect cowgirl with the perfect boyfriend to match. She and Cam forge an unexpected and intense friendship, one that seems to leave room for something more to emerge. But just as that starts to seem like a real possibility, Aunt Ruth takes drastic action to "fixwp_postsher niece, bringing Cam face-to-face with the cost of denying her true self—even if she's not quite sure who that is.
Read everything we've written about The Miseducation of Cameron Post!
Women, Chloe Caldwell (2014)
WOMEN is a novella about falling in love with a woman, about loving women, about being a woman. It is a novella about a mother and a daughter. A novella about female friendships that blur the line of romance. A novella about a woman who, after having her first sexual relationship with a woman, goes on a series of (comical) OK Cupid dates with other women. A novella about a woman in her twenties who doesn't know if she's gay or straight or bi. A novella about falling in love and having your heart broken and figuring out what to do next. The book is an urgent recall of heartbreak, of a stark identity in crisis.
Something strange is happening in Hilo. Noleani Choi's new show about the life of Jesus Christ told through hula dance has everyone, especially her halau, wondering what she could possibly be thinking. Rumors circulate about a rich guy from the mainland, and the dancers and their friends must reckon with what is really hula, who is Hawaiian enough, and why each of them wants to dance. On one beautiful island, we discover that loving other people in spite of their flaws might just begin with being true to our own selves.
It is 1922, and London is tense. Ex-servicemen are disillusioned; the out-of-work and the hungry are demanding change. And in South London, in a genteel Camberwell villa—a large, silent house now bereft of brothers, husband, and even servants—life is about to be transformed as impoverished widow Mrs. Wray and her spinster daughter, Frances, are obliged to take in lodgers.
With the arrival of Lilian and Leonard Barber, a modern young couple of the "clerk class,wp_poststhe routines of the house will be shaken up in unexpected ways. Little do the Wrays know just how profoundly their new tenants will alter the course of Frances's life—or, as passions mount and frustration gathers, how far-reaching, and how devastating, the disturbances will be.
Ijeoma comes of age as her nation does; born before independence, she is eleven when civil war breaks out in the young republic of Nigeria. Sent away to safety, she meets another displaced child and they, star-crossed, fall in love. They are from different ethnic communities. They are also both girls. When their love is discovered, Ijeoma learns that she will have to hide this part of herself. But there is a cost to living inside a lie.
From its beginning—"My English professor's ass was so beautiful."—to its end—"You can actually learn to have grace. And that's heaven."—poet, essayist and performer Eileen Myles' chronicle transmits an energy and vividness that will not soon leave its readers. Her story of a young female writer, discovering both her sexuality and her own creative drive in the meditative and raucous environment that was New York City in its punk and indie heyday, is engrossing, poignant, and funny. This is a voice from the underground that redefines the meaning of the word.
Read our book club discussion on Inferno!
Small Beauty, Jia Qing Wilson-Yang (2016)
SMALL BEAUTY tells the story of Mei, a mixed race trans woman managing the death of her cousin, the ways she contorts to navigate racism and transphobia, and her desire for community as she takes an opportunity to leave the city and revisit a town from her family's past, where she discovers queer family history while parsing through her own anger and trauma. Cycling through time, points of view, and rural and city life, the novel introduces us to Mei's community in fictional Dundurn and Herbertsville, loosely based on Southern Ontario places: Annette and Connie, other Asian trans women from the drop-ins; Sandy, Mei's older cousin and constant (if aggressive) support; Diane, an older lesbian with a pick-up and secret links to Mei's blood family; and Nelson, a presence lost before found, whose story is told in pictures sewn into a suitcase. Interspersed with one culminating night-time lake scene, the book carries us through these stories and towards their completion as the frustrating, necessary web that keeps Mei attached to the world.
Read our review of Small Beauty!
"Even if Holden Caulfield was born in the Bronx in the 1980s, he could never be this awesome.wp_postsInga Muscio, author of Cunt Juliet Milagros Palante is leaving the Bronx and headed to Portland, Oregon. She just came out to her family and isn't sure if her mom will ever speak to her again. But Juliet has a plan, sort of, one that's going to help her figure out this whole "Puerto Rican lesbianwp_poststhing. She's interning with the author of her favorite book: Harlowe Brisbane, the ultimate authority on feminism, women's bodies, and other gay-sounding stuff. Will Juliet be able to figure out her life over the course of one magical summer? Is that even possible? Or is she running away from all the problems that seem too big to handle? With more questions than answers, Juliet takes on Portland, Harlowe, and most importantly, herself.
Read everything we've written about Juliet Takes a Breath!
FIERCE FEMMES AND NOTORIOUS LIARS: A DANGEROUS TRANS GIRL'S CONFABULOUS MEMOIR is the highly sensational, ultra-exciting, sort-of true coming-of-age story of a young Asian trans girl, pathological liar, and kung-fu expert who runs away from her parents' abusive home in a rainy city called Gloom. Striking off on her own, she finds her true family in a group of larger-than-life trans femmes who live in a mysterious pleasure district known only as the Street of Miracles. Under the wings of this fierce and fabulous flock, the protagonist blossoms into the woman she has always dreamed of being, with a little help from the unscrupulous Doctor Crocodile. When one of their number is brutally murdered, she joins her sisters in forming a vigilante gang to fight back against the transphobes, violent johns, and cops that stalk the Street of Miracles. But when things go terribly wrong, she must find the truth within herself in order to stop the violence and discover what it really means to grow up and find your family.
Read our review of Fierce Femmes and Notorious Liars!
Wryly riffing on feminist literary tropes, We Were Witches documents the survival of a demonized single mother. She's beset by custody disputes, homophobia, and America's ever-present obsession with shaming strange women into passive citizenship. But even as the narrator struggles to graduate―often the triumphant climax of a dramatic plot―a question uncomfortably lingers. If you're dealing with precarious parenthood, queer identity, and debt, what is the true narrative shape of your experience?
Read our interview with Ariel Gore about the book!
It's 1993 and Paul Polydoris tends bar at the only gay club in a university town thrumming with politics and partying. He studies queer theory, has a dyke best friend, makes zines, and is a flâneur with a rich dating life. But Paul's also got a secret: he's a shapeshifter. Oscillating wildly from Riot Grrrl to leather cub, Women's Studies major to trade, Paul transforms his body at will in a series of adventures that take him from Iowa City to Boystown to Provincetown and finally to San Francisco–a journey through the deep queer archives of struggle and pleasure.
Capturing the distinct rhythms of Jamaican life and dialect, Nicole Dennis- Benn pens a tender hymn to a world hidden among pristine beaches and the wide expanse of turquoise seas. At an opulent resort in Montego Bay, Margot hustles to send her younger sister, Thandi, to school. Taught as a girl to trade her sexuality for survival, Margot is ruthlessly determined to shield Thandi from the same fate. When plans for a new hotel threaten their village, Margot sees not only an opportunity for her own financial independence but also perhaps a chance to admit a shocking secret: her forbidden love for another woman. As they face the impending destruction of their community, each woman―fighting to balance the burdens she shoulders with the freedom she craves―must confront long-hidden scars. From a much-heralded new writer, Here Comes the Sun offers a dramatic glimpse into a vibrant, passionate world most outsiders see simply as paradise.
A wife refuses her husband's entreaties to remove the green ribbon from around her neck. A woman recounts her sexual encounters as a plague slowly consumes humanity. A salesclerk in a mall makes a horrifying discovery within the seams of the store's prom dresses. One woman's surgery-induced weight loss results in an unwanted houseguest. And in the bravura novella "Especially Heinous,wp_postsMachado reimagines every episode of Law & Order: Special Victims Unit, a show we naïvely assumed had shown it all, generating a phantasmagoric police procedural full of doppelgängers, ghosts, and girls with bells for eyes. Earthy and otherworldly, antic and sexy, queer and caustic, comic and deadly serious, Her Body and Other Parties swings from horrific violence to the most exquisite sentiment. In their explosive originality, these stories enlarge the possibilities of contemporary fiction.
Read our interview with Carmen Maria Machado!
It's the summer of 1990 and Crystal Beach has lost its beloved, long-running amusement park, leaving the lakeside village a virtual ghost town. It is back to this fallen community that Starla Mia Martin must return to live with her overbearing mother after dropping out of university and racking up significant debt. But an economic downturn, mother-daughter drama, and Generation X disillusionment soon prove to be to be the least of Starla's troubles. A mysterious and salacious force begins to dog her; inexplicable sounds in the night and indescribable sights spotted in the periphery. Soon enough, Starla must confront the unresolved traumas that haunt Crystal Beach.
Freshwater, Akwaeke Emezi (2018)
Ada begins her life in the south of Nigeria as a troubled baby and a source of deep concern to her family. Her parents, Saul and Saachi, successfully prayed her into existence, but as she grows into a volatile and splintered child, it becomes clear that something went terribly awry. When Ada comes of age and moves to America for college, the group of selves within her grows in power and agency. A traumatic assault leads to a crystallization of her alternate selves: Asụghara and Saint Vincent. As Ada fades into the background of her own mind and these selves―now protective, now hedonistic―move into control, Ada's life spirals in a dark and dangerous direction.
In this extraordinary debut novel by the author of the Lambda Literary Award-winning story collection A Safe Girl to Love, Wendy Reimer is a thirty-year-old trans woman who comes across evidence that her late grandfather—a devout Mennonite farmer—might have been transgender himself. At first she dismisses this revelation, having other problems at hand, but as she and her friends struggle to cope with the challenges of their increasingly volatile lives—from alcoholism, to sex work, to suicide—Wendy is drawn to the lost pieces of her grandfather's life, becoming determined to unravel the mystery of his truth. Alternately warm-hearted and dark-spirited, desperate and mirthful, Little Fish explores the winter of discontent in the life of one transgender woman as her past and future become irrevocably entwined.
Pages: 1 2 3 4See entire article on one page