Hello and welcome to the second recap of the first season of The L Word Generation Q, brought to you by the same network that brought you The L Word, a TV show about a fascinating young woman born with the ability to speak the language of the manatees.
Firstly, my dear friends, I am absolutely THRILLED by the response to last week's recap! It truly felt like 2009 in the comments and by that I mean there were a lot of comments and everybody read the intro. What a delight! Secondly, I was a special guest star on the second episode of "To L and Back: Generation Q," our podcast about Generation Q hosted by Drew Gregory and Analyssa Lopez, which I will link to right here as soon as it goes up on Monday morning! Don't worry it turns out I have an endless amount of things to say about any given L Word episode including this one. Thirdly, the event recap with pictures of our live "To L and Back" recording with the Generation Q cast is also going up Monday morning.
Fourthly: last week, it was suggested I begin tracking throwbacks, and thus I will. Last episode we had quite a few, which I've listed below along with, when relevant, the specific season the throwback addressed.
1. Alice says Lenore is living in her house and thinks Shane still wants to fuck her Mom. (S1)
2. Bette takes a phone call from Tina
3. "I did vaginal rejuvenation in '04. Have vaginas changed since then?wp_posts(S1)
4. Shane's "been there" re: Finley sharing a one-bedroom with five roommates, which is a throwback to Shane sharing a one-bedroom with four roommates (S1)
5. Angie says she wants to live with Mama T
6. "Do your voters know that you stole a billboard in the mid-aughts?" (S4)
Alright, let's get into it!
---
We open deep in the annals of lesbian history: two years ago. Los Angeles, California. As we did last week and as we deserve forever and evermore, we open with GIRL-ON-GIRL ACTION.
Lesbian Sexy Moment #4: Were We Ever So Young!
The Players: Alice and Nat
The Pick-Up: Offscreen, but as this was their first date, it was probs, "Wanna come up / get a nightcap / make out / judge the books on my bookshelf?"
Hot or Not? Well, on the upside: someone got pushed against a wall. On the downside: who picked Stephanie's wig for this scene. On the flipside: before anything gets TOO steamy we are interrupted by…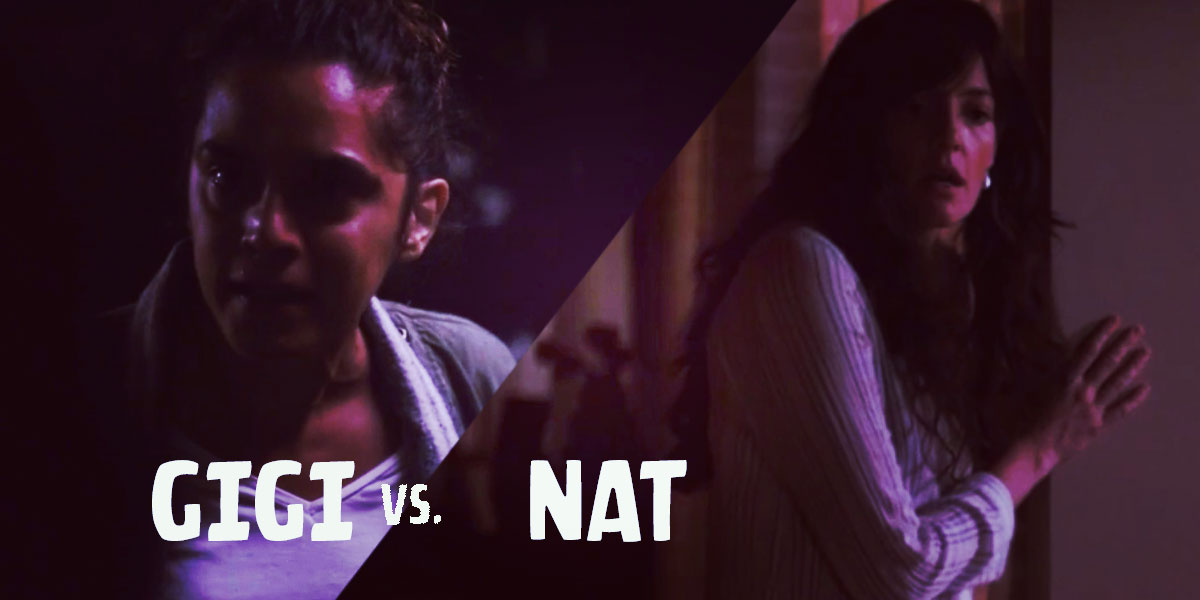 Lesbian Squabble #4: Were We Ever So Young?
The Players: Gigi vs. Nat
Content: The removal of clothing ceases after they hear a banging at the door. Alice guesses it's:
1. Postmates
2. Amazon (they deliver really late, she says)
3. A murderer
But nope, it's Nat's ex-wife, Gigi! And my friends, Gigi is UNHAPPY that Nat's already nearly undressed with another woman. Gigi throws out zingers including "Are you fucking kidding me?" and "What a fucking bitch!" while Nat remains cool as a cucumber and Alice suggests calling the cops. (Alice, never call the LAPD on a person of color!) (Unless you're actually just calling Tasha, who may/may not still live in LA and may/may not still be a police officer, which I would OBVIOUSLY support.) Gigi, likely inspired by the classic Indigo Girls song "Hammer and a Nail," hammers a nail into Nat's wall and then hangs her wedding ring on it. "There, are you happy? I hope you're fucking happy," she concludes, as if the only barrier to Nat's potential happiness was that nobody had hammered a nail into the side of her house and hung an expensive piece of costume jewelry on it. Gigi returns to deliver one more FUCK YOU to Alice, who declares Gigi "dramatic."
Who Wins? The OFTEN UNFAIR but unfortunately relatively universal rule of post-breakup blowouts is that the less hysterical one wins, even if the hysterical one is CORRECT and the calm one is INCORRECT. In this case, Nat's both correct and less hysterical, so she wins a daily double. However, Alice is spooked: a small victory for Gigi and her toolbox.
Alice: So you were married to that person?
Nat: Yeah. She's a really great Mom.
Alice and Nat jump back into the rudely interrupted makeout and we jump into the opening credits!
---
Back in present day sunny L.A., Sophie's stoked about her and Dani's last-minute engagement party, to which she plans to invite her entire family including third cousins, while hoping they won't all actually show up. Dani's got big news, though: she's leaving The Glass Power Tower of Daddy's Terror Inc to run PR for Bette Porter's mayoral campaign! Sophie's reaction to this news is not exactly what Dani had hoped for.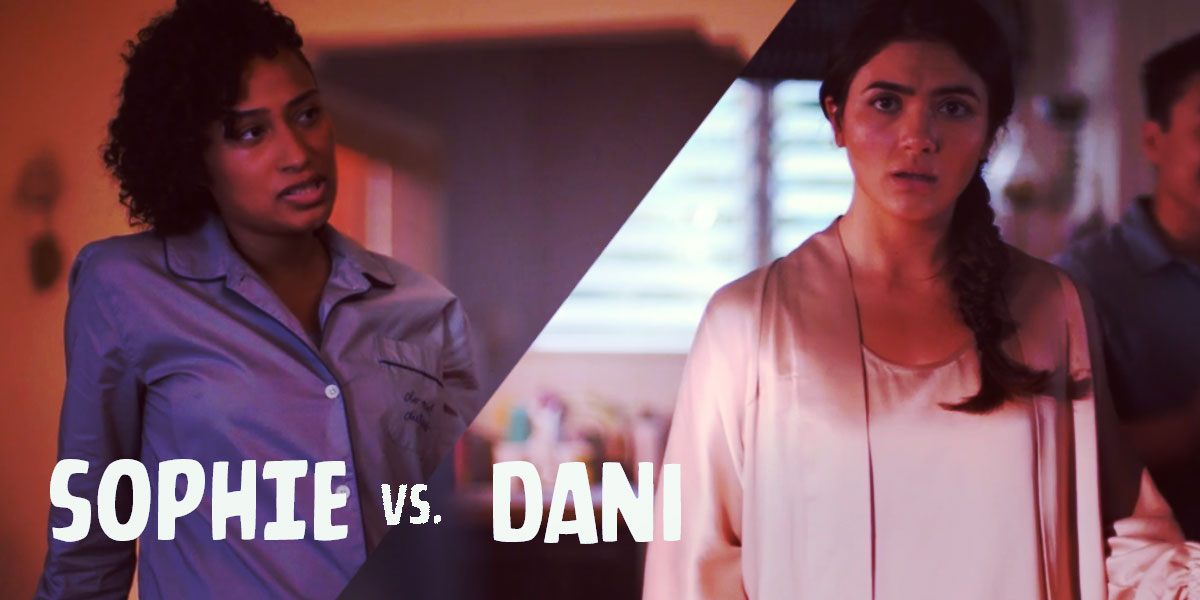 Lesbian Squabble #5: The Imperfect Message
In the Ring: Sophie vs. Dani
Content: Sophie would've liked to be consulted before Dani switched careers, as they were supposed to be "slowing down," a term which means basically nothing and is not expanded upon. Dani thought Sophie would be happy for her. I assume, without any supporting evidence, that this must be money-related, as surely Dani's salary is gonna decrease by 500% as she moves out of "doing evil" into "doing good.' Although I don't think a couple has to agree on all of their individual life path decisions, it's 100% bananas and genuinely suspicious that Dani didn't talk to Sophie about her hopes and dreams before talking to Bette, even! Then, Micah drops in, delivering his internal monologue about whether or not it's cool to use a gift card on his date with Jose. Sophie suggests delaying the engagement party. Micah smells stress sweat.
Who Wins? Micah! He's done great problem-solving re: his gift card. He's gonna use it!
---
We then ascend to the upper echelons of power lesbianism, where it seems Finley has indeed decided to crash at Shane's indefinitely. She's even done some shopping! At the Dollar Store. And made Shane undoubtedly inferior coffee out of a "packet thing."
Finley: So, I heard three voices coming out of your room last night. How wasted were you?
Shane: I wasn't.
Finley: Seriously though, no judgment. I don't think I've ever had sober sex. I need that liquid courage, you know? Or like, I can't even tell if someone's into me.
Shane: Just try listening and they'll tell ya.
Finley: That's deep.
Shane begins to explain that there may've been a misunderstanding regarding Finley's indefinite shacking up with Shane but she's interrupted by a delivery guy who clearly just stepped off the set of The Matrix where he was one of 100 package-delivery clones. Shane denies being Shane, which'll definitely ensure she never has to open that envelope.
Finley asks who was at the door. Shane, trotting downstairs with her orange juice to be depressed, ignores the question and asks one of her own: "Just wondering how long you're planning on staying." I hope forever, because I am really enjoying this?
"One week," Finley says, jocular. "Two max. You know what? Let's not put a max on it."
I know people have issues with this storyline but sorry I love it!!!
---
Over at The Evil Empire, Dad's hoping Dani loves her office, which is the size of a small shopping mall. Probably she's gonna do aerobics in there or host a Stitch-n-Bitch.
Dani says Dad raised her to do what's right and be independent, and she's SUPER grateful for the job, but Bette Porter offered her a position running PR for her campaign. Dad is, unsurprisingly, very upset about this twist in the life story he wrote his daughter, who then tries a follow-up blow-softener of "I proposed to Sophie. So that's good news at least."
"That's a lot for one morning," Dad says. Ouch.
Clearly he has not done the math regarding how much free morning time L Word Lesbians have. These ladies can wake up, have morning sex, shower, don trendy apparel, do full hair and makeup, drive to The Planet, find parking, drink coffee, process somebody's entire breakup, say something passive-aggressive, definitely leave whatever food they ordered at the table and make it all the way to work in Canada by 9am.
---
Angie's got the day off school AND is grounded, so it's take Your Daughter to Bette 2020 HQ Work Day!
Angie is tasked with preparing mailers and wants to invite Jordi to come look cute while she stamps envelopes but Bette's not too keen on Jordi, a notorious drug pusher of the vaping variety. Angie declines the suggestion to invite a classmate, 'cause she hates everybody at that private school Bette's forcing her to attend. I feel sad for Angie!
---
At The Aloce Show, Handyman Finley's doing some shelves and Sophie's agonizing over Dani's big job switcharoo.
Finley: Are you guys both gonna wear like, dresses?
Sophie: Why you gotta say it like that.
Finley: I dunno… I'm grossed out.
This line is clearly not cool but something about the delivery makes you feel sad for Finley rather than mad at her — like there's some deep internalized homophobia swirling around beneath those puppy dog ears. This shame could probably be cured with a brief dip into the pond of existential despair/hope known as Lesbian Wedding Instagram.
Sophie says she's not sure what a good marriage looks like 'cause her Dad left her Mom when she was 12, and Finley says she's got no clue either — her parents kicked her out and sleep in separate beds. This tracks. We're all doomed. Anyhow, network's here!
Alice expects the network bosses have arrived to congratulate them on knocking it out of the park with Bette's live dramatic reading mash-up of Meredith Brooks' "Bitch" and Jewel's "Pieces of You." They basically scored the Gettysburg Address! This meeting is gonna be great! Sophie's not so sure.
---
Back to Bette 2020 HQ!
Dani has arrived with a lesbian houseplant for her office, but Pierce is like, it is not that kind of office my friend. Get a carpet square and meet me in Bette's office for a meeting.
Dani's stopped in her tracks by Judy Chicago's "Through The Flower," hanging on Bette's wall. "Judy Chicago loaned it to me," Bette flexes. She waxes poetic on Judy's inspirational focus and drive. Dani is AROUSED.
---
Back at The Aloce Show, the network is very mad. Dr. Oz was waiting in the hallway all night prepared to steam a vagina, only to see himself replaced by Bette Porter. This is the only thing that Dr. Oz has in common with the lesbians of Los Angeles.
"When we bought your podcast, we bought a brand. A poppy, fun, lesbian brand," says Barry. "We wanna build off that." (Throwback #7: Alice's podcast, S4-S5)
"I do too, I really do," responds Alice, a poppy fun lesbian, "It's just I'm a very curious person, and i think my audience is too. And I just wanna give them a little credit."
Listen, I'm well aware of the original program's myriad evils, problematic elements and dire missteps, but like, their multi-season insistence on referring to Alice's video interviews for OurChart as "podcasts" is a gaffe I will never get over, and I am HIGHLY UPSET to see the reboot is NOT addressing this EGREGIOUS error.
Anyhow — meet Drew Wilson! You know Drew. He's the incidental guy they call in to drive a smart woman insane! He's written for [various important talk show hosts] and is here to take the pressure off Alice. With his irrelevant and unnecessary help, she'll keep her first-season audience, who definitely are incapable of intellectual development and will love every idea that leaks slowly from the pores of this asshat's inferior brain:
Finley, again bounding into an important room with the enthusiasm of a King Charles Spaniel, has written KID HELP on a post-it, slapped the post-it on her hand, and is now shoving said hand in Alice's face. One of Nat's kids is ready to hurl, and Gigi's out Giging and Nat's in a therapy session, so Alice is our only hope for picking up the kiddo! Can't the kiddo just stay in the nurse's office all day waiting for his parents to get off work like the rest of us did in the pre-cellphone era after we walked to school in the snow uphill both ways? I forgive it because we all laughed out loud.
Alice dashes out, telling Finley to call Shane to meet her at Nat's for backup. Sophie tells The White Men that she understands their discomfort with Bette's last-minute booking, but they've gotten some great celebrity guest requests since the show aired. For example, Lena Waithe! The Network Guys are into Lena Waithe, just like us, but then are like "Yay, let's get 'em to wear blindfolds and play a drinking game." Sophie suggests "an honest conversation about the importance of queer representation in film," which inspires them to nod and declare, "Drew will fill in the details." [Narrator: he will did not fill in the details.]
---
Pages: 1 2 3See entire article on one page