Hello and welcome to the second recap of the first season of The L Word Generation Q, brought to you by the same network that brought you The L Word, a TV show about a fascinating young woman born with the ability to speak the language of the manatees.
Firstly, my dear friends, I am absolutely THRILLED by the response to last week's recap! It truly felt like 2009 in the comments and by that I mean there were a lot of comments and everybody read the intro. What a delight! Secondly, I was a special guest star on the second episode of "To L and Back: Generation Q," our podcast about Generation Q hosted by Drew Gregory and Analyssa Lopez, which I will link to right here as soon as it goes up on Monday morning! Don't worry it turns out I have an endless amount of things to say about any given L Word episode including this one. Thirdly, the event recap with pictures of our live "To L and Back" recording with the Generation Q cast is also going up Monday morning.
Fourthly: last week, it was suggested I begin tracking throwbacks, and thus I will. Last episode we had quite a few, which I've listed below along with, when relevant, the specific season the throwback addressed.
1. Alice says Lenore is living in her house and thinks Shane still wants to fuck her Mom. (S1)
2. Bette takes a phone call from Tina
3. "I did vaginal rejuvenation in '04. Have vaginas changed since then?" (S1)
4. Shane's "been there" re: Finley sharing a one-bedroom with five roommates, which is a throwback to Shane sharing a one-bedroom with four roommates (S1)
5. Angie says she wants to live with Mama T
6. "Do your voters know that you stole a billboard in the mid-aughts?" (S4)
Alright, let's get into it!
---
We open deep in the annals of lesbian history: two years ago. Los Angeles, California. As we did last week and as we deserve forever and evermore, we open with GIRL-ON-GIRL ACTION.
Lesbian Sexy Moment #4: Were We Ever So Young!
The Players: Alice and Nat
The Pick-Up: Offscreen, but as this was their first date, it was probs, "Wanna come up / get a nightcap / make out / judge the books on my bookshelf?"
Hot or Not? Well, on the upside: someone got pushed against a wall. On the downside: who picked Stephanie's wig for this scene. On the flipside: before anything gets TOO steamy we are interrupted by…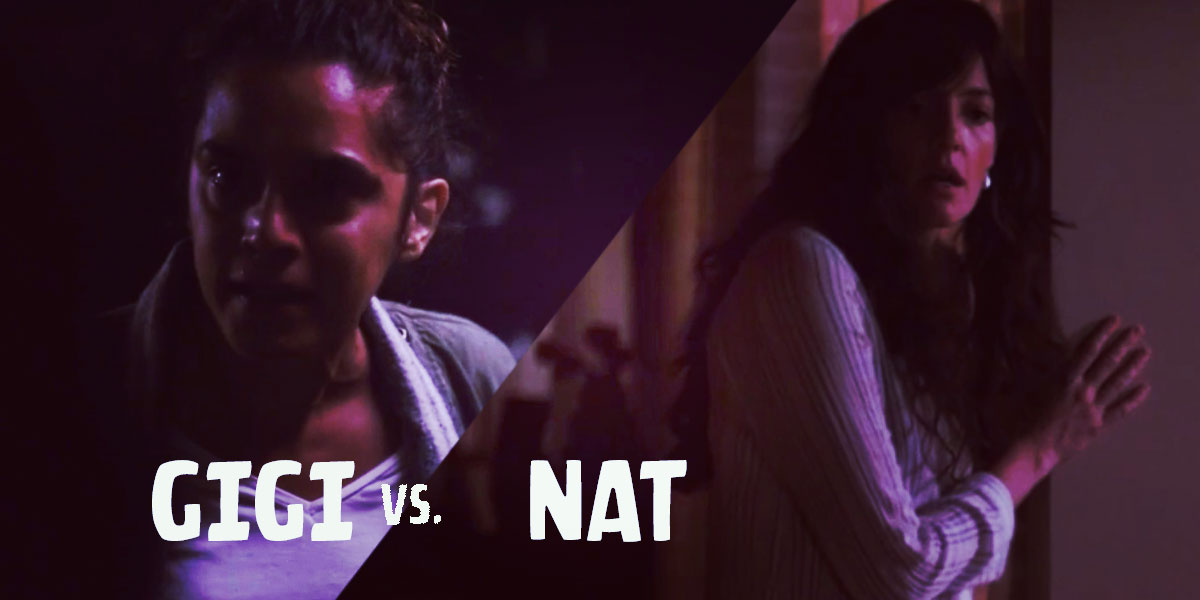 Lesbian Squabble #4: Were We Ever So Young?
The Players: Gigi vs. Nat
Content: The removal of clothing ceases after they hear a banging at the door. Alice guesses it's:
1. Postmates
2. Amazon (they deliver really late, she says)
3. A murderer
But nope, it's Nat's ex-wife, Gigi! And my friends, Gigi is UNHAPPY that Nat's already nearly undressed with another woman. Gigi throws out zingers including "Are you fucking kidding me?" and "What a fucking bitch!" while Nat remains cool as a cucumber and Alice suggests calling the cops. (Alice, never call the LAPD on a person of color!) (Unless you're actually just calling Tasha, who may/may not still live in LA and may/may not still be a police officer, which I would OBVIOUSLY support.) Gigi, likely inspired by the classic Indigo Girls song "Hammer and a Nail," hammers a nail into Nat's wall and then hangs her wedding ring on it. "There, are you happy? I hope you're fucking happy," she concludes, as if the only barrier to Nat's potential happiness was that nobody had hammered a nail into the side of her house and hung an expensive piece of costume jewelry on it. Gigi returns to deliver one more FUCK YOU to Alice, who declares Gigi "dramatic."
Who Wins? The OFTEN UNFAIR but unfortunately relatively universal rule of post-breakup blowouts is that the less hysterical one wins, even if the hysterical one is CORRECT and the calm one is INCORRECT. In this case, Nat's both correct and less hysterical, so she wins a daily double. However, Alice is spooked: a small victory for Gigi and her toolbox.
Alice: So you were married to that person?
Nat: Yeah. She's a really great Mom.
Alice and Nat jump back into the rudely interrupted makeout and we jump into the opening credits!
---
Back in present day sunny L.A., Sophie's stoked about her and Dani's last-minute engagement party, to which she plans to invite her entire family including third cousins, while hoping they won't all actually show up. Dani's got big news, though: she's leaving The Glass Power Tower of Daddy's Terror Inc to run PR for Bette Porter's mayoral campaign! Sophie's reaction to this news is not exactly what Dani had hoped for.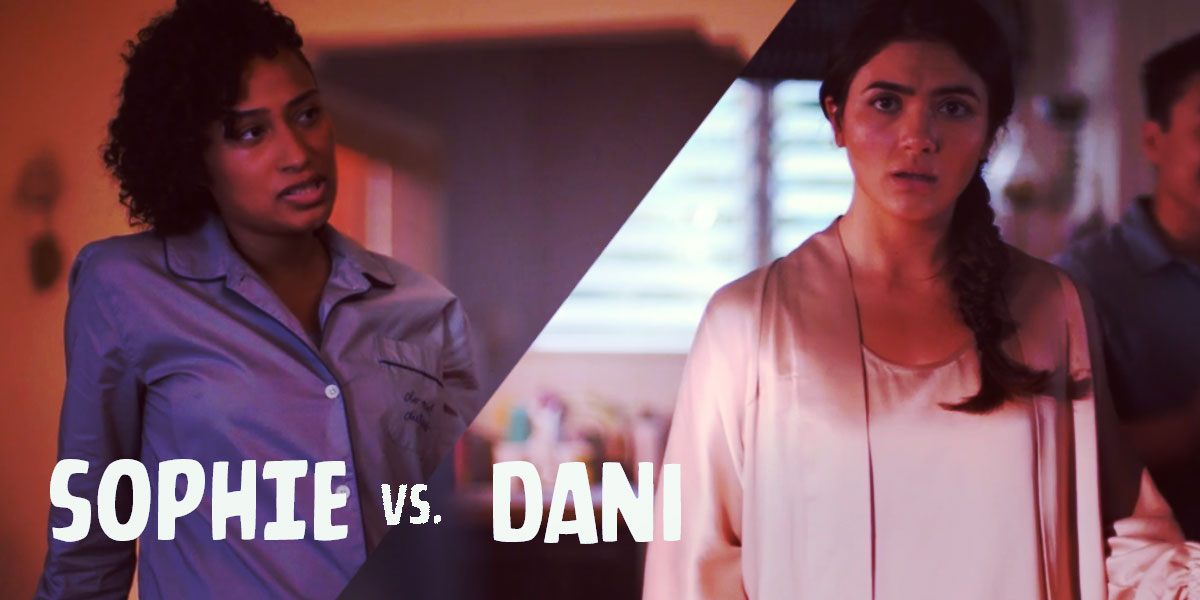 Lesbian Squabble #5: The Imperfect Message
In the Ring: Sophie vs. Dani
Content: Sophie would've liked to be consulted before Dani switched careers, as they were supposed to be "slowing down," a term which means basically nothing and is not expanded upon. Dani thought Sophie would be happy for her. I assume, without any supporting evidence, that this must be money-related, as surely Dani's salary is gonna decrease by 500% as she moves out of "doing evil" into "doing good.' Although I don't think a couple has to agree on all of their individual life path decisions, it's 100% bananas and genuinely suspicious that Dani didn't talk to Sophie about her hopes and dreams before talking to Bette, even! Then, Micah drops in, delivering his internal monologue about whether or not it's cool to use a gift card on his date with Jose. Sophie suggests delaying the engagement party. Micah smells stress sweat.
Who Wins? Micah! He's done great problem-solving re: his gift card. He's gonna use it!
---
We then ascend to the upper echelons of power lesbianism, where it seems Finley has indeed decided to crash at Shane's indefinitely. She's even done some shopping! At the Dollar Store. And made Shane undoubtedly inferior coffee out of a "packet thing."
Finley: So, I heard three voices coming out of your room last night. How wasted were you?
Shane: I wasn't.
Finley: Seriously though, no judgment. I don't think I've ever had sober sex. I need that liquid courage, you know? Or like, I can't even tell if someone's into me.
Shane: Just try listening and they'll tell ya.
Finley: That's deep.
Shane begins to explain that there may've been a misunderstanding regarding Finley's indefinite shacking up with Shane but she's interrupted by a delivery guy who clearly just stepped off the set of The Matrix where he was one of 100 package-delivery clones. Shane denies being Shane, which'll definitely ensure she never has to open that envelope.
Finley asks who was at the door. Shane, trotting downstairs with her orange juice to be depressed, ignores the question and asks one of her own: "Just wondering how long you're planning on staying." I hope forever, because I am really enjoying this?
"One week," Finley says, jocular. "Two max. You know what? Let's not put a max on it."
I know people have issues with this storyline but sorry I love it!!!
---
Over at The Evil Empire, Dad's hoping Dani loves her office, which is the size of a small shopping mall. Probably she's gonna do aerobics in there or host a Stitch-n-Bitch.
Dani says Dad raised her to do what's right and be independent, and she's SUPER grateful for the job, but Bette Porter offered her a position running PR for her campaign. Dad is, unsurprisingly, very upset about this twist in the life story he wrote his daughter, who then tries a follow-up blow-softener of "I proposed to Sophie. So that's good news at least."
"That's a lot for one morning," Dad says. Ouch.
Clearly he has not done the math regarding how much free morning time L Word Lesbians have. These ladies can wake up, have morning sex, shower, don trendy apparel, do full hair and makeup, drive to The Planet, find parking, drink coffee, process somebody's entire breakup, say something passive-aggressive, definitely leave whatever food they ordered at the table and make it all the way to work in Canada by 9am.
---
Angie's got the day off school AND is grounded, so it's take Your Daughter to Bette 2020 HQ Work Day!
Angie is tasked with preparing mailers and wants to invite Jordi to come look cute while she stamps envelopes but Bette's not too keen on Jordi, a notorious drug pusher of the vaping variety. Angie declines the suggestion to invite a classmate, 'cause she hates everybody at that private school Bette's forcing her to attend. I feel sad for Angie!
---
At The Aloce Show, Handyman Finley's doing some shelves and Sophie's agonizing over Dani's big job switcharoo.
Finley: Are you guys both gonna wear like, dresses?
Sophie: Why you gotta say it like that.
Finley: I dunno… I'm grossed out.
This line is clearly not cool but something about the delivery makes you feel sad for Finley rather than mad at her — like there's some deep internalized homophobia swirling around beneath those puppy dog ears. This shame could probably be cured with a brief dip into the pond of existential despair/hope known as Lesbian Wedding Instagram.
Sophie says she's not sure what a good marriage looks like 'cause her Dad left her Mom when she was 12, and Finley says she's got no clue either — her parents kicked her out and sleep in separate beds. This tracks. We're all doomed. Anyhow, network's here!
Alice expects the network bosses have arrived to congratulate them on knocking it out of the park with Bette's live dramatic reading mash-up of Meredith Brooks' "Bitch" and Jewel's "Pieces of You." They basically scored the Gettysburg Address! This meeting is gonna be great! Sophie's not so sure.
---
Back to Bette 2020 HQ!
Dani has arrived with a lesbian houseplant for her office, but Pierce is like, it is not that kind of office my friend. Get a carpet square and meet me in Bette's office for a meeting.
Dani's stopped in her tracks by Judy Chicago's "Through The Flower," hanging on Bette's wall. "Judy Chicago loaned it to me," Bette flexes. She waxes poetic on Judy's inspirational focus and drive. Dani is AROUSED.
---
Back at The Aloce Show, the network is very mad. Dr. Oz was waiting in the hallway all night prepared to steam a vagina, only to see himself replaced by Bette Porter. This is the only thing that Dr. Oz has in common with the lesbians of Los Angeles.
"When we bought your podcast, we bought a brand. A poppy, fun, lesbian brand," says Barry. "We wanna build off that." (Throwback #7: Alice's podcast, S4-S5)
"I do too, I really do," responds Alice, a poppy fun lesbian, "It's just I'm a very curious person, and i think my audience is too. And I just wanna give them a little credit."
Listen, I'm well aware of the original program's myriad evils, problematic elements and dire missteps, but like, their multi-season insistence on referring to Alice's video interviews for OurChart as "podcasts" is a gaffe I will never get over, and I am HIGHLY UPSET to see the reboot is NOT addressing this EGREGIOUS error.
Anyhow — meet Drew Wilson! You know Drew. He's the incidental guy they call in to drive a smart woman insane! He's written for [various important talk show hosts] and is here to take the pressure off Alice. With his irrelevant and unnecessary help, she'll keep her first-season audience, who definitely are incapable of intellectual development and will love every idea that leaks slowly from the pores of this asshat's inferior brain:
Finley, again bounding into an important room with the enthusiasm of a King Charles Spaniel, has written KID HELP on a post-it, slapped the post-it on her hand, and is now shoving said hand in Alice's face. One of Nat's kids is ready to hurl, and Gigi's out Giging and Nat's in a therapy session, so Alice is our only hope for picking up the kiddo! Can't the kiddo just stay in the nurse's office all day waiting for his parents to get off work like the rest of us did in the pre-cellphone era after we walked to school in the snow uphill both ways? I forgive it because we all laughed out loud.
Alice dashes out, telling Finley to call Shane to meet her at Nat's for backup. Sophie tells The White Men that she understands their discomfort with Bette's last-minute booking, but they've gotten some great celebrity guest requests since the show aired. For example, Lena Waithe! The Network Guys are into Lena Waithe, just like us, but then are like "Yay, let's get 'em to wear blindfolds and play a drinking game." Sophie suggests "an honest conversation about the importance of queer representation in film," which inspires them to nod and declare, "Drew will fill in the details." [Narrator: he will did not fill in the details.]
---
An important thing to note about this next scene at Bette 2020 HQ is that Bette and Dani are wearing the same colors — but reversed.
Secondly, Dani's a real think-two-steps-ahead girl and she's gone ahead and set up a mediation session with Felicity to get out ahead of the story and, hopefully, let all of us here at home into the story. Pierce spars, Bette bows to Dani's superior wisdom and requests Angie be removed from the premises prior to Felicity's arrival.
Dani asks what else in Bette's past might come up throughout her campaign. Oh boy.
Bette: Well, I spent a night in jail. Civil disobedience, the charges were dropped. (Throwback #8: S1)
Dani: Okay.
Bette: I cheated on my ex-wife. (Throwback #9: S1)
Dani: Does she know you were unfaithful?
Bette: [laughs] Yes, she knows.
It is TRULY as if nobody in this office has read or seen Lez Girls!
And now it's time, my friends. It's time for the line that broke my heart and directly attacked my soul. After seeing this screener, I waited approximately 45 seconds before spilling the beans to everybody who answered affirmatively to CAN I TELL U A THING FROM GEN Q EVEN THOUGH IT'S A SPOILER?? Here we go:
Dani: Anything else?
Bette: A friend of mine died by suicide on my property. She drowned in my pool. (Throwback #10: S6)
Dani: Her name?
Bette: Jenny Schecter. S-C-H-E-C-T-E-R.
Wow, I hate this!!! I understand why they're doing it but I wanted Season Six to be ignored because it was terrible and didn't make sense! My feelings about the ridiculousness of Season Six and the Who Killed Jenny storyline are MANY and well-documented, but I'm as unconvinced that Jenny killed herself as I was that any of these women could've been her murderer. But! maybe it was an accident 'cause the railing hadn't been built yet and they declared it suicide to avoid a lawsuit from Warren and Margot Kidder? I'm grasping for soggy cardboard straws here.
---
Back at The Aloce Show, Drew's just here to help and Sophie doesn't give a fuck about him or anything that he does! Finley directs him to his office, but in the wrong direction. Hopefully he'll fall down a garbage chute and land in a bucket of pudding.
Sophie ignores Dani's call and expresses a need for alcohol. Finley eagerly offers herself because she loves alcohol but Sophie is like nah I'm gonna ask my sister.
"No worries," replies Finley with all the affability of a Boston Terrier. "I'll hydrate. all good here."
---
Dashing through the house, on a one-horsed desert sleigh, this kid's about to puke and apparently every toilet and garbage can has been airlifted from set and all Alice can find is a crock pot and they're screaming all the way!
Eli barfs in the crock pot. Eli wants his Mommy and Alice wants her Mommi. Shane, historically Very Good With Kids, delivers reassurances to Eli that Alice goes ahead and repeats. Shane's like, Alice stop it. She's like, I do not know what I am doing with this child! Thus they bundle him up on the couch where he can vomit all over his favorite blanket.
Alice is like, how do you do this. Shane's like, kids are just people. Alice says they're not, they're too small. Alice says Shane should've reproduced with her wife Quinara and she's surprised that Quinara didn't convince Shane to have a Little Baby Pickle and/or Shay. Shane's generally been pretty easily convinced to do things she doesn't wanna do by her partners, although Shane also generally has agreed to said things and then found a way out of them, like wanting to marry Carmen and then leaving Carmen at the altar and wanting to move in with Paige and then fucking a real estate agent on the wall-to-wall carpet of their prospective future home. Maybe this is the New Shane: just saying no instead of saying yes and then doing something terrible.
---
The feeling of waiting for someone you've got an unyielding crush on AND complicated feelings about is intense. It's like there's something soft battling something hard in your gut but nobody's winning and it's just complete full-body agony. You know what I mean? Bette knows what I mean.
Because that is how Bette looks like she feels when Felicity walks by her glass house while she's on the phone with Alice talking about putting babies in crock pots and creative solutions to vomit problems.
---
Meanwhile, Dani's adorable family has come over to drink wine and eat dinner and laugh and scream and exude generally radiant love-type feelings. So this is Sophie's Mom, Nana (Laura Patalano) and her sisters Virginia (Sofie Calderón) and Maribel (Jillian Mercado). Jillian Mercado, who uses a wheelchair, is a really incredible model/activist who came out as queer this weekend and this is her first acting role!
The fam has lots of questions: Is she gonna wear a white suit? What's she gonna do with her hair? What's everybody gonna do with their hair? Sophie can't think about her hair or the suit her family wants her to get or what Maribel is gonna do with her hair or what Tia Nancy wore to her wedding 'cause she's scared Dani's gonna keep making decisions without her.
Her sisters, who are VERY excited about the wedding she's about to have with a Certified Rich Person, suggest she waits 'til after the wedding to sort out decision-making. If it doesn't work, she can always get divorced! Then she'll be a divorced person, which is better than being a single person, because a divorced person has a KitchenAid mixer and a single person never got one. I guess that depends on who got to keep the KitchenAid mixer. We all die alone in the end.
---
Finley's been building furniture in Shane's absence!
Also, Finley stole them some toilet paper from work and wants Shane to go out and get drinks with her. "I'll buy," says Finley before clarifying that she will absolutely under no condition actually buy.
Shane's definitely a no on going out 'til she notices the envelope on the counter that Finley helpfully signed for ("so technically that's two ways I'm contributing"). She opens it and finds divorce papers tucked inside like a hot dog in a bun. On second thought: a drink sounds great! Finley needs to change into her nice pants but is THRILLED just like my dog Carol gets when it's time for her to go out and I want to put her in her Adidog pants.
---
Micah's taken Jose to a nice restaurant and he's impressed 'cause Garage Pizza would've been okay. But Micah loves forks!
Micah: I don't think I can make it all the way through dinner without telling you something first.
Jose: I know. You're trans. I saw you on grindr.
Micah: I have a gift card.
Welp! Micah plows forward, not acknowledging the statement about being trans in favor of really worrying about this gift card. Jose is down for fun with menu math and suggests they get all they can for $80, which'll probs be a bottle of wine, a plate of calamari and a side salad.  Micah's like it's cool we can ditch this fancy restaurant where we're about to consume free food and get coffee instead, which's a bold move to make so late in the evening, and Jose's like, you can get me coffee tomorrow morning. DAMN OK
---
Shane and Finley are SURROUNDED BY HETEROSEXUALS at a Sportsball Brewski Bro Bar and Finley's telling Shane that even if Shane doesn't wanna divulge the contents of that manilla envelope, Finley would definitely help her hide a body. Shane tells the tender young millennial to put Tinder away and look around. Fair enough — she shouldn't be swiping, she should be asking Shane if the envelope contained proof that Shane once owned a hamster — but also… as aforementioned, they're surrounded by heterosexuals.
Behind the bar, however, we've got at least one queer reporting for duty. It's Lena (Mercedes Mason), who saddles over when Finley orders two shots of "your cheapest tequila," and attempts and fails to seduce Lena with eye contact. Finley concludes Lena is out of her league and announces she's gonna "go scout some local talent." She tells Shane to "watch and learn." This is like a human telling God to go watch them create the heavens and the earth.
"Mama's buying," Finley tells Lena before skirting away from the bar. "Kids," Shane shakes her head. Lena can barely keep her clothes on.
So here we have two types of people: we have Finley, literally introducing herself to every girl in the room and asking if she can buy them a drink even though she'll absolutely under no condition actually buy the drink. (Finley's financial situation is baffling and I'm not sure if it's a "let's suspend our disbelief because it's TV" situation or an "establishing clues building to an eventual explanation" situation.)
Meanwhile a girl who remembers Shane from Ye Olde Shane Days saddles up to the bar with a syrupy "Hey Shane" and asks if Shane still does [whispers sweet nothings into her earhole]. Shane's response is "not tonight."
Across the room, we see Tess (played by trans actress Jamie Clayton!!!!!!) weaving through the tables pretending to care about men before landing back at the bar. Although Shane doesn't know Tess, Tess knows all about Shane, announcing, "girl I know who you are everyone in this city knows who you are, you're like a living legend." (Throwback #11) Tess ribs Shane on behalf of every girl who is skeptical of Shane.
Tess tells Shane she's glad she's here and wishes "the whole bar was filled with girls like us." "Girls Like Us" is the name of a queer magazine from the U.K. that's been out for a while (I have an issue labeled Volume 2 – Issue 1 dated 2010), but in recent years the term is pretty exclusively associated with the #girlslikeus hashtag started by Janet Mock that's specifically about trans women. It's odd to have Jamie Clayton, a trans woman, say this line to Shane, who is not a trans woman. She clearly doesn't mean "girls who are trans," despite that being the saying, she means "girls who are queer" (which can include trans women, but not exclusively.)  This is a weird choice!
Lena tells Shane that Tess is her girlfriend who's really good with the customers but not so much with her. Lena you just met this person why are you telling her this!
---
Over at Alice and Nat's, Eli the half-human is curled up sick and Nat's assuring Alice, who points out she had to leave a big meeting to help Nat's son ruin a kitchen appliance, that tomorrow will be better 'cause Gigi's gonna take care of him. Which inexplicably leads to….
Lesbian Squabble #6: Don't Tell Mommi She's The Babysitter
In The Ring: Alice vs. Nat
Content: Alice feels like a babysitter! Nat says that's not a feeling! Alice says she wants to help and not have Gigi called in to help. Nat asks if Alice wants to watch Eli tomorrow! Alice says she does not! Alice says "you can't have it both ways, you can't want me to be in their lives and then call in Gigi when you can't handle something!"
Who Wins? Um, Eli? Popular kid!
---
Back at The Sportsball Bar of The Big Game, Finley's Round Robin has finally landed her on a successful prospect. We know this 'cause it's Olivia Thirlby, playing a recurring role this season on Generation Q!
Finley: Hi, I'm Finley.
Rebecca: I just saw you walk up to like five other women and introduce yourself in this bar.
Finley: I am VERY friendly.
Rebecca: Is that what it is?
Finley: Yup.
She consents to a drink. Finley asks for her wallet. Finley's a P.A after all and she bets Rebecca has a job! Rebecca is charmed. I understand. I had an entire relationship that was just this over and over again. It ended poorly on multiple levels.
Back at the bar, a patron's getting rowdy with Lena over her denial of an additional serving of whiskey. Luckily, Shane's been punching bags etc for some time now and pushes him off Lena with her super-strength Captain planet power and I'll tell you what, Lena is smitten as hell.
Tess returns to thank Shane and apologize because that's what women do; we apologize for things that aren't our fault. Lena blatantly shuns Tess's affection to smile in Shane's direction. I hate this for them! Shane points out that this bar sucks.
Shane: This used to be a gay bar yeah, right?
Lena: Yeah, eight years ago.
Shane: Damn, times have changed.
Lena: Yeah, Tess is always trying to buy out the owners and turn it back into a gay bar.
Well SOMEONE should buy this bar and let them run it, Shane says, which means Shane is definitely going to buy this bar and let them run it. It's a good idea to get an on-the-rocks couple to run a business together! Has nobody here seen Gimme Sugar.
---
Micah and Jose are swimming and talking about math. "That's not my first gift card," says Jose. Yikes!
Jose really wants to talk about Micah being trans and Micah really does not want to talk about being trans! Jose asks if Micah was with guys pre-transition and when he transitioned and Micah gently pushes this interrogation into the "let's circle back to this next year" territory, explaining, "I want to tell you everything about my whole life, I do. It's just I haven't met a lot of people who don't squint and try to imagine what I used to look like, so I just don't talk about it." Which brings us to…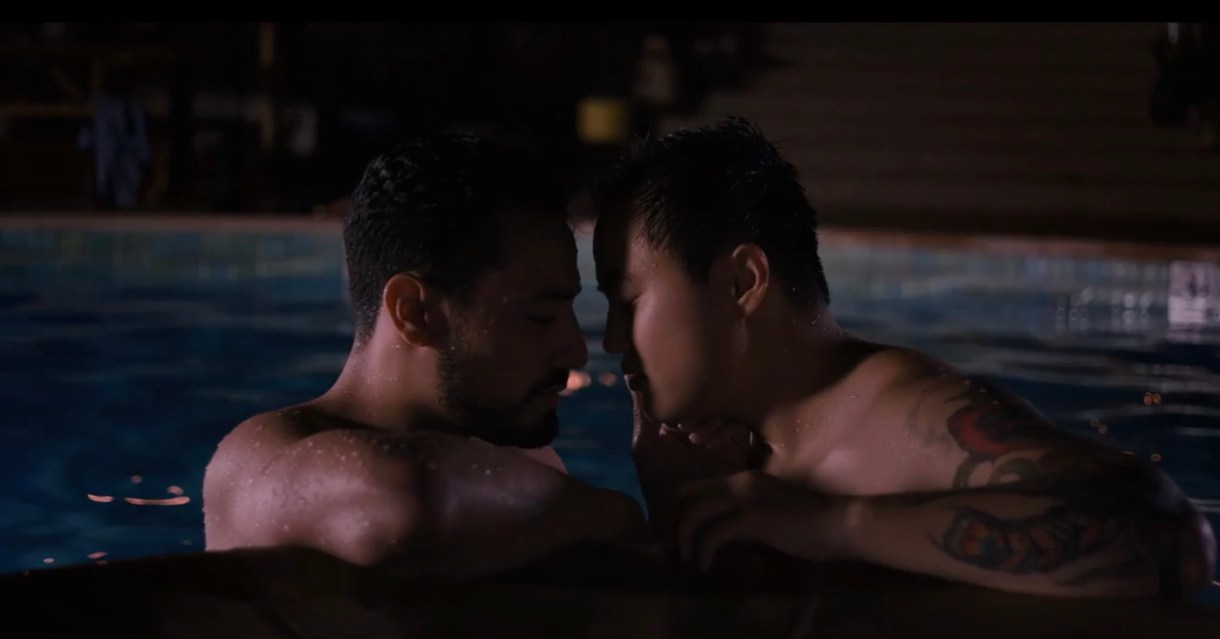 Queer Sexy Moment #5: Eyes Wide Open
The Players: Jose and Micah
The Pick-Up: "You can look. I'm not squinting."
Hot or Not? POOL SEX POOL SEX POOL SEX! Shit gets sultry and wet and the music's good ("Love is a Bitch" by Two Feet) and the breathing is too. I believe this is the first-evert television sex scene between two men of color in which one of them is transgender!
---
Dani gets home to find Sophie asleep on the couch next to empty wine glasses and half-eaten plates of cold food and she covers Sophie with a blanket.
---
Meanwhile Finley is definitely NOT asleep…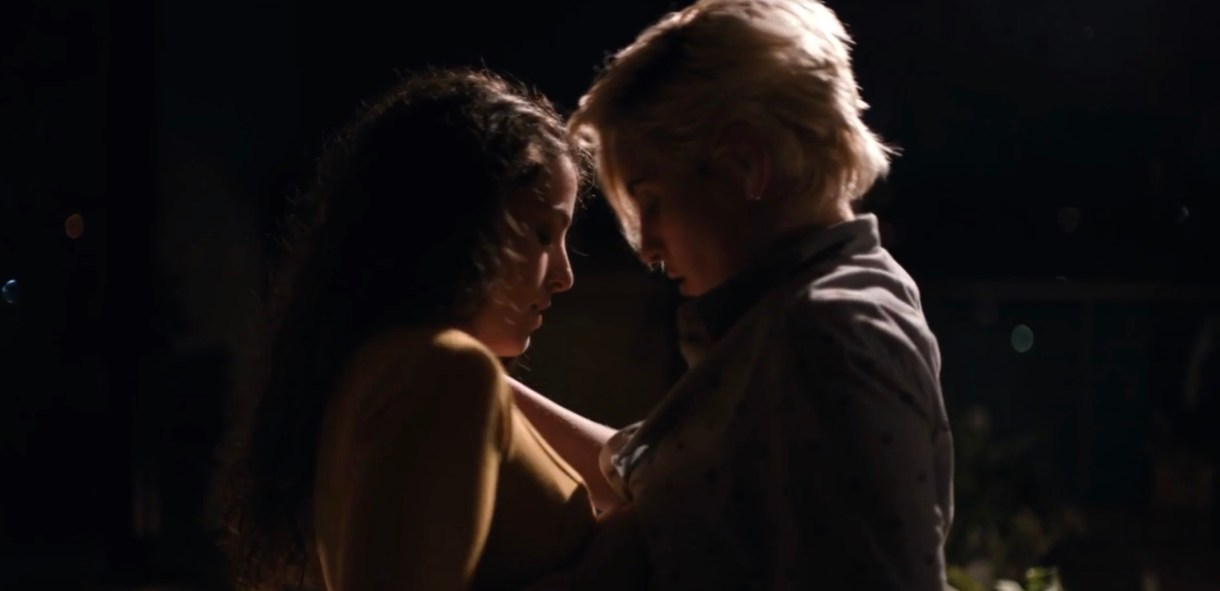 Lesbian Sexy Moment #6: You Spin Me Right Round Baby Right Round
The Players: Finley and Rebecca
The Pick Up: Seems like it may've been "can I use your wallet to buy myself a drink" but at some point between then and now we are in a room with a bed and there is pawing and the careful/urgent unbuttoning of a shirt and stumbling onto the bed. Rebecca says "you're so beautiful" and Finley says "nahh."
Hot or Not? It is until the room starts spinning past what Finley can hold onto and she's gotta get out of there and into a crock pot before she blows chunks all over Olivia Thirlby!
---
It's the next morning. Dawn is breaking, the wind is blowing, my dog is hungry and Bette Porter's doing a scheduled campaign appearance at the Los Angeles LGBTQIA Center, where she'll commune with LGBTQIA youth who all have crushes on Bette Porter and are willing to pretend like she's running for mayor just to bask in her radiant glow. Dani's called off the press, which alarms Pierce — Dani insists it'll be better this way 'cause someone'll definitely film it on their mobile telephone and then it'll be organic press. Lesbians love organic things!
Surprise: Jordi's here!
Angelica must've tipped her off. This means she's gay right because that's what happens to people at the Gay Center? Jordi says she's sorry for having Angie cut school. It's just that her parents are a little different than Bette's and she knows better now. Jordi's implying that her parents are in fact the type of parents who are okay with cutting school and smoking dope. I can't wait to meet them I hope they live in Laurel Canyon and have a yurt out back for sex parties. Also, Jordi adds that Bette has a really wonderful daughter and she loves spending time with her. I NEED THEM TO GO TO THE PROM TOGETHER.
Bette allows Jordi to chill with Angie for Bette's event. At the event, Bette tells a group of LGBTQ youth who have likely experienced some housing insecurity that the LGBTQ youth population is disproportionately affected by homelessness. "When I'm elected I will be the first lesbian mayor of Los Angeles and the first woman," Bette tells them. "But in order to be effective I need to know what matters to you."
A youth tells Bette that "it'd be cool to have a lesbian and a real trans ally with actual power." Haha is anybody gonna leak to the press that Bette consistently misgendered Max throughout the entire run of the original series? I'm confident Max either lives on a farm in Southern Oregon or is making six figures working for Google in Palo Alto. Anyhow, we've all grown and changed and learned a lot in the past ten years, including apparently Bette! I love this for her.
A youth tells Bette that their Mother disowned them for being queer and Bette's like listen, we aren't the same but also, we are, because Bette's father was also very homophobic and refused to acknowledge that Tina was her girlfriend. (Throwback 12: S1-S2). Also he had the most incredible zingers of anybody on this show and Bette called him "Daddy" even though everybody was like, "please stop calling him Daddy."
Everybody claps for the idea that "our love is not less than" and then everybody cries and holds hands and Bette gives The Youth a hug and Jordi tells Angie that her Mom is pretty cool and Angie's like, "yeah, she's not that bad." The youths have their phones out so this for sure is gonna headline the Also Also Also this week.
Dani tells Pierce that this is what Bette needs more of — getting into the weeds with the people. But vulnerability's hard for her, says Pierce, adding, "you still don't know why she's running, do you?" YEAH PIERCE NONE OF US DO PLZ TELL US IF KIT IS DEAD OR ALIVE!!!!
---
Back at Natalice's, Gigi's reading to Eli. Alice peeks in on the event and smiles like she's watching a nice commercial about breakfast cereal.
Eli's gotten Alice sick. "Kids are like walking germs," says Gigi. Gigi makes Alice some tea, and there's no poison in it or a laxative, and after some light Sick Kiddos Discourse, Alice transitions into mining for details on Nat and Gigi's breakup. Somehow Alice has been with Nat for two years and didn't know until this moment that Gigi cheated on Nat and was outed by Eli, who called out for Gigi's mistress. Gigi says kids force you to be honest about who you are and how you hurt people.
They reminisce about the Night of The Hammer and The Nail and The Ring, Alice recalling that she'd thought Gigi had lost her mind. "I thought I'd lost my family," Gigi explains. She asks Alice if she's got any embarrassing breakup stories and boy howdy does she, but where will she begin? To tell the story of how great a love can be? A sweet love story that is older than the sea?
"You make Nat really happy," Gigi says. I can't wait til we get to see that in action!
---
It's time for the engagement party! Sophie's family has turned out in droves, tables are piled high with food, music is playing, everybody's happy about how love is love. Dani's a bit withdrawn — things remain tense with Sophie, who responds to her sideways glance with a downwards pivot. She lets go a bit when Sophie's Mom and Maribel and Virginia find her. They ask where her Dad is and she says he couldn't make it. "You're our family now," Virginia says. AWWWWWWW.
Sophie's Mom brings her daughter upstairs to deliver the ring her great grandmother wore from the day she got engaged until the day she died. She was supposed to give it to her first grandson but also, Sophie looks great in a button-up shirt, so it's close enough. "But if you give it to her, make sure you mean it," Mom kindly suggests.
Sophie's family is truly the best — they're supportive of her happiness, making lots of room for her to explore and learn and love and grow and change, too. "You'e not your father. We raised you to be strong, and you're strong enough to leave if you need to, we know that," Mom says. "But it takes a lot of strength to stay."
Back at the party, Finley's taking advantage of this open bar by having a strategic number of shots and is surprised when Rebecca texts, despite Finley's failure to remain sober enough for sex the night prior. Micah spots Jose walking through the party to his apartment, and feels instant guilt for not inviting him. Seems like the party is raging pretty loudly right in what is basically Jose's front yard, so on the other hand, even if Jose was alone in his apartment he'll probably feel like he's at the party! This is why dating your neighbor is hard!
Anyhow, Micah's ready to MAKE A TOAST to his two favorite people by reading a poem by queer spoken-word artist and activist Alix Olson! I wish he was doing performance art.
As he reads the poem, we are treated to a little montage. First, Sophie and Dani, surrounded by people who love them separately and together, step forward but stand apart. Dani looks right at Sophie and mouths, "I love you."
Meanwhile, Shane's teary-eyed while hanging out with her Petition for Divorce.
Also meanwhile…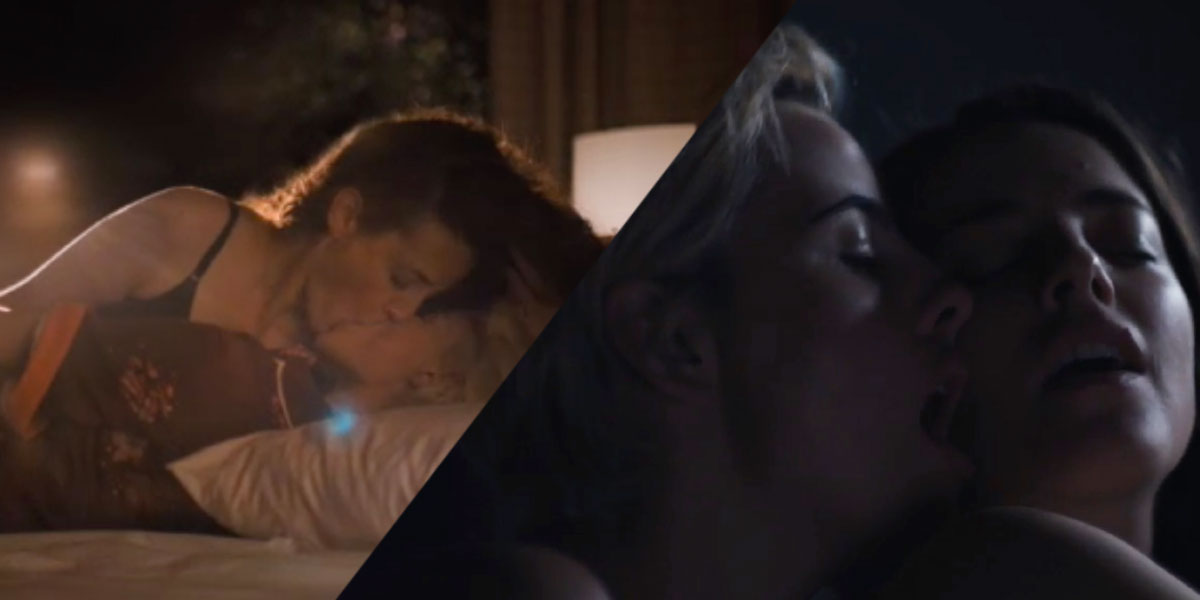 Lesbian Sexy Moment #7: Living, We've Learned, Can Be Both Sloppy and Precise
The Players: Nat + Alice // Finley + Rebecca
The Pick-Up: Nat (big spoon) rouses Alice (little spoon) from slumber, and without a word Alice rolls over and Nat settles in up top and their mouths meet // Finley's behind Rebecca, her hands pressing urgently underneath her bralette, her mouth on Rebecca's back, and Rebecca turns to kiss her and then we cut again —
Hot or Not? Yes
Back at the engagement party, the power of poetry has made Dani and Sophie love each other again!!! Now they can dance to "Ojos del Sol" by Y La Bamba and they can kiss, and Sophie can mouth "I love you" back. The kiss is a hit. Everybody here loves girls kissing! Just like we do!
It's so important to have a Latinx lesbian couples like this on television. Until recently, it was very rare for a qpoc female character to date another qpoc female character, let alone a qpoc character of the same race. Often in these cases the qpoc character's story can have almost an assimilationist tone, conflating queer culture with white-centric queer culture. Things have changed a lot over the past two years specifically and we're seeing more non-white couples now (and we have Vida now!), but not nearly enough. So this is fucking rad. As Carmen wrote in her review of the series, "Dani and Sophie's relationship together deftly digs into class conflict and racism internal to Latinx communities that are almost never explored on screen."
---
Bette's sitting on a bench looking out over the city, hopefully thinking about what an ideal location this would be for a MURDER and ensuring she's prepared to escape the Zodiac Killer, should he arrive. Then guess who shows up!! IT'S FELICITY ADAMS!
Felicity thanks Bette for meeting her. Bette says she's glad Felicity called. They both sigh. Felicity shrugs, turns to Bette.
Felicity: I miss you.
Bette: I miss you too.
---
And that's the show, my friends!
The Round Up:
Sexy Moments: 4 this episode, 7 total
Squabbles: 3 this episode, 6 total
Throwbacks: 6 this episode, 12 total
Quote of the Week:
"Judy Chicago loaned it to me" – Bette Porter

— dani | janae (@figwidow) December 15, 2019
Pages: 1 2 3See entire article on one page