It's actually really hard to freeze liquor — just ask the vodka bottle sitting in your freezer door. Alcohol has a lower freezing point than most home freezers allow for, which means you gotta get the alcohol content just right in a Froozen treat (froozen = boozy and frozen, I made it up). In the past, that has kept me far far away from freezing cocktails. But then two of my friends moved out of their apartment and had a bunch of us over to pinch the kitchen goodies they weren't planning to take with them (like a reverse housewarming party). And at that party, I acquired this rad popsicle mold.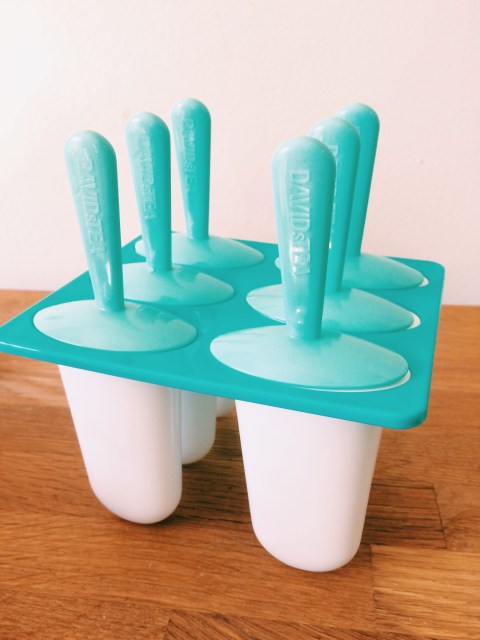 Then I was like, fuck it, I'm making a boozy popsicle. They aren't enough to get you drunk (again, see "freezing alcohol is hard"), but they're boozy enough to taste real nice. I riffed on this recipe, but added a twist. I like my food to bite back.
You will need:
1/2 cup sugar
3.5 oz bittersweet chocolate
2 tbs Dutch-processed cocoa powder
1/8 tsp salt
2 cups water
2 tbs bourbon (I'm using Bulleit)
2 eyedroppers full of Hellfire Bitters
a medium saucepan
a whisk
a spouted Pyrex or equivalent
something in which to freeze Froozen treats
Break up or chop up your chocolate. We're gonna melt it, so smaller pieces are best. Combine all the ingredients except for the bourbon and the bitters in your medium sauce pan.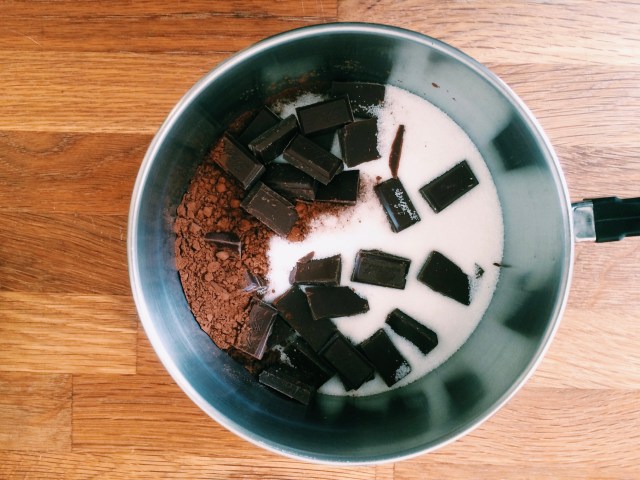 Add two cups of water and bring it to a boil over medium, whisking THE WHOLE ENTIRE TIME. Seriously, don't stop whisking or things will stick to your pot and the chocolate will taste weird. This didn't take me more than four or so minutes, so it's not really a commitment.
Transfer it to your spouted pyrex and let it cool at room temperature for about half an hour or so. I took this opportunity to fold my laundry. Once it's cooled, stir in your bourbon and your bitters, keeping in mind that bitters are also alcohol, so this increases the meltiness of the popsicle. Meltiness is the technical term.
Pour into your popsicle molds. If you're fortunate enough to have the kind I have that take care of the stick part, just pour into the molds and freeze them overnight. If you're using a mold where you have to insert sticks, freeze them for like three hours and then pop the stick in. Then freeze them overnight.
Alternatively, if you don't want to fuck with popsicle molds, you could use silicone cupcake molds like these:
These produce Froozen Puddings that you can eat out of a bowl with a spoon. This is also a good alternative if you're a messy popsicle eater and would prefer your clothing and furniture to remain chocolate-free or if you want a smaller portion size.
The following day, break your popsicle free and enjoy. If you're having trouble releasing it from the mold, just run the mold under lukewarm water and try again. The result is a chocolatey, bourbony taste with a bit of spice on the finish.
A word to the wise: because I added those bitters, these Froozen treats are meltier than average. About halfway through, you'll have to eat it over the sink or outdoors or else suffer the stain consequences.
Ways to riff on this: replace the Hellfire Bitters with Mole Bitters, vanilla, or maple syrup.