LGBT Gun Group Sees A Spike in Members
+ There's been a reported spike in memberships of the Pink Pistols, a national LGBT pro-gun rights organization, in the wake of the Orlando shooting. Before Omar Mateen opened fire at Pulse night club and killed 49 people, Pink Pistols' national membership totaled about 1,500 people. After the shooting, the number has risen to 4,000 members nationwide, with many local chapters being revitalized, including in the Twin Cities and Atlanta. "It's really sad that something on this scale had to happen for people to realize this is a need for our community," Matt Schlentz, Pink Pistols Utah chapter President, told The Salt Lake Tribune. "But the reality is, we still get attacked for kissing our partners or holding hands in public. We get windows smashed for having an equality sticker on them."
Meanwhile in Houston, Jess Sanford, manager of the Shiloh Gun Range, offered free concealed handgun classes for LGBT people. He was surprised by the overwhelming response — more than 550 people signed up for the classes.
"I started getting cold feet right around 200," he told Houston Public Media. "And we got the family back together, and I said, 'Well, how many of these can we possibly do?' And my mom just looks up and says, 'Well, all of them!' So, it became our calling now: Let's arm and empower this group of people that's been historically known as a vulnerable group. Let's get rid of that vulnerability."
There's probably a lot more you can do to empower a disenfranchised group other than giving them a free gun class, especially when LGBT people are disproportionately targeted of violent hate crimes. 
On the other hand, also after the Orlando shooting, a new group called Gays Against Guns was formed. The group made their debut at New York's Pride parade, with over 700 people marching and staging a die-in. One of the organizers, Catherine Marino-Thomas, says the organization will focus on direct action, not lobbying. They plan to protest against state and national officials who oppose LGBT rights and gun control. "People who insist on voting against equal rights for all people and against sensible gun laws will be visited by Gays Against Guns," she says.
Various LGBT groups are working in coalition with gun reform groups to advocate for gun control.
Violence Around the World
+ At least 200 people were killed by a car bomb detonated in one of Baghdad's busiest streets on Sunday. This was the deadliest attack in Baghdad in years. The Islamic State claims responsibility for the attack, which took place in the city's upscale neighborhood, as families celebrated the start of Eid al-Fitr — the end of Ramadan. The attack comes after Iraqi armed forces, back by American airstrikes, took over Fallujah, which ISIS has controlled since 2014. Within the last few days, the Islamic State has claimed attacks in various cities, including the attack on Istanbul's International airport. Two days earlier two police officers and 20 hostages, mostly foreigners, were killed after a gunman invaded a restaurant in Dhaka, Bangladesh. Shortly after the Baghdad bombing, Iraqi officials reported another bombing in al-Shaab that killed four and injured 16 other people. A suicide bomber led an attack near a U.S. embassy in Saudi Arabi on Monday, killing himself and injuring officials.
On Guns
+ A father accidentally shot and killed his 14-year-old son while at a gun range in Sarasota, Florida. A shell casing had bounced off a wall and landed inside of 64-year-old William "Clayton" Brumby's shirt during target practice. While still holding the gun in his right hand, he reached inside of his shirt to remove the casing and accidentally fired off a round that killed his son, Stephen Brumby.
On Brexit
+ Nigel Farage, the man who led the campaign for Britain's withdrawal from the European Union, has resigned as leader of the United Kingdom Independence Party (UKIP). "I have never been, and I have never wanted to be, a career politician. My aim in being in politics was to get Britain out of the European Union," he said at a press conference on Monday. This is the third time he's resigning. He previously resigned in 2009 and 2015.
+ People around Britain are wearing safety pins to show their solidarity with immigrants after surges of racist acts have taken place around the country since the Brexit vote.
Activists Getting Shit Done
+ A group of Black Lives Matter activists temporarily shut down Toronto's Pride Parade. The group was invited to march in the parade and halted it, stalling it for a half hour until their list of demands were acknowledged and agreed upon by Toronto Pride Director Director Mathieu Chantelois. Their demands included an end to police floats in the parade, more spots dedicated to queer people of color and hiring a more diverse staff by prioritizing Black trans women and Indigenous people.
Law & Order
+ In 2012, a gunman opened fired at a movie theater that killed 12 and injured 70. Last month, a Colorado jury ruled Cinemark wasn't liable for the shooting. Now Cinemark is asking the plaintiffs — the victims and their families — for $699,187.13 in legal fees.
+ The owner of ChristianMingle.com has agreed to let gay and lesbian users to search for same-sex matches on the dating site under a settlement of discrimination claims. In 2013, two gay men filed a lawsuit against Sparks Networks Inc. in California alleging that ChristianMingle.com and their other religious-based dating sites didn't allow for same-sex users which violated California's discrimination laws. The Wall Street Journal reports:
Known as the Unruh Civil Rights Act, the state law requires "business establishments" to offer "full and equal accommodations" to people regardless of their sexual orientation.
Under the agreement, the gateway homepages now ask just whether a user is a "man" or a "woman." Spark Networks agreed that within two years, it would adjust other searching and profile features to give gay and lesbian singles a more tailored experience.
+ The Democratic National Committee released a draft platform last Friday, giving us a glimpse of what the party would like to address this election. It includes a paragraph about LGBT rights:
"Democrats applaud last year's decision by the Supreme Court that recognized LGBT people — like every other American — have the right to marry the person they love. But there is still much work to be done. LGBT kids continue to be bullied at school, a restaurant can refuse to serve a transgender person, and a same-sex couple is at risk of being evicted from their home. That is unacceptable and must change. Democrats will fight for comprehensive federal nondiscrimination protections for all LGBT Americans and push back against state efforts to discriminate against LGBT individuals. We will combat LGBT youth homelessness and improve school climates, and we will protect transgender individuals from violence. We will promote LGBT human rights and ensure America's foreign policy is inclusive of LGBT people around the world."
The document will be edited until it's finalized at the Democratic National Convention later this month. The Advocate points out the document doesn't address specific items that have been contentious during the legislative seasons like "religious freedom" laws and the Employment Non-Discrimination Act.
+ The North Carolina House overwhelmingly approved Republican Gov. Pat McCrory's request for $500,000 to be divested from the state's disaster relief fund to pay legal fees to defend HB2 in court. Because Attorney General Roy Cooper refuses to defend HB2, McCrory has had to find outside legal counsel. They also restored the right to sue for discrimination in state court, but made it harder to do than ever before. Before HB2 was passed, the statute of limitations for a discrimination suit was three years; now lawmakers have lowered it to one year. The state legislation adjourned on Friday, leaving HB2 intact, ultimately leaving transgender people and LGB people vulnerable to discrimination.
+ A federal judge has temporarily blocked abortion restrictions in Indiana. House Bill 1337, signed by Governor Mike Pence, bans people from seeking abortions based on race, gender or lethal fetal anomaly and it also mandates that the pregnant person bury or cremate the fetus once it was birthed. The Associated Press reports: "The judge issued a temporary injunction, meaning the challenged provisions can't be enforced by Indiana officials. The state can continue to defend the law and seek to have it ultimately upheld."
+ Both women spouses in same-sex marriages are allowed to be listed on their children's birth certificate in Indiana. A federal judge ruled in favor of eight lesbian couples who sued the Indiana health commissioner, arguing the state law wrongly forces a spouse who did not give birth to a child to go through a lengthy and costly adoption process to be legally recognized as the child's parent. U.S. District Judge Tanya Walton Pratt said the state violated the equal protection and due process clauses of the U.S. Constitution's 14th Amendment. "There is no conceivable important governmental interest that would justify the different treatment of female spouses of artificially-inseminated birth mothers from the male spouses of artificially-inseminated birth mothers," Pratt wrote.
+ Iowa's Supreme Court refused to restore the voting rights of more than 20,000 of the stat's ex-felons. Think Progress reports:
"Iowa is one of three states with the harshest felon disenfranchisement laws. The state constitution revokes voting rights for life from anyone who has committed what it calls an "infamous crime," a vague phrase that includes all felons, from low-level drug offenders to those who have committed more serious, violent crimes. The ACLU argued before the state Supreme Court that most felons have not committed an "infamous crime."
Grab Bag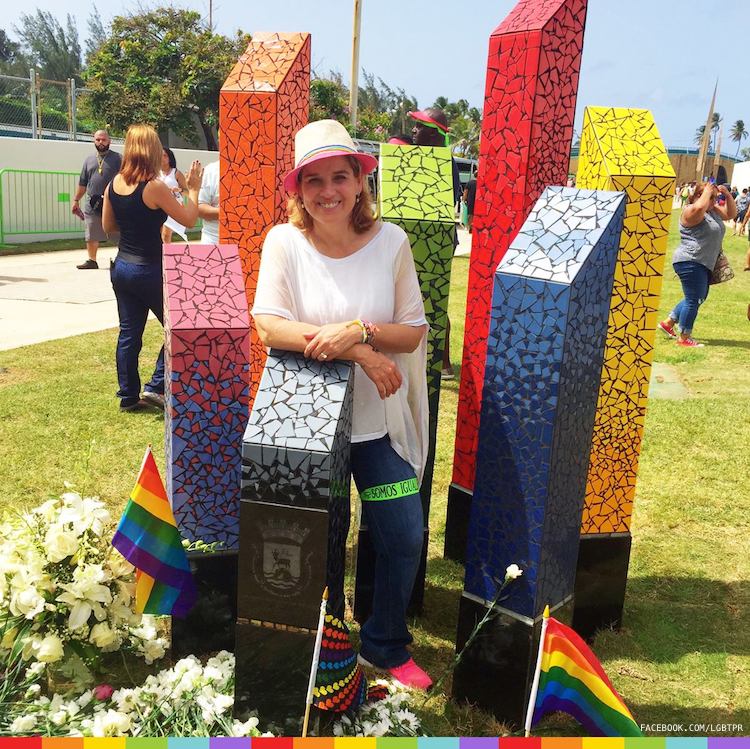 + Puerto Rico unveiled it's first LGBT monument that also happens to commemorate the victims of the Orlando shooting. 
+ According to Pornhub's Insights blog, there was a huge spike in "lesbian and prison" related searches within 48 hours after the news season of Orange is the New Black premiered.
+ The UN voted to create a position focused on human rights of LGBT people. The Advocate reports: "At minimum, the new position will help ensure that LGBTQ rights remain in the international spotlight and are integrated into the portfolios of both public officials and diplomats. The independent expert can also play a crucial role in sharing best practices concerning the protection of the human rights of LGBTQ persons among the U.N.'s 193 member states."