Welcome to What I Wore, a series where I explore fashion as shelter in traditionally heteronormative and patriarchal spaces.
---
Back to the Hardware Store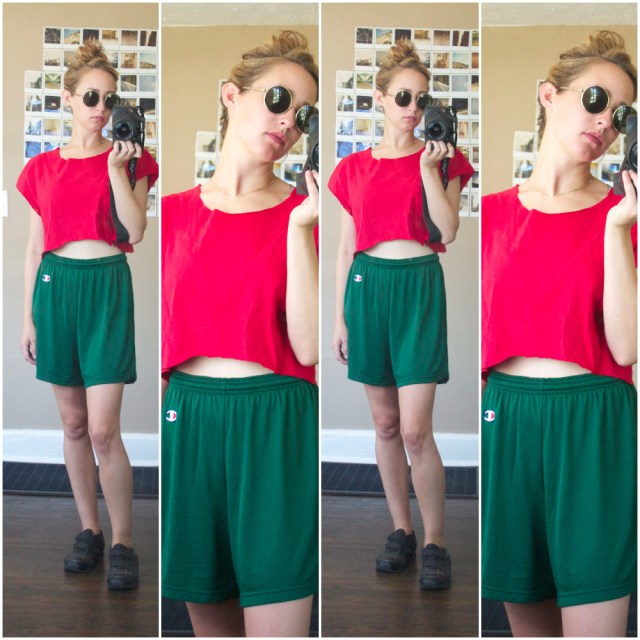 I wore what's essentially a football practice jersey and a pair of basketball shorts because the only way I can make it through a hardware store anymore without being approached by fifteen workers is if I move at the speed and panic level of an athlete who's just intercepted a ball. The sunglasses inside had the "No thanks!" vibe I was seeking.
Success rate: 5 out of 5
---
Heterosexual Pride Parade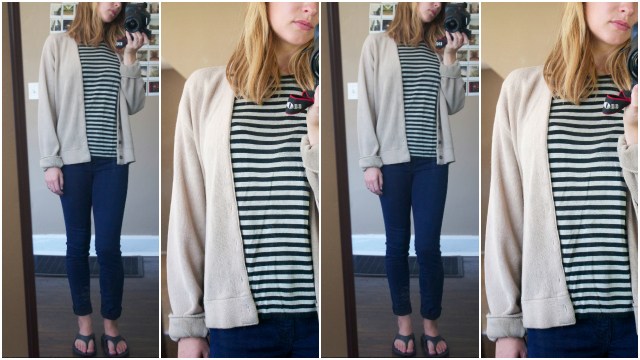 This is obviously for next year, as I was unprepared for this year. They sprung it on us so quickly! This outfit will serve the purpose of disguising myself as a straight woman, and I believe I have all the credentials here: a cardigan, a classic striped shirt, dark denim, and flip flops. I DON'T MAKE THE RULES.
By convincing them I'm a fellow straight I can infiltrate their ranks and find out who their top tier players are. I will befriend them and catalogue their movements, and once I've gotten what I need, I'll take my findings directly to the President of the United States to ensure the dismantling of their entire community. For the good of the nation.
Presumed Success Rate: 5/5
---
Back to the Auto Shop

Chances are at least one of the men in an auto shop know a woman named Janet who they're terrified of. Janet can drink you under the table, she's won the turkey shoot ten years in a row, and she has a reputation of being ruthless across multiple bowling leagues. Janet's never been to an auto shop because she fixes her own car. I hoped to call Janet to mind with a button up and khakis — a no nonsense pairing — because it's something I feel deep in my bones Janet would wear. Add to that a hat that literally tells you I'M IN TOUCH and therefore not the one, and I was ready to stand my ground.
"I just need the oil changed," at the top prompted at least five unrelated, condescending service suggestions during checkout. Dammit, Janet!!
Success Rate: 2/5