It's a mystery to me why Tegan Quin and I aren't friends. We have a lot in common. The parallels of our homo-gay Canadian twin lives are uncanny.
For starters, we both have a gay twin named Sara. (My sister spells her name with an H ["the right way"], and neither Sarah nor I are rock stars, but I figure these are negligible differences.) Years ago at a show I remember Tegan talking about how she had just moved to Vancouver, and Sara to Montreal, when lo and behold: my sister and I had just done the exact same thing.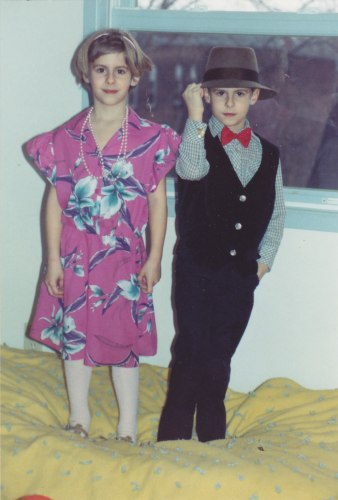 Coincidence?
I think not.
More like a twin thing where at a certain age you decide to cut the umbilical cord (proverbial this time) and move to opposite ends of the country in search of the autonomy that has genetically and circumstantially eluded you thus far. Or maybe you move because you just really want your own birthday cake.
I'll be the first to admit that twins are weird. If you are one, you already know this, and if you're not, you've probably thought it. And you're right! Gay twins are even weirder, much less common, and a lot more competitive. When my sister came out it wasn't like "Yeah! A sister who's also a sister", it was like "Shit, now I'm screwed, she's totally hotter."
However, before I get into the intricacies of sharing a womb, let's get one thing straight, er, clear. Lesbian twins, however hot, are NOT INTERESTED IN HAVING A THREESOME WITH YOU. I know that's disappointing. I'm disappointed too! Oh wait, no, I'm not disappointed, mostly because the twin-threesome idea is creepy and it's never going to happen. Ever.
There's no shortage of speculation when it comes to the mystery behind gay twins. We're mysterious creatures, like unicorns. Scientists have been trying to figure it out for a while but, despite some fairly extensive studies, there still isn't a definitive conclusion as to how being a twin may or may not affect one's sexual orientation. Is it nature? Is it nurture? Was it that prolonged exposure to all those Ani Difranco albums? No one knows for sure. However, although there are many different factors that influence a person's sexual orientation, when it comes to identical twins, statistics show that if one sibling is gay, there is a 50% chance that the other one will be too.
Which is why I really think there should be an annual International Gay Twin Conference/Support Group. Obviously it would be held in Minneapolis, nametags would be mandatory, and there would be a ban on the propositioning of threesomes.
For many who have had the luxury of their own gamete/embryonic chamber, the concept of being a twin is baffling and intriguing. If I had a dollar for every time I've been asked, "What's it like to be a twin?" it would still make me want to kill myself but at least I'd be a bajillionaire.
But even as a twin it can be baffling. There's no one else with whom I am more similar and more shockingly different. In twindom there is a delicate interplay of sameness and opposition, which can both be uniting and dividing, infuriating and comforting. Kind of like Ilene Chaiken. Often it is the juxtaposition that goes unnoticed, and yet it is this, more than anything, that dictates a constantly evolving relationship that is quite literally rooted in the very marrow of my bones.
Seriously, if you think lesbian relationships are complicated, lesbian twin relationships are virtually indecipherable. There are simply too many emotions and too few birthday cakes.
But that doesn't mean being a twin isn't wonderful. It is. It's also the most crazy-making thing on the face of the Earth, due to the inherent complications of sharing a set of DNA. On one hand you've got a friend for life and are totally set if you ever need a kidney. A twin is someone who knows you in ways that no one else can, who shares many of the same experiences, and whose brain works in a startlingly similar manner at times. This can be both a pro and a con since it makes it really easy to see into each other's souls but also through each other's lies.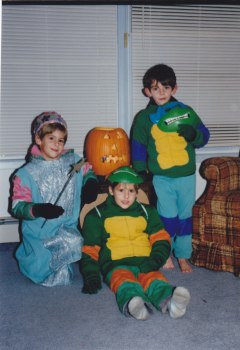 You also have someone who looks like you, likes the same things, does the same things (often better than you do which is really annoying), and somehow by simply being alive manages to squander at every turn the sense of individuality you've been trying to cultivate since birth. Plus if they happen to need a kidney, guess what? You're giving it up.
It wasn't always clear as to whether or not my sister and I would both turn out to be queer. I came out practically wrapped in a rainbow flag, and was pretty much the gayest kid ever right from the start, but my sister was less obvious. Although a tomboy and athletically inclined, her appreciation of dresses was suspect. When I was a teenage mutant ninja turtle for Halloween, she was a princess. What I lacked in femininity, she made up for in My Little Ponies. But as it turns out there were more than enough lesbo-nutrients to go around and she's a big gay-lord too.
So to all the gay twins out there and to anyone who has shared the precious resources of their mother's lifeblood: Congratulations. Now that you've survived the ordeal you can fascinate your therapist with a bizarre mix of codependency issues and an insatiable need for hyper-independence. Don't worry though; it's what makes you unique.