I couldn't take my eyes off the tomboys, weird girls, and smart girls in movies I watched as a kid. In the late 90s and early 00s, I was an awkward, shy, and nerdy girl so I naturally gravitated to girls in films that were… different, like me. These girls were brave, bold, bookish, outspoken, outcasts and seemed way cooler than I ever was. I wanted to be friends with them and create a secret club — and to be honest, it seems like as a queer grownup I'm now part of one.
Here's a list of movie characters who I also think grew up to be part of this secret club — ahem, and by that I mean they're probably gay now too. I only included movies and characters I specifically remember watching as a kid and not at other points in my life, so this list is subjective and I'm sure there are other tomboys and weird girls in films that totally changed your life too. Let me know who they are in the comments!
---
Matilda, Matilda (1996)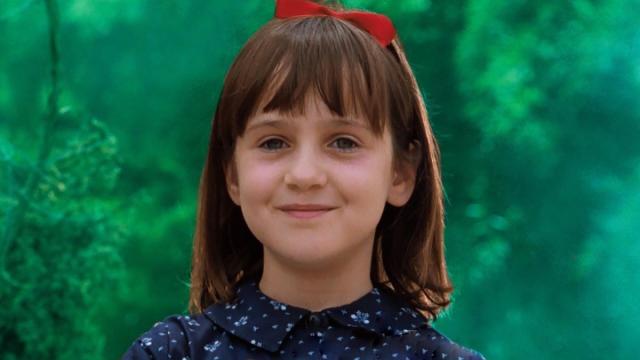 I read so much as a kid during the summer because there wasn't much to do where I lived; we didn't have cable, there weren't other neighborhood kids around, I didn't go to summer camp, and it was way too hot to go outside during the day, so I spent most of my days at the library or reading in my room on the floor. Similarly, Matilda consumed books like they were candy, except she was also a freaking genius. She resorted to books not out of boredom but as an escape from her abusive parents. Then she learned she could harness her anger into telekinetic powers! A smart, misunderstood girl with telekinetic powers? YES, PLEASE. I was hooked! Matilda was played by none other than Autostraddle pal and noted bisexual, Mara Wilson, who guessed that your first crush was Miss Honey. So in my book, Matilda grows up to be queer; that's just the truth.
Jody, Gold Diggers: The Secret of Bear Mountain (1995)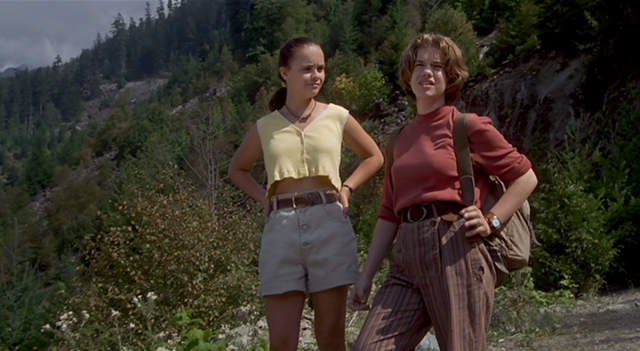 I don't care what anyone says, this is the gayest movie of all time. Please do yourself a favor and watch this movie on a summer night. Anna Chulmsky plays baby dyke Jody, a free-spirited teen with a bad reputation around town. Christina Ricci plays Beth, whose dad just died and who just moved to the area with her mom from LA. The two become friends and go on adventure to find the long lost gold of Molly Morgan, a miner who died on the mountain and let's be real, a gay ancestor. Jody takes Beth on her boat and wears a captain's hat: pure queer culture. The way these two fight to be with each other is just like the tears you cried for your first girlfriend.
Gloria, Richie Rich (1994)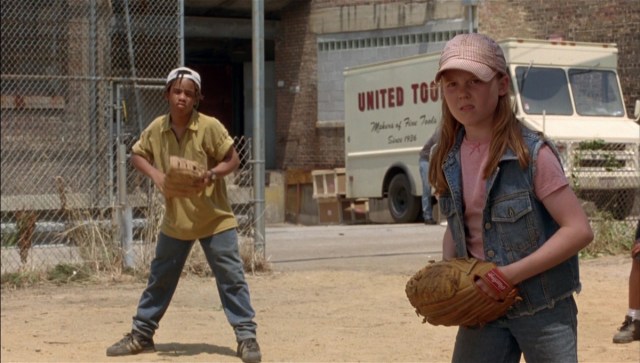 Gloria was a tiny tomboy who only hung out with a bunch of boys. She's a tough girl with a penchant for the Xtreme — rollercoasters, kidapults, riding ATVs, and taking down rich guys. She also likes baseball and just sort of tolerates Richie. In fact, by the end of the movie she says, "Richie, you're alright!" Great assessment, Gloria! Boys are truly just alright. I'm pretty sure Gloria grew up to be a communist.
Ira, Friendship's Field (1995)
My mom use to subscribe to Feature Family Films, which is an entertainment company dedicated to "wholesome" family films. They produced movies that didn't have profanity, sex, or violence and taught "traditional" family values, whatever that means. They're super popular with conservative Christians! I think we had a subscription because my mom caved and bought one from their savvy telemarketers and kept calling the house.
Anyways, the movies were actually really good and I loved watching them! There was one film in particular called Friendship's Field that was about a 12-year-old tomboy named Ira who befriends a Mexican boy named Oscar one summer in 1965. Oscar's family was hired by Ira's dad to help pick the crops on the family farm. The white people in town are awful to the Mexican families and Ira and her family are confronted with the ugly truth that racism exists and they try their best to be white allies throughout the movie. I liked this movie a lot because it showed close enough depictions of what my parents experienced growing up as migrant farm workers. But besides that, I also was really drawn to Ira because she was unafraid to get dirty and beat up racist white boys who were picking on Oscar. Adult Ira is narrating the story and at the end you see she still works on her family's farm and it's implied that she got married to a man (which I never bought) and has children of her own and still rocks short hair.
Roberta, Now and Then (1995)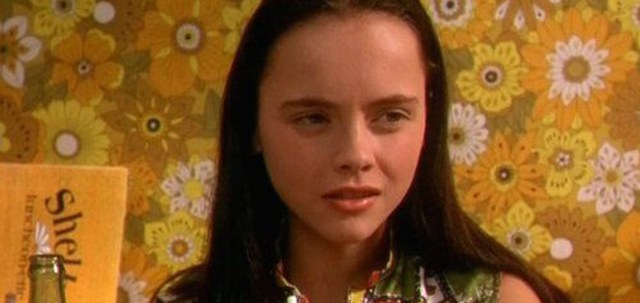 Now and Then follows the lives of four best friends during one transformative summer in 1970. One of them is tough girl Roberta who takes no shit from boys, especially when they say girls can't play softball. She punches a boy in Now and Then and honestly it's so punk rock. Roberta's life is in flux at the moment, she's grappling with the death of her mother and having feelings about her growing chest. Devon Sawa is her rival and love interest?? and one point they kiss and she wasn't into it. Roberta grows up to be a supposedly straight Rosie O'Donnell and a doctor who delivers Chrissy's baby girl. Honorable mention goes to Gaby Hoffmann, who plays Samantha in this movie — she's definitely a weird girl who was into seances.
Amanda, It Takes Two (1995)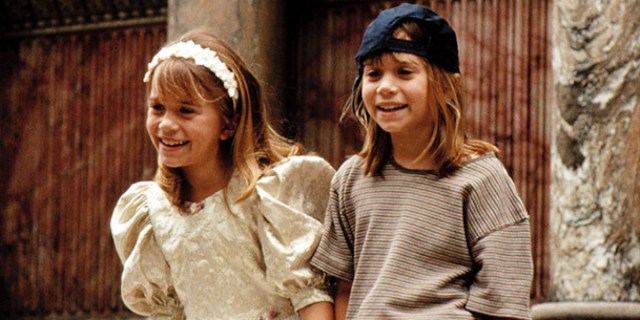 Ah, yes, It Takes Two was like The Parent Trap but with the Olsen Twins. Amanda is an orphan and Alyssa is a rich girl and the two bump into each other in the woods and decide to do a whole switcheroo to get the adults in their lives to fall in love with one another. I don't remember how this movie explained how they were only lookalikes and not long-lost twins? Because I mean, come on! I'm pretty sure this is the movie that set in stone that Mary-Kate always plays the tomboy and Ashley plays the girly girl and they ran with it on a short-lived show called Two of a Kind. I remember buying a book at a Scholastic Book Fair about the Olsen twins and it said that Mary-Kate wasn't really a tomboy and Ashley wasn't really a girly girl and I was SHOOK. They sold us lies!
Becky "Ice Box" O'Shea, Little Giants (1994)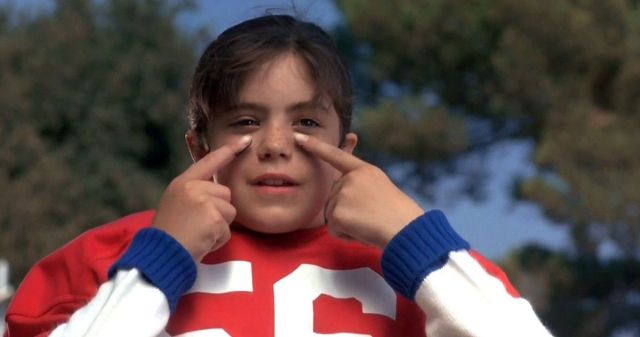 Becky "Ice Box" O'Shea is a legend. She's a talented athlete and just wanted to play football. When her uncle doesn't pick her for his pee wee football team because she's a girl, she convinces her dad to start one so she could play. Becky is tough but also encourages her less coordinated, goofball teammates. The only surprising thing about Becky is her damn crush on Devon Sawa (to her credit, everyone had a crush on Devon Sawa back then) and how she gave up playing a super important football game to become a cheerleader to get his attention. I'm glad she came to her senses before it was too late and decided to get back in the game in a skirt! You go girl!
Kristy, The Baby-Sitters Club (1995)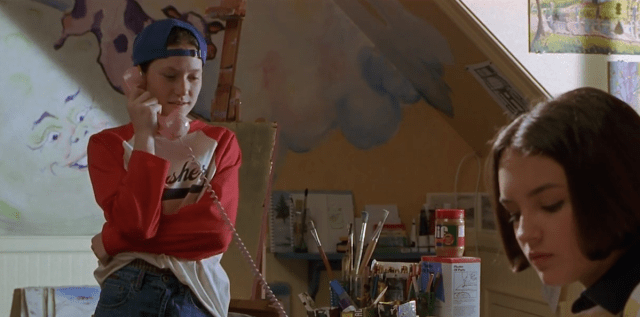 My older sister was in love with all things The Baby-Sitters Club. I inherited her VHS collection of The Baby-Sitters Club 1990 TV series and watched them over and over again. To my delight, there was also a feature-length film! Kristy, our fave bossy tomboy, is too soft for my liking in this movie compared to the Kristy in the TV series. Although the story is about all of the babysitters and their friendship, a big portion of the main storyline is Kristy's, which is pretty cool.
Eden, Blue Crush (2002)
Michelle Rodriguez can wear the heck out of some board shorts, amiright? I might've been too young to watch Blue Crush at the time but I'm glad I didn't miss out on badass hot girl surfers. The premise is pretty gay too — like three best friends living together and raising a kid sister and they competitively surf? Hmm, yeah! Eden was the friend who pushed Ann Marie to focus on competing instead of the guy who was courting her. My 6th grade best friend was obsessed with Michelle Rodriguez and this movie at the time and I'm pleased to inform you that she's gay now.
Missy, Bring It On (2000)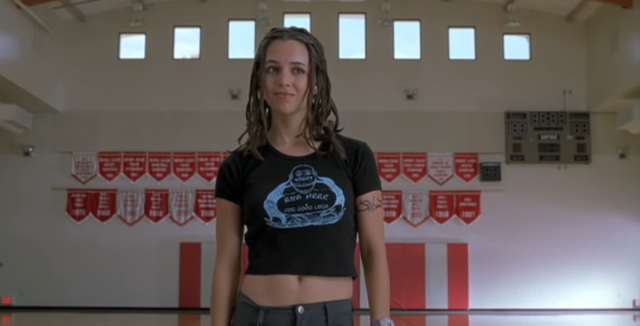 The whole world stopped when Missy walked in for cheerleading try-outs and pulled out her wallet chain to do some back flips. Missy was an amazing gymnast and the Toros desperately needed her. She's the one who pointed out that the Toros were appropriating cheer routines from the Clovers. Missy might've gone through a transformation throughout the movie and started being less "weird" but it was her I-don't-give-af attitude and energy that makes her stand out from the rest. In addition, we all know that Missy and Torrance had A Thing.
Lilly, Princess Diaries (2001)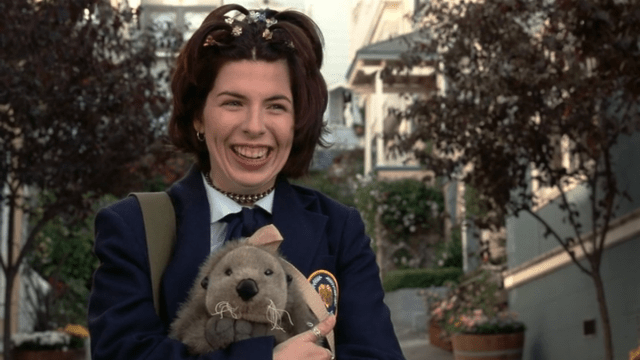 Heather Matarazzo is the ultimate weird girl. I didn't watch Welcome to the Dollhouse until I was in college so I didn't add Dawn Weiner to this list. But Lilly totally makes the cut because I owned Princess Diaries on VHS and watched it plenty of times. Before Heather Matarazzo was Stacy Merkin on The L Word, she was Mia Thermopolis's best friend who had a cable show called "Shut Up and Listen." She was an outsider like Mia and really into being anti-establishment at their high school — she really doesn't care about what the popular kids think of her. Tbh, Lilly was annoying and obnoxious but she makes up for it by being a loyal friend. My favorite line is when she's running up the hill to catch up to Mia and Michael and she's like "Wait! Wait for me!" and two other people turn around and she was like "Not you, I don't even know you!"