Prom!
[listen to the playlist here!] [more prom pics are on page six, and all prom pics can be found here] [some of the weirdest prom pics, however, can be found here]
Mey: The dance was just the icing on the cake after that. But it was really amazing icing.
Sophia: I think everyone was on a bit of cloud nine after that it made for a great dance party.
Hansen: When packing for camp, I definitely thought, "Prom? Nah, no one will dress up for that, we're in the woods!" and how wrong I was. I had an adorable prom date who I was just sure was going to look amazing, so I started stressing when I noticed that everyone else was getting fancy, too. I texted Lizz in a panic, as one does in a fashion emergency at Autostraddle, and she was kind enough to lend me a perfect dress. In fact, it was so perfect that my camper Katie was wearing the exact same dress.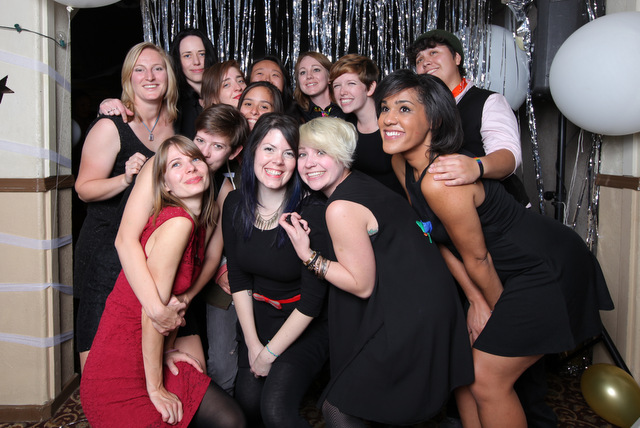 Carolyn: Right before the dinner before prom when no one seemed to be pranking even a little, I knew the Amazons would step up to the challenge of kidnapping the blow-up blue shark that has featured at such Autostraddle events as Dinah Shore and previous A-Camps. And they did. And then, the cabin dressed it up and Made an Entrance, complete with dapper outfits and waltzing to "Mack the Knife." I died.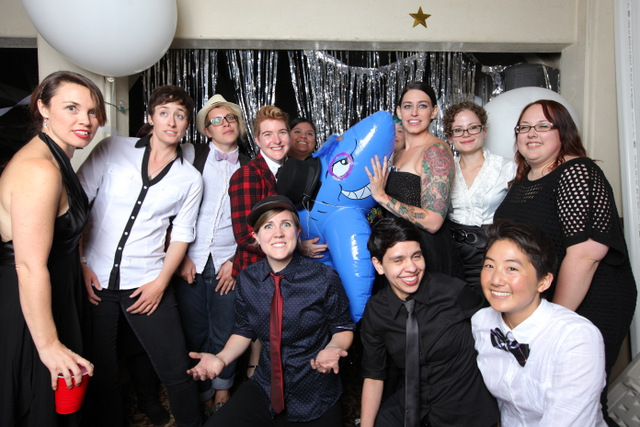 Brittani: The dance on the last night is always triumphant because it's kind of the last hurrah. Everyone is having a "we did it!" moment mixed with the realization that it's almost over. On top of that, there was Carrie's proposal to Bren so everyone was having a moment.
Kai: That was the best prom I've ever been to. The decorations and dapperness and music made it wonderful. Also, I photo-bombed a lot of pictures and slow danced with a shark balloon.
Crystal: Everyone looked so good! The whole Heartthrobs cabin had asked the whole Flashdance cabin to prom over dinner the night before, which was maybe the cutest thing I've ever seen?
Hansen: At one point, Intern Grace and Chicagostraddlers Jeanie, Katie, and Jen (so basically the four best people at camp), serenaded me with "Kiss You" by One Direction because I was the only one who didn't know all the words and Jeanie yelled, "I just like to think this song is about enthusiastic consent!". I think that was my highlight of the prom.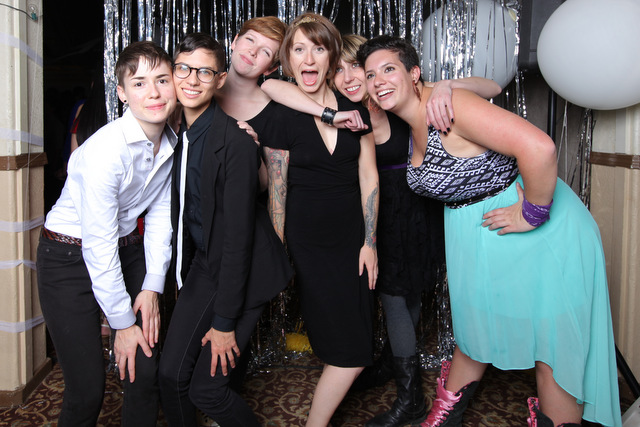 Stef: Cee went out into the woods and handcrafted pine needle corsages for Taylor and me, and the three of us sauntered arm-in-arm-in-arm into Eagle feeling like a million bucks.
Cee: I had the two hottest dates to the prom. Yes I said two. I made Taylor and Stef matching fir branch corsages to go with their matching black dresses. Even though they both ditched me about 10 minutes in I still feel like I won prom.
Mey: I never got to go to my high school prom, so I was super excited that my first prom experience was going to be a queer one. And this prom definitely did not disappoint. First of all, my entire cabin got asked out by another cabin (way to go Flashdance!) and out two cabins set up a whole group of tables reserved just for us at the pre-prom banquet. Everyone looked so amazing! There were so many great dresses and bow ties and everyone's hair looked amazing.
Robin: Prom was the most fun I've had dancing probably ever and I've done quite a bit of dancing throughout my life. DJ Carlyton rocked the house, as usual, with her blend of top 40, electro-pop, and 90's throwbacks! I was so excited about Prom that I made not two, but four outfit changes that evening. Just for dramatic effect.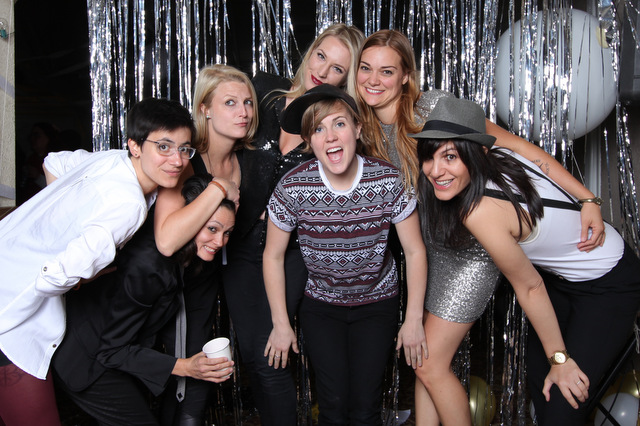 Stef: Best prom ever, let's have prom every night, prom was the best, everybody looked so great! I didn't go to my real prom; I stayed home and rented Carrie, so this was an overdue moment for me.
Riese: I WENT TO THE PROM I WENT TO THE PROM I WENT TO IT I WENT I PUT ON A DRESS THAT I BOUGHT WITH MY MOM AND I WENT TO THE DANCE AND I DANCED AT IT I WAS THERE I WAS NOT PASSED OUT IN MY ROOM EXHAUSTED REMEMBER WHEN ABBY WANTED TO SPRAY ME WITH WHIPPED CREAM AND CHASED ME OUTSIDE AND I HID BEHIND MEGAN AND MEGAN WAS LIKE "I HAVE A DAIRY ALLERGY" AND THEN I THOUGHT I WAS SAFE BUT SHE GOT ME AND I LESS THAN THREE YOU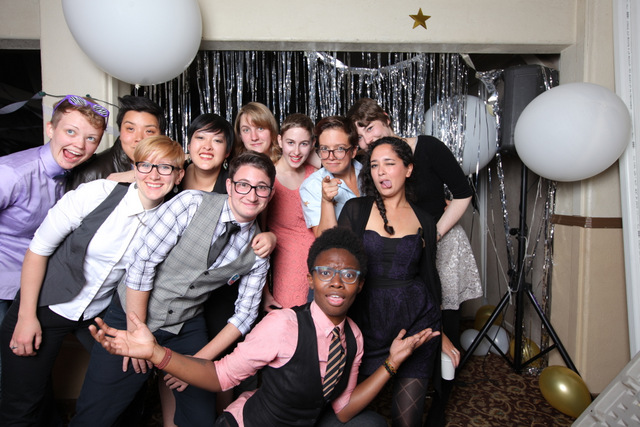 Mey: I seriously have so much more fun dancing at A-Camp than anywhere else. I'm wouldn't have had my first prom experience happen any other way.
Carmen: A-Camp Prom was quite possibly the cutest and most magical moment of my short queer life. I probably took like forty pictures in the photo booth, mostly because I'd never found the photo booth at the last two A-Camp dances and I wanted to vindicate myself. And also because I broke the self-timer remote making the photo booth possible and ended up standing in front of a flash bulb for 2 minutes too long.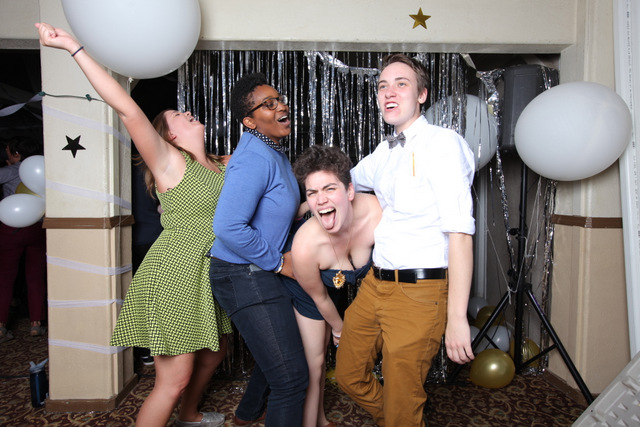 Liz C.: Prom was crazy-awesome. I'm pretty sure Carlytron DJ'd for 17 hours straight, Double D made an appearance in the bear suit, and we closed the night by dancing in front of the camera making stupid faces for like 20 minutes (sorry Robin!).
Brittani: Late in the party we realized that the photo booth camera was snapping away with reckless abandon. About ten of us sprinted over to the booth and spent an entire song singing and dancing with the flash going off every few seconds. For some reason I always decide this is the time to purposely make the weirdest faces possible. I wholeheartedly regret this decision later, especially while complaining that there are no nice pictures of me. Now everyone knows it's only because I can't have nice things.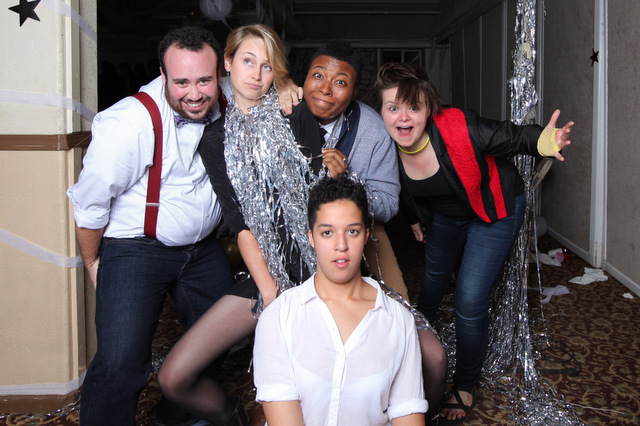 Brittani: Once that song ended everyone at the dance went on a rampage. Some people were covered in streamers, others were sprinting around the room, and those that remained were exhibiting the most aggressive white dancing I'd ever seen. It was at this moment that I realized 80% of white people learned how to dance from watching The Breakfast Club.
Carmen: Seeing Brittani always feels like a once-in-a-lifetime opportunity for me because I'm terrified she's about to become so famous she's no longer available to me via text message at 1am EST. I was super excited to be in her staff cabin this time around, and when she asked me and Geneva to take photo booth couples' shots with her and Liz I actually almost lost consciousness.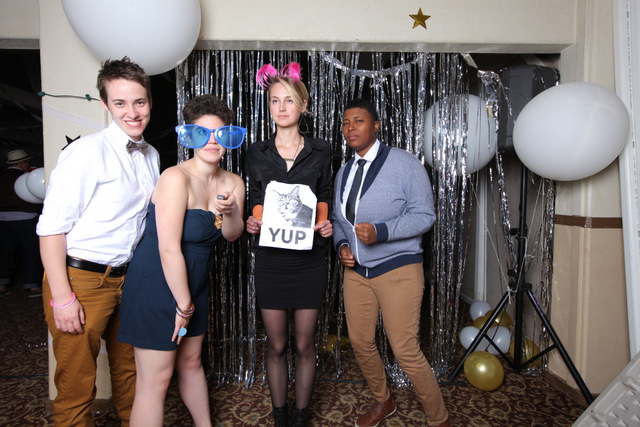 Carly: Highlights of prom: prom photos, Magda as Bieber, Robin's costume changes and dancing with everyone, especially at the end.
Laneia: After making any and all of the Runaways and Blackhearts dance with me in a big circle, we grabbed fallen streamers and pranced around like we invented it. It was pretty fucking infinite.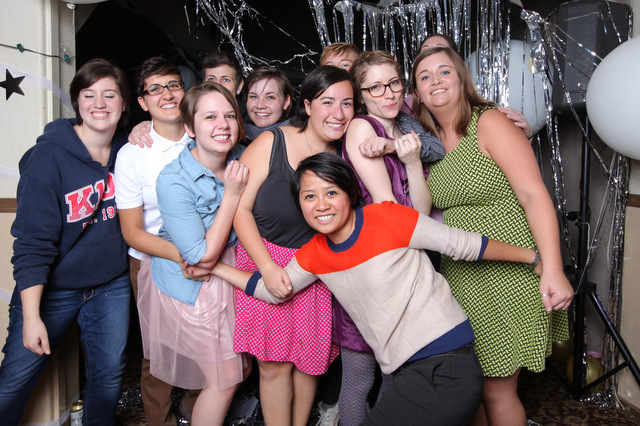 Donna: More random silliness features the twin head dance that ensued between Deanne and her girlfriend. Both of them had been tearing up the dance floor, but in an unexpected turn of events, they touched heads and kept them together for an entire song. They were literally connected, and I ogled from the sidelines in delight and disbelief. This dance should become a thing. Someone make it a thing.
Carmen: Throwing tinsel during "The Motto" at Prom was also a highlight. Just one of many.
Somer: I chose 80s slick-back-mullet lesbian chic for my prom look. It won me a slow dance with Lizzzz.
Ali: This might sound really silly, but there was this one moment during prom. I was up on that tiny stage and DJ Carlytron was playing Can't Hold Us. Everyone was going bananas dancing. Carly turned to me and shouted "THIS IS AMAZING" and we were all jumping around so hard I thought the stage was going to collapse. And then everyone put their hands up at the same time as the lyric "so we put our hands up." And I don't just mean the people on the stage, I mean everyone at the Prom all at the same time, as one unit. And I almost cried then. Because we were just all so together, in this space where everyone is invited to be their truest selves, and we were just having a blast.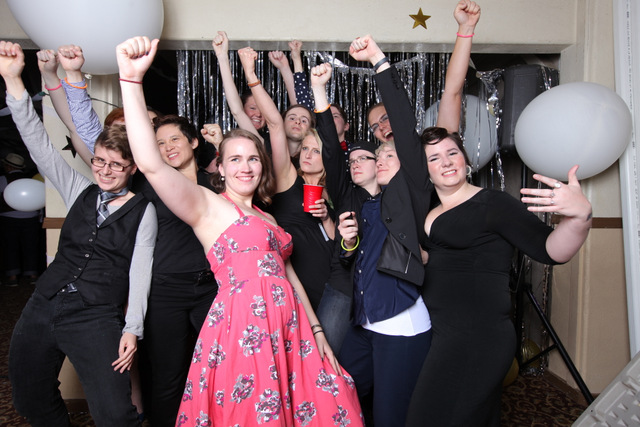 Robin: I'm so happy with the way the photobooth turned out and I'm so excited to share the photos with you all!! Feel free to buy prints of photos or downloads if you'd like them! (password is "prom") They are affordable and all proceeds will go to A-Camp!!!!
Somer: At around 1am during prom, the last night of camp, there were fallen streamers, drunk campers, huddles of new & old friends talking in the dining room, and some make-out silhouettes in dark corners. A few die-hard dancers were still gyrating their faces off with DJ Carlytron.WHO THEN PLAYED THE WILDCARD TRACK THAT LIT UP THE DANCE FLOOR. "Common People" by Pulp started playing, and Carlytron vaulted out of the DJ booth to join us. I will forever remember new-wave-dance-skipping to the point of losing oxygen to my brain and seeing a bright light at the top of Queer Mountain. I turned to Carly and gasped, "I THINK I'M GOING TO VOMIT BUT I DON'T WANT TO STOP." She knowingly nodded, somehow gasped out the words, "Me too," and then doubled over. I'm just glad she played the radio edit, or I might not have made it back from A-Camp to be able to tell you just how great it was.
DeAnne: While everything about prom felt nearly too good to be true (Carly's playlist, Robin's photo set up, Somer and Donna's outfits, smiley Hannah Hart bouncing around like the cutest maniac ever, all those hot, dapper, sexy queers!), my favorite part of the night was checking out Klub Deer at 2:30 a.m. There were about 8 people in there (you know who you are) having the sweetest, tiniest dance party I've ever been a part of. We were SHAKIN' IT, while the rest of camp was off happily sleeping or happily, you know, not-sleeping. Klub Deer 5ever.
---
Pages: 1 2 3 4 5 6See entire article on one page