Sunday, October 13th: The Last Day of Camp
Sophia: The saddest day of them all.
Robin: Although I know its not the most convenient for everyone, having the buses all leave at the same time saved our staff and our campers so many headaches! The last full day of camp we are usually switching people around and the last morning we spent looking at our watches, hoping all the buses make it up the mountain on time. This system was the best yet and I loved running from bus to bus with Marni saying goodbye to your happy, tired faces.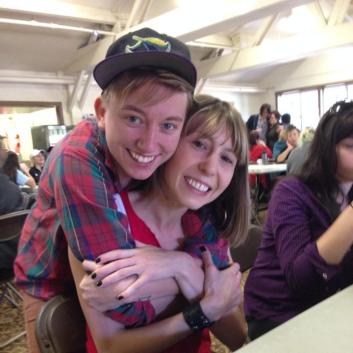 Riese: This was the first camp where I not only went to breakfast but actually sat down and ate it with campers! Because it was the first camp we didn't have a transportation shitshow to coordinate! Saying goodbye to the Runagayhearts is always the hardest part.
Carmen: Finding out on Sunday that the Orange team had won color wars was like being in a waking dream. After three camps, I've finally felt the satisfaction of winning a contest with no prize and no clear purpose. And I liked it. HOLLA WHAT? HOLOGRAMS, MOTHERFUCKERS.
Lane: Other seriously memorable things included getting nicknamed "Emma Stone" by pretty much every single person at camp due to my even-deeper-and-raspier-than-usual voice.
Hansen: On the shuttle to the airport, I slept off my Leaving Camp Misery by cuddling Dani. Then, just as we were lured into a false sense of comfort by the slowest moving shuttle ever, Somer started smelling burning rubber, and we pulled over a few times "to reset the air conditioning."
We were on the third shuttle, which was cursed for the ride up, so when we pulled over on the side of the freeway and were told we had to change shuttles because ours was spitting a ton of black smoke every time we hit 50, I had a little meltdown. Ali began petitioning Dani to rename the shuttles for next camp Shuttles 1, 2, and 4, because clearly the third shuttle is never to be trusted. The transition was actually painless and I was just being a baby. Then we went to LAX and I ordered the largest chicken pot pie of my life because it was the first thing I found on the menu that had meat AND dairy in it (after a week of eating from the kosher kitchen at Alpine Meadows, this seemed really exciting to me). Ali, Carolyn, Cara and I processed our feelings in a sit down restaurant where we stayed for as long as I could make it look like I was still eating this ridiculous chicken pot pie the size of my entire torso, and it was the perfect calm ending to camp.
Stef: I drove down the mountain with Sarah Evan, Cee, DeAnne and Karen, and it was a really calm, beautiful way to decompress – until the part where Sarah Evan and I realized we had about thirty seconds to make our respective flights. We both managed to get through security on time, which is a miracle, but I was unprepared for the most tremendously unlikely miracle of all – Kate fucking Moennig (aka Shane from the L Word) was on my flight. We bleary-eyed, black-clad, messy-haired queers regarded each other suspiciously across the baggage claim, and although she declined to take a picture with me, she did shake my hand. It was like a blessing from the heavens above, and it served as a pleasant distraction from thinking about how much I miss everybody, and will continue to until we see each other on Mt Feelings once again.
Dani RDS: So, everyday life can suck sometimes, you know? People are awful with boundaries and I'm a huge fan of "hoola hoop circle" personal space limits. A-Camp is not like everyday life for me. I don't know if it comes from the fact that I genuinely fall a little in love with every single human I share space with up there or what, but it feels so okay getting closer to humans there.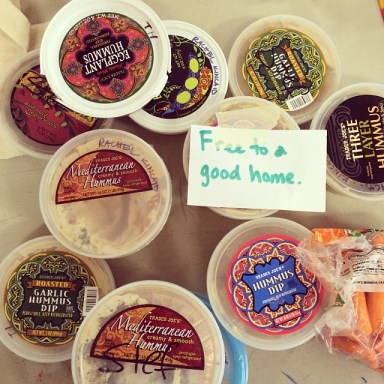 Dani O., The Amazons Couselor & Calendar Girl: When people back down the mountain ask me about camp, I tend to describe it as a sort of vision quest. It's like taking a trip to an alternative world filled with acceptance, sex positivity, high tea, and twerking. Camp is a chance to see what life should be like for queers everywhere – fun and full of love. My favorite moments had to be building tiny snowmen until my hands turned purple, realizing how many people who came out after college felt just like I do (during the late in life panel), anytime DeAnne Smith is talking, getting the help of my whole staff cabin to go from lazy femme to prom ready, and bonding over gluten-free vegan meal options. And of course meeting so many wonderful, creative, brilliant people. There is nothing else like it.
Riese: We're always there for another three or four more hours after the last camper leaves the mountaintop (besides Alice Motes, Alice Motes sticks around), and then it's just us — me, Marni, Robin, Carly, and usually Taylor, and another four or five team members, different every time — and we clean out the lodges and pack up the cars and throw away the things and organize the hummus.This time we still had so much energy! We were exhausted, but like hyperexhausted.
Marni: Look I'm not saying that Alice Motes took the bear suit from the table in Eagle on the last day after the buses left, but I'm also not saying Alice Motes *didn't* take the bear suit from the table in Eagle on the last day after the buses left. That's all I'm saying/not saying.
Carly: And then we had to leave and it was awful.
Laneia: The saddest and worst. Can't talk about it.
Carly: I was so sad. I was also a shadow of my former self, because PROMAGEDDON.  Everything hurt and I was developing a sore throat, the first stages of the A-Camp Plague. WORTH IT.
Riese: We took forever to leave, and then we did, and as we drove down the mountain I was like, Marni, I'm legitimately looking forward to eating food at The Cheesecake Factory. So we met up with Crystal, and we went to The Cheesecake Factory and we ate and we talked about you for hours.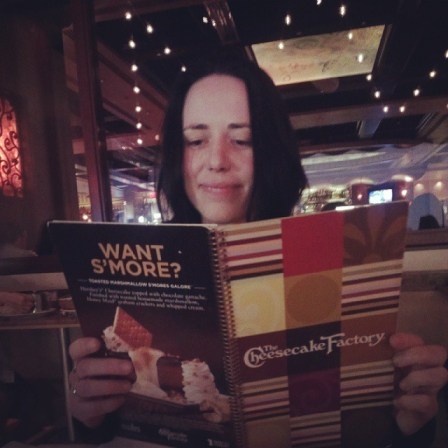 Robin: Thank you for making A-Camp possible! We love you. Come back.
---
Next: Final thoughts, feelings, and moar photographs of prom!
Pages: 1 2 3 4 5 6See entire article on one page