The Banquet / The Proposal
Robin: A few weeks before A-Camp we got an email from Bren's girlfriend of 17 years, Carrie, asking us what we thought about her proposing to Bren at A-Camp. Below is a screenshot of our responses.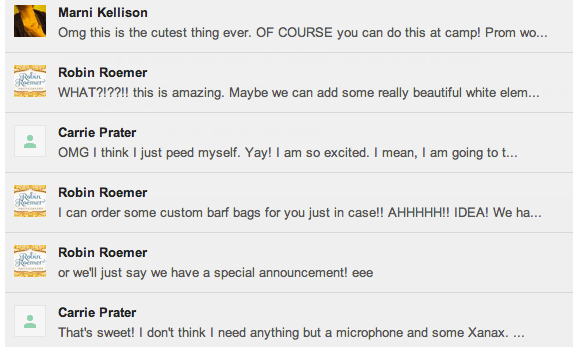 Robin: That basically says it all.
Carly: We were like OMG YES DUH OF COURSE EEEEEEKKK!! and then we set the plan in motion.
Riese: I was SO EXCITED because it has always been my number one dream that a proposal or a wedding or both happen at A-Camp, and Carrie and Bren are the cutest and I knew Bren would turn bright red and it would just be THE BEST THING OF ALL TIME. We weren't supposed to tell anyone but obviously I had to tell Rachel within five minutes of seeing her in LA and then I had to tell Vanessa because I have to tell Vanessa everything.
Carly: Right after Block D, the staff met in Eagle to convert the room from "a place for panels" to "prom central" which meant setting up the DJ booth, getting rid of the A/V table and all of the chairs, and decorating. We had to do this now because of THE SECRET PROPOSAL, which was an amazing surprise.
Stef: Marni tipped me off that we had very good reason to keep Bren occupied and out of Eagle so they could set up for a very special surprise, so I commandeered Hannah Hart and Bren to help put together balloon arrangements. We were an excellent balloon team, and the lodge looked like a Pinterest wet dream.
Carly: After setting up Eagle for the banquet and prom I headed back to my cabin, sadly missing Dapper Hour. I got ready for prom and then Robin got a text, said "oh my god," and ran out of our cabin. She returned with Carrie. We all freaked the fuck out and shrieked and hugged and whatever, it was very gay and we kept saying "the eagle has landed," over the walkies. Also, I tied Grace's bowtie for her.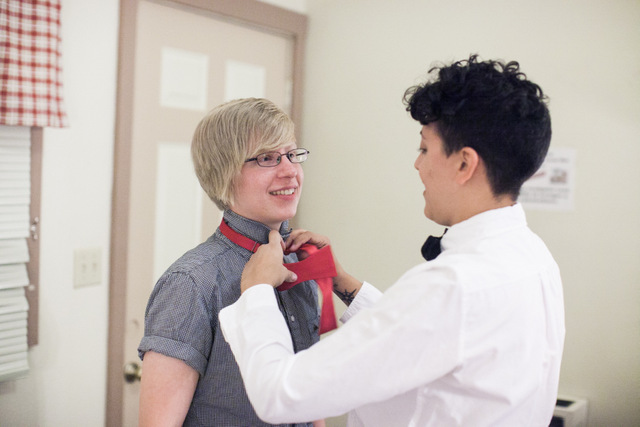 Bren:  So Saturday was Prom. But it was just another day for me, or so I thought. I wasn't there with my partner, unlike some of the Staff and Campers. I hadn't hooked up with someone there, unlike some of the Staff and Campers. I was even considering skipping the Prom to get some much needed rest but my cabinmates said I should go, so I did. The banquet was right before Prom during which Marni announced 47 times that we should all go to the other side of Eagle for a special Camp-wide announcement.
Rachel, Girltrash Counselor & Senior Editor: The banquet before prom was so fantastic to me, and in some ways outshines my memories of actual prom. It feels so good to see hundreds of decked out queers in their fancy garb, looking super hot and more importantly looking happy. I wish this was what my actual prom had looked like.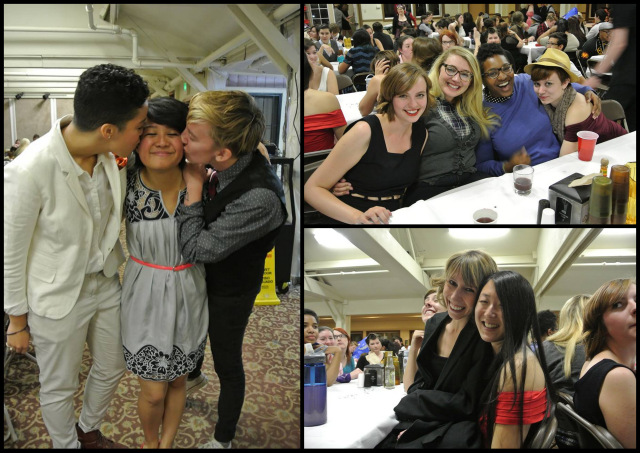 Carly: I tried to eat but was too nervous/excited and so I just hung around in Eagle like a loser, standing in corners and being a weirdo. And then we announced that we had a special announcement and that everyone should go next door the minute they were done with dinner.
Riese: Everybody was like what is it what's the announcement tell me omg
Bren: Some of my campers asked what this was about. I'd assumed this was gonna be some announcement about who won the Rainbow Wars. Boy was I wrong.
Carly: I waited like a million years, you guys are the slowest eaters. And then everyone arrived! And I tried to entertain the crowd while we waited. I think Marni and I did some patter, and then I called Hannah a tiny little person and then Robin arrived, thank god.
Bren: So, we're all in Eagle. Everyone looks so pretty and/or dapper in their prom attire. I'm bummed because my girlfriend hasn't returned ANY of my e-mails that day. Then for some strange reason Robin is asking me to come to the stage. I reluctantly do so. Maybe I won the Rainbow Wars?
Riese: Bren walked up to the stage SO CONFUSED.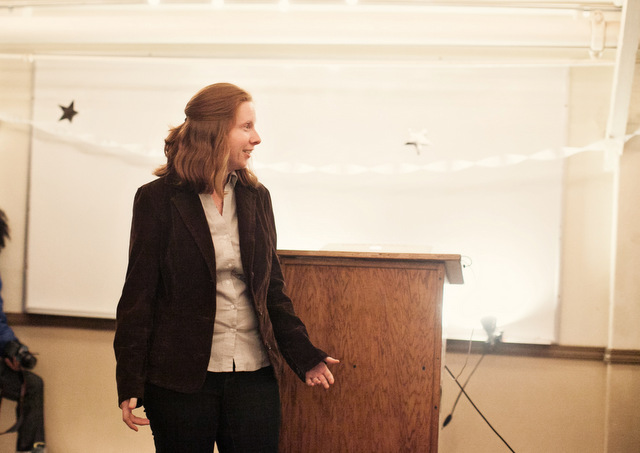 Bren: As I'm standing there super confused for what feels like hours I look over and my girlfriend, Carrie, is there. How can this be? So many things are running through my mind:
+ She's supposed the be at home with Willow and Sammy and Mr. Bix.
+ She has no sense of direction and would never be able to find her way to San Bernadino, much less up this mountain to this camp.
+ Those boots are new.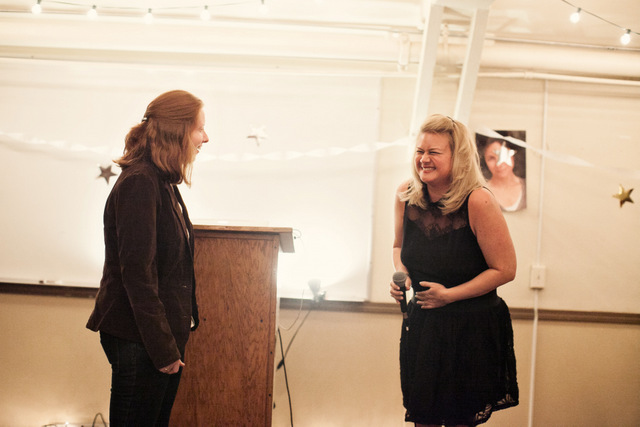 Bren: But she's there in those new boots saying things that I'm glad are on video otherwise I wouldn't remember what they were. That's the level of shock I'm talking about.
Liz C.: The funny part is Bren wasn't even going to go to prom! Our cabin had to convince her to dress up and give it a try. I'm pretty sure she's glad she did!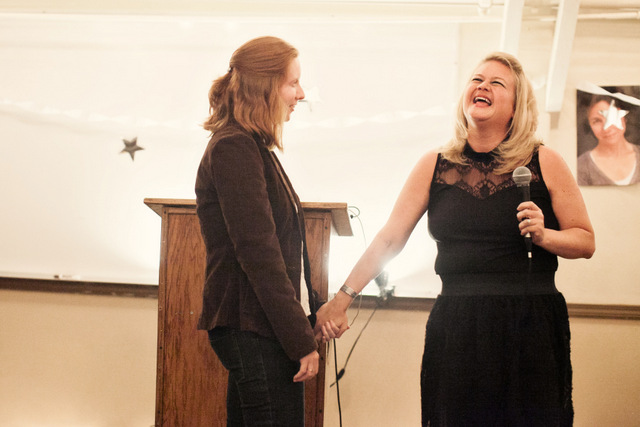 Riese: So Carrie started talking about how they've been together for 17 YEARS LIKE SINCE HIGH SCHOOL IN ALABAMA because THEY MET IN FRESHMAN ENGLISH CLASS and Bren gave Carrie the answers on the quizzes! It was so cute, everyone was dying.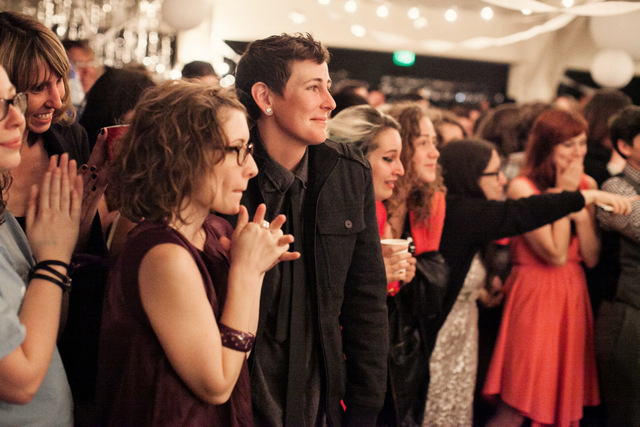 Riese: Then Carrie talked about how they moved to California two years ago in hopes that they'd eventually be able to get married — about every three seconds somebody in the crowd would go "OH MY GOD" in a weepy-with-happiness voice.
Riese: Then Carrie was like, "when the Supreme Court decision came down in June, I said to her, I kinda want you to propose to me, I kinda wanna have that even after 17 years, I wanna have that, and she said why do I have to propose to you?" Then everybody knew what was coming for sure.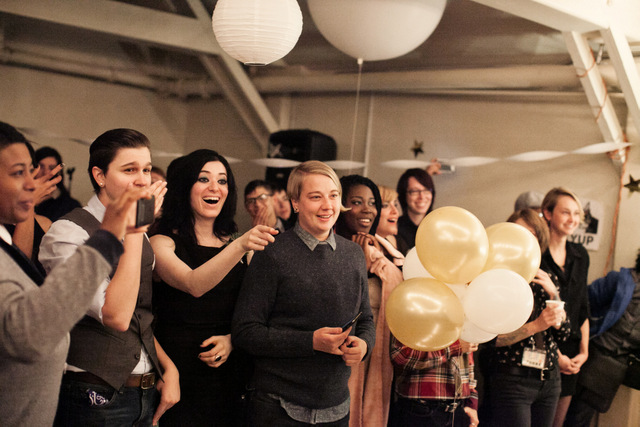 Bren: The only words I do remember are "Will you marry me?" And those are words that I've waited nearly two decades to hear.
Crystal: My heart melted. It was the sweetest thing.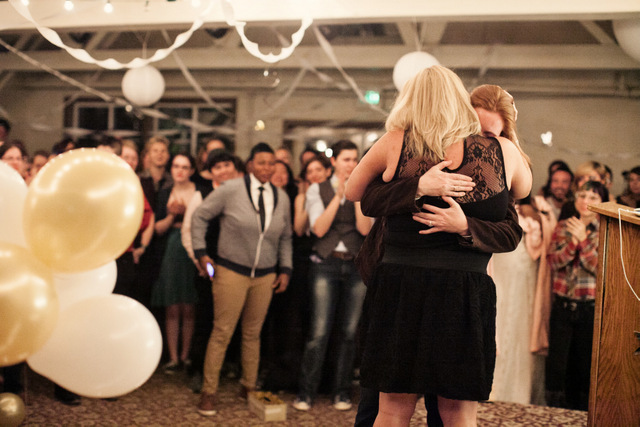 Carly: It was unbelievable. Everyone was crying and "aww"ing and wailing and it was bordering on a religious experience I think, praise lesbian Jesus.
Ali, Wildcats Counselor & Contributing Editor: I cried like a small child. I cried sobs that moved my entire body. I was fine until I looked across the half-circle and saw Vanessa and Hansen crying, and then bam. I had so many feelings that I had two options – either I could vomit rainbows or the feelings could leak out of my eyes in the form of tears. And one of those options is an anatomical impossibility. So crying it was. Which I did in spades for the rest of the evening on and off.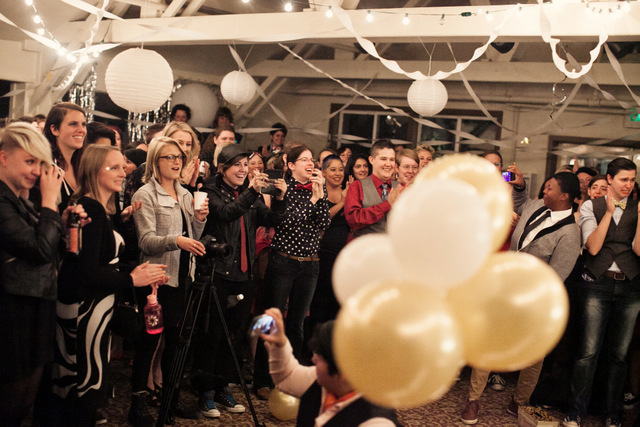 Rachel: As someone who's pretty Grinch-y in their real life, and is usually totally disinterested in weddings, proposals, and anything related to them, I knew this was the Real Deal when I found myself weeping openly and clutching at Laneia like I was going to fall over. It's only because of how great Bren and Carrie are and how much I want them to be happy all the days of their lives. I wouldn't cry in public for anything less.
Mey, Flashdance Counselor & Contributing Editor:  It was so beautiful and we were all crying so much that we worried that our prom makeup was going to be ruined.
Emily G., Rockford Peaches Counselor: Thanks for making my face rain all over Eagle lodge.
Laneia: Ugh it was the most beautiful thing! I was so so happy for both of them, and trying really hard to keep it together because I didn't ruin my makeup or need a box of tissues. The only thing that enabled me to do so was focusing on Carrie's amazing calves. I'm not even kidding. So much respect.
Sophia: It was just the absolute sweetest thing, and looking around the room crying looking at other crying people looking and nodding at other crying people but it was such overcome happy crying it was good.
Kaylah: I couldn't help but giggle looking around at all the ugly crying that was happening. Luckily, I was standing behind a cluster of balloons so there shouldn't be any photographic evidence of me sobbing hysterically. Congrats y'all!
Cee, Bangles Counselor & Tech Director: How amazing and unexpected was that? I'm pretty sure someone was cutting onions nearby because my eyes kept watering.
Bren: And almost two decades after we skipped our Senior Prom to watch movies I finally had a Prom date.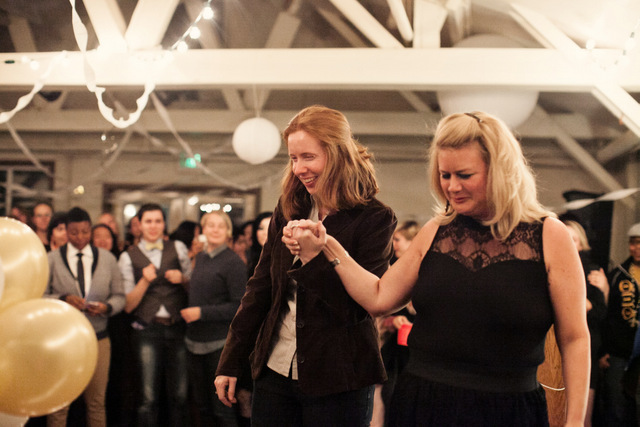 Liz C.: Nothing could have made our prom more amazing than the cutest high school sweethearts ever getting engaged and attending their first prom together. Seriously, I started bawling immediately.
Rachel: Obviously it was the standout shining moment of camp, even more important than Lizz spelling a word right.
Kai: I've never seen so many smiles.
Bren: I think what made this so special for me, personally, besides the whole I'm-gonna-get-married-to-a-girl thing is that Carrie had never been to Camp. And while she can understand somewhat how special it is and how amazing the campers are its a thing that can't be explained with words and sounds and hand gestures. Its a feeling that only happens on top of that mountain and I felt so incredibly blessed to share that with the most important person in my life.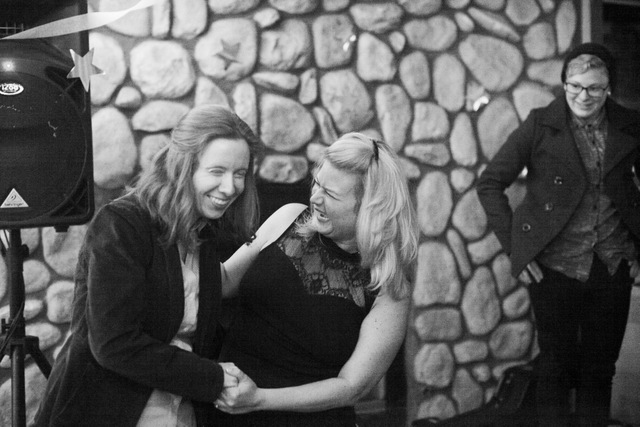 Dani RDS, Stormtroopers Counselor & Writer: Can we get Carrie to drive down and propose to Bren every A-Camp? Because that's the way every prom should ever begin: camp wide banquet, Carrie proposing to Bren, crying with all the feelings of happiness, booty shake and photo-booth.
Carly: Carrie and Bren, I wish you both all the happiness in the world, and cakes made out of rainbows that we can all eat and be together. And then I played a Destiny's Child song and it was on to PROMAGEDDON. I say PROMAGEDDON (™) because I DJed for five hours and it was insane and intense and overwhelming and it was the greatest.
Bren: So if you're on the fence about whether to come to the next camp you should pull that trigger because you never know what will happen. Maybe there'll even be a wedding…
Liz C.: BREN & CARRIE 4EVER.
---
Next: Prom!
Pages: 1 2 3 4 5 6See entire article on one page