Once upon a time (October 9th-13th, to be specific) in a land far far atop a mountain two hours outside of sunny Los Angeles, approximately 275 queer humans gathered for four days and four nights of revelry, carnivalia, intellectual stimulation, dance parties and deep sea bonding. They called it A-Camp 4.0, and it was beautiful! This is the fourth of four fantastic recaps which serve to ease our collective separation anxiety, give you a behind-the-scenes look at how your A-Camp soysage is made, enable us to wax nostalgic over times gone by and provide prospective campers with a brilliant glimpse into the A-Camp Experience.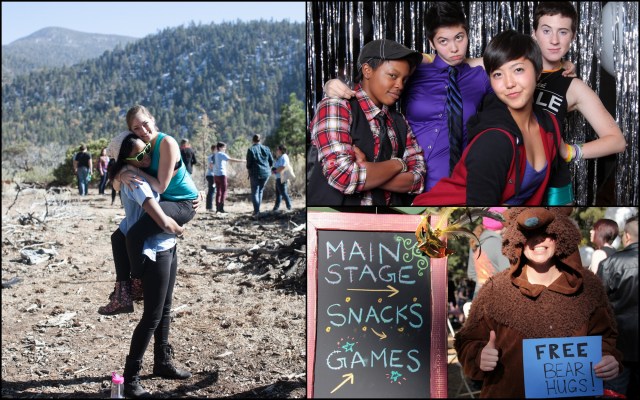 A-Camp was the genesis of an idea Riese had at 3AM in July 2010: the concept was to take the spirit of the website into three glorious dimensions by renting a summer camp in the off-season and jam-packing a long weekend with panels, workshops, discussions, crafts, sports, entertainment, parties and so much more! We gave the idea a spin with an abbreviated, smaller edition of A-Camp in April 2012, followed by full-size full-length camps in September 2012 and May 2013, all hosted by everybody's favorite dynamic duo, Julie Goldman and Brandy Howard. Which brings us to October 2013, the Little Camp That Could!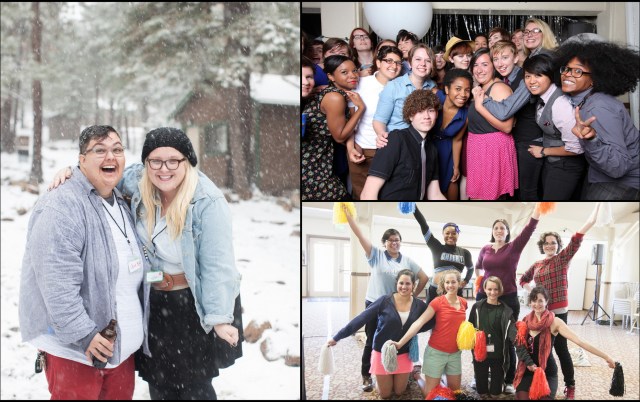 This fall's camp was unforgettable and fucking awesome. Our amazing team was complemented by talented Special Guests including comedienne DeAnne Smith, new media superstar Hannah Hart, Me & My Bois collaborators Lex Kennedy and Emotions the P.O.E.T., rock star Somer Bingham and songstress and actress Haviland Stillwell. Our camp staff included Autostraddle.com team members, A-Camp Tumblr Inventress Emily Gigler and Autostraddle Calendar Girls Miss October 2014 Kai, Miss February 2014 Chloe and Miss June 2013 Dani.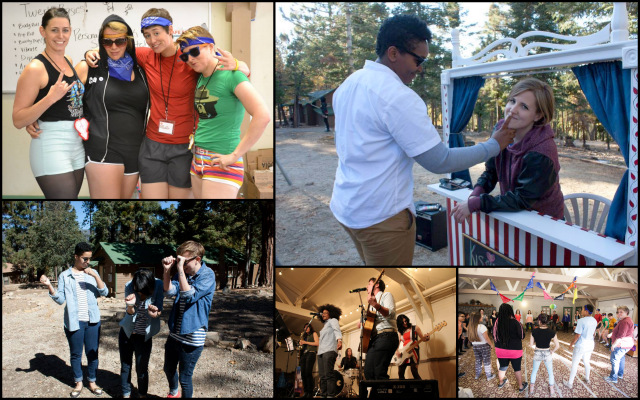 Lez do this thing.
---
A-Camp October 2013 Recamp #4: Day Four
all photography by robin roemer unless otherwise indicated
Saturday, October 12th: Day Four of A-Camp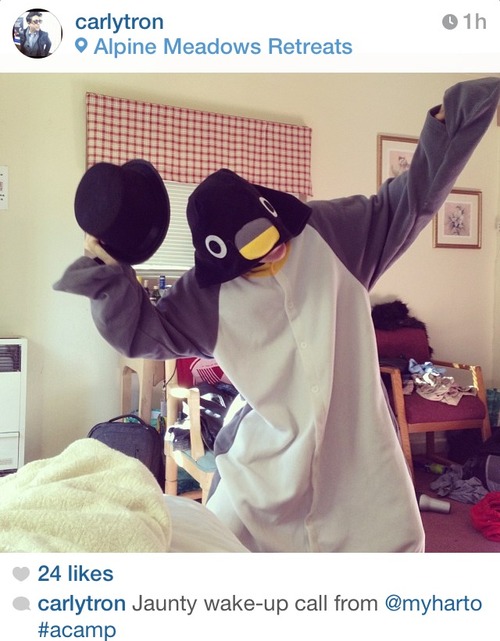 Robin, A-Camp Co-Director & Photographer: Obviously the PJ Breakfast is my favorite breakfast. I was always that girl in college in my pjs at breakfast, and sometimes dinner too. Carly and I brought our onesies which feel like wearing a huge fleece blanket. Nothing is better than putting on a fleece onesie with a hood on a chilly morning. For those of you who asked, you can buy them here, or if you happen to live in NY, check out the Bryant Park holiday market where we scored these bad boys for about $30 less than the listed prices.
Sophia, Holograms Counselor: Saturday I got a cold. Like, Friday I knew it was there, saying to me in my head that I needed sleep and hot things to drink, but Saturday it was starting to kick me in the throat with all the tenderness of a young calf. I don't remember what I did at all during the day.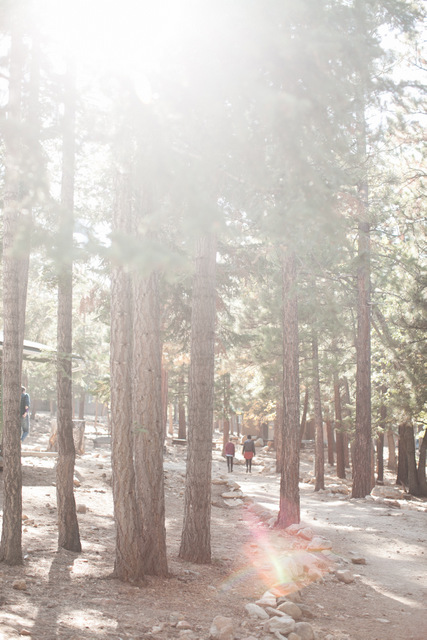 Saturday Morning Activities

Yoga (Dani O) // CAMP Talks (Carly, Grace, Hannah, Lex, Megan & Campers!) // Out in the Cuntry (Bren, Kaylah & Mey) // Vanessa's S'Mores & Straddlers (Vanessa) // Ask a Therapist (Donna & Sarah Evan) // Tinderhearts (Marni)
New Media & The Future of Entertainment: Q& A With Hannah Hart (Hannah Hart) // UCB: Upright Campers Brigade (Brittani & Lane) // Well That's F*cking Pretty: Mooncatchers! (Laneia) // Lez Talk About Sex(ual Health) (Lizz) // Words With Friends: Limerick/Wordplay Workshop (Carolyn & Cara)
Carly, Special Programming Director & Contributor: The idea for CAMP Talks (CAMP doesn't officially stand for anything, I just like making it all caps) sort of happened simultaneously in several different people's brains and then it all came together. Specifically: Grace, Cee, Meredydd, Alex and me. I think we all felt like there were so many cool, talented people with interesting jobs or hobbies or passions and we wanted to know more. So we put our heads together and came up with CAMP Talks (but probably it would stand for Creating Awesome and Meaningful Presentations). Campers got to submit ideas ahead of time and then we chose our favorite proposals to come and present.
Robin: Camp Talks was such a great idea!!! It was so great seeing all the random and interesting things our campers had to share. What a bunch of cool geniuses.
Stef, The Gossip Counselor & Music Editor: Camp Talks were brilliant! My little Gossip baby Anna got up and taught everyone how to make terrariums, Monique from the Blackhearts explained renegade US history (painting sex workers from the Wild West as early feminist icons), and Hannah Hart gave a really great talk about the five languages of love. I'm terrified of public speaking, personally, so I applaud everybody who got up there and shared their wisdom; I hope we do a lot more camp talks in the future.
Crystal, Hearthrobs Counselor & HR Director/Writer: Camp Talks was a real highlight. All the campers who spoke were so articulate and informed and interesting, I could have sat there listening to them for the rest of the day.
Laneia, Runaways Counselor & Executive Editor: Hey, ask me what I really wish I hadn't missed. FCKING CAMP TALKS. I don't even remember what I was doing during this — probably processing my feelings about glass beads or something? Can't believe I let myself miss Camp Talks.
Carly: I have to say, it was awesome. The only complaint I had was that it should take up two blocks, not one.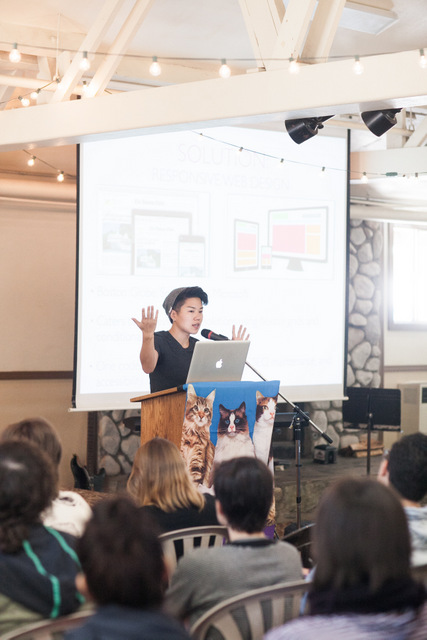 Vanessa, Blackhearts Counselor & Community Editor: Okay, the Powers That Be let me host an activity that was literally centered around eating s'mores and hanging out, called S'Mores and Straddlers. Do I have the best life or do I have the best life?! Last camp I set aside a few blocks where I just hung out outside Wolf Lodge and encouraged campers to stop by and fill out applications to appear in my Straddler On The Street column, but I ended up having a lot of downtime and then some made rushes of people, and some campers forgot about it and some people said they'd stop by but then never did. It was okay, and I did get a lot of submissions, but I was convinced there was a better way. I feel confident in saying I Have Found The Better Way. This time around, Adam built me a fire right after breakfast on Saturday morning, Stef dropped off her vegan s'more materials, Megan brought me the regular s'more materials, and I set out a pile of Straddler Submission Forms on a picnic table.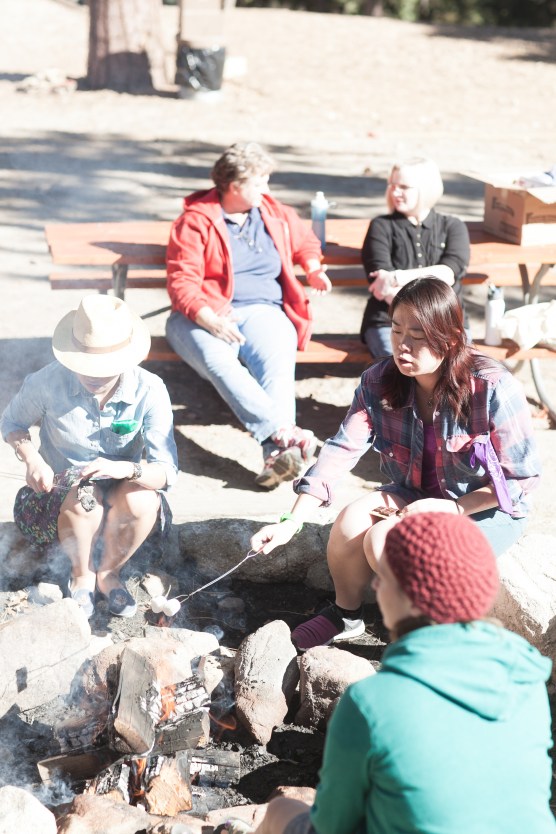 Vanessa: Then I waited and hoped a few people would show up. WELL GUESS WHAT, SO MANY MORE THAN A FEW PEOPLE SHOWED UP! About 40 campers came by to hang out, fill out my submission forms, meet new friends, and eat s'mores. It was amazing. I got to speak with so many campers I'd never met before, which is truly always my favorite part of camp, and I think everyone had a really lovely time. I got 40 new submission forms, which means when I combine those with the submissions I got at last camp I owe about 100 of you emails so we can set up a time to do an interview and get your face onto Autostraddle dot com. The only thing I'd do differently next camp is request even more s'more supplies, because we eventually ran out because so many people showed up. I wasn't even mad that I smelled like fire at the end.
Marni, A-Camp Co-Director & Contributor: The Tinderhearts workshop had been postponed because of the snowfall, so I was super excited when people still turned up for it on the last morning even though there were other things scheduled. We learned how to make firestarters, talked about the different elements of a fire and different approaches to firebuilding, and even talked about starting fires in the rain. I think I'm going to keep doing it at future camps and expand it into a whole "A-Camp Survival Skills" series.
Carly: Hannah Hart & Sarah Weichel talking about New Media was awesome and fun and informative.
Lizz, Flashdance Counselor & Fashion Editor: My Safer-Sex Talk is always one of my favorite parts of A-Camp. It's such a great combination of education and fun.
Stef: I showed up late for Lizz's sexual health talk and it seemed really informative, but everybody was already participating in an activity so instead I went outside and started writing weird notes for all my campers – i.e., "Hey girl, I'm watching you learn about dildo blowjobs right now."
Lizz: This time I had a really big showing! You guys all really wanted to talk about safe sex! We talked about the stigma around STIs, talked about the mechanism of infection transmission and went over practical (and sexy) ways to have safer sex! We also went though a big pile of sex toys and talk about which are safe and which are not. That big pile of sex toys is always a hit.
Laneia: Ok so, a couple of months prior to camp, we're asked to submit workshop/activity/panel ideas. I really like to have a passion project — last camp it was Period Panel aka Bloody Hell, and this time it was Well That's F*cking Pretty: Moon Catchers. This craft meant a lot to me because it was born 10 years ago when I was coping with my grandmother's death, which I know is a total downer for this post so I'm just gonna say that having a lodge full of these fascinating, beautiful queers doing this craft that was actually the closest thing to sitting inside my ribcage as a person could get, craft-wise, was so much. And I didn't tell them then but I'm telling them now: I can remember the first time I made these things — alone and crying and scared and pissed off and nothing good — and now I can sorta feel you there with me? And shit is f*cking pretty y'all. It's real pretty. Thank you.
Bren, Bangles Counselor & Editorial Assistant: I walked into Falcon Lodge randomly and Carolyn asked me if I was there for The Limerick Workshop. I wasn't, but hey, everyone loves a good limerick.
Carolyn, Amazons Counselor & NSFW Editor: In the Dirty Limerick Writing Workshop, Cara and I aimed to subvert gross dirty poetry written by straight dudes by writing awesome dirty poetry written by queers, and we absolutely succeeded.
Bren: I think Vanessa got roped in to leading the workshop as well because Cara. One camper was there and I made five. Five intrepid limerick writers. Five intrepid DIRTY limerick writers, because Carolyn does have to put her personal brand on all the things. And this may seem like a small group but it was perfect. PERFECT! Because there are 5 lines in a limerick and we could be sillier and less self-conscious than we might otherwise be in a larger group (or at least that's how I felt). We did kind of a round robin thing where we each pulled suggestive words out of a very dapper top hat, wrote the first line of a limerick and passed it clockwise to the next person, who wrote the next line, etc. By the time we each had a turn…viola…completed limericks. And they were super funny too! They didn't ALL turn out dirty mostly because I didn't know "gorilla in a washing machine" was a euphemism for oral sex. I thought it was a reference to just, ya know, a gorilla in a washing machine.
Cara, Nighthawks Counselor & Contributing Editor: Dani RDS and I kind of threw the Genderqueer Lunch together on the fly, but I was really psyched to hang out outside, eat animal crackers, and discuss genderqueer/genderfluid/alternative-gender identity and representation with a bunch of cool new friends. Oh, this is a good time to say — if you were at the meetup and wanted to talk more about anything, hit me up at cara [at] autostraddle.com. We didn't have much time and I want to hear more from you!
Carly: I love getting to have One-on-One-Mentoring Sessions. I don't know if anything I say is at all useful or insightful but hopefully the campers are getting as much out of this as I am!
Robin: One-on-one mentoring is always one of my favorite parts of A-Camp. The time I get to sit down and connect with just one new person makes me feel the most fulfilled. I love being able to share my knowledge of photography and talk about working as a photographer! It not only allows me to possibly help someone else, but I feel newly inspired by the experience.
Riese, Runaways Counselor & Editor-in-Chief/CEO: After lunch we took the whole camp photo, which I really enjoy because I like sitting in dirt and getting rocks up my butt. Just kidding. Usually it's a full-circle moment: remembering when we were at the fire pit on the first night, and now here we are together again, except this time we're not strangers, we're in love. But even though we couldn't do an opening campfire this time, it was amazing and so special to witness representatives from three generations of Runaways taking family photos after the group shot.
Robin: If you want to purchase a print of the group photo, you can do so here!
Liz C., Firestarters Counselor & Contributor: Walking back from the all-camp photo, I was talking with someone who had gone to my DIYke hardware jewelry workshop earlier in the week. She had made a particularly gorgeous hex-nut bracelet and was telling me about her plans to propose to her girlfriend. LIKE REALLY SOON GUYS!! AND GUESS WHAT?! Since her girlfriend isn't super into rings, she thought she would give her this bracelet instead. I died. No really, I'm a sucker for adorable couples, and DIY creativity so this was really too much for my little brain to handle. So happy for them!!
Kaylah, Rockford Peaches Counselor & Modtern: On the last day of camp I mastered the art of pigeonholing. It's not what you write, it's how inappropriately you write it. Well, that and being able to pull off the doe eyed look when you come clean and/or get busted. Works with camp crushes! 100% success rate!
---
Next: Saturday afternoon, what a lovely afternoon!
Saturday Afternoon Activities
Femmecraft – DIY Lingerie (Hansen & Lizz R.) // Queer People of Color Panel (Yvonne, Kaylah, Mey, Brittani, Carmen, Lex & Megan) // Hannah Hart Hike (Hannah Hart) //  Canoeing Trip to Jenks Lake (Marni) // Yes Ve Gan! (Liz C, Dani O, Rachel & Stef)
Sex Panel (Ali, Dani RDS, Riese, Taylor, Lizz R) // Wine & Typography (Alex & Geneva) Mystery Homo Theater 4000 (Brittani, Carly, Lane, DeAnne & Hannah) // Spice Up Your Life (Stef) // Dapper Hour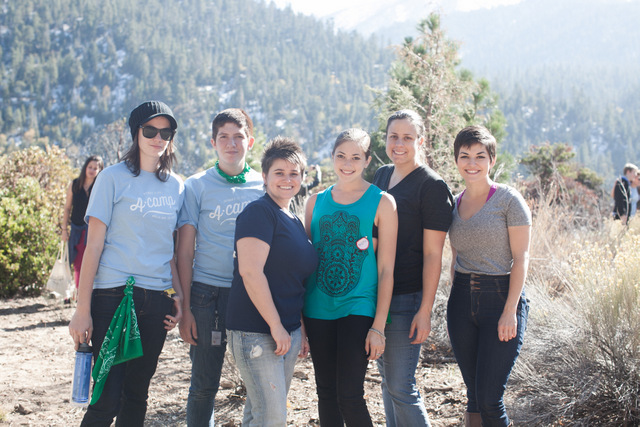 Robin: I was the tour guide on Hannah's hike and I had a ton of fun!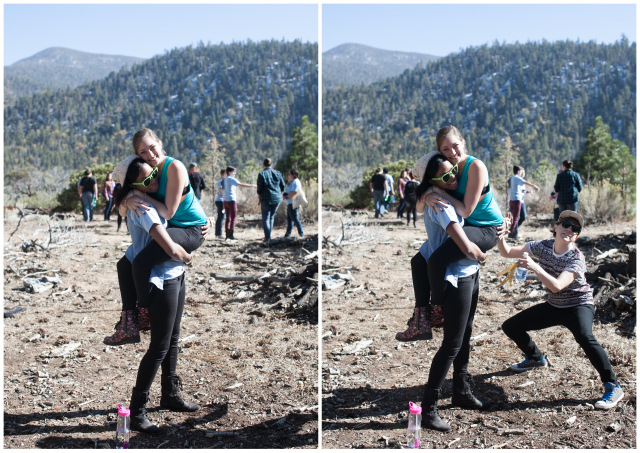 Robin: I was so excited we had such a great turnout because every camp I want EVERYONE to go to the amazing overlook where you can see mountains for miles. I'm not even sure Marni or Riese have been yet!! Carly hasn't gone either!! I'm not sure anyone knows just how close and easy this walk is you guys, you have to go check it out!!!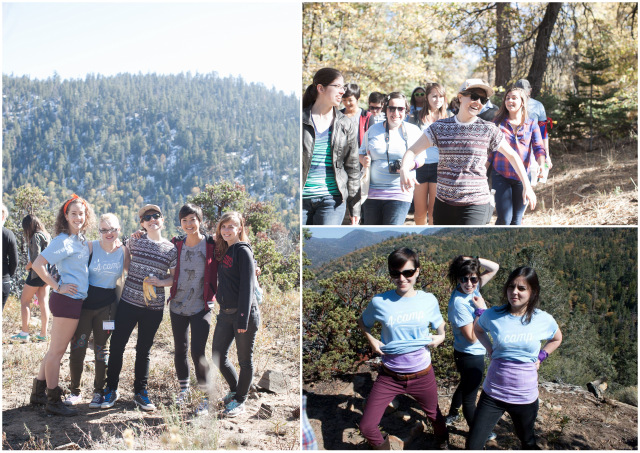 Robin: After we reached the overlook we took the long loop around to get back to camp, flagged with tape I had wrapped around trees as markers from last session. Hannah bounced around talking to fellow hikers. I love seeing Hannah in her element and I could see from her face that she was having a genuinely amazing time this session. I am so thankful she was able to come to camp and for her generous donation of a campership with travel!
Robin: At the end of the Hannah Hart Hike, we had an EPIC tug-of-war in which Team Robin kicked Team Hannah's butt.
Somer, The Gossip Counselor/Talent: On the last day of camp, Marni took us all Canoeing on nearby Jenks Lake.
Marni: I had wanted to do canoeing at all the previous camps and we FINALLY got our act together this time and headed to the lake.
Somer: Well, it was more of a pond. But it was still beautiful and peaceful, and a fun way to experience the mountain.
Laneia: CANOEING. ON A MOUNTAIN. MOUNTAIN CANOEING.
Megan, Program Support Coordinator: Laneia said we were going canoeing and my only thought was I can't canoe, I have a job to do. And even though it rhymed, it was sad. Basically I'm part of an underground support system that aims to make everything be in the right place at the right time, so I don't really have time to hang out in the woods and stare at the sky. But then Bren, because she is The Best Person Ever, hands down ever, said she could handle things on her own.
Laneia: AND WE WERE OFF. (Bren really is the Greatest Human. Look it up.)
Marni: It was a bit late in the season and a little chilly, but everyone had a great time and nobody fell in. I was even able to teach a few paddling techniques with the help of my trusty bowman Kip.
Somer: After teaching us to "J-stroke" and making sure we all had life vests, Admiral Marni took our small fleet of queer vessels around Jenks Pond.
Megan: It took a couple of minutes, but I finally semi-mastered the J-stroke — at least enough to get our canoe to the middle of the water and convince Laneia that we were not, in fact, going to crash into another canoe of campers.
Laneia: I think I only screamed like twice, and it was more of a squee anyway. I want to go to Jenks Lakepond every A-Camp. Write that down.
Somer: Even the city girls had fun.
Stef: For Yes Ve Gan, Liz Castle made everybody delicious snacks and put together a precious, ribbon-sealed cookbook of some of our favourite recipes. Liz Castle is a dream.
Brittani, Firestars Counselor & Sports Editor: I announced the movie selection for our Mystery Science Theater during lunch of that day to lots of positive feedback. We'd decided on Lost and Delirious and what a grand decision that turned out to be. Glossing over the fact that the movie file was corrupt and just skipped certain parts of scenes, we still had a great time. Hannah Hart, Carly, DeAnne Smith, and Lane joined me in interrupting that ridiculous piece of crap. One of the many highlights was during the sex scene, DeAnne moved her hand in front of the projector so that its shadow caressed various body parts while the actresses got it on. Her hand was Piper Perabo's and Jessica Pare's erotic third which has to be the highlight of all of their careers.
Carly: Grace said to me, "this is the thing you were born to do" and she was right. MHT4K was basically an extension of my living room, because I talk through all shows and movies all the time (sorry Robin).
Robin: Listening to Carly comment through movies is basically what I do every day of my real life so I decided to move on and let you guys enjoy the comedy. What an amazing comedy powerhouse of Brittani, Carly, DeAnne, Hannah and Lane!
Carly: The panel consisted of myself, DeAnne, Hannah, Lane and our fearless leader Brittani. We screened Lost and Delirious — arguably one of the worst films ever made — and just tore it apart. I think the best part was that somehow the video file was corrupt and would just like skip scenes mid-sentence. So awesome. If I could do that every single day I would be a happy lady.
DeAnne Smith, The Talent & Contributor: Carly especially, was killing it with her added commentary. I never want to watch a cheesy queer movie again, unless I can listen to hilarious asides and score a group hug at the end. (Thanks, guys, I needed that. The movie's end seemed to imply that if you're gay, you have two options: kill yourself or transform into a crow.)
Lane, Girltrash Counselor: Mocking Lost & Delirious with DeAnne Smith, Hannah Hart, Carly Usdin, and Brittani Nichols in a room full of incredible people who were just as confused by the plot as we were is something I wish I could do every single day and one day I will live in a world where that is a thing.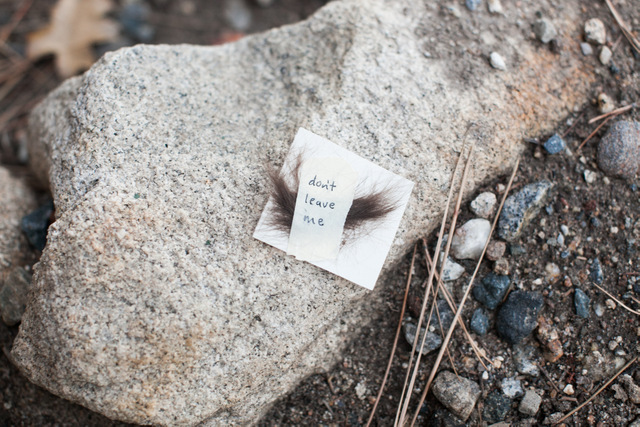 Stef: For my inaugural hot sauce tasting, Spice Up Your Life, I made a two-hour playlist of Spice Girls songs and collected a dozen hot sauces from all around the world. We sampled a pumpkin chipotle sauce and an Ethiopian berbere mixture, as well as sauces made from habaneros, scotch bonnets, ghost peppers, and even Trinidad Moruga Scorpion peppers (the hottest peppers in the world). I like to think of myself as a seasoned hot sauce veteran (pun intended), but I got a little bit teary-eyed after that one. Best of all, the incredible Cee Webster took two hours out of her own busy life and made us homemade naam prik pao (sans shrimp paste) from Thai chilis. It was so insanely delicious that most of the attendees sat around snacking on that and only that for most of the session.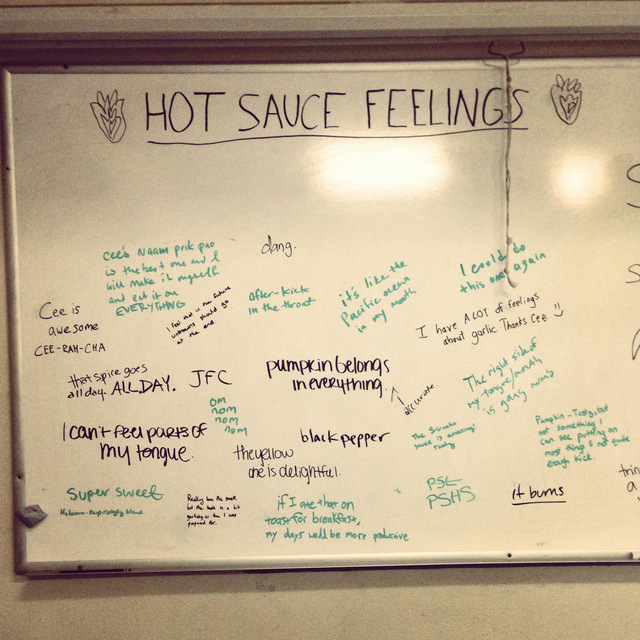 Carmen, Holograms Counselor & Contributing Editor: The wine tasting, which became Dapper Hour, provided me with two unexpected opportunities: a moment to sit back in a sea of beautiful humans and say nothing, and my first time ever appreciating a glass of red wine.
Riese: Alex and I had such a good time hanging out with the girls from Stand Tall Wine last winter after they contributed to our fundraising campaign, and so we hit them up to ask if they'd like to donate some of the only red wine in the world I actually enjoy, Genetic, to A-Camp, to drink during Dappy Hour. But because they're amazing fucking human beings, they were like, "We'll come down and do a tasting!" Reports suggest it was a riotous success.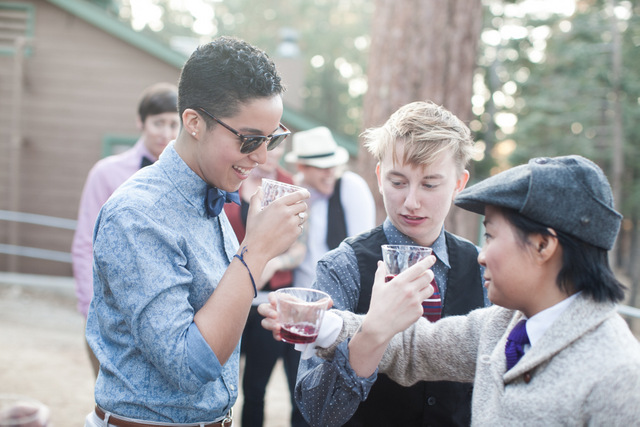 Hansen, Hearthrobs Counselor & DIY/Food Editor: During Dapper Hour, I walked into our staff cabin to find Carolyn teaching her camper, Maddie, and Cara how to tie someone's hands. Carolyn asked if they could practice on me, and the answer when Carolyn asks if she can tie you up is always yes. So Maddie and Cara took turns tying my hands up, which was hilarious, and then we put the ropes on them so they could feel it. Maddie's nose started running as her hands were tied, and I went into full-on nanny mode and offered to wipe it for her, so here's a mental image of Carolyn tightening ropes around Maddie's wrist while I hold her wine and wipe her nose. It was every bit as amazing of a moment as it sounds.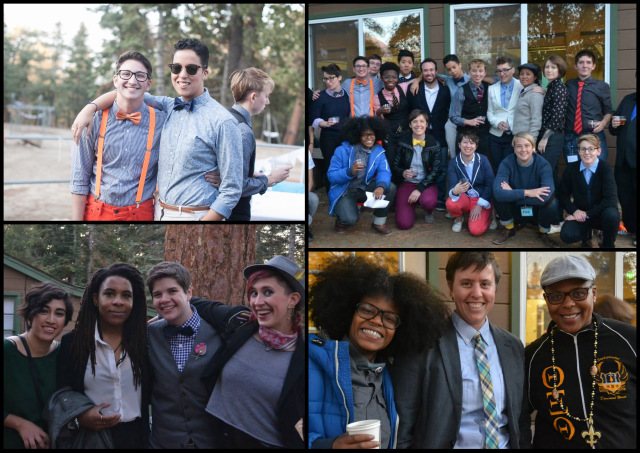 Kai, Wildcats Counselor & Calendar Girl: Marni was a bear. All of camp. She was a bear in the day. She was a bear in the night. She was actually THE bear that rummaged through the trash. Marni the bear, everyone.
Kaylah: My cabin dynamic was definitely shocking. One minute they are sitting in a circle entertained by coloring books, the next they're singing about fisting and having sex toy talk at dinner. You have to keep an eye for those Peaches! Less than 3 forever!
---
Next: The Banquet and The Proposal!
The Banquet / The Proposal
Robin: A few weeks before A-Camp we got an email from Bren's girlfriend of 17 years, Carrie, asking us what we thought about her proposing to Bren at A-Camp. Below is a screenshot of our responses.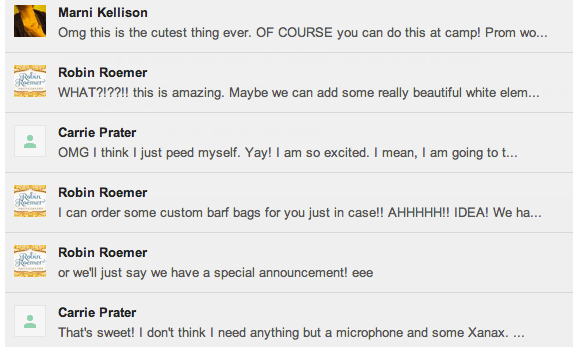 Robin: That basically says it all.
Carly: We were like OMG YES DUH OF COURSE EEEEEEKKK!! and then we set the plan in motion.
Riese: I was SO EXCITED because it has always been my number one dream that a proposal or a wedding or both happen at A-Camp, and Carrie and Bren are the cutest and I knew Bren would turn bright red and it would just be THE BEST THING OF ALL TIME. We weren't supposed to tell anyone but obviously I had to tell Rachel within five minutes of seeing her in LA and then I had to tell Vanessa because I have to tell Vanessa everything.
Carly: Right after Block D, the staff met in Eagle to convert the room from "a place for panels" to "prom central" which meant setting up the DJ booth, getting rid of the A/V table and all of the chairs, and decorating. We had to do this now because of THE SECRET PROPOSAL, which was an amazing surprise.
Stef: Marni tipped me off that we had very good reason to keep Bren occupied and out of Eagle so they could set up for a very special surprise, so I commandeered Hannah Hart and Bren to help put together balloon arrangements. We were an excellent balloon team, and the lodge looked like a Pinterest wet dream.
Carly: After setting up Eagle for the banquet and prom I headed back to my cabin, sadly missing Dapper Hour. I got ready for prom and then Robin got a text, said "oh my god," and ran out of our cabin. She returned with Carrie. We all freaked the fuck out and shrieked and hugged and whatever, it was very gay and we kept saying "the eagle has landed," over the walkies. Also, I tied Grace's bowtie for her.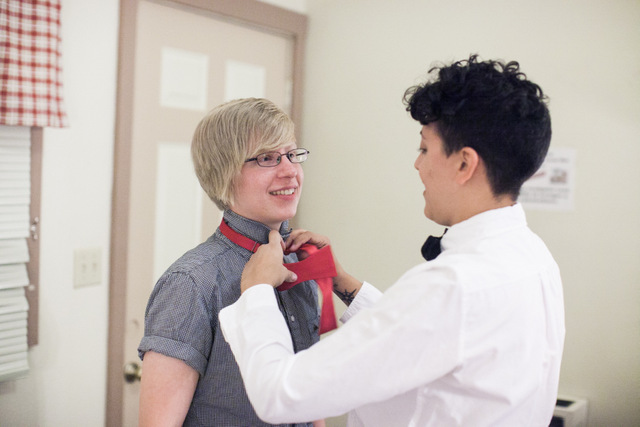 Bren:  So Saturday was Prom. But it was just another day for me, or so I thought. I wasn't there with my partner, unlike some of the Staff and Campers. I hadn't hooked up with someone there, unlike some of the Staff and Campers. I was even considering skipping the Prom to get some much needed rest but my cabinmates said I should go, so I did. The banquet was right before Prom during which Marni announced 47 times that we should all go to the other side of Eagle for a special Camp-wide announcement.
Rachel, Girltrash Counselor & Senior Editor: The banquet before prom was so fantastic to me, and in some ways outshines my memories of actual prom. It feels so good to see hundreds of decked out queers in their fancy garb, looking super hot and more importantly looking happy. I wish this was what my actual prom had looked like.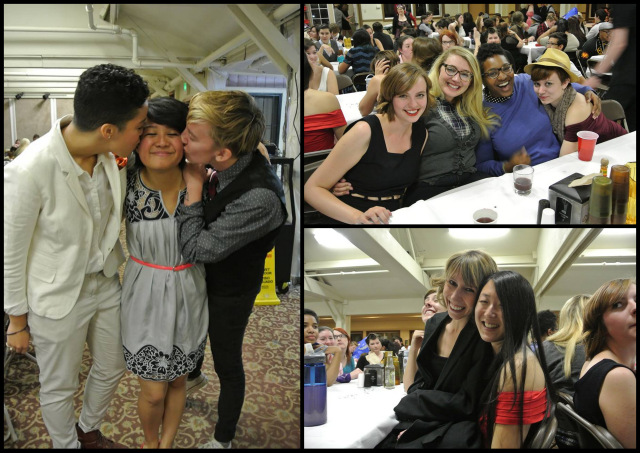 Carly: I tried to eat but was too nervous/excited and so I just hung around in Eagle like a loser, standing in corners and being a weirdo. And then we announced that we had a special announcement and that everyone should go next door the minute they were done with dinner.
Riese: Everybody was like what is it what's the announcement tell me omg
Bren: Some of my campers asked what this was about. I'd assumed this was gonna be some announcement about who won the Rainbow Wars. Boy was I wrong.
Carly: I waited like a million years, you guys are the slowest eaters. And then everyone arrived! And I tried to entertain the crowd while we waited. I think Marni and I did some patter, and then I called Hannah a tiny little person and then Robin arrived, thank god.
Bren: So, we're all in Eagle. Everyone looks so pretty and/or dapper in their prom attire. I'm bummed because my girlfriend hasn't returned ANY of my e-mails that day. Then for some strange reason Robin is asking me to come to the stage. I reluctantly do so. Maybe I won the Rainbow Wars?
Riese: Bren walked up to the stage SO CONFUSED.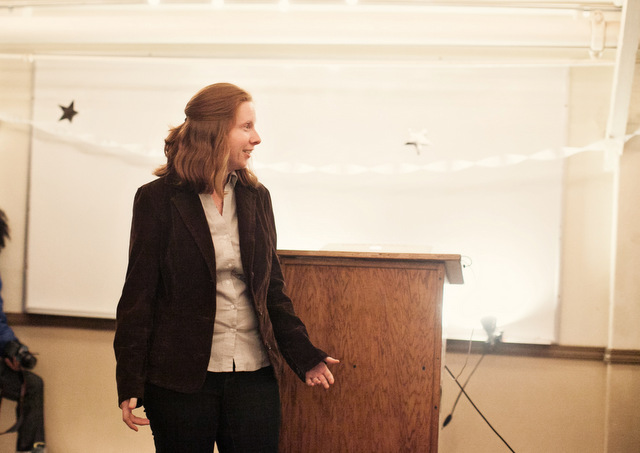 Bren: As I'm standing there super confused for what feels like hours I look over and my girlfriend, Carrie, is there. How can this be? So many things are running through my mind:
+ She's supposed the be at home with Willow and Sammy and Mr. Bix.
+ She has no sense of direction and would never be able to find her way to San Bernadino, much less up this mountain to this camp.
+ Those boots are new.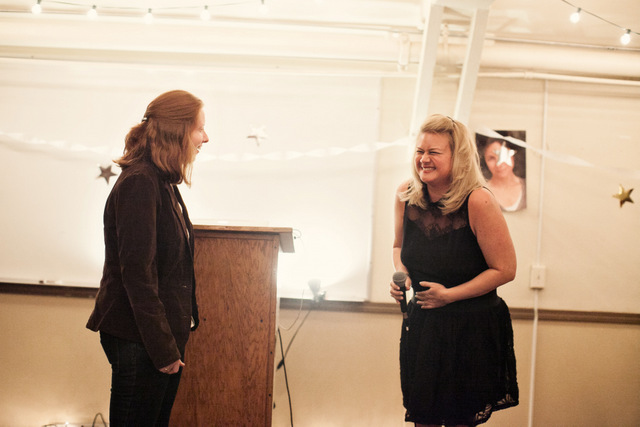 Bren: But she's there in those new boots saying things that I'm glad are on video otherwise I wouldn't remember what they were. That's the level of shock I'm talking about.
Liz C.: The funny part is Bren wasn't even going to go to prom! Our cabin had to convince her to dress up and give it a try. I'm pretty sure she's glad she did!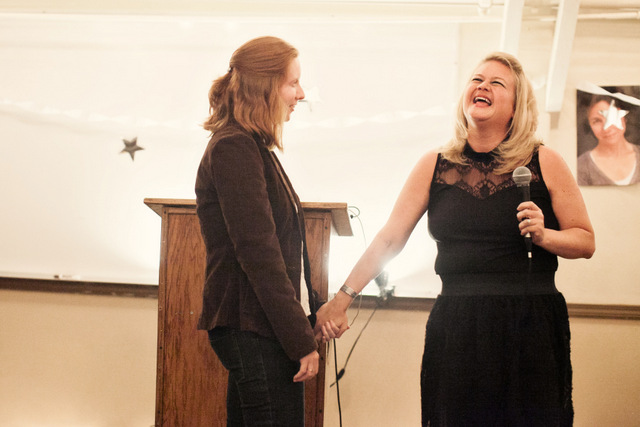 Riese: So Carrie started talking about how they've been together for 17 YEARS LIKE SINCE HIGH SCHOOL IN ALABAMA because THEY MET IN FRESHMAN ENGLISH CLASS and Bren gave Carrie the answers on the quizzes! It was so cute, everyone was dying.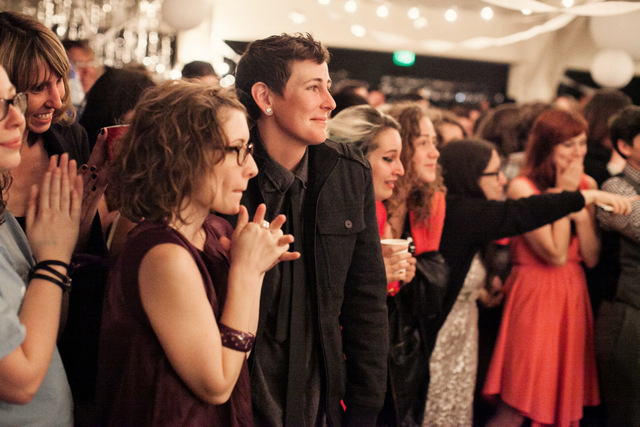 Riese: Then Carrie talked about how they moved to California two years ago in hopes that they'd eventually be able to get married — about every three seconds somebody in the crowd would go "OH MY GOD" in a weepy-with-happiness voice.
Riese: Then Carrie was like, "when the Supreme Court decision came down in June, I said to her, I kinda want you to propose to me, I kinda wanna have that even after 17 years, I wanna have that, and she said why do I have to propose to you?" Then everybody knew what was coming for sure.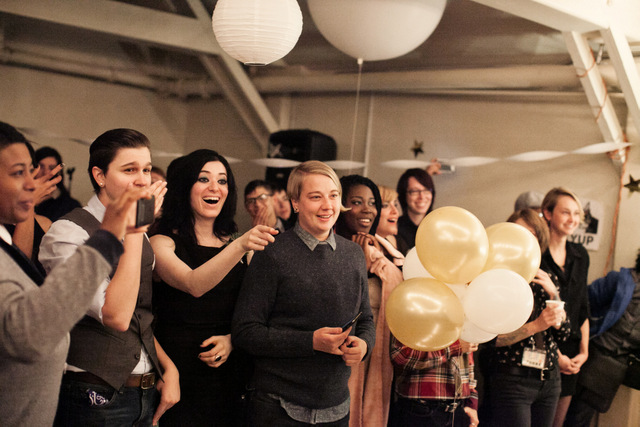 Bren: The only words I do remember are "Will you marry me?" And those are words that I've waited nearly two decades to hear.
Crystal: My heart melted. It was the sweetest thing.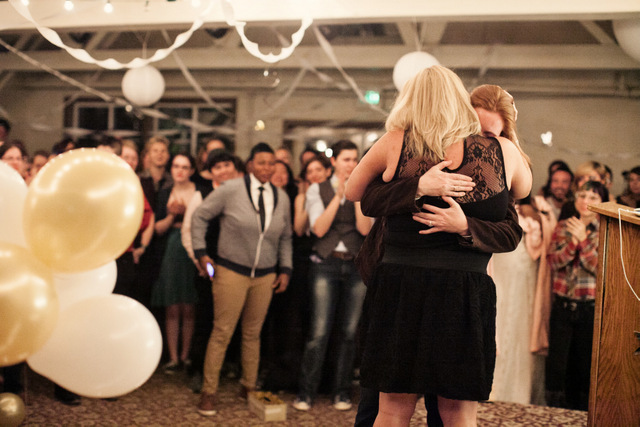 Carly: It was unbelievable. Everyone was crying and "aww"ing and wailing and it was bordering on a religious experience I think, praise lesbian Jesus.
Ali, Wildcats Counselor & Contributing Editor: I cried like a small child. I cried sobs that moved my entire body. I was fine until I looked across the half-circle and saw Vanessa and Hansen crying, and then bam. I had so many feelings that I had two options – either I could vomit rainbows or the feelings could leak out of my eyes in the form of tears. And one of those options is an anatomical impossibility. So crying it was. Which I did in spades for the rest of the evening on and off.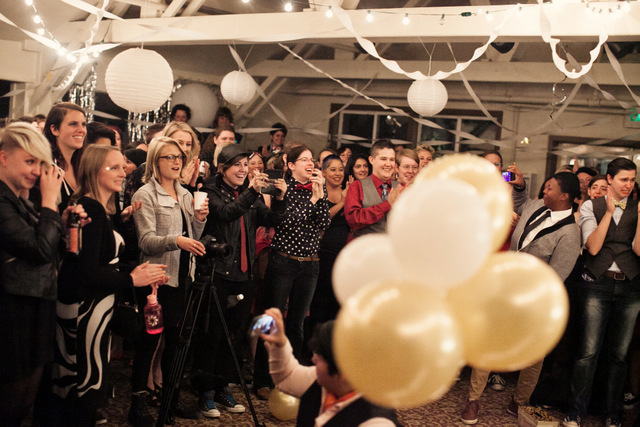 Rachel: As someone who's pretty Grinch-y in their real life, and is usually totally disinterested in weddings, proposals, and anything related to them, I knew this was the Real Deal when I found myself weeping openly and clutching at Laneia like I was going to fall over. It's only because of how great Bren and Carrie are and how much I want them to be happy all the days of their lives. I wouldn't cry in public for anything less.
Mey, Flashdance Counselor & Contributing Editor:  It was so beautiful and we were all crying so much that we worried that our prom makeup was going to be ruined.
Emily G., Rockford Peaches Counselor: Thanks for making my face rain all over Eagle lodge.
Laneia: Ugh it was the most beautiful thing! I was so so happy for both of them, and trying really hard to keep it together because I didn't ruin my makeup or need a box of tissues. The only thing that enabled me to do so was focusing on Carrie's amazing calves. I'm not even kidding. So much respect.
Sophia: It was just the absolute sweetest thing, and looking around the room crying looking at other crying people looking and nodding at other crying people but it was such overcome happy crying it was good.
Kaylah: I couldn't help but giggle looking around at all the ugly crying that was happening. Luckily, I was standing behind a cluster of balloons so there shouldn't be any photographic evidence of me sobbing hysterically. Congrats y'all!
Cee, Bangles Counselor & Tech Director: How amazing and unexpected was that? I'm pretty sure someone was cutting onions nearby because my eyes kept watering.
Bren: And almost two decades after we skipped our Senior Prom to watch movies I finally had a Prom date.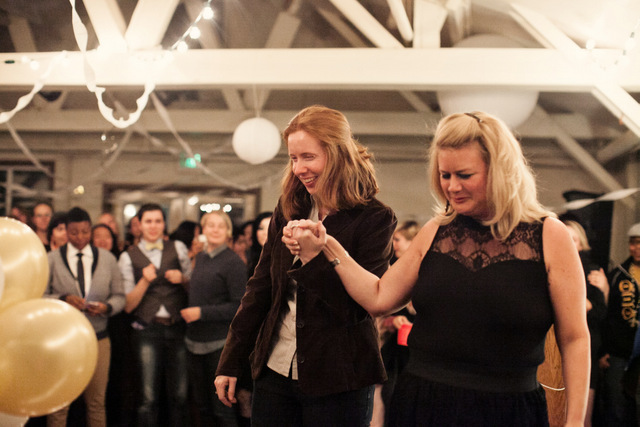 Liz C.: Nothing could have made our prom more amazing than the cutest high school sweethearts ever getting engaged and attending their first prom together. Seriously, I started bawling immediately.
Rachel: Obviously it was the standout shining moment of camp, even more important than Lizz spelling a word right.
Kai: I've never seen so many smiles.
Bren: I think what made this so special for me, personally, besides the whole I'm-gonna-get-married-to-a-girl thing is that Carrie had never been to Camp. And while she can understand somewhat how special it is and how amazing the campers are its a thing that can't be explained with words and sounds and hand gestures. Its a feeling that only happens on top of that mountain and I felt so incredibly blessed to share that with the most important person in my life.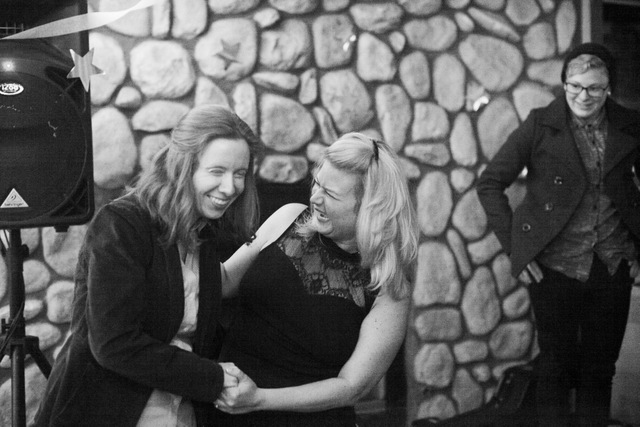 Dani RDS, Stormtroopers Counselor & Writer: Can we get Carrie to drive down and propose to Bren every A-Camp? Because that's the way every prom should ever begin: camp wide banquet, Carrie proposing to Bren, crying with all the feelings of happiness, booty shake and photo-booth.
Carly: Carrie and Bren, I wish you both all the happiness in the world, and cakes made out of rainbows that we can all eat and be together. And then I played a Destiny's Child song and it was on to PROMAGEDDON. I say PROMAGEDDON (™) because I DJed for five hours and it was insane and intense and overwhelming and it was the greatest.
Bren: So if you're on the fence about whether to come to the next camp you should pull that trigger because you never know what will happen. Maybe there'll even be a wedding…
Liz C.: BREN & CARRIE 4EVER.
---
Next: Prom!
Prom!
[listen to the playlist here!] [more prom pics are on page six, and all prom pics can be found here] [some of the weirdest prom pics, however, can be found here]
Mey: The dance was just the icing on the cake after that. But it was really amazing icing.
Sophia: I think everyone was on a bit of cloud nine after that it made for a great dance party.
Hansen: When packing for camp, I definitely thought, "Prom? Nah, no one will dress up for that, we're in the woods!" and how wrong I was. I had an adorable prom date who I was just sure was going to look amazing, so I started stressing when I noticed that everyone else was getting fancy, too. I texted Lizz in a panic, as one does in a fashion emergency at Autostraddle, and she was kind enough to lend me a perfect dress. In fact, it was so perfect that my camper Katie was wearing the exact same dress.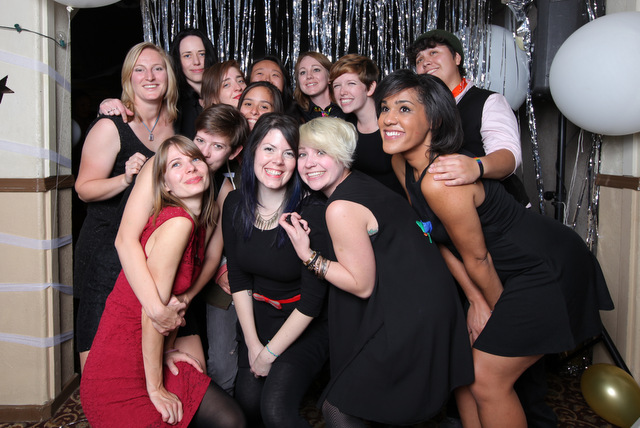 Carolyn: Right before the dinner before prom when no one seemed to be pranking even a little, I knew the Amazons would step up to the challenge of kidnapping the blow-up blue shark that has featured at such Autostraddle events as Dinah Shore and previous A-Camps. And they did. And then, the cabin dressed it up and Made an Entrance, complete with dapper outfits and waltzing to "Mack the Knife." I died.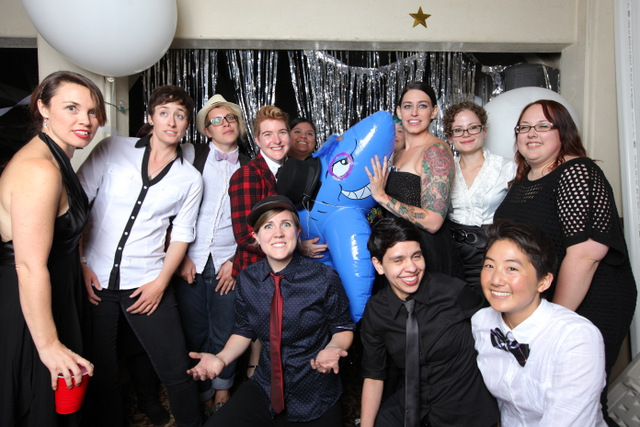 Brittani: The dance on the last night is always triumphant because it's kind of the last hurrah. Everyone is having a "we did it!" moment mixed with the realization that it's almost over. On top of that, there was Carrie's proposal to Bren so everyone was having a moment.
Kai: That was the best prom I've ever been to. The decorations and dapperness and music made it wonderful. Also, I photo-bombed a lot of pictures and slow danced with a shark balloon.
Crystal: Everyone looked so good! The whole Heartthrobs cabin had asked the whole Flashdance cabin to prom over dinner the night before, which was maybe the cutest thing I've ever seen?
Hansen: At one point, Intern Grace and Chicagostraddlers Jeanie, Katie, and Jen (so basically the four best people at camp), serenaded me with "Kiss You" by One Direction because I was the only one who didn't know all the words and Jeanie yelled, "I just like to think this song is about enthusiastic consent!". I think that was my highlight of the prom.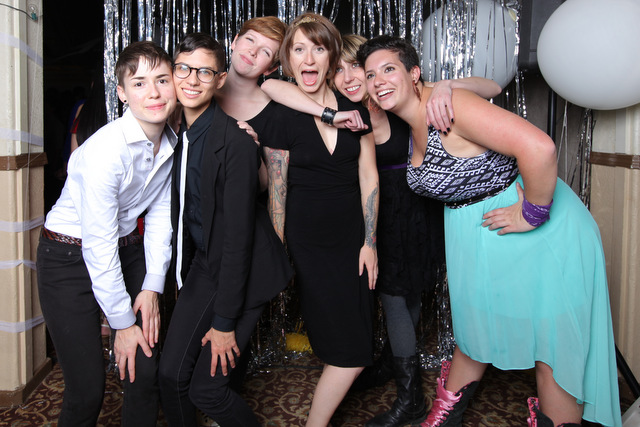 Stef: Cee went out into the woods and handcrafted pine needle corsages for Taylor and me, and the three of us sauntered arm-in-arm-in-arm into Eagle feeling like a million bucks.
Cee: I had the two hottest dates to the prom. Yes I said two. I made Taylor and Stef matching fir branch corsages to go with their matching black dresses. Even though they both ditched me about 10 minutes in I still feel like I won prom.
Mey: I never got to go to my high school prom, so I was super excited that my first prom experience was going to be a queer one. And this prom definitely did not disappoint. First of all, my entire cabin got asked out by another cabin (way to go Flashdance!) and out two cabins set up a whole group of tables reserved just for us at the pre-prom banquet. Everyone looked so amazing! There were so many great dresses and bow ties and everyone's hair looked amazing.
Robin: Prom was the most fun I've had dancing probably ever and I've done quite a bit of dancing throughout my life. DJ Carlyton rocked the house, as usual, with her blend of top 40, electro-pop, and 90's throwbacks! I was so excited about Prom that I made not two, but four outfit changes that evening. Just for dramatic effect.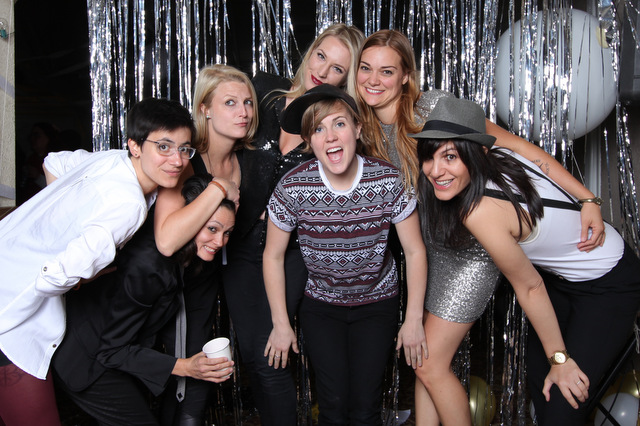 Stef: Best prom ever, let's have prom every night, prom was the best, everybody looked so great! I didn't go to my real prom; I stayed home and rented Carrie, so this was an overdue moment for me.
Riese: I WENT TO THE PROM I WENT TO THE PROM I WENT TO IT I WENT I PUT ON A DRESS THAT I BOUGHT WITH MY MOM AND I WENT TO THE DANCE AND I DANCED AT IT I WAS THERE I WAS NOT PASSED OUT IN MY ROOM EXHAUSTED REMEMBER WHEN ABBY WANTED TO SPRAY ME WITH WHIPPED CREAM AND CHASED ME OUTSIDE AND I HID BEHIND MEGAN AND MEGAN WAS LIKE "I HAVE A DAIRY ALLERGY" AND THEN I THOUGHT I WAS SAFE BUT SHE GOT ME AND I LESS THAN THREE YOU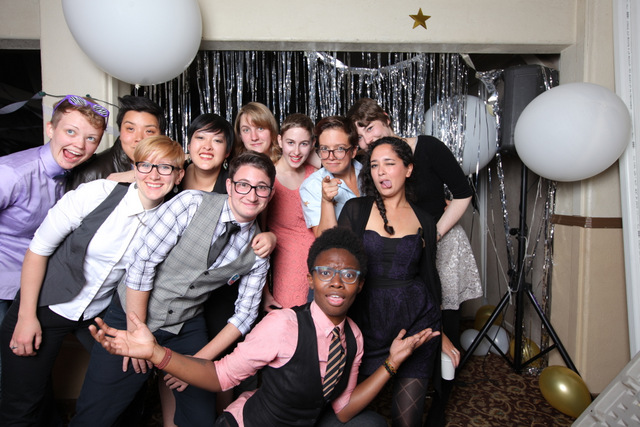 Mey: I seriously have so much more fun dancing at A-Camp than anywhere else. I'm wouldn't have had my first prom experience happen any other way.
Carmen: A-Camp Prom was quite possibly the cutest and most magical moment of my short queer life. I probably took like forty pictures in the photo booth, mostly because I'd never found the photo booth at the last two A-Camp dances and I wanted to vindicate myself. And also because I broke the self-timer remote making the photo booth possible and ended up standing in front of a flash bulb for 2 minutes too long.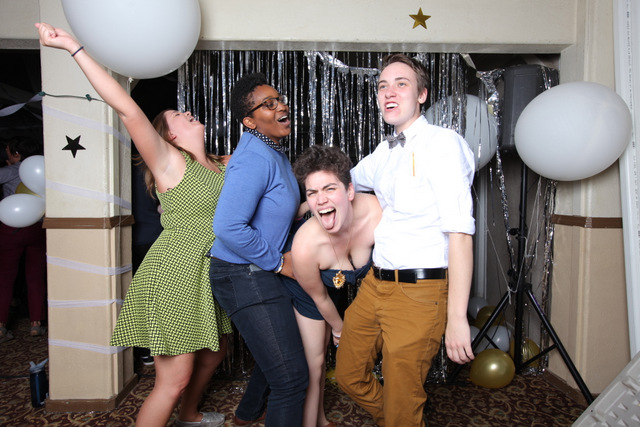 Liz C.: Prom was crazy-awesome. I'm pretty sure Carlytron DJ'd for 17 hours straight, Double D made an appearance in the bear suit, and we closed the night by dancing in front of the camera making stupid faces for like 20 minutes (sorry Robin!).
Brittani: Late in the party we realized that the photo booth camera was snapping away with reckless abandon. About ten of us sprinted over to the booth and spent an entire song singing and dancing with the flash going off every few seconds. For some reason I always decide this is the time to purposely make the weirdest faces possible. I wholeheartedly regret this decision later, especially while complaining that there are no nice pictures of me. Now everyone knows it's only because I can't have nice things.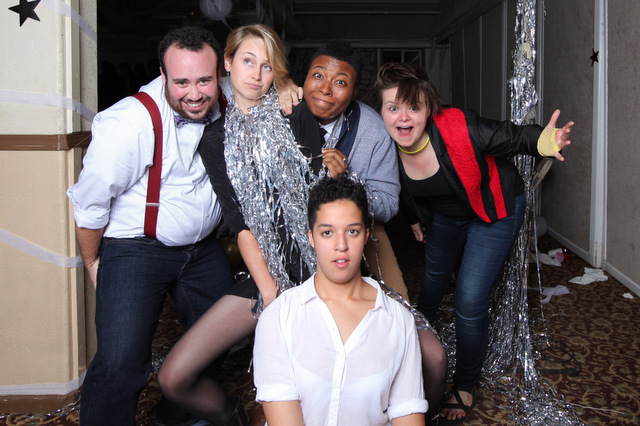 Brittani: Once that song ended everyone at the dance went on a rampage. Some people were covered in streamers, others were sprinting around the room, and those that remained were exhibiting the most aggressive white dancing I'd ever seen. It was at this moment that I realized 80% of white people learned how to dance from watching The Breakfast Club.
Carmen: Seeing Brittani always feels like a once-in-a-lifetime opportunity for me because I'm terrified she's about to become so famous she's no longer available to me via text message at 1am EST. I was super excited to be in her staff cabin this time around, and when she asked me and Geneva to take photo booth couples' shots with her and Liz I actually almost lost consciousness.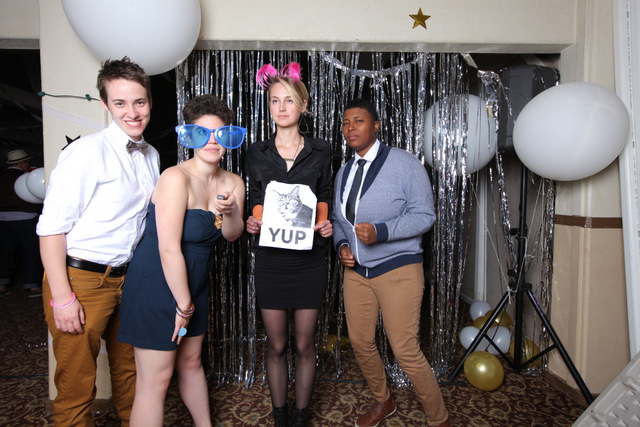 Carly: Highlights of prom: prom photos, Magda as Bieber, Robin's costume changes and dancing with everyone, especially at the end.
Laneia: After making any and all of the Runaways and Blackhearts dance with me in a big circle, we grabbed fallen streamers and pranced around like we invented it. It was pretty fucking infinite.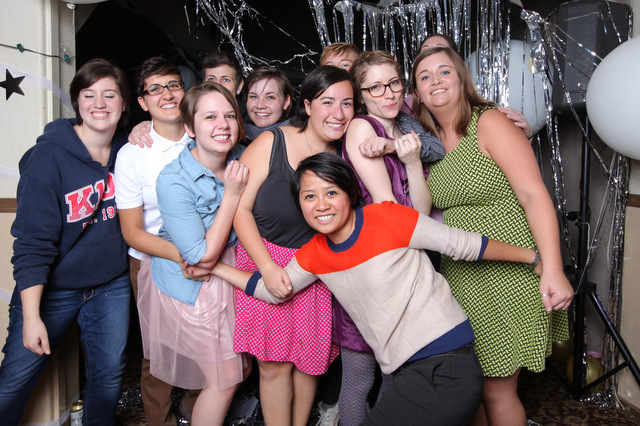 Donna: More random silliness features the twin head dance that ensued between Deanne and her girlfriend. Both of them had been tearing up the dance floor, but in an unexpected turn of events, they touched heads and kept them together for an entire song. They were literally connected, and I ogled from the sidelines in delight and disbelief. This dance should become a thing. Someone make it a thing.
Carmen: Throwing tinsel during "The Motto" at Prom was also a highlight. Just one of many.
Somer: I chose 80s slick-back-mullet lesbian chic for my prom look. It won me a slow dance with Lizzzz.
Ali: This might sound really silly, but there was this one moment during prom. I was up on that tiny stage and DJ Carlytron was playing Can't Hold Us. Everyone was going bananas dancing. Carly turned to me and shouted "THIS IS AMAZING" and we were all jumping around so hard I thought the stage was going to collapse. And then everyone put their hands up at the same time as the lyric "so we put our hands up." And I don't just mean the people on the stage, I mean everyone at the Prom all at the same time, as one unit. And I almost cried then. Because we were just all so together, in this space where everyone is invited to be their truest selves, and we were just having a blast.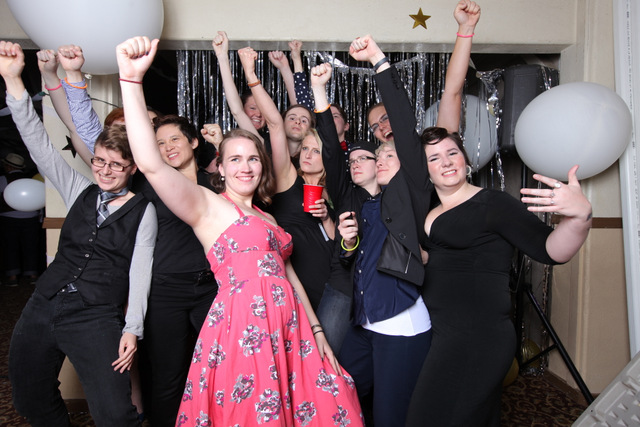 Robin: I'm so happy with the way the photobooth turned out and I'm so excited to share the photos with you all!! Feel free to buy prints of photos or downloads if you'd like them! (password is "prom") They are affordable and all proceeds will go to A-Camp!!!!
Somer: At around 1am during prom, the last night of camp, there were fallen streamers, drunk campers, huddles of new & old friends talking in the dining room, and some make-out silhouettes in dark corners. A few die-hard dancers were still gyrating their faces off with DJ Carlytron.WHO THEN PLAYED THE WILDCARD TRACK THAT LIT UP THE DANCE FLOOR. "Common People" by Pulp started playing, and Carlytron vaulted out of the DJ booth to join us. I will forever remember new-wave-dance-skipping to the point of losing oxygen to my brain and seeing a bright light at the top of Queer Mountain. I turned to Carly and gasped, "I THINK I'M GOING TO VOMIT BUT I DON'T WANT TO STOP." She knowingly nodded, somehow gasped out the words, "Me too," and then doubled over. I'm just glad she played the radio edit, or I might not have made it back from A-Camp to be able to tell you just how great it was.
DeAnne: While everything about prom felt nearly too good to be true (Carly's playlist, Robin's photo set up, Somer and Donna's outfits, smiley Hannah Hart bouncing around like the cutest maniac ever, all those hot, dapper, sexy queers!), my favorite part of the night was checking out Klub Deer at 2:30 a.m. There were about 8 people in there (you know who you are) having the sweetest, tiniest dance party I've ever been a part of. We were SHAKIN' IT, while the rest of camp was off happily sleeping or happily, you know, not-sleeping. Klub Deer 5ever.
---
Sunday, October 13th: The Last Day of Camp
Sophia: The saddest day of them all.
Robin: Although I know its not the most convenient for everyone, having the buses all leave at the same time saved our staff and our campers so many headaches! The last full day of camp we are usually switching people around and the last morning we spent looking at our watches, hoping all the buses make it up the mountain on time. This system was the best yet and I loved running from bus to bus with Marni saying goodbye to your happy, tired faces.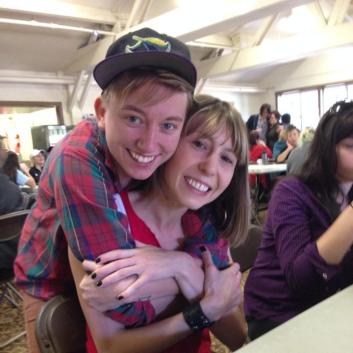 Riese: This was the first camp where I not only went to breakfast but actually sat down and ate it with campers! Because it was the first camp we didn't have a transportation shitshow to coordinate! Saying goodbye to the Runagayhearts is always the hardest part.
Carmen: Finding out on Sunday that the Orange team had won color wars was like being in a waking dream. After three camps, I've finally felt the satisfaction of winning a contest with no prize and no clear purpose. And I liked it. HOLLA WHAT? HOLOGRAMS, MOTHERFUCKERS.
Lane: Other seriously memorable things included getting nicknamed "Emma Stone" by pretty much every single person at camp due to my even-deeper-and-raspier-than-usual voice.
Hansen: On the shuttle to the airport, I slept off my Leaving Camp Misery by cuddling Dani. Then, just as we were lured into a false sense of comfort by the slowest moving shuttle ever, Somer started smelling burning rubber, and we pulled over a few times "to reset the air conditioning."
We were on the third shuttle, which was cursed for the ride up, so when we pulled over on the side of the freeway and were told we had to change shuttles because ours was spitting a ton of black smoke every time we hit 50, I had a little meltdown. Ali began petitioning Dani to rename the shuttles for next camp Shuttles 1, 2, and 4, because clearly the third shuttle is never to be trusted. The transition was actually painless and I was just being a baby. Then we went to LAX and I ordered the largest chicken pot pie of my life because it was the first thing I found on the menu that had meat AND dairy in it (after a week of eating from the kosher kitchen at Alpine Meadows, this seemed really exciting to me). Ali, Carolyn, Cara and I processed our feelings in a sit down restaurant where we stayed for as long as I could make it look like I was still eating this ridiculous chicken pot pie the size of my entire torso, and it was the perfect calm ending to camp.
Stef: I drove down the mountain with Sarah Evan, Cee, DeAnne and Karen, and it was a really calm, beautiful way to decompress – until the part where Sarah Evan and I realized we had about thirty seconds to make our respective flights. We both managed to get through security on time, which is a miracle, but I was unprepared for the most tremendously unlikely miracle of all – Kate fucking Moennig (aka Shane from the L Word) was on my flight. We bleary-eyed, black-clad, messy-haired queers regarded each other suspiciously across the baggage claim, and although she declined to take a picture with me, she did shake my hand. It was like a blessing from the heavens above, and it served as a pleasant distraction from thinking about how much I miss everybody, and will continue to until we see each other on Mt Feelings once again.
Dani RDS: So, everyday life can suck sometimes, you know? People are awful with boundaries and I'm a huge fan of "hoola hoop circle" personal space limits. A-Camp is not like everyday life for me. I don't know if it comes from the fact that I genuinely fall a little in love with every single human I share space with up there or what, but it feels so okay getting closer to humans there.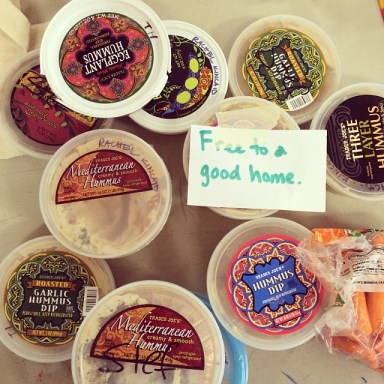 Dani O., The Amazons Couselor & Calendar Girl: When people back down the mountain ask me about camp, I tend to describe it as a sort of vision quest. It's like taking a trip to an alternative world filled with acceptance, sex positivity, high tea, and twerking. Camp is a chance to see what life should be like for queers everywhere – fun and full of love. My favorite moments had to be building tiny snowmen until my hands turned purple, realizing how many people who came out after college felt just like I do (during the late in life panel), anytime DeAnne Smith is talking, getting the help of my whole staff cabin to go from lazy femme to prom ready, and bonding over gluten-free vegan meal options. And of course meeting so many wonderful, creative, brilliant people. There is nothing else like it.
Riese: We're always there for another three or four more hours after the last camper leaves the mountaintop (besides Alice Motes, Alice Motes sticks around), and then it's just us — me, Marni, Robin, Carly, and usually Taylor, and another four or five team members, different every time — and we clean out the lodges and pack up the cars and throw away the things and organize the hummus.This time we still had so much energy! We were exhausted, but like hyperexhausted.
Marni: Look I'm not saying that Alice Motes took the bear suit from the table in Eagle on the last day after the buses left, but I'm also not saying Alice Motes *didn't* take the bear suit from the table in Eagle on the last day after the buses left. That's all I'm saying/not saying.
Carly: And then we had to leave and it was awful.
Laneia: The saddest and worst. Can't talk about it.
Carly: I was so sad. I was also a shadow of my former self, because PROMAGEDDON.  Everything hurt and I was developing a sore throat, the first stages of the A-Camp Plague. WORTH IT.
Riese: We took forever to leave, and then we did, and as we drove down the mountain I was like, Marni, I'm legitimately looking forward to eating food at The Cheesecake Factory. So we met up with Crystal, and we went to The Cheesecake Factory and we ate and we talked about you for hours.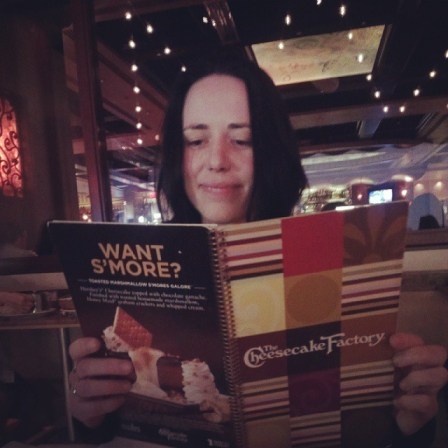 Robin: Thank you for making A-Camp possible! We love you. Come back.
---
Next: Final thoughts, feelings, and moar photographs of prom!
Your Last Words
[you can see all the prom photos here, password "prom," or wait for them to go up on our A-Camp Facebook page]
"It is such a fabulous community. I really felt part of something, and I'm the sort of person who normally feels detached and alone. Plus everything was just such fun, fun, fun. I haven't laughed so much in a single weekend since May camp!"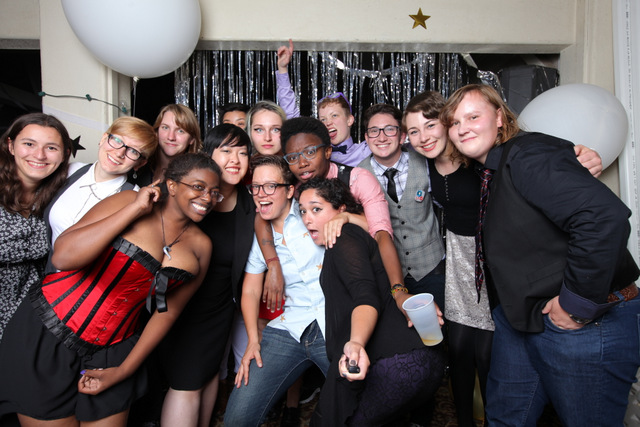 "It's the happiest, most interesting, beautiful, safe, and delightful place I've ever been."
"I think A-Camp might have to be my sort of check-up in between stretches spent in the straight/ outside world. Like an oil change – just necessary in order to keep running at peak capability."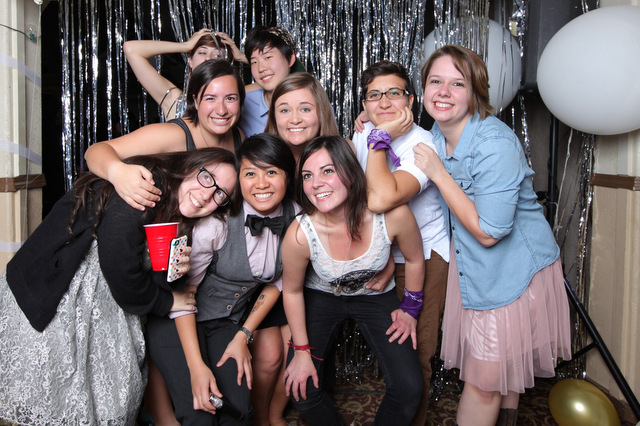 "I was so worried that everyone was gonna hate me and think I'm weird. But it wasn't like that at all. It's like all of these people already loved me before they even met me. They wanted to get to know me, hear my story, and they wanted to tell me theirs as well."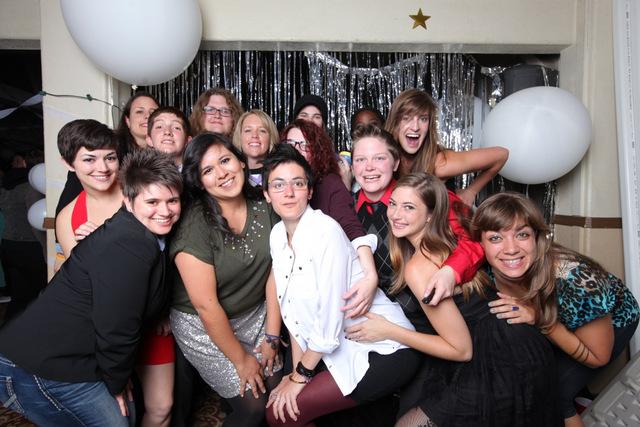 "I learn so much every camp and meet the most incredible people. The reading and the A-Campalooza were both moments where I looked around and thought about how lucky I am to be a part of this thing."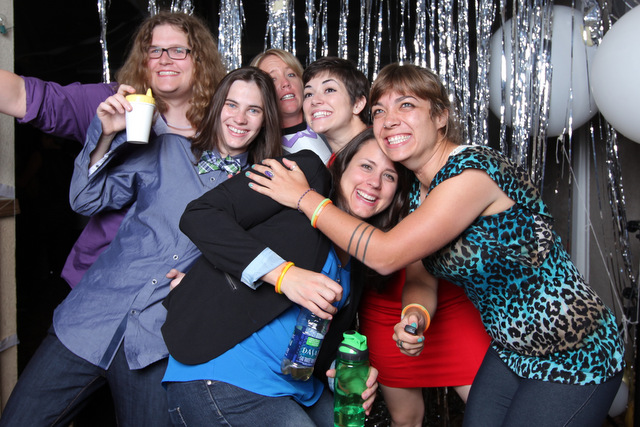 "The best part was all of the humans that were there. You guys could hold A-Camp in a sewer and I'd go and have so much fun just because everyone is doing their best to bring out the best in everyone else."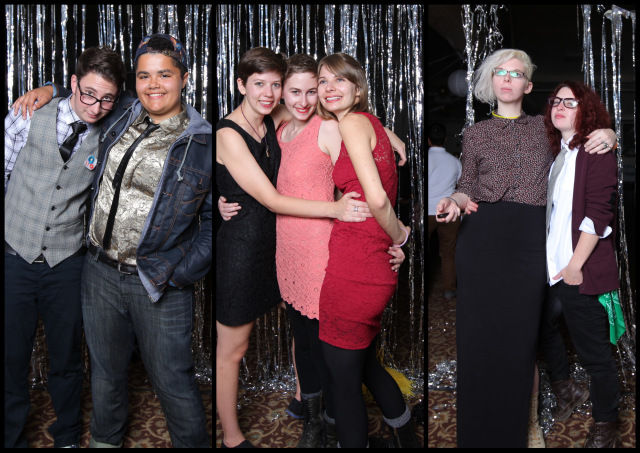 "The best part of A-Camp was seeing the wide rainbow of people attending and realizing there is wrong way to be queer."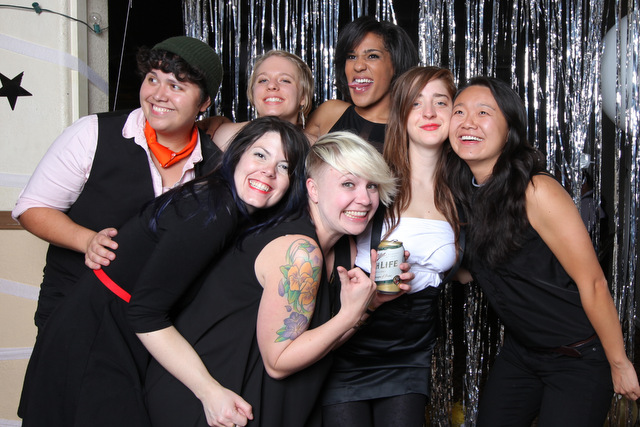 "The best part was being in an environment where I actually felt normal and accepted by everyone. Being somewhere where my sexuality was not in question was a huge relief, as well as being somewhere where other people understood what I was going through."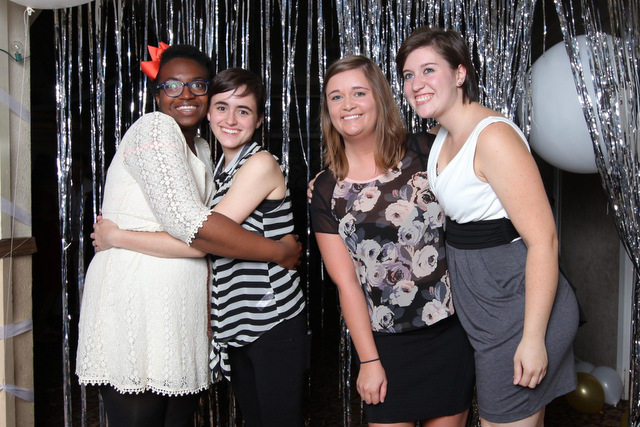 "I came out at 15 and my queer community at home is large and supportive, but I still consider A-Camp a necessity. A-Camp queers are a different breed of human, and the activities and performances offered are better than any conference or lesbian event I've attended — and much cheaper, too!"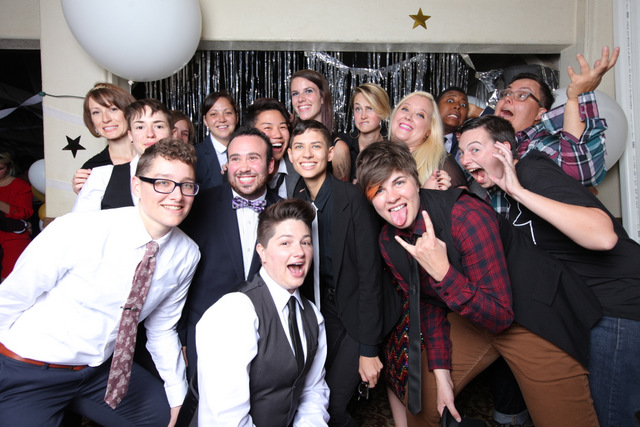 "I didn't come to Camp because I needed new friends, but I left camp with new friends I never knew I needed."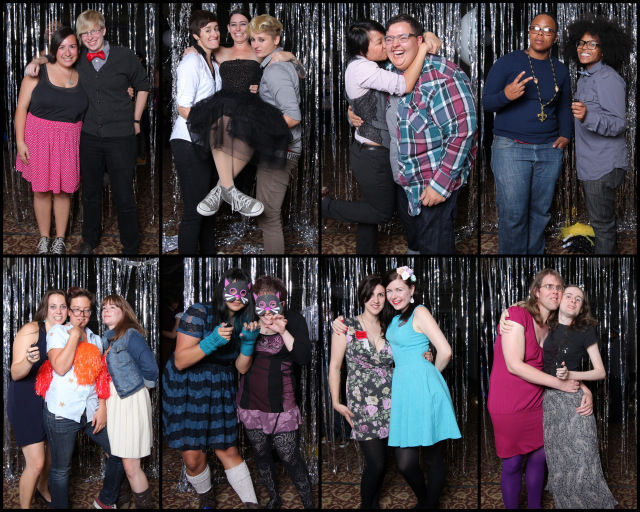 "This was the first time I sort of 'got it' about how great it is to be gay. They say that it gets better, and it just did! Thank you all so much!"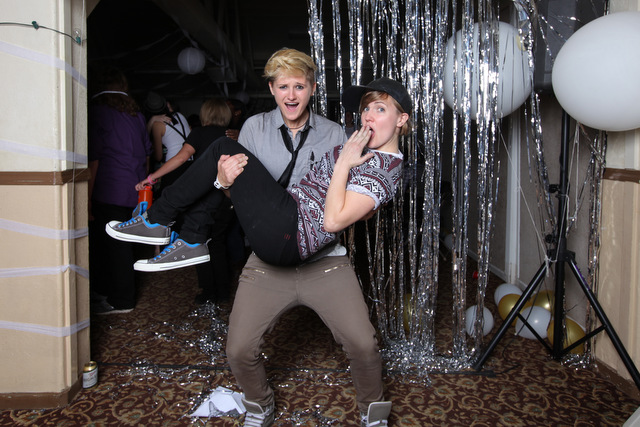 "I'll come back because of the community and sense of belonging A-Camp provides. Plus it's just fucking fun!"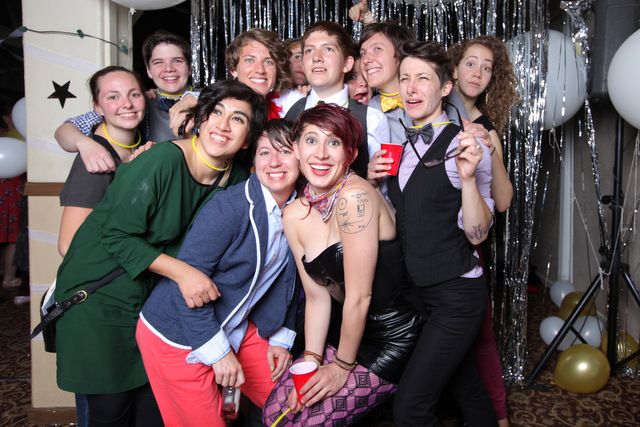 "I continue to be impressed with how so many people come to A-Camp and there's no bitches. I mean statistically, three camps, no bitches. It's mind boggling."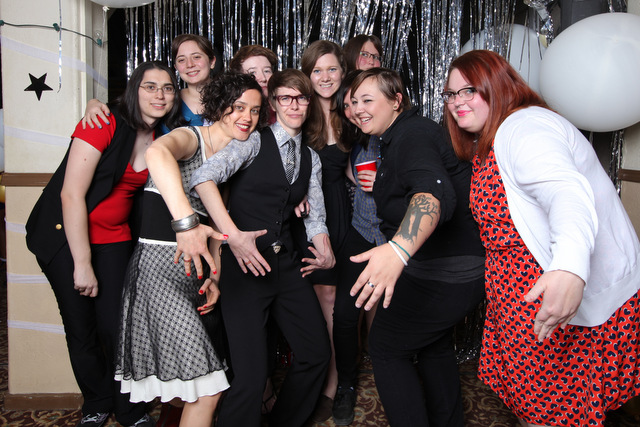 "I've never been in a space with so many people that I loved and still felt comfortable being on my own at the same time."
"I loved being in a safe space where it is totally 100% ok to be a weirdo."

"Everything was perfect but seeing my Runaways again was unreal. Thanks Autostraddle for giving me a kick-ass family!!"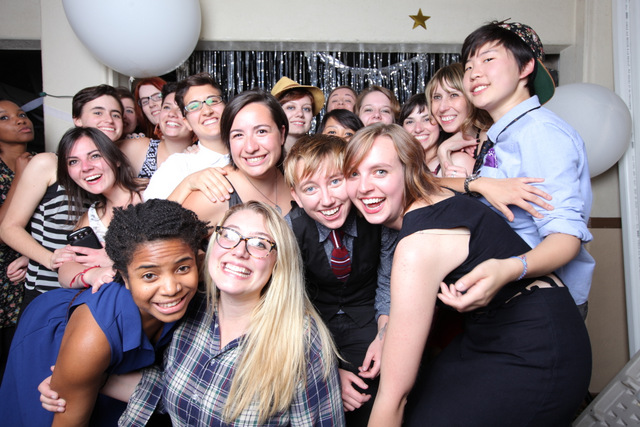 "It was really fun, and it was cool being around that many queer and accepting people. Also, the outside world sucks. Seriously, it's really frustrating compared to Camp."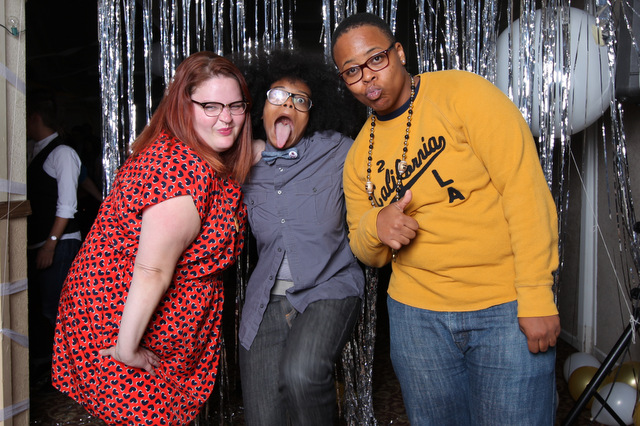 "I loved hearing so many queer perspectives! I didn't even have to actively talk to people. I could just be quiet and listen because there were interesting conversations happening all around me! SO GREAT."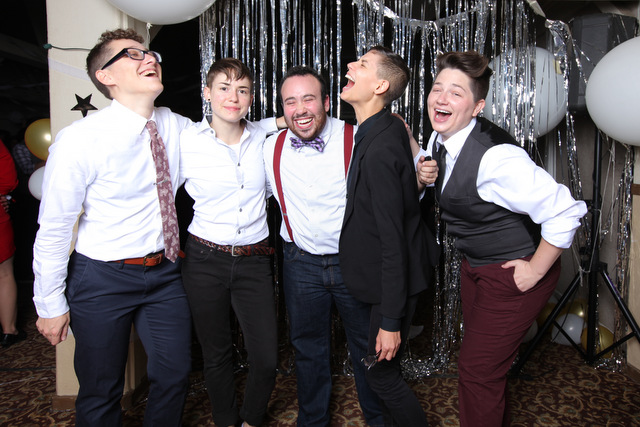 "It's such a breath of fresh air, and is just so downright, radically FUN."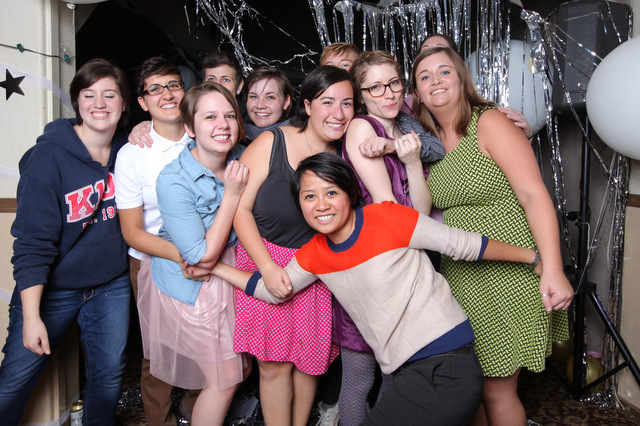 "I am coming to every A Camp for the rest of my life. I will be 80 and still walking around that mountain in a purple bandana and combat boots."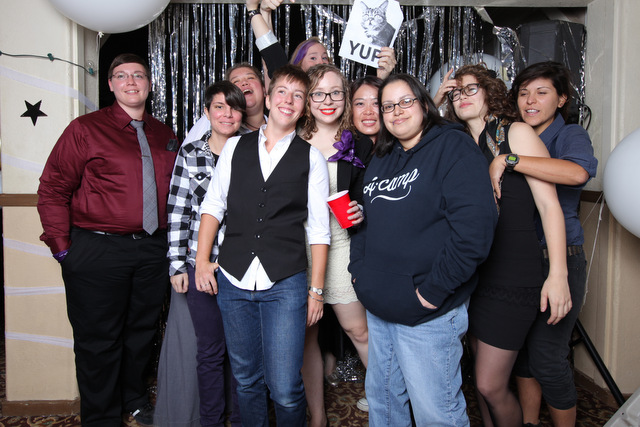 "I don't think I've ever smiled as much in my life as I did at this camp."
"My favorite part was the safe open feeling I had while I was there. I openly actually danced in front of people. I loved seeing DeAnne Smith and all the staff. I just felt so good. I loved meeting new people, my cabinmates were amazing. I loved the carnival and prom. The workshops were so amazing, I learned so much about various topics and myself."
"I loved being outside, holding my girlfriend's hand without getting comments or weird looks from strangers, going to the panels, meeting some of the Autostraddle writers, my cabin leaders, dancing like an idiot, canoeing, hot chocolate, coffee, & watching Deanne Smith. Was I only supposed to pick one thing? I can't pick one."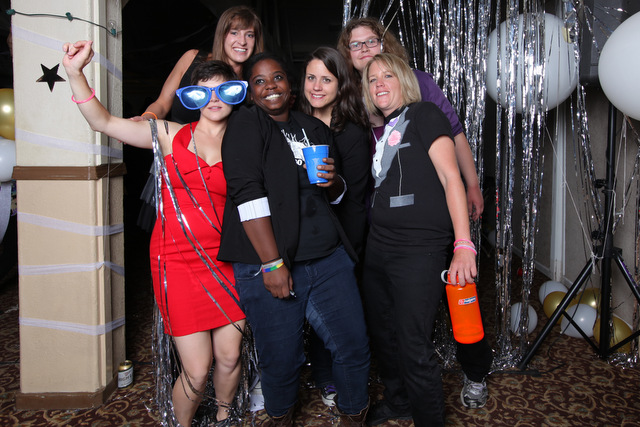 "For my favorite part of A-Camp, I would have expected myself to say club deer, or hanging out in the cabin, or new crafts I've never done… but honestly it was definitely the panels/workshops. I think I learned more about myself in five days than I have in the past few years."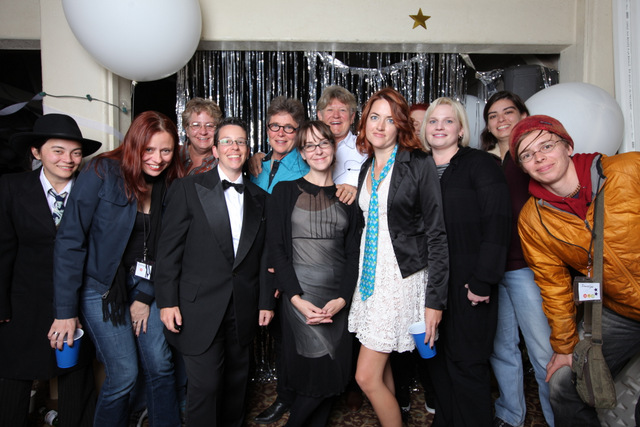 "Is it just me or was the cake the kitchen served really good? I love a good piece of cake with awesome frosting."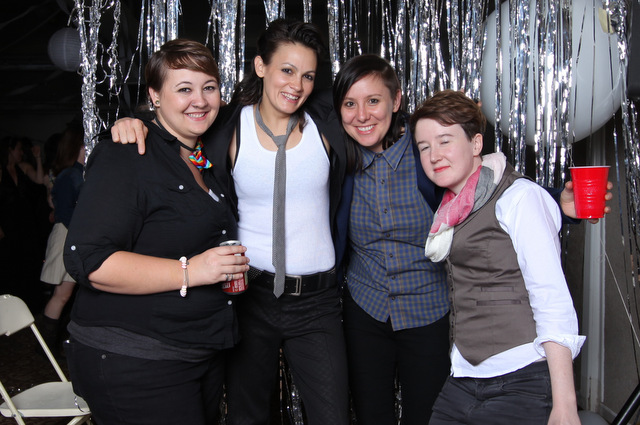 "The best part, overall, was being in such a welcoming space with people who only wanted to be good and warm to you and get to know you without judgment. Also, more practically speaking, prom kicked ass, staff readings brought out a roller coaster of emotions, and I danced my face off at A-campalooza."
"My cabin was the most amazing thing to happen. We clicked instantly, we were even friends through facebook before meeting. We were loud, queer and healthy drunks. Couldn't get enough of each other. I met an incredibly amount of talented people and felt totally confident about being myself."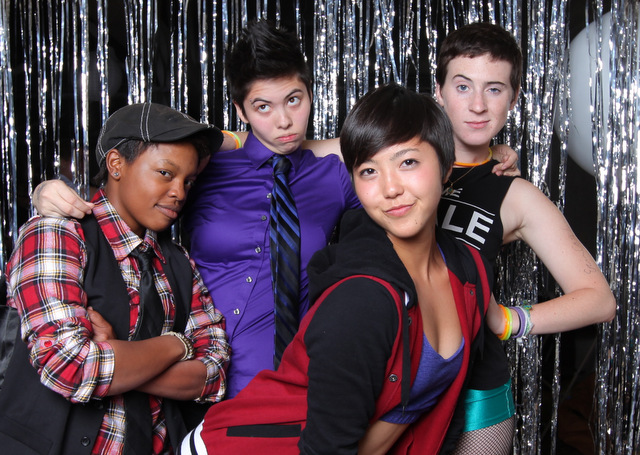 "A-Camp reminded us of our first Feminist camp experience in Los Angeles in the early 80's… it focused on early feminist issues: racism, sexism, homophobia, coming out, class issues, etc. The women that we met there are still significant in our lives 30 years later… It is so wonderful seeing the new generation continuing the hard work while being a part of a whole new world of acceptance and change. We appreciate you so much!"
---
Registration for our 2014 A-Camp, which will take place in May (exact dates TBA, but we do know for sure that Memorial Day weekend will be involved), will open January 17th.
Pages: 1 2 3 4 5 6See entire article on one page