Sometimes, SOMETIMES you can't cover your face with smokin' hot lesbians. When this happens why not cover your walls with them instead!? That's where the 2014 Autostraddle calendar comes in!
---
Danielle is Miss June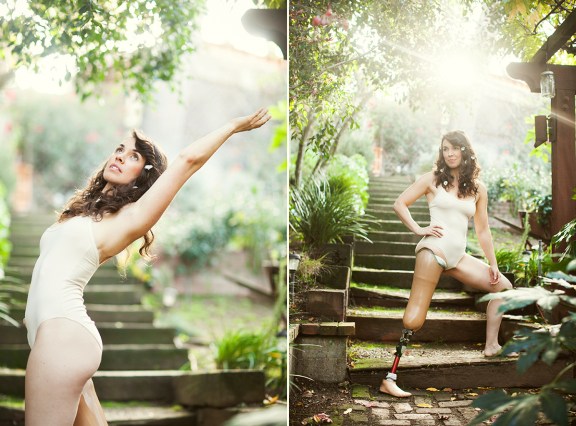 I had to fight for this body. Since the day I was diagnosed with bone cancer at age fifteen, I began to wage wars on multiple fronts. I fought to be normal – and when that failed, I fought to appear normal. I fought against my cancer as if my disease had a will of its own. The doctors' weapons of choice were scalpels, poison, and pills. In the name of healing, my body was invaded on every level. So, I left. I checked out of dealing with a body so battered and chronically broken. I obeyed the rhythm of relapses which came every two years and which left with pieces of my lungs and ribs. On the surface, I built a shell of normalcy and ignored every emotion that threatened to weaken it.
Surrendering saved my life. I grew up in a very religious community. Even though my parents were liberal, everyone in our town went to churches and youth groups in warehouse. Countless sermons on porn and promiscuity made me ashamed of my body – a body I already struggled to find beautiful. People were quick to write their own narratives onto my experiences. I was told how to feel and given ready-made explanations.
I argued with God a lot, wondering what I was supposed to learn from having the same excruciating experiences over and over again. When I was twenty-three, I almost died twice in the hospital due to the medical treatments meant to save my life. I had enough. I had enough of fighting. I stopped chemotherapy and accepted that my body needed something more from me. I returned. I began I different kind of work – the work of listening. Through yoga and a vegan diet, I asked myself: "what is true?" I learned not to fight whatever came up. I learned to sit and be uncomfortable until I understood.
Through those silences, I realized I was gay. Not the revelation you're looking for when you have been married for five years to your high school boyfriend and have spent your entire adolescence as the sick, disabled girl. I spent months crying on my yoga mat waiting for any other explanation to arrive. I didn't want to date. I didn't want to find out whether or not anyone else in this world found me attractive or, dare I hope, sexy. I wanted safety – not another battle – after all the fighting I had done.
Slowly, the painful realization came that I didn't accept myself at all. For all my pretending, I still believed I was irreparable. On a core level, I didn't believe that any of the liberal stuff I preached applied to me. Yet, listening to yourself gives you a kind of vulnerable strength. I learned to let go. I released all the ideas of what I should be like and honored who I am.
The first girl I dated asked me why I was so angry. The questioned surprised me because I am generally a positive person. Yet, there was resentment boiling. I betrayed myself too often. Despite all the work I had done on honesty and acceptance, I still didn't know how to stand up for myself when men hit on me in aggressive ways. I still didn't always talk freely about who I was actually dating. Although my brother is gay and accepted by our family (because "everyone knew since he was three"), I didn't explain myself when family members insisted I was going through a phase or used other tired cliches they would be horrified to hear anyone say to my brother. I was back to the fight and flight routine – half checking out, half clawing.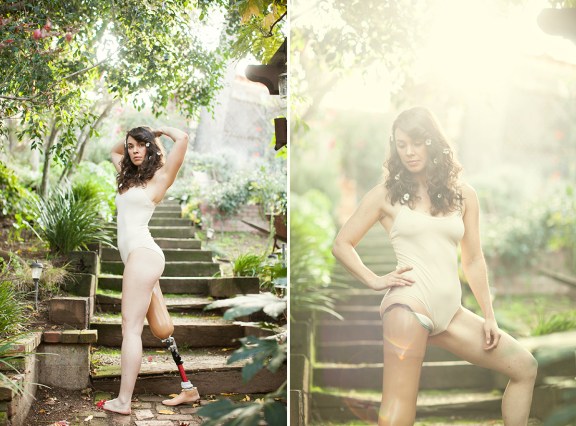 Until recently, I was obsessed with building a kind of awesome lesbian alliance with only the most interesting, stylish, talented women. I was desperate to belong and to make all the suffering I had gone through worth it. I subconsciously thought: if only my life looked like some version of The L Word (well, all the glamour and none of the crazy); if only I sat at the cool kids' table (something I have never succeed at doing, despite being voted homecoming princess because our culture has a fascination with putting crowns on bald girls' heads and turning cancer patients into princesses); if only my gay relationships appeared better than my straight ones, then I would I be able to prove to people that coming out was the right decision.
Women, it turned out, could be just as objectifying as men. I didn't know how to talk about my body and didn't know how to have a healthy relationship. I freaked out the first time a girl told me she was going to a strip club. I was afraid to ask for my needs to be met because I feared deep down that my looks made me less desirable. I was afraid that anyone with me would secretly always be wishing I was different – whole.
Finally, I woke up. Hiding who you are is exhausting. Apologizing for making other people uncomfortable is soul-crushing. I am what I am and my identity is no better or worse than anyone else's. I no longer need to prove to anyone that I am beautiful. I no longer need to cover my perceived flaws to protect myself from imaginary blows. When I feel it rising up – the fear, the self-doubt, the desire to fight – I take a breath and surrender. I remind myself to be present in this world, in this body, in this identity. I remind myself of the power of simply saying, "I am here." When I approach people from this grounded stance, the shift comes naturally.
I walked into this photo shoot terrified. I didn't know anyone. I realized this fact at the last minute while I was standing on the doorstep. Suddenly, I found myself in the middle of all those talented, gorgeous women. Just when I would have loved to have put up a defense and pretend to be someone infinitely cooler, I was asked to strip down. Robin and Sara originally told me they had nothing for me to wear but they must have seen the color drain from my face. Physically and symbolically, removing all your protective layers can be freeing. You find you are not as soft and scarred as you thought – only raw, strong, and humming with untapped potential.


I'll see strangers staring with disgust when I kiss my girlfriend's cheek in our favorite cafe. I hear guys yelling from their car windows. I notice when all of a sudden my mom needs to get off the phone because I am talking about my relationship. I pause and listen when people ask to touch my leg or to comment on the way I am walking. They want to know how I shower. They want to know how I have sex. They want to know why I like butch girls instead of femme or if I've slept with enough men (one) to really know I'm a lesbian. They want to know what I eat. They want to know what dying is like. I used to be offended. I used to go on the defense. I used to think fighting made us strong.
Now, I know: true strength comes from compassion and vulnerability. Now, I can stop, take a breath, and drop completely into the moment. I think: you may not be looking at me like a fellow human being but I see you and I know you are human – a person struggling and fractured in ways I may not be able to recognize right away. Then, with practice, I do the bravest thing of all. I tell my truth. And I prepare myself to receive yours.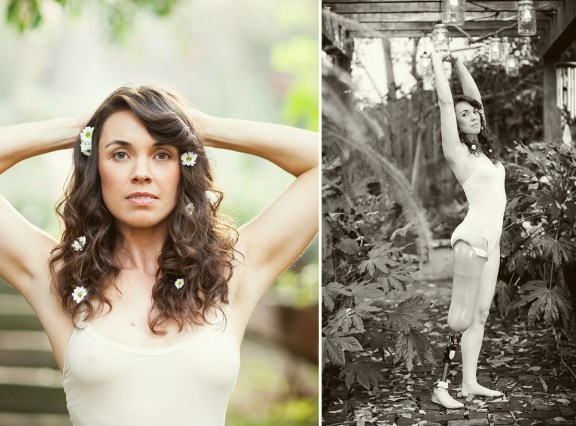 ---
Artist's Statement from Robin Roemer:
I want to start off by saying I wish I had a few weeks to photograph each of our 130 applicants, because they were all beautiful and inspiring! We are honored so many of you wanted to participate and we hope, at some point, we can work with each one of you. I mean that most sincerely.

This year we went through our applicants based on the survey first, the photos sent in to me had little to do with who our final picks were. We chose based on answers to a variety of questions. We wanted people who really had a sense of what the project was all about, were readers of Autostraddle, and were involved in their communities at home. We wanted women bursting with energy and love. Second, we wanted to represent our incredibly diverse our community: beauties of all different shapes and styles and backgrounds and gender expressions. Finally we found ourselves with 13 models — its 2013 now so twelve just wouldn't do — who we feel represent some of the most brilliant our readership has to offer. I hope each of you, especially those of you who applied and were not chosen this year, enjoy this year's calendar.
Crew:
Co-created by Robin Roemer and Sara Medd
Photographed by Robin Roemer
Wardrobe styling by Sara Medd
Hair by Taylor Stevenson
Make-up by Marla Verdugo
Line Production, Location Scouting and Catering: Sarah Croce
Design, Location Scouting, Production assistant: Alex Vega
Lighting Assistant: Kamila Baker
Production Assistant: Christina Bly
Puppy Wrangler: Mollie Thomas
Special Note: As of December 2010, we request that the comments on Calendar Girls posts, unlike every other post on this site, be exclusively positive and remain on-topic. These posts exist to celebrate women, so any  criticisms of the model, her appearance or the appearance of the Calendar Girls as a whole will be deleted. Furthermore, any direct questions/concerns about the project in general can be directed to robin at autostraddle dot com!