---
There's no way around it: gluten-free baking involves a lot of different flours, some of them more familiar than others. Instead of throwing up your hands and running in terror to the mixes, however, if you embrace the excuse to experiment, you'll have a lot of fun. Whether you're an experienced baker or an utter novice, there's a certain giddy freedom in baking with amaranth. Who cares how it turns out — it's going to be INTERESTING.
Muffins are a great place to start when baking gluten-free, because they're easy to whip up, high on flavor, and fairly forgiving. They're also great venues for experimenting with gluten-free flours, since they don't need to be especially light or airy. Instead of worrying about the strong taste of a new kind of flour, you can pair it with ingredients that will show it off to its best advantage. Case in point: buckwheat and black sesame.
A few months ago, The New York Times featured a recipe for gluten-free buckwheat blueberry muffins. I'd just whipped up a batch of soba noodles for dinner, and I wondered what would happen if I went with a flavor profile more fitting for a bowl of noodles: lots of ginger, sesame oil, and a sprinkling of black sesame on top. The result featured a gingery bite and a sesame nuttiness that enhanced the smoky undertones of the buckwheat. The honey added the right kind of sweetness, mellow and golden. I bet sweet rice syrup would be great here too.
One other great thing about muffins: they freeze well and can be warmed up again in the microwave in about forty-five seconds, ready for a pat of butter if you're feeling decadent. For the record, every morning I am feeling decadent. Like a hobbit, I partake in second breakfast, and I ate one of these muffins at every day for a week, enjoying their nutty, smoky, gingery flavor.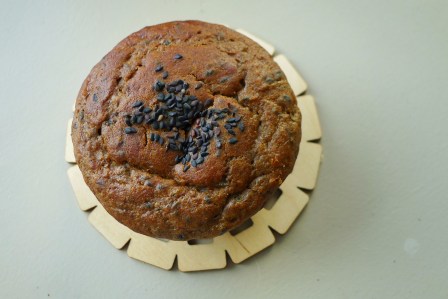 Black Sesame Buckwheat Muffins
Adapted from The New York Times. The original recipe is wonderful, too.
Ingredients:
180 grams (1 1/4 cups, approximately) buckwheat flour
100 grams (3/4 cup, approximately) gluten-free all-purpose flour mix or whole grain gluten-free mix*
10 grams (2 teaspoons) baking powder
5 grams (1 teaspoon) baking soda
3.5 grams (1/2 rounded teaspoon) salt
2 eggs
125 grams (1/3 cup) honey
360 grams (1 1/2 cups) buttermilk or thin, hippie yogurt
75 grams (1/3 cup) sesame oil (not toasted!)
10 – 30 grams (1 – 3 tablespoons) ginger, depending on your ginger preference
40 grams (1 /4 c) black sesame seeds (more to taste)
*For the gluten-free flour mix, any off the shelf mix will do provided it's not "whole grain." Otherwise a mixture of starches and finely ground rice flours like those you'd find in an Asian grocery store will do just fine.
Instructions:
1. Preheat the oven to 375 degrees. Oil or butter muffin tins, or just use paper liners if your girlfriend hates cleaning those tins as much as mine does. Whisk together the flours, baking powder, baking soda and salt into a medium bowl.
2. In a separate bowl beat together the eggs, honey, buttermilk, and oil. Whisk in the dry ingredients and mix until just combined. Gently fold in the ginger and poppy seeds.
3. Fill muffin cups right to the top – gluten-free muffins don't rise as much as normal ones do. Place in the oven and bake 25 to 30 minutes, until lightly browned. You'll know they're done if you poke the tops and they spring back. Remove from the heat and after five minutes remove the muffins from their tins and allow to cool on a rack. If they don't release easily, allow to cool and then remove from the tins then.
---
Meghan McCarron is a writer, editor, and food enthusiast based in Austin, TX. Her short fiction has been a finalist for the Nebula award and reprinted in numerous anthologies, and her brownies have been lauded by her girlfriend as "motherfucking delicious." She chronicles her gluten-free baking at queerflours.com and tweets at @megmccarron.