Hi crush monsters, this is Straddler On The Street, a feature where I celebrate all of you incredible Autostraddle readers by hunting you down, demanding you chat with me, and then writing about you on the Internet so we can all crush on you. Get excited, because butterflies in your stomach 24/7 is a fantastic way to live.
Header by Rory Midhani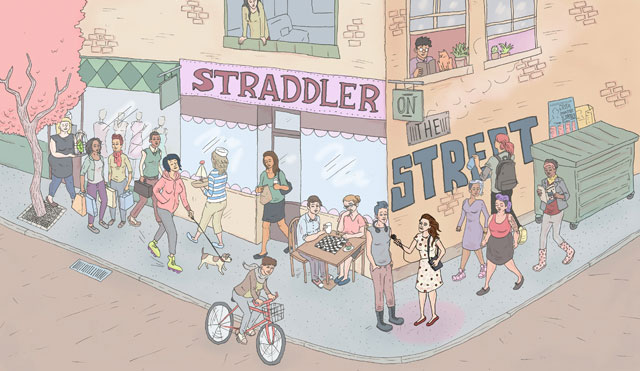 ---
Straddler On The Street: Launa, 24
I met Launa at the Original A-Camp back in April 2012, and she charmed me right away by letting me use the outlet by her bed to charge my iPhone (to be fair, outlets were few and far between – I'm not that easy). I learned immediately that she is kind and creative, but she continues to blow my mind the longer I know her and the more our friendship evolves.
Launa is 24 and was born and raised in western Washington. Right now she's a writer, editor, game designer – mostly tabletop RPGs – comic book designer, freelance artist and film producer, and almost all of those projects are situated in the queer women community. She also dances, teaches exotic dance on the side, and nannies for autistic children. Yeah, I know… she's kind of a superhero.
Hi! To start, can you tell me why it's important to you to do work in the queer women community?
Most of my projects started just because I'm a queer woman and I wanted to write and create things about queer women. I feel like, especially in film, and in some ways in books, there's not a lot of variety in the stories written by queer people for queer people. I didn't want to write coming out or even a lot of true-to-life stories. I love genre fiction – sci-fi and fantasy mostly – and I love gaming. I wanted to tell stories I loved that just happen to feature queer people. I wanted to give people more options and make queerness a part of a character's life, not the entire plot.
That is super awesome, and exactly the kind of queer stories I'm interested in reading! How did you started writing and navigating the world of writing as a job?
I actually came at the writing world in an unusual way. I started writing novels in junior high and eventually self-published and started selling books at indie bookstores around town. One day I gave a book to a woman who was also selling books. She gave me her card and I realized after the event that she was a local publisher.
About a month later I went to the same store for a workshop and it turned out it was being run by the CEO of the publishing house. I introduced myself and she said, "Oh Launa! We have your book! You didn't give us your information! We want to publish you!"
So they published the book, I ended up interning with them and spent three years working at a queer publishing house. The contacts I made there, and a whole lot of hard work as both a writer and editor, led me to where I am now.
Do you have any advice for people who wish to make a career of writing or become better writers?
Read. Write every day. Accept that your first draft will be terrible and just get through it before you edit. Know your market. Research the heck out of the business side of things because every writer, no matter what genre, has to be a marketer and business woman, too. Know how to meet deadlines. Know how to take criticism. Prove yourself. And don't give up. Also be willing to be poor!
All awesome advice! Now, you write under your real name and under a pen name. Can you speak a little bit about why having a pen name is important in your life?
Sure. I started using a pen name when I was still pushing my fantasy series. It's young adult fiction, so I was advised not to write queer erotica with the same name. Later it just made me feel safer to write anything I wouldn't want my mom finding under a different name. I came from an incredibly conservative Mormon household and while the response of my family hasn't been terrible, it's also been really rough. I just didn't want my private thoughts and my connection to my writing and queerness, which I find very personal and precious, to be dragged out over family dinner and turned into a big discussion.
There was also an amazing sense of freedom that came with a pen name. I could be completely, 100 percent out and open about everything. Fully myself. I sometimes go by my pen name in real life for that reason. It's like I got to grow out of being that awkward Mormon girl and rename myself.
Was growing up Mormom and then coming to terms with your queerness a tough process?
Growing up Mormon was okay, to be honest. I didn't grow up in Utah, thank goodness, and I had parents who honestly taught me to question everything and instilled feminism and some really good values in me I still hold today.
It wasn't until I left the bubble of Mormonism that surrounded me and walked into the real world and realized racism, sexism, privilege, oppression, queerness were real things and started seeing horrible holes in my personal doctrine that things got messy. I really, truly believed Mormonism was right all through growing up. It was an important, crucial part of my faith and identity and when I was forced to face my sexuality, face these holes in what I'd been taught and question what I thought was my core identity I basically shattered for a whole year. I lost everything, including my sense of self.
But I rebuilt and, while it's still hard, I'm really happy with the woman I am now and wouldn't give up that heartbreak I went through for the world.
Do you still consider yourself Mormon?
I don't consider myself Mormon, no. I have respect for some Mormons, but as a whole the doctrine is seriously flawed… I consider myself a Christian, but it's a very personal kind of spirituality that's constantly evolving and just a part of myself. I just try to be the best person I can be, try to leave people and things better than I found them, and keep an open heart and mind.
I'm really really into that. So amongst a billion other things you do, you work with kids. What is your favorite part about that?
I have always loved kids. Seriously… I started babysitting at 12 and never really stopped. Around 16 I started working with autistic children in particular and once I had experience and references, I never had trouble getting work as a nanny for autistic children. I adore working with autistic children, and have very seriously considered adopting one or two when I'm more stable. The ones I've met – and since autism is such a spectrum, I can obviously only speak about the children I've personally worked with – are intelligent, unswayed by society, creative, focused and have the best imaginations. It's why I started working on "Epic Heroes," a web show featuring children with "disabilities" that stars an autistic child.
Tell me about "Epic Heroes."
The series started when a friend/author/playwright, Jennifer DiMarco, asked me to help produce a web show she'd been asked to write by her 10-year-old daughter, who has Type 1 Diabetes. Jennifer's son, Maxwell, is autistic and also wanted to be in the show. So she created this world with the premise, "What if we lived in a world where every child with a disability had a super power as a trade-off?" What followed is this hilarious, action-packed show with a bisexual crazy cat lady, a romantic kraken, colorful monsters, a very evil bunny from another dimension and a cast of amazing children, each with different real-life disabilities or with close friends or siblings with the disabilities they were portraying. It became this super-powerful thing where these kids got to be themselves and be amazing super heroes at the same time. It's been my favorite project I've produced with Blue Forge Productions.
Can we see the project online?
Blue Forge Productions has a lot of the shows, including "Epic Heroes," that I help produce. Another of note is "Jericho House," which is still under production, but will be a horror/futuristic living comic with a lesbian lead – the first project of its kind ever made – and features a supporting cast including a trans* love interest, and a brother living in a polyamorous household. All projects are made by queer women and very queer-friendly.
Okay I feel like every single thing you tell me is cooler than the last – why are you so cool?! Can you talk about the exotic dancing you do and teach? FYI, Launa has taught dance classes at the last two A-Camps because she's amazing.
I started exotic dancing about four years ago at an amazing studio called Dolphin Dance. I was writing a book about circus performers at the time and told everyone taking pole dance classes was just a way to practice aerial arts for the book… but that was kind of a lie.
I'd lost about 100 pounds. I had no connection to my body in any way, and I wanted that to change. I wanted to feel pretty… no, I wanted to feel sexy. And while it was super hard physically and emotionally, I fell in love with it and eventually started teaching at Dolphin Dance. It gave me not just a connection to my body, but it gave me self esteem for the first time in my life. It made me face a lot of the ingrained social messages I'd grown up with like, "Your body is dirty." "Nice girls don't brag about themselves." "Saying you think you're pretty means you're vain." "Feeling sexy makes you a slut."
It gave me ownership over how I feel, how I move, how I present myself. And that's why I teach. To help other women realize these things, to find their own beauty. I've worked with women in their seventies. Sexual assault survivors. Women with terrible self esteem. And every time these women have left saying, "I love myself. I'm proud of myself. I'm beautiful!"
That's incredible. If any of our readers are interested in taking such a class, how can they begin?
Review your local studios carefully. Make sure they're safe: they do warm ups and cool downs. They don't push you too fast – these moves are aerial arts and can wreck your muscles if you're not ready. And find a place that makes you feel good about yourself.
Or they could come to A-Camp and take a class with you! To conclude, do you have anything else you'd like to share with the Autostraddle community?
I do! I have never, ever been able to answer the "Who's your Hollywood crush?" question and I know you love it, so I actually spent time processing my feelings and made a list!
Oh my god you are an amazing human. I do love it, but I've kept you chatting for so long I thought I better wrap up. I'm sorry I almost deprived you of sharing your carefully thought-out answer!
I've never spent so long preparing an answer before! Just for you. My current top five, which I consider more an open invite to a free dinner, since I don't usually crush on women I haven't interacted with in real life, are Sonequa Martin-Green, Mila Kunis, Lana Parilla, Diana Agron and Karen Gillan. Whew! Glad to finally get that out there.
---
If you would like to be featured as a future Straddler on the Street, please email vanessa [at] autostraddle [dot] com. Include a few photos, 3-5 sentences about yourself and put "Straddler Submission" in your subject line. Approximately a million people have submitted so far, so please be patient as Vanessa goes through her inbox — you're all sexy with really smart brains, and don't you forget it!