Sometimes, SOMETIMES you can't cover your face with smokin' hot lesbians. When this happens why not cover your walls with them instead!? That's where the 2014 Autostraddle calendar comes in! If you haven't picked up the 2013 calendar yet, you should probs get right on that — they're now available in our store for only $13! For 2014 prepare to have your mind blown, among other things.
---
Chloe and Intern Grace are Double Miss February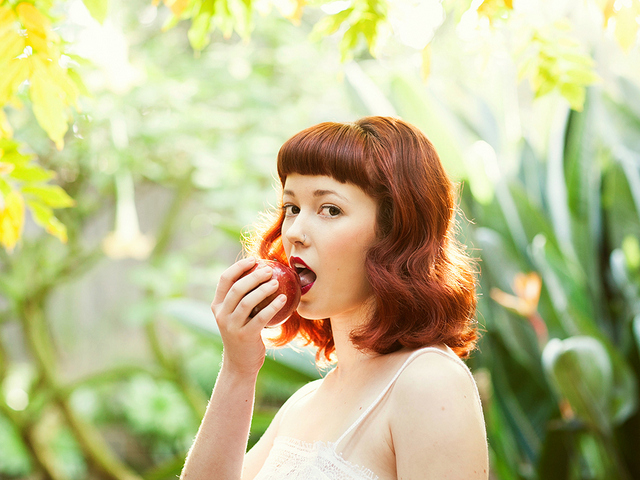 Chloe in her own words:
Hi! My name is Chloe and I've been instructed to by a fellow calendar girl to tell you that "I dance and I like to make girls blush, I'm also a hot redhead and I made everyone die by walking around in my underwear at the shoot." But let me try and use my own words! Let me just start by saying that writing all this made me just as nervous as if I was talking to a girl I liked ridiculously too much…so I might talk too much, but I just really like you guys! I am 19 years old, INFJ and a Gemini. As well as yes, a redhead who loves to dance, make girls blush, and who walked around a good part of the calendar-shoot in my underwear. I decided I really wanted to share the adorable story of when I first told my dad I got chosen to be a 2014 calendar girl with you guys. I am extremely lucky to have very supportive family and friends, but none-the-less, I was still a little nervous to tell my dad I wanted to run off to LA to model for a queer lady calendar. After initially skipping all the way home from school, turning on loud music, and doing crazy excited dances around my room, I called some of my friends and family to share the news, including my dad. After slowly and awkwardly explaining to him what exactly I had applied and gotten chosen for I asked him what he thought, to which I received an enthusiastic "This is so exciting!! That is so awesome!! I am so proud of you!! You have to do it!" I knew he was an amazingly supportive parent, and I don't know what I expected, but it blew me away and I told him that it took a very special kind of father to say they were proud and excited to send their daughter off to be a lesbian calendar girl. I know that not many of the other girls had family that they were able to tell why they were in LA that weekend, and I am extremely lucky to have family that all responded to the news much like my dad. Having that moment where I was able to step back and really appreciate how amazing the people in my life are is just one more positive thing I will take away from being a part of this project.
Get to Know Chloe
Where are you from?
I live in Livermore California, a small city in the SF Bay Area, where I was born and raised. I love living in the Bay, but in a year or so I'll be transferring from my community college to some University somewhere and can't wait for the change of scenery.
Occupation/Major/Passion:
For the past few years I have been working part-time as a ballet teacher for 3-5 year olds and I absolutely love it. I am incredibly passionate about dance and it's pretty special to apply that to teaching tons of crazy little children. I have been doing ballet for eight years now and I am still just as head over heels in love with it as the day I started. I have also been doing hip-hop for a while now and love how empowering it is. I always leave class feeling like an unstoppable sexy dancing badass, which is never a bad thing. In school I am majoring in psychology, everything about it fascinates me and I am just a complete nerd about it. I plan on earning my master's degree so I can become a counseling therapist. Also, also! I bake, a lot. Rarely does a week go by when I haven't whipped up something sweet. It's a wonderful stress release and also not a bad way to impress cute ladies!
Why did you want to be part of this project?
This last year I decided to approach life with a new sense of adventure. I made a goal to keep pushing myself out of my comfort zone and to go after as many new experiences as possible. September A-Camp was one of the first of those experiences and it had a huge part in me applying to be a calendar girl. Camp was so unbelievably wonderful and filled with so many amazing people and memories. I came home feeling the most like myself and with the strongest sense of community I had ever felt in my life. Being an Autostraddle Calendar girl is being queer and out and proud in such a big, powerful, and public way, and my newfound camp confidence made me realize that that was something that I wanted. I wanted to be bold and brave and to have the opportunity to represent the amazing community that is Autostraddle. I owe so many thank yous to Robin, Sara, and the rest of the crew, as well as a shout out to all of the other 2014 calendar girls — I love you all dearly! I am so grateful that I was able to be a part of this project. It was such a wonderful and memorable whirlwind of a weekend that I will never forget. Phew! That was the hardest question to answer by far! I didn't know how to begin to fit all of my feelings into words!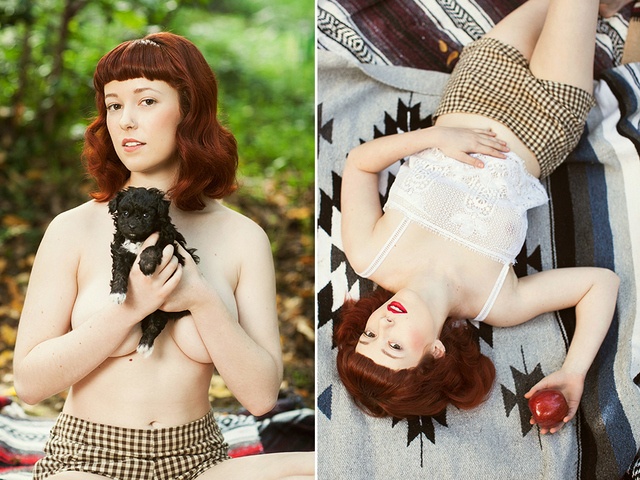 Get to Know Intern Grace
Where are you from?
I live in Columbus, Ohio.
Occupation/Major/Passion:
I'm at Ohio State working on a double major in Journalism and Women's Studies with minors in Theatre and Film Studies. I am majoring in Autostraddle, basically.
Why did you want to be part of this project?
Robin made me do it.
I am finding it hard to think of something to say here that I will not instantly regret because now whenever I write anything about myself, I feel like Hanna from "Girls." Robin suggested that people might want to hear about "what it's like being Riese's personal intern," and another calendar girl said that she wants to know what it's like to have my "own personal fan club." I feel like the answer to both reads like a film review for "But I'm A Cheerleader," in that it's hilarious! It's unexpected! You get to see Clea Duvall make out with chicks!
I mean, if you can adequately understand and respond to a 2a.m. email that just says, "I need a picture of a tater tot in a cardigan," you could probably be Riese's intern. She's so independent that she almost never asks me to do any heavy lifting. That being said, she is absolutely the smartest person I know, and she is even more clever and more caring privately than people probably realize. Autostraddle has literally and directly saved my life more than once, and I can't express my gratitude enough.
This calendar was also really big deal for me to do because even though I jokingly identify as a teen heartthrob, I have a lot of deep-seated body issues that I don't like to talk about publicly or even privately. It can't be overstated how incredible Robin is as a photographer and as a persuasive friend because if nothing else, this photo shoot gives my therapist and I a new way to talk about an old issue. The point is, this community of weirdos and Muppets has been very good to me, and I'm grateful that I have this opportunity to give back by taking off my shirt.
---
Artist's Statement from Robin Roemer:
I want to start off by saying I wish I had a few weeks to photograph each of our 130 applicants, because they were all beautiful and inspiring! We are honored so many of you wanted to participate and we hope, at some point, we can work with each one of you. I mean that most sincerely.

This year we went through our applicants based on the survey first, the photos sent in to me had little to do with who our final picks were. We chose based on answers to a variety of questions. We wanted people who really had a sense of what the project was all about, were readers of Autostraddle, and were involved in their communities at home. We wanted women bursting with energy and love. Second, we wanted to represent our incredibly diverse our community: beauties of all different shapes and styles and backgrounds and gender expressions. Finally we found ourselves with 13 models, its 2013 now so twelve just wouldn't do, who we feel represent some of the most brilliant our readership has to offer. I hope each of you, especially those of you who applied and were not chosen this year, enjoy this year's calendar.
Crew:
Co-created by Robin Roemer and Sara Medd
Photographed by Robin Roemer
Wardrobe styling by Sara Medd
Hair by Taylor Stevenson
Make-up by Marla Verdugo
Line Production, Location Scouting and Catering: Sarah Croce
Design, Location Scouting, Production assistant: Alex Vega
Lighting Assistant: Kamila Baker
Production Assistant: Christina Bly
Puppy Wrangler: Mollie Thomas
Special Note: As of December 2010, we request that the comments on Calendar Girls posts, unlike every other post on this site, be exclusively positive and remain on-topic. These posts exist to celebrate women, so any  criticisms of the model, her appearance or the appearance of the Calendar Girls as a whole will be deleted. Furthermore, any direct questions/concerns about the project in general can be directed to robin at autostraddle dot com!