A Prairie Homo Companion is a regular column that celebrates the Canadian prairies, canola fields and big skies, and the paradoxes of being a fine-ass lady prairie homo.
Header by Rory Midhani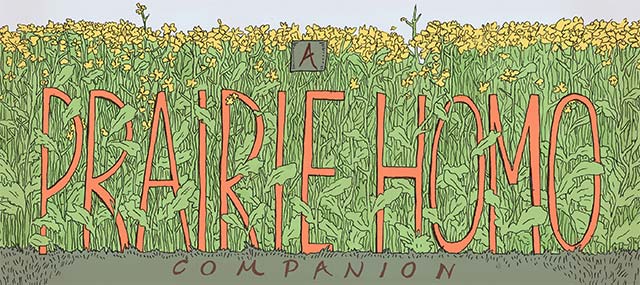 I was raised in a townhouse complex across from a freeway and downhill from a beer factory. At my French Catholic elementary school, the other kids lived in the new developments on the outskirts of the city. Their houses looked like gigantic, well-manicured boxes. I knew there was something wrong with me. I felt it once when my dad tried to push my mom down the stairs and there was nothing I could do about it; when at recess I would rather sit by the school and read than figure out the complicated social rituals of the Average Elementary School Kid.
But in my townhouse complex with kids who lived in homes that looked like mine, I'd run around and play until the sun started to set and our mothers called us home. It didn't matter that we were all skinny and slightly dirty, slightly weird. We'd pretend we were Olympic soccer players or Pokémon. The kids in my neighbourhood went to the neighbourhood schools where they continued to play their fun games at recess. Meanwhile, I took a long bus ride to the "good" school where I could learn how to speak French and be Catholic, where the girls, instead of pretending to be dragons from Harry Potter, gossiped about which Backstreet Boy they'd eventually marry.
We had to be very careful not to sin one of our teachers told us. As Catholics, we were God's special, chosen, wonderful little children but as I understood it, this wasn't enough to keep us safe from the devil. At six, I assumed it was too late for me – that I had unwittingly sold my soul to Satan and there was nothing I could do about it. Some mornings being downhill from a beer factory meant the air was smoky and the smell of beer hops was not dissimilar to a neighbour's cat-pee-covered carpet. I imagined the devil lived in this smoke, that his claws curled like swirling, dangerous, smoke wisps reaching all the way down from the beer factory to where I lay in bed in order to rip my soul from my chest. It was terrifying.
The girls who lived in the perfectly manicured boxes had moms who had their perfectly manicured nails done together as they sat discussing the proposal to turn the old nunnery down the street from the school into a women's shelter. My mom wasn't invited to their unofficial hangouts, but she wouldn't have been able to go anyways. She had three kids to take care of, a house to clean, a part-time job teaching French, and a full-time job trying to keep my dad happy – not that trying to keep him from his outbursts of anger ever worked. One morning I sat watching as he went into her closet and cut up her clothes. I cried and yelled for him to stop but I was little, my voice was little, and there was nothing I could do. I thought about when I had been saying the morning prayers and my teacher had come up behind me to say that my hands weren't pointing straight upwards, and I was therefore praying to the devil. Maybe that's why he had snuck into my bedroom to take my soul. Sometimes when you're young and bad things happen, you think they're your fault.
Though I knew it could be worse. The walls were thin in our townhouse complex and sometimes we would hear the next door neighbour beating his wife in the basement. Another time an ex-boyfriend was released from jail, found out where in our neighbourhood his former girlfriend lived with their three children, and when she refused to open the door, he threw giant rocks at the windows until they broke; but the next morning all the kids were out playing as usual, and we hardly even noticed the police.
We were all God's children the moms said at the school community meeting, their nails rap-tap-tapping impatiently on the tables because why were they even having this discussion? Didn't people realize that we were children of God who spoke perfect French and worked as altar boys and girls at church? How could anyone think it was okay to expose us to the dangers of Those Women? To turn an old nunnery by a school into a place for women recovering from drug addictions? Ridiculous. Think of God's special children. The safety concerns.
In an essay I love, "Oh Edmonton, You Beautiful Swirling Mass of Contradictions," Vancouver-based writer T.J. Dawe says,
"In Edmonton there's an ever-present dance between modernity (tradition! conformity! power! money! family values! old time religion!) and postmodernity (gender equality! racial justice! multiple points of view! micro-culture! environmentalism! organic food!). These currents do-see-do, tango, tug of war, dip and twist, call each other names, drink too much and fall into bed, waking up the next day, scrambling to put their clothes back on and pretend nothing happened."
Edmonton, he's noticed, doesn't make much sense:
"Riding my used bike along 109th (bought for a hundred bucks from Edmonton Bicycle Commuters)(cash only). A guy yells out his car window: "Get a horse, faggot!" Directly to my right: Noorish – Conscious Eatery and Superfood Elixir Bar, a vegan raw food restaurant, as well as supplement store, meditation centre and yoga studio. To my left: McDonald's."
But unlike the school moms who pretended to be charitable women of God only to turn a blind eye when people really needed them; unlike my family who, from the outside, looked perfect; Edmonton doesn't pretend to be something it's not. The city is often criticized for what many consider to be ugly urban planning: a fancy restaurant that looks out onto a parking lot, a dangerous bar next to a meditation center, an office building from the 1970s down the street from a falling apart house built in the early 20th century. Although to a visitor it's not always pleasing to the eye, I like that Edmonton's right in front of you in all its contradictory glory – there's something honest about that. Edmonton is all jumbled together. It can't pretend to be this or that. Maybe it's growing up in Edmonton surrounded by people who tried so hard to keep up appearances, that has made me love the places in between. My favourite gender is between masculine and feminine. My favourite place to go is between the city I'm leaving and the city I'm heading towards.
Around the time they decided to leave the old nunnery abandoned, my mom noticed that I had stopped talking as much as I usually did and had taken to wandering around the house like I'd seen a ghost. When she asked me what was wrong, I gravely explained that I had accidentally sold my soul to the devil. She laughed, "Oh hon, don't worry. Why would the devil want your soul?" I didn't believe her, so she had her best friend talk to me. My mom's best friend was a very religious woman and an authority on God, the devil and all things having to do with Christianity. Unlike my mom, she actually went to church every Sunday, so I listened with rapt attention as she sat me down and said, "There are lots of bad, scary things in this world, but I've known you since you were born and there is nothing wrong with you. You don't have to worry about the devil. Just focus on being the best six year old you can be. You're special and God loves you very much." I believed her, and I still do.