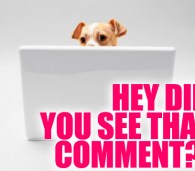 When is an appropriate time to stop saying "happy new year" to people? Because I thought it was around the ~4th of January.
xoxox
This week started off on a pretty good foot; Obama talked about the shooting in Arizona, said some nice things, and then Riese said some too. Jane came out to her evangelical parents, Treza (who has an incredible name) made you a playlist for coming to terms with your gayness, and everybody came to/at the adult entertainment expo. Deanne Smith made like The View and addressed two of the hottest topics today, airport security and zodiac panic, and we learned a little about Australian gays via the case of Penny Wong. Television this week was decidedly gayer than usual, featuring a very queer version of the Golden Globes, the first episode of U.S. Skins (don't forget Riese and Crystal's top 10 scenes from original Skins) and there was more mama drama on Pretty Little Liars. Aaaaand don't forget to send your questions for Holly Miranda to Crystal!
---
On DeAnne Smith and the Backscatter Booty Shake:
The So Close Award to wallow14, Dani: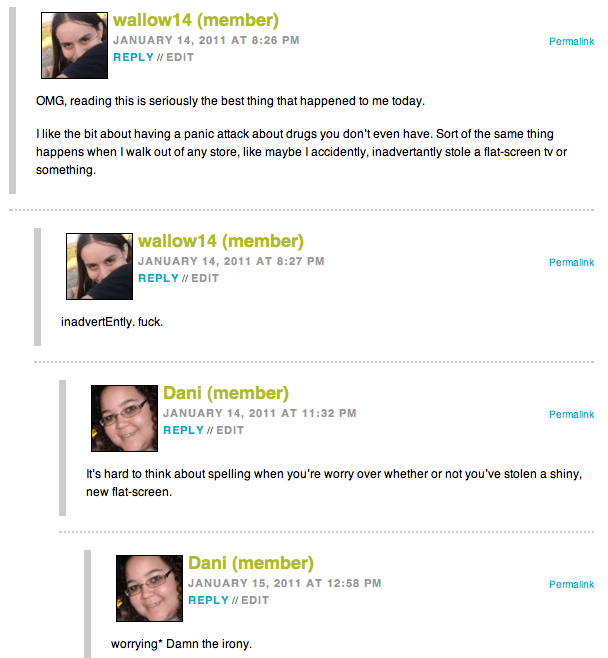 The Condiment Body Slathering Anonymous Award to Susan:
You're fabulous. Please keep writing for this already awesome site.
Now, we need to address your secret wish to have more shirt off opportunities. I feel that we, the readers of Autostraddle, can help you. You've come to a safe place. We're here for you. We will create a nurturing environment in which you can show your breasts, slather them in BBQ sauce, or whatever other condiments or sauces you may have secret wishes about. .
Go ahead. We are ready. We are here to support you.
On Real L Word's Second Season Will Definitely Suck Less Than The First:
The But Unicorns Do Exist to Tory, Lauren: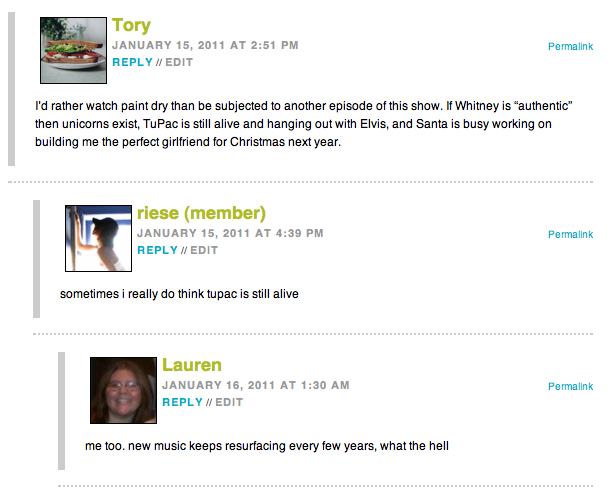 On Listen, Gaymos, OkCupid Really Wants This To Work:
The Pinq Taco Award to amandajean:
I am taking the plunge and creating an account right now, and they keep suggesting that I add "_taco" at the end of my username.
On NSFW Lesbosexy Sunday Queers the Adult Entertainment Superpartyexpo:
The Dinosaurs! Award to Rawrosaureins:
Since it's lesbosexy Sunday, I feel like I'm allowed to share this: I bought dinosaur sheets for my bed this week, they were on sale. I can't wait to make love on a bed covered in dinosaurs.
The Take It Off Award to bani, sCubed:
On Golden Globes 2011: Radical Gay Feminist Agenda Has Taken Over Hollywood:
The Come Into My World Award to Dina:
WHY HELLO THERE NAYA WOULD YOU LIKE TO COME INTO MY VAN
I HAVE CANDY
On In Defense of Senator Penny Wong, "Australia's Worst Lesbian":
The Very Important Information Award to however:
I now know 100% more about Australian politics!
Oh no, actually I knew that the Prime Minister had crazy eyebrows. Very valuable information, y/y?
On Skins UK Remembrance Day: Our 10 Favourite Skins Scenes:
The You Are Here Award to Ellen:
I just clicked on here to comment but instead I was sent to a website that yelled INTERNET!!!!!!! at me, and now I'm confused?
On Listling Without Commentary: Things That A Computer Is Without Internet:
The You Know You're Addicted to the Internet When… Award to Bri:
….wait. hold the phone.
are you telling me that i can use this thing if i'm not connected to the internet?
On Skins US Mini-Recap 101: Tony Parks His Car in MTV's Garage:
The Now That's Something I'd Watch Award to Ziggy Hreins:
Why there no Skins in hogwarts remake? I no Understanding.
On Pretty Little Liars 113: When You Know Your Mom Is a Homophobic Frenemie:
The Riese's Favourite Question Award to Alice:
Thanks for confirming that the fat suit was weird and for 'Mom busts in to ask if Emily has ever been toed' as after she said the line 'I can't even imagine where this was headed!' I totally thought that being toed was the only logical conclusion
On DeAnne Smith and the New Zodiac FAQ:
The What's Your Sign Award to Hobbled:
So I know there is now some debate as to if the signs actually changed or not. I really hope that they have actually changed because I would hate to have to explain to my mother that when I told her I was a Virgin I was just talking about astrology