AVN ADULT EXPO:
Every January, people who enjoy and produce "adult entertainment" gather in BEAUTIFUL LAS VEGAS NEVADA for a week or so of revelry known as THE AVN ADULT ENTERTAINMENT EXPO! You might think this sounds like a total douchefest, but it's actually not — more on that in a minute. Oh and — here's what happened last year and here's a completely unrelated post that is actually sort of related b/c it's about Las Vegas.
Just like last year, the dude from The Las Vegas Weekly found the whole thing somewhat depressing, as detailed in "When porn stops being exciting and starts getting boring," which says a lot of stuff and ends with this:
And maybe, finally, that's the reason the expo seems so boring this year. After all, it's far more enjoyable to experience sexual pleasure yourself than to watch others get it on, and plunging necklines and calves made taut by four-inch stilettos on young women signing autographs (especially when you've seen them wearing far, far less and doing far, far more) are a whole other step down the enjoyment ladder that just isn't as titillating the third time around.
Think this event sounds like a douchefest? NOT SO. Here's some cool stuff that happened:
* The super queer-friendly online sex toy partytown supershop Good Vibrations won an AVN Award for Best Retail Chain.
* The queer-owned super queer-friendly online sex toy partytown supershop Babeland was there and you can read their recap of it right here.
* The self-monikered "Queer Porn Mafia" was present, including our pornstar crush Jiz Lee, who has a great recap of the entire event and makes it sound like it's just a bunch of lesbos renegading themselves through town. This is akin to that time we went to Dinah Shore Weekend and made it seem like it was just a bunch of agoraphobic nobody tripping-on-psychedelic-banana-bread lesbos renegading themselves through the desert.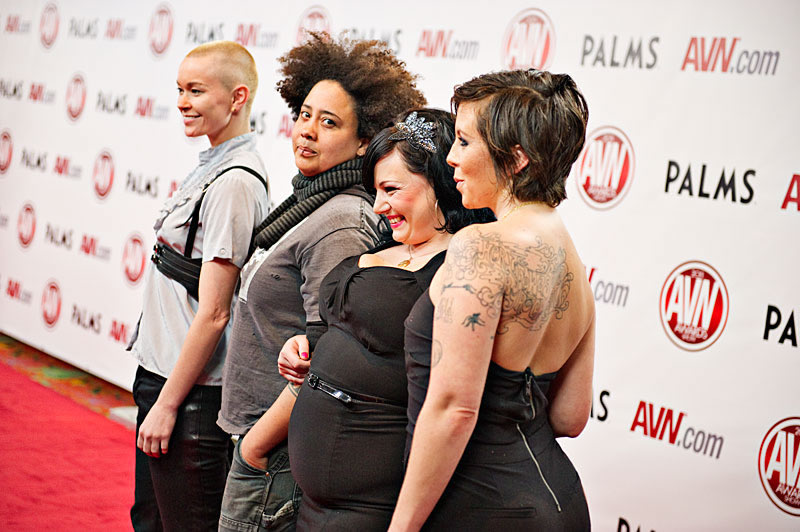 * Girlfriends Films' success at the 2011 AVN Awards and Adult Entertainment Expo reflect the studio's positioning at the top of the lesbian adult movie market.
* Fleshbot: "After so many years coming to the Adult Entertainment Expo, we must sometimes fight our ennui. One way we do this is to remember that IT IS A PORN CONVENTION. Here are some snaps that filled us with joy."
* What will save the Porn Industry what will be the next big thing? Serious Website CNBC tackles this pressing issue. Serious website CNBC actually has a lot of interesting things about the business side of porn, and also The Dirty Dozen: Porn's Most Popular Stars.
* "The Taylor Swift of Porn" — idk.
* Pornstar TwitPics from the 2011 AVN Awards and Expo [93 Photos]
* Sex Gets Cyber as Porn and Internet Mate: "Trends at the AVN Adult Entertainment Expo that ends Sunday in Las Vegas included Internet video streamed wirelessly to televisions; remote-controlled intimacy, and augmented reality."

* Fleshbot has The Morning After The AVN Awards: When Jiz Lee Met Stoya:
Picture this: it's 8am, on the morning after the AVN Awards. Everyone's tired, hungover, and more than a bit worn out from the revelries of the night before. And two deliciously crushable pornstars find themselves half naked in bed together.
Well, don't work your imagination too hard on that one, because we've got the exclusive photos right here: pride of the Queer Porn Mafia, Jiz Lee, curled up with Digital Playground's Stoya, as shot by the magnificent Rae Threat. We can only hope that the morning after the 2012 AVN Awards is half as much fun as this was.
HAIR
American Apparel Makes Pubic Hair The Focal Point Of New Ad and everyone has a feeling about it. Copyranter asks "Is this the sleaziest American Apparel ad ever?" and thank Jesus, most of his commenters say "NO." Here's the best comment:
They're advertising underwear by showing a girl wearing said underwear. The product in question features a see through section (in similar fashion to a large proportion of women's underwear). The girl (like 99% of adults) has pubic hair. You're going to see them.
The main issue isn't with the pubes, it's with the really quite terrible photography. The lighting is awful, rendering the location very difficult to discern. Is she on the beach, is she lying in the middle of a parking lot?… also, her pose is so contrived and uncomfortable. Has she slipped and fallen over? This clumsy attempt to be sexually provocative comes over as lazy and lacking artistry. That's more offensive than a few pubes. I rather like pubes.
Stylite says "While Copyranter wonders if this is the brand's "sleaziest ad ever," we just think it's the least effective."
VAGINAL EROTICISM
NCBI ROFL: And the most pornographic abstract of all time award goes to… "Vaginal eroticism was investigated in a group of 27 coitally experienced volunteers by means of systematic digital stimulation of both vaginal walls"

CAN QUEER SEX QUEER SEX ED:
Rutgers has launched a teen sex education website called sex etc, aiming to provide resources on issues affecting lesbian, gay, bisexual, transgender and queer (LGBTQ) young people!
MONOGAMY AND ALCOHOL:
Women or Wine? Monogamy and Alcohol: "Intriguingly, across the world the main social groups which practice polygyny do not consume alcohol. We investigate whether there is a correlation between alcohol consumption and polygynous/monogamous arrangements, both over time and across cultures. Historically, we find a correlation between the shift from polygyny to monogamy and the growth of alcohol consumption. Cross-culturally we also find that monogamous societies consume more alcohol than polygynous societies in the preindustrial world."
LESBOSEXY TUMBLR ALERT:
Suicide Blonde & Bohemea, without whom I wouldn't even know tumblr exists (I found their tumblrs searching for 90s movie images for something, then became obsessed with their tumblrs, then started a tumblr) have started their very own "porn tumblr":
Suicideblonde & I started a porn Tumblr! Well, our version of porn, which is photos of really naked girls, often photos of really naked girls touching other really naked girls. Give it a follow if you'd like to see our more scandalous picture collection!
We titled the Tumblr Pussy le Queer. She is our alter ego & she has a filthy mind. Fun fact: Pussy's cousin is Honey Horneé from Wayne's World 2.
PORN PARTY:
Wanna have a queer porn party with Queer Porn TV? It's a "it's a little virtual gathering on Twitter where we watch porn and comment on it, "live-tweeting" the event."

SEX IN JAPAN:
A new study from Japan, where the government is worried about a low birth rate:
According to the AFP, a whopping 36.1 percent of teenage boys between the ages of 16-19 said they had little to no interest in sex, and in some cases even despised it, more than twice the 2008 figure of 17.5 percent. Futhermore, the survey, conducted in September 2010, reportedly found that 83.7 percent of Japanese men who turned 20 this year were not dating anyone, while 49.3 percent said they had never had a girlfriend. Girls, it seems, are suffering from a similar lack of heat: 59 percent in the same age group felt the same way, up 12 percentage points from 2008.