ADULT ENTERTAINMENT EXPO: The 2010 Adult Entertainment Expo took place last week in Vegas. TechCrunch has a cool write-up, but maybe Courtney Trouble's Queer Porn Mafia is more up your alley. Queer porn site Juicy Pink Box was also in attendance. Go queers!
A sadder but poignant look at the Adult Entertainment Expo comes from Rick Lax for the Las Vegas Weekly: "If I'm Surrounded by SO Much Porn, Why Am I So Sad?" – "Standing around men who were willing to go to such great lengths to have such fleeting interactions with women brought me back to high school… The saddest part of the AEE isn't what happens at the convention; it's what's going to happen afterwards. It's what's going to happen when the attendees fly back home and start comparing the porn stars they just met to the real women in their lives. Suddenly the real women won't seem so attractive and so sexy." Hm. do you think women have those same feelings about the porn they watch, or is it a guy thing? Are we allowed to use the term "a guy thing" without getting yelled at by ourselves/Judith Butler? Per  ushe, the comments are intriguing.
Over at the Consumer Electornics Show, "Porn star Ron Jeremy caused a stir in The Great Porn Debate at the Consumer Electronics Show last week by saying that studies have found that "violent video games are a much bigger negative influence on kids".
Buzzed about things:
Sell your soul to a Real Doll 5.0 with the most-hyped"Roxxxy robot lifesized girlfriend," an anatomically correct facsimile of a woman dressed for sex, and with "servos" and other electronics to make it seem, well, real. It's maker calls it the first "sex robot." Honestly this sort of makes me want to barf or read The SCUM Manifesto on a mountaintop."
Detach yourself from real life and the fact that girls you f*ck are human beings with SexNGame's Project X – "This multi-player online game is entirely sex based and lets you be the master of your own bedroom experience from outfits to positions, toys, and the girls including characters based on real life porn stars like Bree Olsen."
Porn in 3D, well, Sasha Grey doesn't like it: "I personally don't want to see adult films in 3-D, I think that's a little too much. It kills the fantasy."
Innovative Technology? To Compete With Free, Adult Biz Turns to Twitter Porn And Steampunk Phone Sex.
Las Vegas Weekly notes that "recessions come and go, but sex is forever."
Meanwhile, "a group of students from a Seattle-area church joined XXXChurch to spread Jesus' love at the annual AVN Adult Entertainment Expo in Las Vegas this past weekend." Thanks guys!
PORN AWARDS: The AVN Awards also took place in Vegas last weekend and it looks like the Queer Porn scene is starting to stake its claim in the mainstream porn industry. Courtney Trouble was nominated for Best Feature Film and for best musical soundtrack on two different films. Good Releasing was nominated for Best New Video Production Company. Others involved in Queer porn that were nominated at the AVN's include Jiz Lee, Dylan Ryan, Carols Batts, Kimberly Kane, Eon, and Good Vibes: Courtney Trouble blogs about AVN nominations.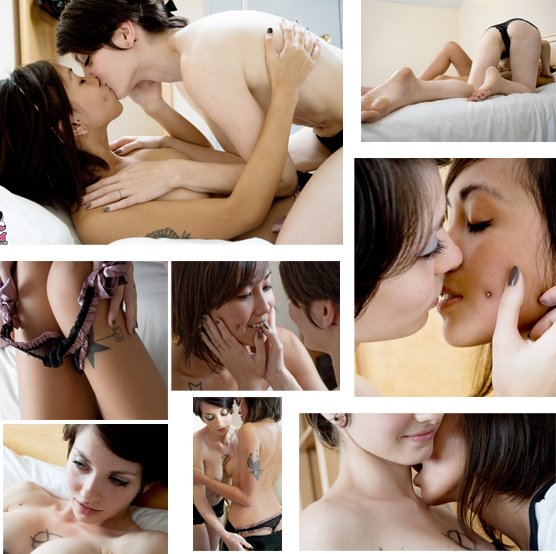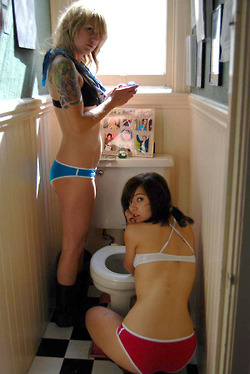 SEXY TUMBLR ALERT: Weed and Hips has alt half-naked girls, boyshorts being removed, and every Wednesday it's all about weed. Like marijuana weed.
TV: Fleshbot has your guide to Sexy TV to watch this season. It includes Secret Diary of a Call Girl, which has a threesome. (@fleshbot)
LINDAY LOHAN: "What we know so far: the video is a whopping 47 seconds, and allegedly features Lindsay naked with an unknown male. Hustler's already been offered the tape, and declined (presumably because their not Lindsay porn was much, much sexier). Lindsay is (of course) denying the tape's existence…but the Fleshbot jury will remain undecided until we actually see the tape in question." (@fleshbot)
SEX ADDICTION: Annie Sprinkle Debunks Sex Addiction: Sex addiction often makes a disease out of what is often quite reasonable sexual behavior. It emphasizes negative aspects of sex. It takes away some of the personal responsibility for sexual choices and blames problems on a 'disease'.
VADGE: 5 Vagina Products We Could Do Without. (@thefrisky)
G-SPOT: The Case of the Incredible Disappearing G-Spot: "On January 3rd 2010 the Times published an article claiming that, much like the Abominable snowman, Bigfoot and the tooth fairy, the G-spot is a myth.  Happy fucking New Year!  Of course, this ridiculous fiction posing as fact came to a surprise to the millions of women who are aware of their G-spot and take great pleasure in it."
NAKED GIRLS!!!!!!!: Just warning you, in case you are offended by nudey bits. I've searched everywhere for more info on this film and sadly I don't know if we will get to see it in the US. If you live in Spain, you will have to (graphically) tell us about this film: Eloise: Spanish movie with girl on girl luuuhvv.
ART: Look NSFW! Gawker artists have an exhibit of pieces generally not suitable for the work place: NSFW Art.
PETA PEOPLE: Porn star Sasha Grey does an ad for Peta If you haven't read the Rolling Stone article on Sasha Grey, you should. It is an interesting snippet into the mind of a woman in a very controversial field. Read the comments too, they are … interesting: Sasha Grey: The Dirtiest Girl In the World. (@rolling stone)

Sasha Grey Promotes Animal Birth Control
Read More.
MEGAN FOX: Megan Fox, that pesky little bisexual ( See note), has replaced Victoria Beckham as the new Emporio Armani women's underwear model. Also, you can check out E!'s complete celebrity underwear gallery and then you know; Megan Fox Lands a Job for being Pretty.
REVIEW: "Review: Even More Bang for Your Buck 2: Buck Angel is known widely as "the man with a pussy" and is a hugely popular trans porn star." (@sugarbutch)
CISGENDER: "We recently received a question about the word cisgender in the blurb for the hot new movie Crash Pad Series Volume 5: The Revolving Door. Since I'm sure that lots of other people have similar questions, I thought I'd explain what the word means and why we used it. Cisgender refers to people who experience and present their gender in a way that's aligned with the sex of their body. It contrasts with transgender, which refers to people who experience their gender as different from the physical sex they were born to." (@goodvibrations)