GOLDEN GLOBES: Rounding out our assertion that 2009 was The Year of the Weirdo, Glee won a Golden Globe for Best Comedy/Musical Series and dedicated it to "everybody and anybody who got a wedgie in high school," and then said something sweet about arts education. Even though Jane Lynch didn't win a Golden Globe, she can still do no wrong and therefore that must've been just how Zeus wanted it to be. Look we have a gallery for you with captions!
Ricky Gervais began the program by using the word "penis" and giving an award to Mo'Nique for Precious Based on the Novel "Push" by a Lesbian.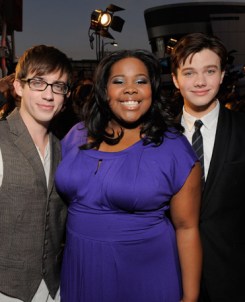 Paul McCartney spoke the truth by revealing that animated films are for children and for adults who do drugs. Like Yellow Submarine! An usher [I initially thought it was Usher, which would've been hot] almost ripped off Chloe Sevigny's dress, which would've been awesome. Meryl Streep became the most winningest actress ever ever.
There weren't any musical performances, which was confusing/boring. Luckily Ricky Gervias is really funny, and sometimes the camera would cut to someone from Glee looking cute like they were all hanging out in the cafeteria or something. Also several queers were in attendance, including Jane Lynch, Neil Patrick Harris & boyfriend and Jillian Michaels. We were there and took a lot of photos JK we didn't.
Also there were many reminders to not get all caught up in the madness and forget about Haiti.
The best coverage from the Golden Globes came from Amanda Palmer and her FIANCE Neil Gaiman.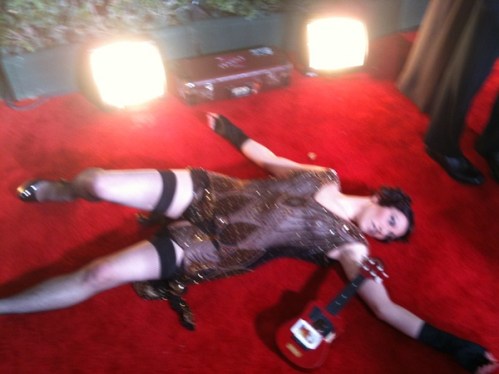 NO H8: The guys of The Real World: DC were part of the NOH8 photoshoot campaign! They look real good y'all.
LESBIAN SEX SCENE: Eva Green wishes her lesbian love scene in 'Cracks' had been raunchier. I had no idea what Cracks was so I googled it, which on second thought sounds like a stupid idea, but according to imdb it's an Irish movie set in the 1930s where "a clique students participate on the swim team not only to pass the time, but to be close to their swimming instructor, the enigmatic, yet charismatic, Miss G." A bunch of girls in swimsuits? With a guaranteed lesbian love scene? Sounds like fun! (@bosh)
FASHION: Fashion, Art, Photography, Studology101 Intervention- Randomness for a Lesbian Sunday. (@lezbhonest)