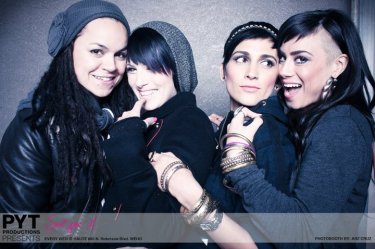 Alright you bitch-ass motherfuckers who got all pissed off when we provided some helpful suggestions for how to make The Real L Word better. 'Cause guess what — much like being gay will get better for all the young queers of the Midwestern Hinterlands, The Real L Word will get better for all the young queers of the Midwestern Hinterlands who get Showtime. IT GETS BETTER WATCH ME DO THIS BACKFLIP.
At the TCA Panel, which is some kind of fancy event for teevee shows to show & tell what they're gonna be up to next year,  Showtime President David Nevins was asked why Showtime renewed The Real L Word despite bad ratings. He said "I think there is an interesting version of the show that we didn't quite get last year. I think we can make the show feel more Showtime, more premium and exclusive. We're going to make some real cast changes. We're going to focus it somewhat around Whitney and her friends, who I found are the most authentic, young 20-something lesbians in Los Angeles. And I think we can do a better job at sort of capturing that sub culture."
I admit I've been pleased by this development as I was among probs a lot of humans who thought the show would be better if it focused on an actual social group rather than on five disconnected stories (though, that being said, now that the cast is all friends it would probably be way better). So um, hurrah!
Trish Bendix at AfterEllen reported from the TCA Panel:
Considering the Showtime reel they played at the beginning of the session focused only a few seconds of The Real L Word, and they were of the infamous "strap-on" scene between Whitney and Romy [sic], this gives a pretty good idea of what he means by "more Showtime, premium and exclusive." This means more sex, and Whitney and friends were the only ones allowing the cameras into the bedroom.
In conclusion, I will probably still hate it, just like I hate every reality teevee show and most other teevee shows in the world, and you will hate/love me for hating it, but regardless you will be very, very amused by the graphics. Nikki & Jill read this graphic out loud at their wedding you guys, true story.
I might even go so far as to say that I am not dreading it. Looking forward to it? Possibly.