The gay rights movement is such a baby in terms of civil rights movements, and lasting social change is often slow. It took SO LONG to repeal Don't Ask Don't Tell, which made the queer community pretty nervous — nobody wants bigots & homophobes controlling the process of change.
But sometimes that needs to happen.
Think about how long it took for women to get the vote, or for desegregation, or for the rights of indigenous groups to be recognised to the extent that they are today. Actually, the gay rights movement has achieved a LOT in the forty-odd years it has been in existence, and now we're in the hard part, the part that involves changing hearts and minds. This part, my friends, takes time.
To illustrate my point, I'd like to take you on a little trip to Australia, home of the Great Barrier Reef, Missy Higgins, Vegemite, Music Editor Crystal and (so I am told) v. cute accents. One thing we don't have, however, is gay marriage. In the last couple of months, the debate around gay marriage has greatly intensified. A key figure in the debate has been Penny Wong, the Minister for Finance and Deregulation, and an out lesbian, who Queerty sometimes calls "Australia's Worst Lesbian."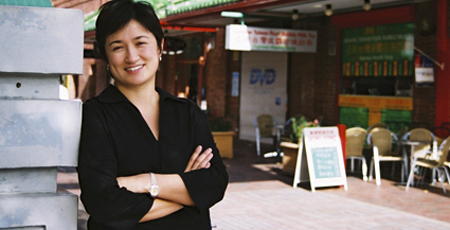 Cute, huh? Penny is a senator from South Australia, and Australia's first openly gay Cabinet Minister. (Australian Cabinet. is not like Cabinet in the States; our Cabinet is appointed by the Prime Minster from elected Members of Parliament.) Penny is a member of the Australian Labor Party (ALP). which is the left-wing party. Now the ALP doesn't support gay marriage. Neither does the other major party, the Australian Liberal Party. (contrary to you know, language, they are the right-wing party, it's confusing). The Australian Labor Party presents a unified party line on political issues, and this line is developed through internal party processes. This means that they have their discussions behind closed doors, and when a decision is reached, they all stand behind it. In the case of gay marriage, the decision was reached at the 2009 ALP National Conference, where the left and right factions of the party made a deal to stick to the definition of marriage in the Marriage Act., precluding debate on the issue of gay marriage.There is one party that does support gay marriage, a minor party called the Australian Greens.. Are you confused about the system? Fair enough. Click here..
So back to Senator the Honourable Penny Wong. She's been the target of lots of criticism for being a gay lady who refused to challenge the Labor Party on its stance on gay marriage. A lot of this criticism has been extremely personal, as well as racist, sexist and homophobic.
In 2004, under pressure from social conservatives and religious groups, the previous Government made an amendment to the Marriage Act 1961. to restrict the institution of marriage to "a union between a man and a woman". Members of the Labor party have all stuck loyally to this decision, but during this last year, dissident voices from within the party have started publicly questioning the party's stance. Until very recently, Senator Wong was not among them. I'll let her explain why in her words:
By virtue of who I am, prejudice and discrimination are things I have some firsthand knowledge of and when I entered the parliament. I did actually think very carefully about how to handle being Asian and gay and in the parliament, because it hadn't been done before, and I thought a couple of things… to be absolutely open about who I am, to never shy away from that and try to be dignified… I thought it was very important to show that you should never be ashamed of who you are, even when there are people who would try to make you be… there are a number of us in the party … who have worked very hard to try and improve the party's position and policies on gay and lesbian Australians. And since that time I think you've seen progressive improvements… with the most comprehensive set of law reform in relation to gay and lesbian rights that the country has ever seen and we have delivered them all.
Those reforms she's talking about? They were pretty massive. Because of them, same-sex couples get the same rights as de facto heterosexual couples. under federal law. This is huge, because de facto couples have almost all the rights of married couples.It means in practice that the parental rights of parents in same-sex relationships are recognised in the Family Law Act. Same-sex relationships now qualify as relationships for the purposes of social security payments to students, parents, jobseekers and those who are unable to work, as well as retirement pensions. Same sex relationships are recognised under the tax and Medicare. The changes to the laws regarding de facto partnerships mean that the gay and lesbian de facto spouses now need to be recognised as such in terms of medical decisions.
These are big reforms, reforms that make a massive difference to the quality of the lives of gay and lesbian Australians, and Penny Wong was, by all accounts, an instrumental member of a small group of Australian politicians who worked to ensure the reforms happened.
Are they perfect? No. Do they go far enough.? To my mind, no. However, they were brought in with minimal opposition and minimal fanfare, and they have exponentially improved the legal rights and recognitions of gay and lesbian Australians. I don't believe that these reforms would have been possible if there had been a concurrent debate about gay marriage taking place. Not because there was a lack of support for the changes – major and minor parties alike voted in favour of the reforms – but because a debate about gay marriage would have become so politicised and polarised that it would have eclipsed and probably prevented these reforms.
Now this piece started out about Penny Wong's refusal to publicly support gay marriage. But, in the middle of writing it, she came out to support calls for the Labor party to change its stance.:
I will be advocating for our party to support equality including to in relation to marriage of same-sex couples and I do so because I have a deeply held commitment to equality.
Senator Wong has been a driving force in creating reform for gay and lesbian Australians, and part of her ability to be the instigator of reform stems from the fact that she has chosen to refrain from advocating for gay marriage. She has picked her timing carefully, (to mix a metaphor) waiting to play her cards, and when she felt the time was right, she struck.
The current political climate, with a hung Parliament giving minor parties (like the pro-gay marriage Greens) more power both within the Parliament and in terms of the ability to shape the public debate, gay marriage is suddenly a big political issue. The timing is right. Gay marriage is going to be on the agenda at next year's ALP National Conference, and so far, signs are pointing towards a change in policy. We've got Penny publicly in our corner now, and that's a lot. We're well placed for the next fight.


[Per ushe, the opinions, beliefs & viewpoints expressed by the various authors on this website do not necessarily reflect the opinions, beliefs and viewpoints of Autostraddle.com 'as a whole'.]