One Summer. Two Girls. New York City.

.
Wanna watch a queer lady movie that doesn't suck? Good news. This one starts now. Have you read our interview with Jessica Clark and seen the trailer? Okay, go do that. Are you back? Okay, let's start!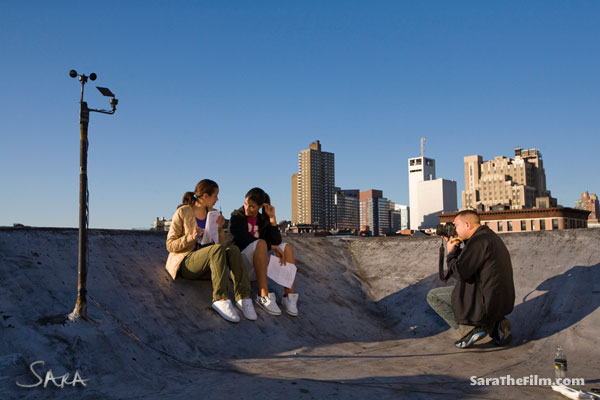 Hello and welcome to the world premiere of Sara, a short film about two girls who have feelings and complicated lesbian love situations.
Stan wrote, directed and independently produced this DIY labor of love starring Jessica Clark (model & actress, c0-host of AE's Lesbian Love) and Julissa Bermudez (host of MTV Jersey Shore's AfterHours). The short screened at Outfest and the New York International Latino Film Festival last summer and is now available for the first time online.
Meet Jessica Clark (Lexus)
.
Originally from the UK with a British, Indian and Nigerian background, Jessica has modeled everywhere from New York to Milan, in leading fashion magazines and also starred as Usher's love interest in his "Burn" video. She spent the better part of last year hosting Lesbian Love which aired on AfterEllen, where she and partner Lacey Stone dispensed all sorts of relationship advice to the young and gay and also open up about their own past and present. She's currently adding "actress" to her resume and Sara is her first film.
Meet Julissa Bermudez (Sara)


.



Originally from the Dominican Republic, Julissa is MTV's go-to host these days, repeatedly asking the eternal question of "Why are Ronnie and Sammi still together?" on the Jersey Shore reunion specials. She has also appeared as a correspondent on BET's 106 & Park and made appearances in several music videos and films.
The Film
.
.Okay, enough foreplay, watch the film!!!

OKAY DISCUSS.
Visit sarathefilm.com for an HD digital download as well as a special digital package which includes a 28 min cut, and making of Sara behind the scenes video.
Follow @jessicaclark and @julissab