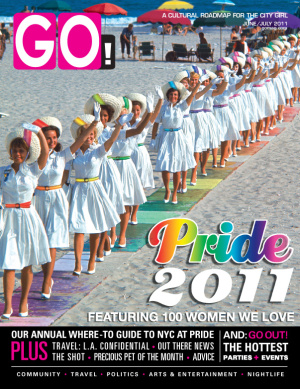 GO! Magazine's 2011 Pride issue is out, Ladies and statistically a few gentlemen!
This year, as always, they've compiled a list of 100 Women We Love.
From GO! Mag:
The 100 Women We Love – out artists, elected officials, business leaders, athletes, community activists – are role models for us all. Many are up-and-coming movers and shakers; some are at the zenith of their careers. Some of their achievements change our world and, just as importantly, others improve the world's perception of out women. They all strive tirelessly to increase our visibility and continue our incredible progress toward equality and justice.
Last year's list included many Autostraddlers. This year it seems that GO! Mag loves many of the same ladies that Autostraddle would share a bed / sandwich / carpool with given half the chance. I think this validates our feelings, yes?
+
Loves We Have in Common:
+
Probs you've heard of bklyn boihood. Their goal: to "provide visibility and empowerment to masculine-presenting queer and trans people of color." And we've got Ryann Makenzi Holmes to thank.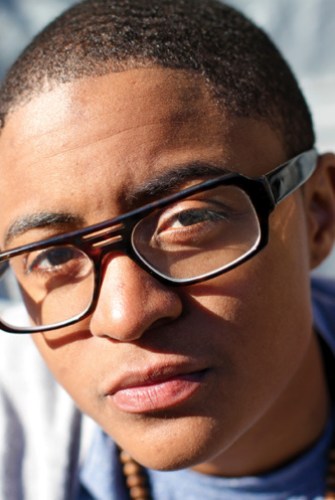 Her current focus is on expanding the scope of bklyn boihood to include more hosting opportunities for networking, substantial program development and using social innovation to empower individuals and community efforts on a global scale.
+
Co-Founder/Director of Business Development at NamiWave and Autostraddle's Miss June 2012. I don't know what can be said about Miss June that hasn't already been said so just take a moment and wish you were that blanket or rug or whatever down there on the left.
For more of that purchase your 2011 Calendar HERE.
Oh, and she's on some show called The Real L Word or something, IDK.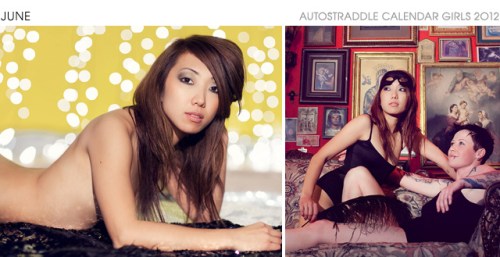 "In our technology-driven, modernized world, it's mind-boggling how backwards we are in treating people with respect and granting everyone equal rights, especially when the issue at hand is love."
+
Did ya ever want to fast forward through The Voice just to get to the lesbian parts? Done.
"I love getting messages from people that say they are taking that leap of faith, and doing what makes them happy and passionate in life. That's why I do what I do!"
+
Chely Wright finally assuaged my guilt of liking country music. Finally a country music star who comes out of the closet, writes a book about it, gets engaged, and is interviewed by Autostraddle.
Ya'll are gonna say KD Lang came out first. Fine, she's on GO's list too.
"I have lived a very blessed life and I know what it feels like to achieve goals. I want to do my part in helping others have as many opportunities to have milestones in their lives too."
+
Remember when she came out? That was interesting.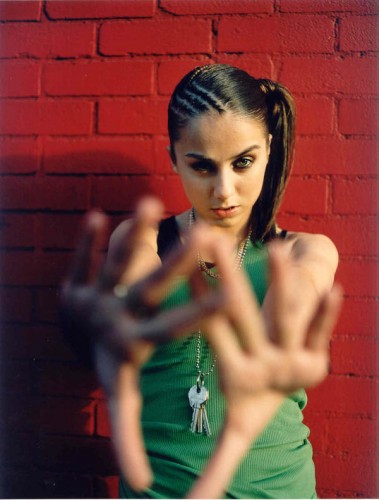 "I've always felt that I've got this weird spiritual energy around me that means I'll be okay, like having a guide. Everything has always happened for a reason, things always worked out in the end."
+
When you're trying to come up with a good fantasy sometimes its hard to decide which would be hotter – musicians or twins? With Tegan and Sara you don't have to decide!
+
In case you're tired of girl-on-girl porn geared toward straight white dudes, there's Jincey Lumpkin and her Juicy Pink Box.
"A lot of my customer base is straight women, and I love that, because Juicy Pink Box is exposing them to real lesbian sex and real lesbians. If I can help a woman to feel more comfortable exploring her sexuality, then I'm happy!"
+
Just when you thought this lady couldn't get any sexier you read the words "captain of the Yale women's rugby team." Yeah, it just got hotter in here.
"Military service is a great opportunity and honor, and there is no reason why America's best and brightest should ever be barred or even remotely deterred from it because of discriminatory policies."
+
Most importantly though…
She recaps horrible/awesome shows for you, you ask her weird things on Formspring, she says things on the internet, sometimes you agree with her, sometimes you yell at her and she loves you anyway, but really you shouldn't yell at her. Look how adorable she is.
Autostraddle.com, Riese Bernard's phenomenally popular Web site, has enjoyed explosive growth in the past year. The site doubled its readership with lady-friendly advice columns, snarky cultural commentary and political news; launched a redesign and added social networking tools; coordinated a worldwide meetup for fans; and opened its online store. What's the secret to Autostraddle's success? "We employ a funny, conversational tone to make all that complicated DOMA and DADT stuff make sense and be fun to read, so everyone is informed and can fight properly with their parents at the dinner table," Bernard laughs. "When readers tell us they've met other queers, come out to their friends and family, stopped hating themselves and decided life is worth living because of Autostraddle, that's not just the most rewarding part of my work—that's the most rewarding part of my life." –KL