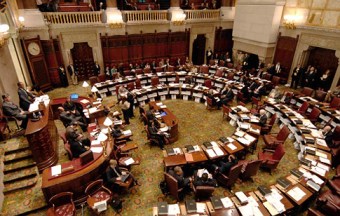 Gay rights legislation seems historically incapable of moving towards any actual resolution anywhere in this country. Except for when they do, like DADT being overturned or Prop 8 being ruled unconstitutional, and then inevitably the other side flips out and figures out a way to move towards delaying institution of [x] gay rights measure or reversing [x] gay rights measure which subsequently ties up advancement towards equality pretty much eternally, which is awesome.
For example, last week in New York we expected a vote on same-sex marriage and did not get one. Today seemed like a good day to do that. From New York Magazine:
All day, advocates on both sides of the same-sex-marriage debate have been chanting, singing, and stomping about the halls of the state house in Albany, hoping to have their voices heard by state senators currently considering the controversial issue. Unfortunately for them, it looks like another day will go by without resolution. Cuomo's office reportedly spent the weekend negotiating concessions to fence-sitting Republican senators who said they feared that religious groups who oppose the issue weren't sufficiently protected. But after the Republicans caucused this morning it didn't appear that any movement was impending.
After meeting with Republicans Cuomo had another meeting on rent-regulation issues and a proposed property tax cap because the state's rent regulations are posited to expire tonight and everyone wants that taken care of first. As of 6:15 EST, they're still talking about it.
As the bill is publicly one vote shy of passage, any Republican looking to join Team Totally Right is a bit hesitant to become that "one vote" who changes the game. New York State Senator Greg Ball asked his twitter followers how he should vote – go give him your YES.
A vote may not happen 'til mid-week.
Oh meanwhile David Tyree says he'd "give up his historic Super Bowl 42 catch" to stop same-sex marriage from happening, which honestly is a small price to pay to prevent anarchy. I'm sure this has attracted a lot of attention from the Time Traveling Football Fan Anti-Gay Bizarre Tradeoffs Association.