The truth is I don't even really like porn. When I signed up to cover the screening of Juicy Pink Box's "latest film," Taxi Volume 2, I thought (for no reason, really) I was going to the premiere of a lesbian indie flick. A rom-com or something. Yes, I can hear you laughing at me. My mind is just SO seldom in the 'gutter' and therefore, the whole night was FULL of surprises!
For starters, I really thought the viewing party was happening on the Lower East Side. I don't know why I thought this, but I did. Turns out it was in Soho.
I thought it would be held in a bar. I had a legitimate reason to think that, though, because queer movie screenings are often held in the back of bars, kind of inexplicably, maybe because lesbians in New York party like nobody's business and so bar-screenings are a natural result of the nightlife networking.
Turns out it was happening in a glitzy loft above a Picasso-centric art gallery. It was all class, all the way — and should we expect any less from a lesbian production company? I don't think I've ever seen a group of people complain about tacky porn more than lesbians, and half of those lesbians secretly love watching gay guy porn (you know it's true).
Once inside and upstairs I learned that the party had a Marie Antoinette theme! This particular surprise met me with mixed emotions because
1. I love Marie Antoinette. I love. Marie Antoinette themes.
2. I was wearing my weird, too-small, maroon flannel shirt from 10th grade.
I don't know what had gotten into me that morning. But it was okay, because there were cute boys wearing white powder wigs walking around and eagerly refilling glasses of bubbly pink champagne.
I've never had an empty glass of alcohol so watchfully attended. Girls in Marie Antoinette-themed lingerie — thigh-high stockings, corsets, etc — handed out pink cookies and danced to whatever Jane Bang was playing.
You've heard of Jane Bang, right? She's a hipster DJ of burgeoning fame with really good hair. She kept the party moving from old school Motown classics into dirty beats towards the end, at which time the champagne refills were swarming in everyone's heads. Porn silently/vividly ran on the screen a the front of the room.
The crowd was full of art and fashion people, and everyone kept asking "Where's Jincey? Is Jincey here yet?" I acted like I knew what they were talking about.
Now I know, though! Jincey is the CEO of Juicy Pink Box, a porn production company responsible for this whole thing. For Jincey Lumpkin's entrance, all the lights went out and the song "Took the Night" by Chelly (which I have always said was the gayest song ever made) popped on and then, almost out of nowhere, there she was, Jincey Lumpkin, dressed in a fabulous, short, elaborate Marie Antoinette dress. Four spry breakdancers, wearing all black, bounced around her as she bowed.
Jincey Lumpkin used to be a high power attorney practicing fashion law, but bored with her job, she started writing an anonymous sex blog. It took off fast. A business-minded lady, she springboarded the success of her blog into a successful sex-oriented lesbian social site called digiromp.com. Digiromp did well for a while and finally she decided to take the leap into film.
Authentic lesbian porn is a growing revolution that is only now really happening, with the Crash Pad Series and Courtney Trouble and so on. Crash Pad is nitty gritty real-life queer porn, and Courtney Trouble directs eye-catching, high contrast, high intensity scenes that feel like they came straight out of San Francisco (which they did). There are some excellent options with a diverse range of styles for people looking for artful sex films out there, and Jincey is joining the party with her own very different aesthetic.
Jincey is a New York girl with a glitzy slant who wants to portray lesbian sex accurately and also beautifully. Some of her best-known titles are Therapy (solo stars recline on a therapy couch, sharing intimate secrets which are often kinda kinky fantasies) and Taxi (a diverse assortment of girls hooking up in the back of a taxi cab, pretending to be ritzy New Yorkers).
Taxi Volume 2 features more girls hooking up in the back of a cab, this time during a moody, hot rainstorm. It's pretty sweet — like lesbian Sex-and-the-City but porn and starring girls who are having actual lesbian sex. The most common complaint I've heard lesbians make about porn, is, obviously, that it doesn't look like the girls don't enjoy it and OH GOD LOOK AT THEIR NAILS.
In Jincey's films, you see legit queer girls having fun doing what they're doing, and looking really good doing it. The casting is great and the chemistry is obviously smooth. Justine Joli, Madison Young, Dallas Fivestar, and Jett Bleu are just a few of the people she's brought on board. Jincey is a perfectionist who wants to give back to the community by giving this venture her all. The one thing that can surely be said about these films, regardless of taste, preferences, whatever your own personal porn standards are (or lack thereof) is that the production quality of these films is top-notch.
Everyone in the room was clearly proud of Jincey, and rightly so. Taxi Volume 2 looked really good — even to me!
At the end everybody toasted to Jincey's new adventure and women doing it for themselves. It's a new era
There was a toast to her new adventure, a feeling that this was the start of something very good. Juicy Pink Box thinks outside the box to please your box, and they're damn good at it.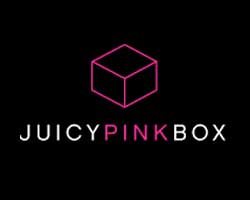 Visit Juicy Pink Box! [VERY VERY VERY NSFW]