If you're interested in the highly specific genre of sort-of investigatory nonfiction around controversial topics in education, you may have already read some of Alexandra Robbins' work. Her previous books, Pledged: The Secret Life of Sororities and The Overachievers: The Secret Lives of Driven Kids, have clearly struck a chord with a diverse population of readers. But her new book, The Geeks Shall Inherit the Earth: Popularity, Quirk Theory, and Why Outsiders Thrive After High School, promises to speak to a very specific demographic: the freaks, geeks, outsiders, nerds, Glee club members, and other 'losers' of high school. The premise is simple: being popular in high school isn't as great as it's made out to be, and the same traits that make you uncool in high school can turn out to work for you later in life.
Robbins followed six students in six different schools identified as outsiders – "a loner, a gamer, a band geek, a new girl who was also foreign, a nerd, a weird girl" – and one popular girl, and determined that while the quality of life for these high schoolers was largely defined by the labels they were assigned (you may remember John Hughes making this point circa 1985), those labels dissipated after high school, and the individual characteristics of the outsider students could allow them to excel and succeed now that they weren't hindered by an overt requirement to conform.
"Nonconformity is a wonderful trait, and it's going to be valued in adulthood. If you're different in school, that makes you an outsider. If you're different as an adult, that makes you interesting, fun and often successful."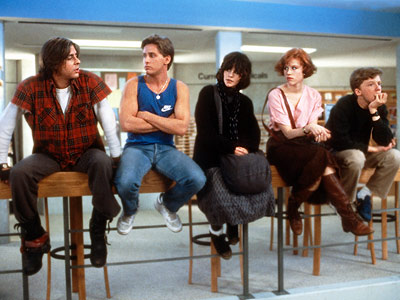 If this sounds like a story you've heard before, it may be because there's a good chance that this was something you did or still do identify with – as Robbins observes, there are many fewer popular kids than unpopular ones. It also sounds a lot like a well-known viral video campaign – Robbins even acknowledges the similarity of her conclusions and Dan Savage's in the It Gets Better Project. "The book does say that it gets better, but for all outsiders, including and not limited to LGBT kids. It gets better because school is part of the reason there is a social hierarchy in the first place."
Is it really such a neat comparison, though? Although the message of the It Gets Better Project can't be encapsulated neatly – its entire purpose is to be hundreds of individual messages, to and from individual people – it doesn't seem to promise that the things about you that invite the worst treatment from others in high school will suddenly bring you approval and success. It does seem to agree with Robbins in that "in high school, popularity is more important than anywhere else," but it doesn't imply that popularity or social acceptance will seek to be important in 'the real world' – more that it will be hopefully be easier to attain, and every day less likely to be a constant struggle.
In reality, most out gay people still do find themselves navigating a clearly defined social hierarchy out in the real world – one less concrete than in high school, where the whole world could come down to a letter jacket or designer jeans – but a real one nonetheless. And one where we all find ourselves quite a few rungs lower than we would be if we had simply been born straight. Many of us identified as outsiders in high school – possibly because we were more than a little freaky and geeky aside from being queer – but are we guaranteed the brighter future that Robbins talks about in her newest book? Or do queer people, even adult ones, feel that pressure to conform at a real-world lunch table as well?