Hello Autostraddlers! As you may recall, every spring around this time a bunch of websites (like AfterEllen) and magazines (like Maxim) put together a "Hot 100." A "Hot 100" is a series of 100 photographs of women considered "hot" by the readers of said magazine/website. Needless to say the list skews towards "famous" and "really fucking famous."
We felt so so so so so hot in May of 2009 that despite being a little baby website run by four girls who worked 60 hours a week, we'd assemble our very first Hot 100. This Hot 100 ranked — what else? — Hot things! Stuff that made the cut included Hot dogs, stovetops, hellfire, walking on the beach when the sand is really hot, Global Warming, etc.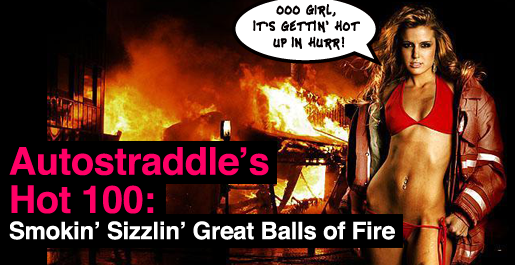 Last year, although we agree with the other websites that Olivia Wilde has a very nice forehead and overall faceplate and although we agree with ourselves-in-2009 that hot tubs are indeed quite hot, we decided to once again completely revolutionize the genre and ask to see you! That's right, hottie! Anyone was allowed to submit themselves or someone else.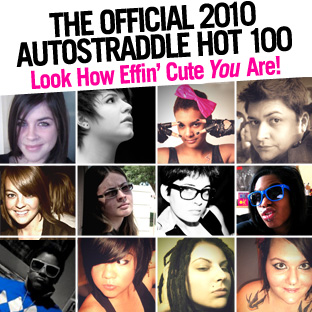 +
What will we do this year?
Once again, we are enchanted by your collective hotness and want to see 100 Hot Girls Who-Like-Girls. We wanna see All the Real Girls. But the rules are different. This year it's on you to get your mega-hot girlfriend on the list.
2011 Autostraddle Hot 100!
1. Anyone can submit a photograph of someone else — a friend, girlfriend, family member — someone you know and love. (We think it's the most fun if you don't tell them, but that's just us)
2. You will email your photograph — HIGH RESOLUTION PLEASE (aka "as large as possible) — to autostraddle [at] gmail [dot] com. Bonus points for descriptive file names. Also NO TIFFS.
3. The subjectline should read Hot 100 2011: [First Name of Person] from [Your Name]
4. The body of the email should include the following information
(* = REQUIRED)
* 1. Their Name (first or first/last, whatever you think they'll be comfortable with)
* 2. Your Name
* 3. Your Relationship to This Person
* 4. This person's age.
* 5. Where this person lives – City/State/Country/whatever you want to say
6. What do they "do" (teach high school, barista, student, biochemical engineer, watch television, etc.).
7. Why they're hot.
8. Anything else you'd like us to know.
5. THIS PERSON MUST BE QUEER AND ALSO "OUT" ENOUGH TO BE OKAY WITH THIS.
SHOW US YOUR HOTNESS PLEASE!
Deadline is May 7th