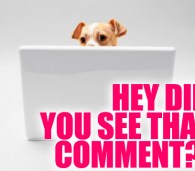 Today Intern Hot Laura leaves for Spain, so for the next 5 months I get to do the comment awards, which means that every Friday will be a little less sexy/funny from now on. But you don't care who gives you an award, just as long as you get one right? And believe me, you will get them!
To start me off on my new job, y'all commented 250 times in the bisexual open thread, so I just want to thank you for that.
Then the team brought you the rules of how to properly fight with your girlfriend, Riese made you want to move ASAP with her guide to San Francisco, Lily is back at school with her college lesbianage #9, and we introduced you to Miss September!
---
On Bisexuality Open Thread: I Took The Road Best Straddled:
The Leftovers Award to Brianna:
Soooo… these bi girls that you are rejecting. Could you send them my way? Thanks.
Anyway, I bet at least 20% of all lesbians are assholes too, but are you going to stop dating them based on this? Just saying.
Sorry about your ex.
Bisexuals Want All The Threads! Award to wasteunit:

The Can't Click A Link Without Seeing The Word 'Unicorn' On This Site Award to unicorns: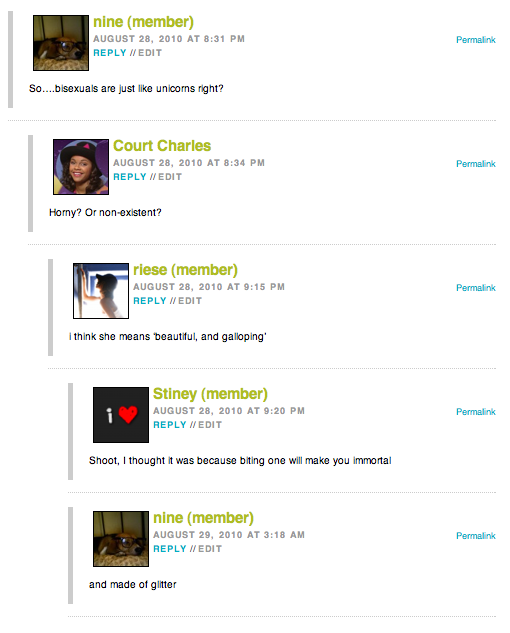 On Same Sex, Different Verse: Taylor Swift and Katy Perry Debut New Videos, Still Aren't Opposites:
The Opposite Award to kate.:
I wonder if Taylor Swift thinks of herself as a feminist. Ya know, kind of how I think I'm butch but am fond of wearing dresses and heels and can often be found on my back with my legs in the air.
The I Will Give An Award To Anyone Who Mentions Harry Potter Award to e:
i just realized that taylor swift's video-boyfriend looks like draco malfoy. i guess she would fall for a slytherin
On NSFW Lesbosexy Sunday: Who's On Top Who's On Bottom Now?:
The Eat, Fuck, Sleep, Eat Award to Shay: I find it sexiest when a girl starts off on top and I I spin the tables around on her. But's really about the moment and the person. Sometimes I feel very dominating and sometimes I just wanna be fucked silly. Then I wanna eat and then fuck some more.
On 12 Rules of Lesbian Fight Club: How to Properly Argue with Your Girlfriend:
The Way Before Murder Was Cool Award to jenski, e: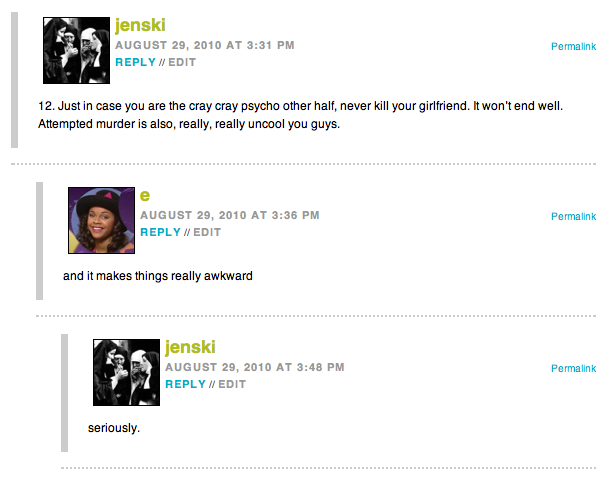 The Sing Along To Make This Better Award to Brianna, Cassandra, petitekarma:

On 62nd Annual Emmy Awards 2010: Award Shows Are So Gay These Days:
This Is The World We Live In Award to bondy:
This is real.
Someone called Bucky Gunts just won the shiny pointy thing
On Read a F*cking Book: Fall 2010 Preview or "The Rise of the Novel":
This Is Also The World We Live In Award to Brietta:
Goddamnit, I want to buy all of these and swallow them whole and invent new hours of the day to read them between school reading and two jobs and other things necessary to stay alive.
On Lindsay Lohan is BACK, Baby: Covers Vanity Fair, is a "Damn Good Actress":
The Dear Lindsay, We Will Always Have Feelings About You Award to bfc:
Oh Lindsay 
I;m so torn about this girl. I want to believe in her so badly but I keep thinking she's just going to go and fuck it all up again. Why can't she just lock herself in her room and read a book??!!!???
On Gmail Priority Inbox and 5 More Googly Things You've Gotta Try #tipsandtricks:
The Google Knows Everything About You and Maybe That's Okay Award to TSwizzle:
The best Google Labs feature is adding a 'Mark as Read' button IMHO. Before that I had to click twice, TWICE! to mark an email as read.
I, for one, welcome our new Google overlords.
On Lily's College Lesbianage #9: Back To School!:
The Tegan And Sara Will Bring You Rainbows Award to Ailish:
Song omens are totally true. When I was booking my room for university last week a T&S song came on the radio in a random little service station pub in Yorkshire. SAY WHAT. I'm clearly gonna have a gay old time at university because of this song omen.
On In Your (Lunch) Box Office:
The Exams And Stress Diet Award to e:
every year i start out packing out a gorgeous thought out lunch. then around midterms i forget my fork and a drink. then around finals, i get excited if i find a fortune cookie in my bag. oh the plights of being young and in debt
On Slaughterhouse 10: Magazines We Miss, Like PASTE, Which Died Today:
The Buried In My Yard A Time Capsul To Send To You Award to foist:
This reminds me of the time I included SI for Kids trading cards in a time capsule I convinced my dad to make and bury in the backyard of my childhood home.
On Autostraddle Calendar Girls: Kayla is Miss September:
The Voulez Vous Coucher Avec Moi Award to Mindy:
I see one of her goals is to learn to speak French.
Someone please tell her I speak French and would love to teach her. Then if that goes well, find out where I can sign up to learn French.
Merci!
On It's Hard Out Here For A Lesbian In College, So Lay Off THe 'Ethical' Advice:
The Every Gay Should Have an Autostraddle Care Package and A Homosexual Agenda Award to Malpal, Brianna, radiogirl: