Can you believe it's been a whole year since The Emmys 2009? Well, it hasn't been, actually. This year The Emmys are like three weeks early for reasons relating somehow to football. Regardless, the theme of this year's Emmys is "radical liberal homosexuals control Hollywood, duh!" and the proof is in the pudding: if you want to earn an Emmy, you need to have gay people in your show. Also: HOLY CRAP THAT'S A LOT OF WHITE PEOPLE. I mean look at the white white whitey white whiteymcwhiterson faces! WAY TO GO TELEVISION, for Chrissake DIVERSIFY YOURSELF.
Watch The Emmys with us! Below you'll find a periodically updated post reflecting the actions of the Emmy Awards 'as they happen' but I wouldn't go so far as to call it a live-blog, because we don't care THAT much.
We're pretty sure AfterEllen stuffed the ballot box because all the ladies that gay ladies who like straight ladies liked were nominated, like everyone from 30 Rock. I don't like straight girls because I don't want to like people who don't like me back. Does anyone else feel that way?
Oh hay Jane Lynch what's up?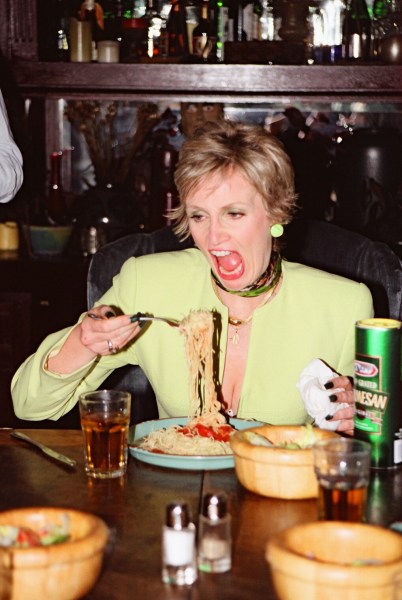 Best Comedy Series:
30 Rock, NBC – Dorothy Snarker and DJ Carlytron love this show, so it must be about gay people.
Curb Your Enthusiasm, HBO – Didn't know this was still on the air, who cares NEXT.
Glee, Fox – Singing, dancing, homosexual characters, homosexual actors, we've been through this.
WIN! Modern Family, ABC – Actual gay couple with child.
Nurse Jackie, Showtime – Written by LESBIANS, has gay people.
The Office, NBC – Oscar is gay, Michael Scott has nothing against gay people.

Best Drama Series:
Breaking Bad,  AMC – What the hell is this show even about? Idk.
Dexter, Showtime – Stars David Fisher from Six Feet Under, who was gay.
The Good Wife, CBS
Lost, ABC
WIN! Mad Men, AMC – I hear the people like this show.

Variety, Music or Comedy Series:
–>All of the nominees in this category work for the gay agenda.

The Colbert Report, Comedy Central
WIN! The Daily Show With Jon Stewart, Comedy Central
Real Time With Bill Maher, HBO
Saturday Night Live, NBC
The Tonight Show With Conan O'Brien, NBC

Actor in a Comedy Series
WIN! Jim Parsons, The Big Bang Theory
Tony Shalhoub, Monk
Steve Carell, The Office
Alec Baldwin, 30 Rock
Matthew Morrison, Glee
Larry David, Curb Your Enthusiasm

Actress in a Comedy Series
Julia Louis-Dreyfus, The New Adventures Of Old Christine – Wanda Sykes is on this show and Wanda Sykes is gay.
Lea Michele, Glee – I'm not saying that she's gay or anything, because she definitely is not. La la lalalalalaalala #internattack
WIN! Edie Falco, Nurse Jackie – Nurse Jackie is written by a lesbian, so it's basically a lesbian brain winning.
Tina Fey, 30 Rock – GGWLSG (Gay Girls Who Like Straight Girls) LOVE Tina Fey with a fervor and passion which, to be honest, I have never quite understood.
Toni Collette, United States Of Tara – Gay alter, gay son.
Amy Poehler, Parks and Recreation – GGWLSG (Gay Girls Who Like Straight Girls) LOVE Amy Poehler.

Supporting Actress in a Comedy Series:
WIN! Jane Lynch, Glee
Julie Bowen, Modern Family
Kristin Wiig, Saturday Night Live
Jane Krakowski, 30 Rock
Sofia Vergara, Modern Family
Holland Taylor, Two And A Half Men – If she wins this, we'll all know she's really winning for her role as Helena Peabody in The L Word.
Supporting Actor in a Comedy Series:
[This is possibly the gayest group of nominated persons in the history of gayness, which as we all know, is the history of humanity. I know John Cyrer isn't technically gay, but as I've said a million times before, Duckie and my Mom are basically twins and my Mom is a lesbian.]
Chris Colfer, Glee
Neil Patrick Harris, How I Met Your Mother
WIN! Eric Stonestreet, Modern Family
Ty Burrell, Modern Family
Jon Cryer, Two And A Half Men
Supporting Actress in a Drama Series
Rose Byrne, Damages
Sharon Gless, Burn Notice
WIN! Archie Panjabi, The Good Wife
Christine Baranski, The Good Wife
Christina Hendricks, Mad Men
Elisabeth Moss, Mad Men


This opening number is probably giving a lot of you emotional tremors because it combines Betty White, the entire cast of Glee, Sue Sylvester, that Tina Fey woman again, and other people on television programs.
Here's a photo: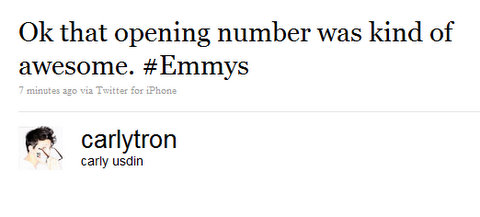 Eric Stonestreet plays a gay person on Modern Family but is not gay in real life, which is like playing a retarded person in a TV show or movie. Gilbert Grape Award. It's really hard to act gay, they have to touch each other! He won an Emmy.
laneia: things that will never be funny: twitter jokes
Steven Levitan and Christopher Lloyd won an Emmy for writinga show that features two gay people and an adopted baby.
riese: it's too bad lindsay lohan isn't there
laneia: i was just thinking that?
JANE LYNCH WHO IS GAY won an Emmy for being in a show called Glee which has gay people in it, and she thanked her gay wife. I feel like this post will be good for SEO.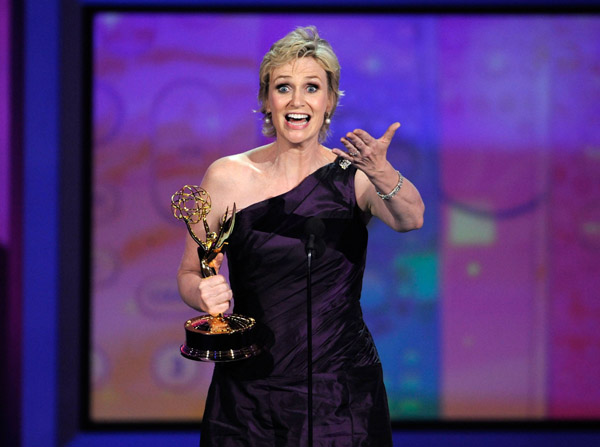 The Gilmore Girl's Mom bombed a gay joke with Chandler Bing, and then a bunch of gay jokes happened in a row, too fast for us to know if they were offensive or not. UPDATE: Laneia liked it. Then Ryan Murphy won something for Glee and thanked his boyfriend which makes this the second gay partner thanked of the night.
Some more gay jokes, some more sex jokes, and people who are super grateful, it's like Oliver Twist or something.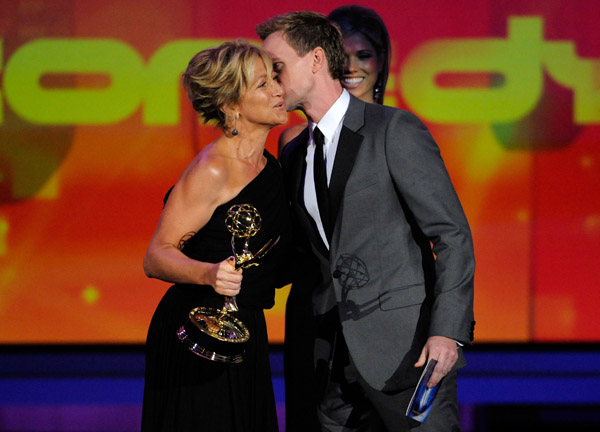 Mad Men wins something. Also Top Chef won something. Cutest Ashley Merriman? I like singing and dancing.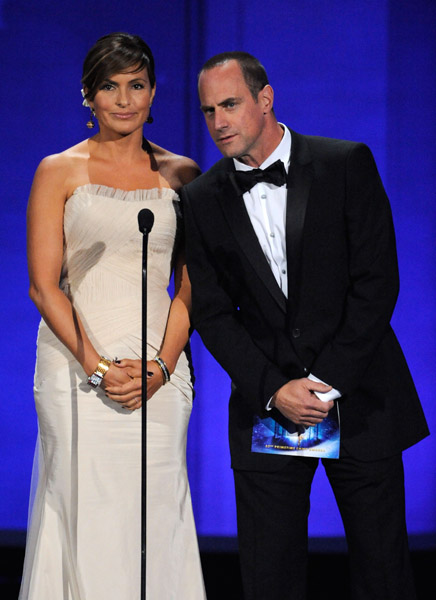 I think they are trying to be cool by telling 'self-referential jokes' and being 'deprecating' and 'snarky' and also using the words 'gay' and 'sex' is often as possible. I guess that's kinda what this website does. I hope we pull it off better than they do.
Things have continued to happen: that actress who looks like Julia Roberts read words from a scroll of paper. She wears reading glasses and has a professional facial expression.
A video montage reminded us that not only are these people good looking, but they also gave money to charity following natural disasters.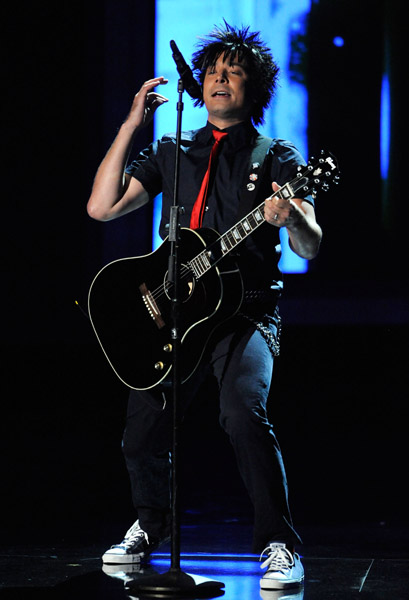 There was a musical montage where Jimmy Fallon, dressed as Elton John meets Barbie Dream House meets Perez Hilton, sang an ode, I believe, to Law & Order.
'What? Law and Order is cancelled?' I said to Laneia.
'We talked about this already.' She said.
'Oh,' I said.
Later on in the program, Ricky Gervais, a cherub humorous man from The Office UK, addresses the audience about a lack of backstage alcohol. He makes a few good jokes and then gives everybody a beer. The attractive men & women in the few front rows eagerly accept cold bottles from cheery usher/servers in white waistcoats.
One of the awards goes to an award show. Not this one, but the Tonys. So what happened was an award show gave an award to another award show.
Another theme of the program was "people behind the scenes have feelings." People we've never heard of as well as some famous-looking people answer questions about studio memos and childhood dreams.
'I don't like awards shows,' Laneia says. "I don't understand. it's like, they're giving out their own awards. it's not like getting an award from your teacher. A teacher is relatively unbiased. but this is like, from your peers. Like 'best dressed.' I was awarded 'best dressed' in high school and do you know why? Because a group of 5-8 girls got together one weekend and decided who would win what, so everyone important would be included in the superlatives in the yearbook. and then they told ppl who to vote for, and they did.'
'These dresses are more expensive,' I say.
I wonder to myself, 'I wish The Real L Word was on.'
Later, I think: 'I wonder how many people will want to sell for Avon tomorrow.' I decide to wait to call Avon until everyone else has already tried it and quit. I'm not a quitter.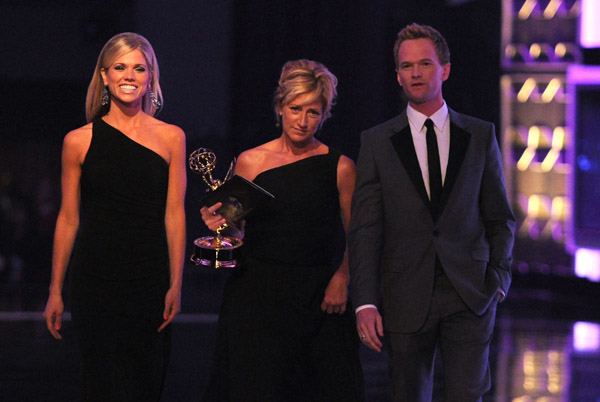 Juliana Marguelis says television is important because we look to it when we want to know what has happened. I look to it when I want to see people act out stories. Everyone is cheering for George Clooney because he made a lot of money and gave it to people who deserve it, which is nice.
Time goes on. We age, and seasons pass. Summer blends into winter and becomes spring, in that order.
This show is the worst show ever, this is like pre-schoolers picking National Merit Scholars. What happened. Do they realize it's ten pm, and now 'the cast of true blood' has to compete with 'True Blood' and 'the cast of Mad Men' has to compete with Mad Men?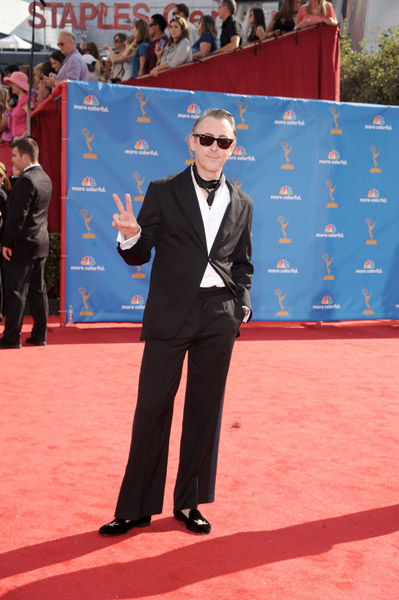 I think Jim (the one who married Pam) decided to pretend he couldn't read, rather than read the line he was being fed.
As time went on, we found ourselves loosing interest in the program. We asked ourselves if perhaps the reason marijuana might be legalized in California this year is because it will encourage people to sit through programs like this one whereas they ordinarily might get up and do something else. But the only competition here is SANDWICH. And SANDWICH JUST WON Y'ALL! HAPPY SUNDAY!
UPDATE: Apparently after we left to go do arts & crafts because we've been working pretty much nonstop this weekend, other things happened. This included:
– Angela Chase won an award for something we didn't see
– Mad Men won Best Drama, but everyone was watching Mad Men so they missed the big reveal, also I think it has a gay character.
– Modern Family won Best Comedy, it also has gay people in it, therefore gay people have won.